Top 5 HR Blogs by Traffic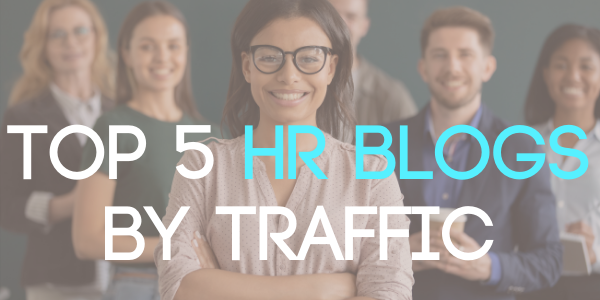 Human Resources is a competitive industry for bloggers. With over 400,000 new business formations each month, however, there's plenty of room for new bloggers to share.
Whether you're completely new to the world of blogging and looking to make a big impact or an experienced writer who simply needs to increase organic traffic, a strong content strategy is crucial.
In this guide, we're covering the top five human resource blogs ranked by traffic (according to SimilarWeb) and relevancy to the industry.
We'll provide an overview of each blog, its industry, content examples, and highlights from its content strategy. With this information, you can start creating your own content strategy or make changes to your existing strategy to boost your site's traffic.
What is a human resources blog?
For the purposes of this guide, a human resources blog is any blog that primarily focuses on topics related to the human resources industry.
This includes recruitment techniques, employee engagement, federal and state regulations, compliance, equality, diversity, employee productivity, employee conflict, talent management, and similar topics.
Some human resource sites are primarily blogs, while others are companies that sell HR products or services and offer blogs as free information for potential clients. In this guide, we'll cover both.
1. RecruitingBlogs

RecruitingBlogs is actually a large network of blogs that showcases trends, news, and tips about the world of human resources.
Their site is a unique mix of informative blog posts, news reports, podcasts, videos, as well as white papers, events, webinars, eBooks and other training materials.
According to the website, their audience consists of "entry-level sourcers to strategy-level corporate executives."
Content Examples:
How to get a reliable job as a security guard
Types of Customer Loyalty Programs
How to Copy the RecruitingBlogs Content Strategy:
RecruitingBlogs posts an average of four (or more) pieces of content per day. That's a lot of information, and their audience keeps coming back for more.
No matter the niche, readers love content that's easy to read and informative. HR is no exception. If you want to copy the success of blogs like RecruitingBlogs, consider posting multiple times per day, and use a variety of content types to reach the widest audience.
2. HRZone Blog
Based in Bristol, England, HRZone follows current HR trends and offers "advice, guidance, opinions and up-to-date information on how the working life and responsibilities of the modern HR professional are being shaped."
Blog topics cover nearly every aspect of HR, and researched white papers are also available for certain events. Industry professionals write the vast majority of the content.
Content Examples:
How Businesses Can Better Support Menopausal Women
Don't fall victim to the digital skills gap
5 ways to introduce more laughter at work
How to Copy the HRZone Content Strategy:
HRZone's blog is well-organized and easy to navigate. They post an average of 2x per day. Their topics vary from tips and advice to well-researched reports. The content's tone also varies, depending on the topic. There are casual conversation pieces and more professional thought pieces.
To copy HRZone's content strategy, consider an organized, structured blog with a cohesive theme. Vary your content between conversational topics, detailed thought pieces, and everything in-between. Readers love variety, and the structure makes it easy to find what they need.
3. Insperity Blog
Insperity offers human resources services to its clients. They provide information and training free of charge via the Insperity blog.
Many companies use a blog to drive traffic and encourage readers to purchase a product or subscribe to a service. Insperity follows this strategy. According to their website, Insperity's goal is to "help clients strengthen and streamline their businesses." 
Content Examples:
How to develop your public leadership brand
Why your business should have a promotion policy
Humor in the workplace: what's funny, what's not
How to Copy the Insperity Content Strategy:
If you have a product or service to sell, a blog is a great way to drive traffic to your site.
Insperity uses this approach to its maximum advantage. While some businesses think of the blog as an after-thought, Insperity's blog is obviously well-managed.
Industry professionals carefully research and write each piece. The curated content is well-organized and easy to find. The blog also features a headshot of each writer, which makes the writer more personable and trustworthy.
To copy Insperity's content strategy, treat your blog as an important part of your overall business strategy. Content drives organic traffic, and traffic leads to sales. If you skimp on the details, your readers will notice, and your traffic may plummet.
4. TINYPulse Blog
TINYPulse is an HR company that focuses on one goal: employee happiness.
They believe employee happiness leads to higher engagement, which increases a company's overall productivity and improves their bottom line.
The overall theme of the site is upbeat and happy. 
While the TINYPulse blog isn't the primary focus of the business, it's a well-structured part of the site and provides tips and information related to employee engagement. The site also features longer guides that are full of helpful tips and informative statistics. These include titles like "The Guide to Employee Engagement" and "The Science Behind TINYPulse."
Content Examples:
The Ultimate Guide to Employee Engagement
How the Sexes Differ on Diversity, Equity, and Inclusion
15 Remote Employee Recognition Ideas to Build a Culture of Appreciation
How to Copy the TINYPulse Content Strategy:
While many HR blogs cover a variety of topics within the HR niche, TINYPulse revolves entirely around employee engagement.
While the topic may be more restrictive, many readers find this strategy more appealing. For one, it's easier to find what you need. If a blog covers too many topics, readers may get lost in a maze of menus, tags, and topics.
This strategy also helps you find your ideal audience. If you try to serve everyone with your blog, you may turn off readers who are disinterested in the majority of your topics. By narrowing down your topics, you're more likely to attract readers who connect directly with your message.
5. Workable Blog
Workable offers recruiting software to HR professionals and employers. The Workable blog is organized into several topics, with titles like "Recruiting Resources" and "Stories and Insights."
Though the content certainly follows a typical blog format, the site doesn't actually mention the word "blog." Most likely, the intent here is to position Workable as a more authoritative resource. The content is the same, but the unique layout is sleek and encourages readers to keep clicking.
Content Examples:
Brexit advice for employers from a legal expert
COVID-19 and gender equality: the conversation needs to keep going
Why should employers care about the gender pay gap?
How to Copy the Workable Content Strategy:
While blogging is considered a mainstream part of media, some readers are more likely to trust content when it's presented in a more standard reporting format.
If you feel your readers might prefer a title other than "blog," consider following the Workable strategy and organizing your content by topic.
In addition, make it easy for readers to find new links to click by using a layout that seamlessly transitions from one piece of content to the next.
Increase Organic Traffic With Scripted
If you feel lost in the world of blogging, know you're not alone. There's a lot of information to consider, and there's no "one size fits all" approach to content strategy.
Scripted can help you organize your blog and create a content strategy that meets your needs.
When you sign up for Scripted's services, you gain access to a list of writers who specialize in human resource topics. You can add writers to your list of favorites or request pitches from a pool of interested bloggers.
Every step of the content creation process is completed through Scripted, from proposal to revisions to completed project. Browse our human resource writers and sign up for your free trial today.
Once you find a writer who fits your needs, you can hire that same person again and again. Many Scripted clients have a small team of writers they use to create all their content.
Scripted writers are professionals with experience in both writing and the HR industry. They know how to write content that converts. Our writers are also SEO experts, so their content helps increase your organic traffic and helps your site rank higher in Google search results.
If you want to boost your traffic and increase your conversions, Scripted can help.
Ready to get started? Search through our HR industry writers to hire your new blogger today.