Hiring a Political Blogger: The Step-by-Step Guide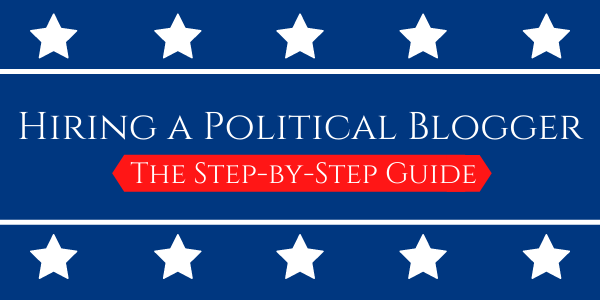 From HuffPost to Breitbart News, political blogging is a competitive industry, but it's a great business if you're willing to do the work. Sometimes, though, the load can be overwhelming, and political writing isn't a task that just anyone can handle. Still, these blogs can be very lucrative if you hire writers who know their stuff.
A skilled political blogger can make all the difference when it comes to a successful website. The best writers will boost reader engagement, increase organic traffic, and write content fast enough to keep up with current trends. But how can you find one? And what skills are you looking for?
Let's review a bit more about how to hire a political blogger and spot great talent when you see it.
Why should you hire a political blogger?
Your content is the most important part of your website–not the layout or the design or the logo. Why? Readers come to your blog to read your content; everything else is just aesthetic.
In fact, people can't even find your blog if your content isn't optimized for search engines like Google. 
A professional political blogger knows how to write content to increase organic traffic. They know how to entertain, inform, and encourage readers to take action. It's not a simple skill. Writing is a talent, and even if it's one of your own strengths, you probably don't have time to give your content the attention it deserves.
Believe it or not, over 90 percent of internet content doesn't get traffic from Google. That's a scary statistic when you consider that more than 92 percent of all web traffic comes from Google.
The bottom line: If you want to succeed, you need organic traffic. To get organic traffic, you need great content. To get great content, you need a great writer.
The Political Blogger Hiring Process

If you feel overwhelmed when you think of hiring a new writer, you're not alone. Because the task seems open-ended, it's hard to know where to start. Here's a step-by-step guide to help.
Figure Out What You Need
First and foremost, you need to identify your needs. What kind of content performs best on your site? Are you looking for writers to handle ongoing blog posts? Is this a one-off project that requires a specialized skill set? Or are you more interested in a writer who can handle all of the content writing and marketing for your site?
As an example, Breitbart News is a far-right political blog that regularly reports on U.S. politics with a bit of sarcasm in the mix on occasion. Their top bloggers stay on top of current events, posess a reporter's sense of authority, and have a dry wit that matches the blog's overall tone. It's not an easy job, but they manage to do it well.
You can find a writer who knows how to write content that sells. But it helps to have clear goals so the writer knows exactly what you need.
Find a Source for Political Writers
This is the step that gets a little tricky. Many site owners choose to go the traditional route: create a job posting, wait for responses, filter through resumes, and start the interview process. This route may work, but it usually takes a lot of time away from more important tasks.
Instead, consider working with one platform that features a variety of professional writers with different backgrounds and skillsets.
Most political blogs build up a team of writers to help cover stories on an urgent, as-needed basis. For example, Daily Kos, a liberal news blog, has a large team of writers who rotate stories on a regular basis. Some of these writers are part of the blog's staff, but others are regular contributors who make up the Daily Kos community.
Scripted offers a team of writers with niche experience, and politics is just one of the many industries you'll find here. If you're looking to build a strong blogging team, our community is a great place to start.
Look for a Quality Writer
When searching for a writer, don't settle for the most affordable option or the person who pops up first in your search results. Look for someone with experience, a strong portfolio that matches your content needs, and excellent reviews from prior clients. The right political blogger will demonstrate:
Authority:

A political writer should write with authority on their given subject. This helps build trust and rapport with your readers, so they'll come back for more information and refer your site to others.

Personality:

Most news is dry. That's why readers turn to political blogs. They want to see a bit of personality when they read about politics. It helps make your site feel more personable and "in the know."

Integrity:

Politics is a touchy subject for many. A great political blogger needs integrity, too. Readers need to know they can trust what you have to say.
Review Writing Samples and Portfolios
Most freelance writers keep a portfolio of writing samples to show prospective clients. When reviewing samples, check grammar, spelling, and flow of the content. You should also make sure the writing style matches what you hope to achieve with your own content. Finally, review industry-specific writing samples to get a clear idea of the writer's level of expertise and familiarity with the subject.
Develop Your Content
Once you've chosen a writer, it's time for the most important step: developing your content. At this stage, you'll give the writer direction that helps them complete the project. Remember, clarity is essential; the more information you can give, the better. This helps the writer meet your expectations with fewer revisions.
You should also set a clear, realistic deadline so the writer knows when you expect the content.
One of the most popular political blogs, HuffPost (formerly Huffington Post) has spent a great deal of time developing content and determining which types of content work best for the site. It was founded by a small group of writers who quickly grew the blog into a trusted news website. In fact, HuffPost has won several awards over the past two decades, earning their place in the world of news media.
Provide Feedback and Assess Ongoing Needs
At this stage, it's time to review the writer's draft and request any edits. If it's your first time working with a new political writer, you may need to communicate back and forth with the writer before you're satisfied with a final draft. Once you've worked together a few times, however, the work will likely go more smoothly with fewer revisions.
If you're satisfied with the writer's work, you can move forward with additional projects. Eventually, you can build up a small team of writers who are more familiar with your standards. This helps ensure you always have a writer available to fulfill any request quickly and efficiently.
How Scripted Can Help
Hiring a political blogger can be tedious, but Scripted strives to streamline the process, making it as simple and straightforward as possible. Scripted provides a list of writers with expertise in the political industry as well as many others. You can look through profiles to find a writer with the experience and expertise that fits your blog.
Or, you can post your job request and receive multiple proposals from interested writers. With either method, the writer completes the project according to your directions. You can request revisions and set deadlines directly through the Scripted platform.
Ready to get started? Browse through our political writers to find the perfect blogger today.