Top 10 Cannabis Websites By Organic Traffic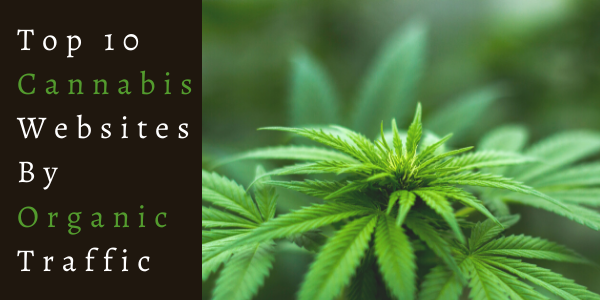 Cannabis has been a hot topic over the past few years and, with more places legalizing it for medical and recreational purposes, the industry is growing fast. Whether you're offering production and growing equipment, legal advice to consumers, or helping people find trusted dealers in their area, there are many roles yet to be filled in the cannabis industry.
The growth represents incredible opportunity, but it also means increasing competition — that means businesses in the industry need to keep their eyes open and stay ahead of the trends. To help inspire and inform your content marketing, have a look at these top ten websites in the cannabis industry.
What is a Cannabis Website?
A cannabis website is any website that deals with the cannabis industry, whether they're helping people locate dealers that sell cannabis, sites representing dealers themselves, or sites for businesses selling growing and production equipment. In any case, cannabis websites must offer factual information while keeping local and national laws in mind. They may need to provide 21+ disclaimers and other disclosures to stay in line with the law, but when it comes to the content itself, what really matters is that your cannabis website addresses the topics and concerns your audience cares about.
As you go through this list of the top ten cannabis websites, consider the content they're publishing along with the manner in which they're presenting it. You'll notice that every website, while some target similar personas, has its own unique styling and brand identity. As you look for inspiration for your own website and brand, consider your customer personas and your branding in tandem with any content or topic you hope to create.
#1 Leafly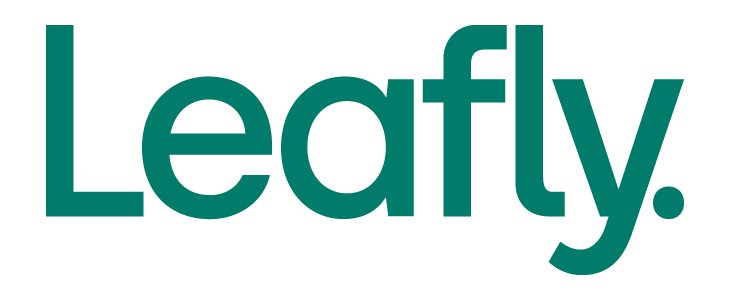 Leafly sees about 16 million visitors every month. The site is dedicated to weed-related education and connects people in areas where it's legal to purchase with trusted dispensaries. The brand's content efforts are far reaching, with one of the most notable endeavors being Leafly Learn, an educational resource center that speaks about cannabis terms, legalization initiatives, and more.
#2 WeedMaps
WeedMaps sees about 13.3 million visitors every month. WeedMaps also has a very similar website design to Leafly, but is much more focused on selling by connecting readers with strain information and dispensaries. When it comes to purchasing, WeedMaps has a "Find Your Strain" section right on the homepage where they ask: "How do you want to feel?" Click on one of the emotions and you'll be taken to all the strains that match the result.
#3 AllBud

AllBud sees about 2.5 million visitors every month. While the site design isn't as pretty as most others on this list, AllBud continues to generate impressive traffic for its niche thanks to its no-nonsense homepage that directs visitors directly to information for various strains. You can also easily navigate to the news and resources section where information about medical benefits, growing advice, and buying advice come together to inform readers and target keywords.
#4 Grass City
Grass City sees about 1.8 million visitors every month. Titling itself the "world's best online head shop," Grass City is a retailer focused on selling all sorts of paraphernalia, from vaporizers to herb grinders. They harness user-generated content (UGC) through their lively community forums where people can ask questions and chat amongst themselves. They also maintain a knowledge base, which answers customers' questions, hits on some keywords, and acts as the home base for the site's evergreen content.
#5 WikiLeaf
WikiLeaf sees about 1.4 million visitors every month. Much like Leafly, WikiLeaf strives to offer information on strains while pointing people to its nearest dispensary. The brand maintains its own blog, called The Stash, where they publish news, tutorials, and helpful advice for those new to the industry on the buying, growing, or selling side of things.
#6 Way of Leaf

Way of Leaf sees about 1.1 million visitors every month. Unlike most other sites on this list, Way of Leaf branches out beyond marijuana to talk about CBD, supplements, psychedelics, "and beyond." Product tests and reviews, answers to common questions, and information about supplementation and other topics fill the blog, with the latest content featured front-and-center on the homepage.
#7 HighTimes
HighTimes sees about 954 thousand visitors every month. The familiar layout of HighTimes mimics that of traditional news sites, and they stay true to the brand by posting the latest in cannabis news, culture, and trends. The homepage is constantly refreshing with the latest content, but they sneak plenty of evergreen content into their magazine-style website, too, including in-depth guides. The magazine-style site is highly regarded for being on-trend and reputable.
#8 CannaSOS
CannaSOS sees about 367 thousand visitors every month. As a "global social marijuana network," CannaSOS is a unique website with the ability to join groups, find friends, and ask questions. While you'll need to join a group to see the content users post, CannaSOS executes a solid content marketing strategy through the active blog (which is featured on the homepage). They also offer information on strains, dispensaries, and more.
#9 The Fresh Toast
The Fresh Toast sees about 269 thousand visitors every month. The brand calls itself "the most trusted name in cannabis" and offers a mix of evergreen content and cannabis news to its readers. Content revolves around medical studies, financial analysis, and the actual consumption of cannabis products. The site also branches out to cover lifestyle topics, including gossip, food, and beauty. However, most articles do a great job of tying back into the main theme.
#10 Medical Jane
Medical Jane sees about 148 thousand visitors every month. As a provider of free education relating to medical marijuana, Medical Jane is a major resource for information about cannabinoids, CBD and THC consumption, and how marijuana and CBD products can interact with the body. The site dives into various ailments and research related to cannabis use, and offers information on cooking with cannabis, and more. Sections for patient education, news, product reviews, and a directory help address all of a reader's needs in one place.
What Makes for a Great Cannabis Website?
Looking through this list of the top ten cannabis websites, you should be able to gain some insight and inspiration regarding the type of content your cannabis website should be publishing. Ultimately, the main goal is to meet the needs of your potential customers while offering trustworthy, factual advice.
From top to bottom, this list showcases websites that try to offer the latest in news, studies, and insights relating to cannabis consumption, be it for recreation or medical purposes. Your brand can learn a lot from their approach. If you take the time to read these websites, you'll notice that each one has its own unique brand identity and a distinct voice to go along with it. So, even though many of them offer similar resources, they set themselves apart.
As a brand in the cannabis industry, you should move forward by defining your own brand voice and deciding what type of audience you want to reach. Are you targeting recreational users and focusing on culture and lifestyle or are you looking to reach medical users to back the benefits through trusted information? Alternatively, are you offering B2B products and services to aid dispensaries or growers in their work?
Regardless of what niche your business is filling within the cannabis industry, reviewing these leading websites and taking inspiration from them where you can will certainly help you develop and execute a content marketing strategy that will get your business the results it wants. The important thing is that you have the right information, tools, and talent to back it.
Find The Perfect Writers
As a company in the cannabis industry, your audience cares about getting factual advice in a manner that's easy to digest. That's a tall order to fill. Here at Scripted, we're proud to have some of the best cannabis writers in the industry. With specialized knowledge of cannabis and its use cases, along with all the news, legal matters, and questions that come along with it, our cannabis writers can help you address your audience in a way that's factual and true to your brand.
With our self-service tiers, your business can get its content strategy up-and-running at its own pace. Alternatively, you might consider Cruise Control, which is our done-for-you service that will put the creation of your content strategy into the hands of one of our experienced marketers. No matter what you choose, Scripted's support team will be there each step of the way to make sure your strategy is working for your business.
Interested in learning more about what Scripted can do for your brand? Reach out to the team to compare our plans, explore our writer database, and get answers to all your questions.

---
Published by
Scripted Writers
on Friday, March 12, 2021
in
Blogs
,
Cannabis
,
Organic
,
Allbud
,
Canna Sos
,
Grass City
,
High Times
,
Leafly
,
Medical Jane
,
The Fresh Toast
,
Way Of Leaf
,
Weed Maps
,
Wiki Leaf
.