Best Interior Design Websites by Traffic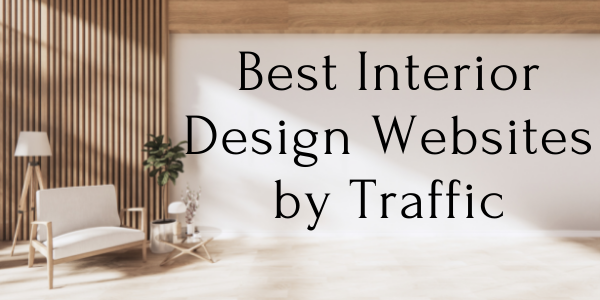 Here at Scripted, we offer an SEO-driven content marketing platform called Cruise Control. That means we live and breathe SEO data and content marketing strategy every day. We work with a lot of great clients across industries, but today we'd like to focus on interior design websites. To help our clients in the field of interior design, we asked ourselves what makes a really great interior design website? What kinds of content do people interested in interior design want to see? 
Our research helped us discover a bunch of great content opportunities for interior design websites and we put together this post with specific recommendations and content ideas that can significantly grow an interior design site's traffic. 
Before we jump into the best interior design websites by traffic, let's review what an interior design website is all about. 
What is an Interior Design Website?
An interior design website is a way for you to connect with an audience around their interests in interior design. Whether you are an interior designer, a home goods designer, an architecture firm, or are involved in the industry in some other way, a stylish, professionally laid out website is an essential asset. Not to mention that it is a great avenue for building trust and establishing a solid brand reputation. 
A website should reflect the talent, ability, and taste of the people behind it. It's important to leave potential clients and investors with a notable impression that makes them want to learn more. A sub-par website gives the sense that you don't care about aesthetics - not the impression you want to give in this field! First impressions mean everything in the world of interior design. 
The Purpose of an Interior Design Website
Word of mouth can be a powerful marketing tool, but there is no way to deny the importance of having an interior design website. You can share a website much more widely and provide far more information about your company than a business card. With that said, the primary purpose of a website is to draw initial engagement from potential new clients. It does so by showcasing your expertise to help you appeal to your clients in a variety of ways. 
Many companies and organizations use their interior design websites to display a portfolio of the designer's or firm's work. Another option is to curate interesting information about the industry, including best practices for home design, examples of trends in home design, new products available, etc. As your readers know, a home or office, is a significant investment, and it needs to be treated like one. That's why people are always on the lookout for ways to spruce up their personal spaces. Well-maintained homes help your clients reduce stress and improve relaxation - not to mention that keeping interiors updated can also increase the perceived value of a home. 
Most homeowners want their homes to look great and feel great. But they might not know where to turn for help. This is where your interior design website comes in! Your website is how your customers find you, whether they are looking for new upholstery for their sofa, an interior decorator to re-do their bedroom, or an architect to design a whole new home. It's crucial to have a site that wows your audience to make sure it piques their interest in your products or services. 
Top 10 Interior Design Websites
There is no shortage of design sites out there. Homeowners are always on the lookout for new design ideas to improve their homes. And, thanks to the internet, they can even scroll through these on the go on their smartphones! They just need to know which sites to visit - and most people find these sites either by word of mouth or by searching for specific terms on the internet. 
If you work in design, architecture, or real estate, you can benefit your business by following the best home and design websites. This helps give you inspiration for the newest styles and home architecture to make sure you offer your clients the best work. And, visiting these sites also gives you an idea of what kinds of things make an interior design site popular. 
Here are the top 10 Interior Design blogs, websites, and influencers so far in 2021. 
Based out of London, Dezeen Magazine is the world's most influential architecture and design magazine. They have 1.1 million Facebook fans, 994.9K Twitter followers, and 2.4 million Instagram followers. On average, the site posts 3 times per day. Their interiors category features a wide variety of interior design stories from the magazine. 

Apartment Therapy is one of the most popular high-end interior design blogs to follow for a daily dose of design ideas and inspiration for your home. Their site offers useful tools and resources that can help you improve the appearance of your home without it costing a fortune. They also help readers learn to maximize their budgets by offering information on what to acquire and what to ignore. The platform grew from a newsletter email campaign to the size it is today, which is pretty impressive! Readers love their friendly, conversational tone, too, because it makes their suggestions and ideas easy to relate to. 
The Spruce, run out of New York City, has a total social engagement of 1.1K. They offer practical, real-life tips and inspiration to help readers make their best homes. From decorating and gardening advice to entertaining and home repair how-to's, The Spruce offers tips on all of it. Follow their site to see beautiful home design ideas, useful how-to's, and easy-to-follow DIYs for making a magnificent home. Their expert advice makes creating the home that readers have always wanted easier and more fun. The site puts up about 10 new posts per week. 
Based in Michigan, LizMarie blog has been around since 2010. It's a mix of everything lovely having to do with home design. From re-doing furniture, crafts, and interior design to makeup and other types of advice. The blog is a reflection of the author, Liz Marie Galvan, and all the things in her life and hobbies. She has 3.5K Twitter followers, 427.2K Instagram followers, and an Alexa Rank of 220.9K. On average, the site adds one new post per day. 
EyeSwoon is an excellent resource for those on the hunt for lifestyle and entertaining tips and advice. The site is elegant and approachable, just like their design ideas. They cover a wide range of topics that range from home and decor to cooking ideas. Readers can find design ideas for any room in the home alongside tips on having home parties and gatherings. It is the brainchild of style and lifestyle guru Athena Calderone and also boasts a curated shopping section that features some of Calderone's favorite finds. It's a go-to site for celebrating the beauty and wonders of the home. 

Design Milk is an online magazine dedicated to modern design. They focus on what is new in art, architecture, interior design, furniture and decor, fashion, and technology. It's a go-to platform with a razor-sharp focus on all things design and decor. The blog posts on Design Milk also feature lots of intriguing DIY design projects that readers can easily master. It's also a great place for fashion tips and even boasts a job board section that helps link creatives up with potential projects. They have 874.3K Facebook fans, 2.2 million Twitter followers, 3.2 million Instagram followers, and an Alexa Rank of 34.7K. They average about one new post per day. 
House Beautiful, located in New York City, dedicates itself to bringing readers the best in inspiration and education for their homes. Whether readers need to hire a designer for complete redecoration or are dipping their toes into DIY design, they will find smart tips and designer-tested ideas across the magazine pages, website, and videos. For readers who are just looking to daydream, they can also explore home tours to get pinnable interiors of every style. They have 631.5K Twitter followers and post an average of five times per week. 

Based out of New York City, Elle Decor pegs themselves as the place where style lives. It's the ultimate guide to decorating and design and the indispensable go-to source for every reader who wants to create a more beautiful life. Read up on elegant home decor inspiration and interior design ideas, provided by the experts. Readers can also tour celebrity homes, get inspired by famous interior designers, and explore the world's architectural treasures. They have 499.3K Twitter followers and update their site with at least one new post per day. 

Freshome is the go-to destination for those passionate about design, architecture, and creativity in the home. They've been around since 2007 and are experts in the design world and favorites of many interior design aficionados and influencers. If you love design ideas that center on luxury, creativity, and architecture, it should prove to be a go-to for inspiration. Since launching, CEO Micle-Mihai Cristian has seen the monthly viewership pass 10 million unique visitors. The site offers interior design ideas, home decorating photos and pictures, home design, and contemporary world architecture for inspiration. They have 170.4K Twitter followers and add about five new posts per month. 

Located in Indianapolis, Indiana, Thrifty Decor Chick is all about thrifty DIY, decor, and design for the home. They feature posts about inexpensive decorating ideas, helpful household tips, trim work tutorials, and DIY projects. Founded in 1998, it's one of the oldest interior decorating blogs on the web. They have 16.3K Twitter followers and 110.7K Instagram followers, and they add about two posts per week. 
What Content Brings in the Most Interior Design Traffic?
So, we've seen what the top 10 most visited design sites are - but what makes them so popular and why do they outrank other sites? As there is never a shortage of inspiration for interior design on the web, you need to make sure your site stays competitive and appealing. Let's take a look at the elements that make interior design websites so successful. 
Visuals
The number one element of any interior design blog is inspiring visuals. Many people who visit interior design websites are looking for design ideas for different areas of their homes or design inspiration of all kinds. Successful design sites offer tons of inspiring and alluring visuals of interiors. Whether the visuals are from your own work portfolio or borrowed from other sources around the web, they are sure to inspire your audience. 
Daily Inspiration
Keeping a website fresh and updated with daily inspiration is another way to appeal to your readers. For one, you want to make sure your website doesn't get stale by constantly publishing new content. And you also want to keep readers coming back for more, as often as possible. Daily inspiration can be anything from new decorating ideas you come up with yourself, to categories of inspiration broken down by room, to anything else your heart desires. 
Interior Design Hacks
Interior design hacks are an excellent way to appeal to your audience and encourage them to keep visiting your site. Hacks are ways that readers make simple upgrades to their own home, such as making the most of small spaces, repurposing old furniture, upgrading a room with new paint, etc. Get creative with these tips and keep your readers happy and inspired! 
New Trends
Another element that all successful interior design websites have in common is a focus on new design trends. Most readers who are interested in interior design have an eye for style and an interest in keeping their home spaces fresh and trendy. This is one area where reading plenty of interior design blogs comes in handy. You can check out the trends that other bloggers and influencers are posting to figure out which ones to share with your audience. 
Guest Blogs
In addition to creating your own content, it's also a good idea to feature guest blogs from designers and influencers that have a big following in your niche. If you have any connections with established designers you can draw on, that's a great place to start. 
Engaging Tone
One thing that you'll notice about all successful design blogs is that they have an engaging tone across all of their content. Blogs can't be successful unless they engage readers. To do so, they need to offer great content and also present it in a way that excites and inspires readers. This applies to everything from your blog posts to your photo captions! Make it exciting and memorable, and your readers will thank you. 
Boosting Traffic on Your Interior Design Website
Establishing a trusted interior design website requires fresh and relevant content and innovative takes on interior design practices. Before embarking on interior design projects, your audience will be looking to gather as much inspiration as possible from decor-minded online sites. There are tons of design sites that they could visit, so you want to make sure to keep your website populated with engaging and appealing content so that they turn to yours for help! 
By populating your site with high-quality content, you will boost traffic and increase your ability to partner with other trendsetters in the industry. Of course, to do so, you want to stay aware of what the pros are doing by keeping an eye on their websites and updating your own to make sure you are staying competitive. From offering news about decorative finishings to bedroom accessories to other dream home ideas, keep your interior design website packed with original and smart content your readers can sink their teeth into. 
Conclusion
Now that you know where to go for trending inspiration ideas on interior design and decor, why don't you start now by exploring them? Feed your passion and get some creative ideas rolling. Need more ideas or help with creating new content? Scripted can help provide and execute an SEO strategy that draws more readers to your site. Get in touch with us today to find out more.

---
Published by
Carolyn Heard
on Monday, May 24, 2021
in
Blogs
,
Interior Design
,
Apartment Therapy
,
Design Milk
,
De Zeen Interiors
,
Elle Decor
,
Eye Swoon
,
Freshome
,
House Beautiful
,
Liz Marie
,
The Spruce
,
Thrifty Decor Chick
.