5 Best Retail & eCommerce Blogs by Traffic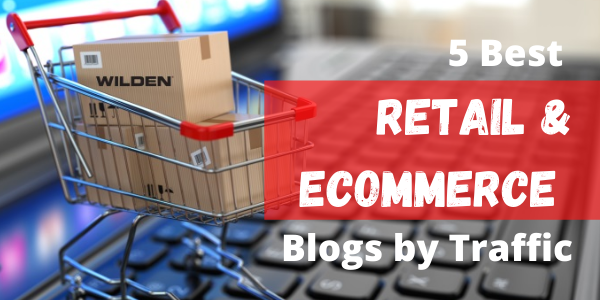 Online shopping has reached an all-time high. In 2020, global online shopping hit nearly $4 trillion. In the United States alone, it is anticipated that there will be 300 million online shoppers by 2023.
To make sales, companies need to invest in various digital marketing strategies, including the power of quality content. While reviewing the latest statistics, it's clear how effective blogging is, especially when aiming to increase organic traffic, boost your ranking, and drive sales. For example, companies who blog get 97% more links to their websites, and businesses that blog experience twice as much traffic as businesses who don't.
That is why you need to start or continue to blog if you are in the retail and eCommerce space. These blogs will provide you with the inspiration you need to take your content to the next level.
1. Shopify Blog

There are few brands as well-known in the eCommerce industry as Shopify. This multinational brand and eCommerce platform specializes in online stores and retail point-of-sale systems. Companies across all industries can draw inspiration from the Shopify Blog. Content is published based on various categories, including source products, start your store, sales and marketing, founder stories, and need an idea?
Sample articles include:
In addition to Shopify's blog, this brand has also heavily invested in social media, which helps increase organic traffic. With nearly 4 million followers on Facebook and over 308 thousand followers on Twitter, Shopify continues to be a leader in the retail and eCommerce space.
2. A Better Lemonade Stand Blog
A Better Lemonade Stand is an "online eCommerce incubator" that supports early-stage eCommerce entrepreneurs. This brand offers a wide spectrum of resources, including exclusive content, tools, and tutorials. There are also numerous products available, including handbooks, manufacturer directories, and branding guides, and more. The "A Better Lemonade Stand Blog" is presented as the #1 eCommerce blog for entrepreneurs, focusing on all phases of the development and growth process. Visitors can access content associated with building, launching, or growing.
Sample articles include:
3. Wix Blog

Wix is a highly popular web platform for "non-tech" online business owners. By offering a range of drag and drop tools, business owners are able to create a professional website with ease. To attract a greater audience and support their current customers, Wix developed an informative blog, covering everything related to web design, marketing, business tips, and more. Each article is purposeful, offering actionable advice and insight. This helps Wix maintain a reputable blog.
Posting 2-4 times weekly, sample articles include:
4. eCommerce Fuel Blog
eCommerce Fuel is the "planet's most experience eCommerce forum and top-rated podcast" that helps promising companies grow. Their mission is to help retail owners supercharge their stores, leveraging their unique community of store owners, investors, and mentors. The homepage's main menu features a "content" drop-down menu, directing visitors to podcasts, trend reports, news, and articles — which brings you to the eCommerce Fuel blog. Easy to navigate, readers can select an article from the latest or top articles.
Sample articles include:
5. Zulily Blog
Zulily is a little different compared to the brands above. Instead of helping businesses grow their online retail stores, Zulily is a popular eCommerce company that sells clothing, footwear, home products, and toys. As they say, "it's a new store every day" — featuring many unique items that aren't found anywhere else. To support its community of customers, the Zulily blog focuses on topics across health and wellness, home and garden, lifestyle, and kids and family.
Sample articles include:
Scripted Can Help Drive Your Retail and eCommerce Content Strategy
The above blogs all have the following in common — they invest in quality content writing, focus on SEO, and post regularly.
If you need consistent, high-quality content, Scripted offers a large pool of retail and eCommerce writers. These expert writers not only offer blog writing services but can also write everything from press releases to social media content. If you're ready to invest in your content marketing strategy, Scripted's all-in-one platform will help you every step of the way.
Scripted can help you find the writers you need to elevate your blog. Start browsing our team of retail and eCommerce writers today!