10 Best Software Blogs on the Web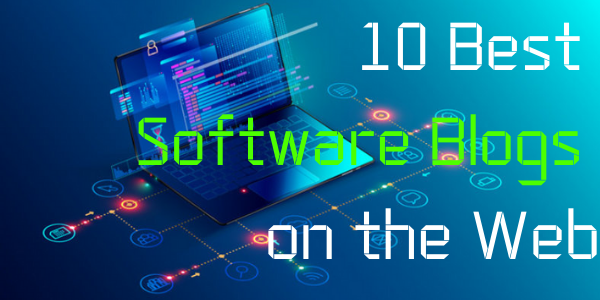 Time and time again, the metrics prove that blogs can only succeed when they consistently post content on the topics readers care about. Of course, that in itself still isn't enough. Keeping up with the content needs of a software blog is tough, especially when you consider all of the marketing, social media interaction, and search engine optimization that come along with success.
If you're feeling like you're at a loss for new ideas or struggling to adopt a strategy that works for your software blog, have a look at these ten niche-leading examples for some motivation and insights.
What Defines a Software Blog?
A software blog can address a myriad of topics. A general software blog may offer testing notes and reviews, while a niche software blog might breakdown software options for a specific industry, application, or profession (e.g., "recruiting software"). Meanwhile, a company's own software blog might discuss the software they're developing and all of the use cases associated with it.
Regardless of the approach, your software blog takes, one thing is true for all of them: Consistent, high-value, and engaging content must be at the heart of your growth strategy. Look to these ten high-performing software blogs for some inspiration.
#1 Code Better
The creators of Code Better said forget flashy design principles. Instead, this bare-bones blog puts all the effort into its content. Scroll through articles targeted towards software developers who are interested in improving their coding abilities. This software blog knows its audience and their apparent lack of care when it comes to a vibrant UI.
The result? Code Better is known for its simplistic site design and, even more so, for its on-point niche content.
#2 Coding Horror
Coding Horror talks about programming and human factors with lively, engaging content that can help software developers, users, and businesses troubleshoot. Businesses and developers alike turn to Coding Horror for insights into equipment upgrades, web design, and improving their development practices.
The author, Jett Atwood, also maintains a list of recommended readings for those who want to dive deeper into these topics.
#3 Geeks for Geeks
Geeks for Geeks is a far-reaching authoritative content source, touching on interview prep, algorithms, coding languages, and more. Businesses turn to Geeks for Geeks for insights into web development, software, and improving programming. A number of tutorials and niche-specific guides help attract readers and keep them coming back.
#4 Six Revisions
Six Revisions is the blog for WebFX, a software company offering marketing, automation, and analytics solutions. On the blog, the brand keeps their free newsletter sign-up front-and-center while sharing content that touches on the pain points associated with the solutions they offer.
Website maintenance, software selection advice, and backend development tips are weaved into marketing posts and information about WebFX as a company.
#5 HoneyPot

HoneyPot's .cult blog features "untold developer stories," the likes of which contain insights and anecdotes to inform both software developers and businesses as they look to create and choose the right software solutions. Categories range from career development to those in the programming/coding field to guides explaining topics like, "What is Open Source Software?"
As you peruse the HoneyPot blog, the eye-catching and retro-modern design will keep you engage, while the content itself will keep you coming back. It's easy to see how the myriad of topics attract individuals and businesses to the blog.
#6 Several People Are Typing

Several People Are Typing is the blog run by Slack, a cloud-based software solution that helps businesses and teams work better together. As such, the Slack blog touches on all of the topics users care about -- like reinventing communications, creating equality in the workplace, and more. The blog also interviews thought leaders, influencers, and Slack users.
#7 Hackernoon
Hackernoon is a long-standing software blog that takes a deep dive into tactics, processes, and new technology. From understanding blockchain to building a startup, Hackernoon's variety of content attracts an even wider variety of readers.
#8 Toptal Blog
The Toptal Blog is run by Toptal itself, which is a remote hiring platform that helps match businesses with the developer or designer they need to complete their projects. With that in mind, the Toptal blog discusses project management and success while also offering information on software development, business growth, and more.
#9 Joel on Software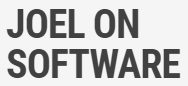 Joel on Software is maintained by Joel Spolsky, a software developer based in New York. On his blog, Joel discusses the latest technology and programs. He also takes a dive into career topics, like retirement. Software developers and businesses read Joel's blog for new insights.
#10 Scott Berkun

Scott Berkun has authored eight popular books, and he uses his blog to dive deeper into the topics addressed in their pages. Over 1,500 posts discuss design principles, leadership, technology, and more. While it encompasses far more than just software, no list would be complete without Scott's blog. His engaging writing style and depth of information make the blog essential. That's why the likes of Microsoft, MIT, and Wired have all invited him as a speaker over the years.
Increase Organic Traffic to Your Software Blog
Ask yourself, what are these blogs doing that you aren't? Chances are, all your software blog needs is more high-quality content on a consistent basis. Yet, that's far easier said than done.
If you're struggling to come up with a content plan for your software blog -- one that hits target keywords and engages your audience -- it may be time to reach out to a professional for assistance. Scripted's team of software writers can help.
With intimate knowledge about software, development, and testing, Scripted's software writers can help you take your software blog to the next level. Reach out to the team today to explore how you can come up with a content plan that engages readers and grows your blog's brand.