10 Best Religion and Spirituality Blogs on the Web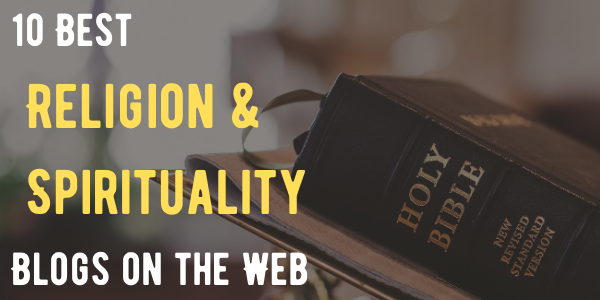 When dealing with the niche of Religion and Spirituality, it's paramount that writers have a keen understanding and enthusiasm regarding the topics they're covering. At the same time, it's essential that the person responsible for coming up with content ideas really knows the audience and what they want to read. None of these things are easy, especially when you consider that they are daily obligations. After all, the best websites publish content frequently and consistently, and it may just leave you wondering, "How do I pull it off?"
If you find yourself questioning where you should go next with your Religion and Spirituality blog or if you're hoping to start one, but don't know where to begin, take some time to look at the best Religion and Spirituality blogs on the web. This list will walk you through places where you can get inspiration to motivate and empower your content creation plans.
What Defines a Religion and Spirituality Blog?
The best Religion and Spirituality blogs all have one thing in common: Passionate content. Of course, coming up with dynamic content is much easier said than done. While Religion and Spirituality blogs can fall under many different denominations and niches, with some offering bible study guidance and others acting as full-fledged online campuses, it's important to find your niche.
Finding a niche is the first step in understanding your audience and offering that audience high-value, insightful, and engaging content that they will actually want to read and share. So, as you look through these Religion and Spirituality blog examples, think about who the site's niche audience is and look at how they stay focused on that niche's interests, beliefs, and concerns with their content.
#1 Next Church

The content of Next Church's blog will not interest everyone, and that's exactly why it's an excellent example of a niche religious blog. This blog's publishers knows their audience, which consists of devout Christian followers, and they create passionate content rich with beliefs to engage that audience and spark conversations that readers will find meaningful. What's great about Next Church is that they also take on a very ambitious approach, covering ideas that affect society-at-large instead of focusing on local communities or bubbles.
#2 BeliefNet

BeliefNet looks to offer resources for inspiration, faith, and prayer, along with health, wellness, and entertainment content that remains in alignment with the spiritual and religious conversations the blog focuses on. They consider themselves a lifestyle site devoted to faith, and they are non-denominational, attracting countless readers from around the world to their content.
#3 RedeemingGod

RedeemingGod shares scripture and discusses Christian ideas while also offering reading lists, podcasts, and courses to help further the audience's understanding of the Bible and Christ. The blog takes a unique approach, publishing content with a very accepting, welcoming tone with the goal of "liberating you from bad ideas about God." It takes a deep dive into theology and helps dispel many myths and wrongly spoken beliefs of Christianity at-large.
#4 Gospel Chops
The blog at Gospel Chops is an interesting read since it's backed by a brand devoted to gospel music and instrumentation. In fact, rather than creating content that is overly religious in nature, Gospel Chops remembers its audience (church musicians) and keeps its focus on the shared passion of the community: creating and playing faith-based music.
#5 World Religion News
World Religion News has been ranked the #1 website of its kind, and its content makes it clear why. While the design may be dated, this blog maintains a steady stream of content that tackles some of the biggest world issues within the context of religion. Gay rights, mother's rights, and other controversial topics are all covered here, so it's a great source of inspiration if you look to do the same.
#6 Religion News Blog

Religion News Blog also covers news, but with a unique approach. This website maintains a lively social media presence, often sharing fast facts about religious figures and history. At the same time, the blog delves deeper into various news pieces relating to sects, cults, and religions. This is another non-denominational content source that appeals to the masses.
#7 Women of Faith
Women of Faith takes on religion from and for the female point-of-view. Women of Faith is a popular blog that digs into Christian topics to help readers ask for forgiveness, overcome life challenges, and learn to embrace the faith-based lifestyle on a day-to-day basis. The blog links out to classes and courses on the same subjects, helping engage readers further.
#8 Christianity Today

Christianity Today is both a magazine and blog, with both covering the latest in modern Christianity, church leadership, and leading a Christian lifestyle. Countless readers turn to CT for tips and advice on adapting Christianity to their modern lives and instilling faith in their children.
#9 Faith Driven Entrepreneur

Faith Driver Entrepreneur is a unique blog on this list, approaching a faith-based lifestyle from the eyes of an entrepreneur, and vice-versa. This blog is an interesting read if your religion and spirituality website plans to address any topics relating to business or financial success.
#10 The Christian Left

The Christian Left is a faith-based blog with a political focus, bringing leftist ideas and Christianity together. This blog knows its audience and what they care about, so it's always publishing content that shares the political and religious views of the passionate, devoted readers. Timely news and evergreen content both fill The Christian Left website.
Increase Organic Traffic to Your Religion and Spirituality Blog
Your Religion and Spirituality needs great content to thrive, but how do you go about producing it? If these ten blogs have given you inspiration, the next step is to come up with a content plan, one that's based around your niche audience's interests and actual keywords. From there, you need to figure out how to execute your plan, and that's best done with the help of a professional writer.
Scripted can help match you with a Religion and Spirituality writer who knows how to engage your audience and connect ideas with passions. With Scripted, you can quickly increase the organic traffic to your site by boosting audience engagement, content relevance, and overall quality. Get started today.

---
Published by
Carolyn Heard
on Thursday, May 6, 2021
in
Blogs
,
Religion & Spirituality
,
Belief Net
,
Christianity Today
,
Faith Driven Entrepreneur
,
Gospel Chops
,
Next Church
,
Redeeming God
,
Religion News Blog
,
The Christian Left
,
Women Of Faith
,
World Religion News
.