Topic Marketplace Pitching: Your Creative Outlet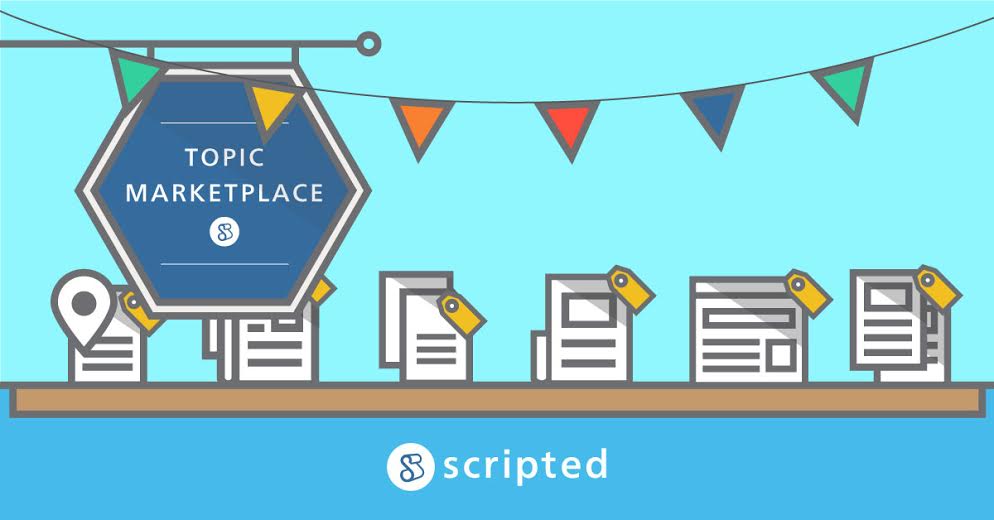 Our Topic Marketplace allows writers to pitch their ideas to businesses ready for content.
Have you ever wanted to write about something you're passionate about -- and get paid for it -- on Scripted?
Pitching
to clients can sometimes achieve this, depending on the pitch request, but occasionally, you may just want to exercise your creative juices on a topic that you know you'll knock out of the park.
This is why we created the Topic Marketplace.
What is the Topic Marketplace?
The Scripted Topic Marketplace is a place where customers can browse and order blog posts pitched by Scripted Writers. Whether you're a business writer, a travel guru or a wellness fiend, there are customers looking for your ideas (and your writing!) in the Topic Marketplace.
To pitch to the Topic Marketplace, simply visit the Pitching tab of your writer dashboard. From there, click on the tab titled "Topic Marketplace."
Succeeding in the Topic Marketplace
Since the Topic Marketplace's launch, we've noticed some definite trends with writers and the customers that purchase their topics. Whether you are a regular pitcher or just feeling out the new system, we recommend keeping the following in mind.
Complete Your Writer Profile
We've noticed a definite difference in the sheer number of topics accepted by writers who have completed writer profiles -- writing samples included! -- and those who have blank profiles. Your writer profile allows customers to see your past experiences in topics similar to those that you are pitching, your Scripted metrics and your Specialties. All of these components factor into a customer's decision to accept your pitch. To learn how to get the most out of your writer profile,
click here
.
Spell It Out in the Title
The title of your pitch is what will grab the customer first. Customers have even told us that this is the most important part of a pitch. If you want your idea to gain some attention, it pays to be creative and concise in your title. While listicles and Top X posts are all the rage these days, offering up some different takes on a "best of" article can help set your pitch apart.
Check Your Pitch Before You Wreck Your Pitch
Too many pitches have been rejected over small, easily fixed issues with grammar and spelling. You're showcasing your talents to customers, grammar and all, so it pays to double check your pitch title and explanation for any typos, errors or missing information. Poorly written pitches are almost guaranteed to get rejected.
Don't Leave Your Pitch Hanging Without Examples
When pitching your idea, don't assume that the customer knows what points you'll make in your article. Give them a full picture of what you plan on incorporating into your piece. This is particularly important for those articles that include "x best things for _____," or other list-type articles. We find it's also best to not repeat the title of a pitch in the pitch explanation. For example, if your pitch is "Best Marketing Techniques for Millenials," your pitch should not just state "This piece will cover the best marketing techniques for millenials."
Come Back Often
Don't just pitch a ton of topics once and wait for them to be purchased. Instead, consistently check back on available pitch requests. Available requests change up depending on customer demand, trends and activity.
It's also a good idea to pitch frequently, even if it's to the same pitch requests. Newer pitches are more prominent, so it's smart to pitch once a week.
Ride the Acceptance Wave
Have you discovered any trends in your pitches that are continuously accepted in the Topic Marketplace? If this is the case, try pitching topics in the same vein. Most of our Topic Marketplace customers are repeat customers and love coming back for more topics related to their industry.
All in all, pitching to the Topic Marketplace gives you an opportunity to write more pieces that interest you -- and that you're knowledgeable about! Whenever you're looking for a break from other Scripted jobs, head to the Topic Marketplace to show off your ideas.
What works for you when you pitch? Let us know in the comments below.
See More Freelancing Topics Below:
The Freelance Economy: Past, Present and Future
Maintaining Wellness While Working From Home
The Healing Power of Journaling