5 Page-Turning Novels to Keep You Entertained This Holiday Season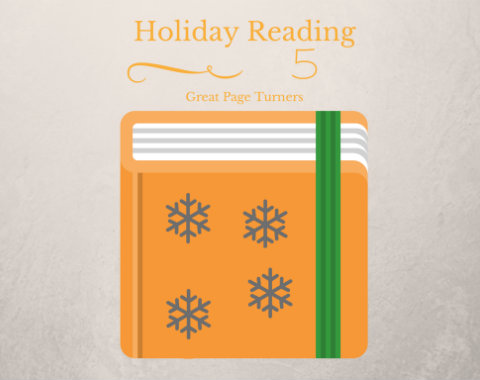 These five novels are sure to give you plenty of entertainment during the duller, chillier months leading up to the holidays.
As the weather turns chilly and the holidays approach, you're probably looking to curl up next to the nearest heating vent with a good book. Lucky for you, there's a spate of promising novels prepared to be released this November and December.
You won't have to wait long for these five page-turners. If you're wise, you'll add them to your holiday wish list now!
Revival by Stephen King
Release Date:
Nov. 11
Publisher:
Scribner
The newest mystery released by Stephen King is set in a sleepy New England town about 50 years ago. When a charismatic minister and his family move in, the whole town seems to fall under his spell. A young boy named Jamie Morton is no exception. When a tragedy occurs, the minister loses his faith and is eventually asked to leave the town.
Jamie grows up and ends up running into the minister later in life and the two bond. Neither has the faith they once possessed. In fact, the minister seems obsessed with discovering the secrets of the supernatural by experimenting with electricity. Their reunion soon leads to a chilling conclusion in this supernatural thriller.
By now, you most likely know whether or not you're a Stephen King fan. If you are, you'll relish his newest work, which King claims is among his most terrifying.
Second Opinion:
The Onion A.V. Club gave it a B- and
wrote
:
Virtually all of Revival is a slow build that sometimes feels suspiciously like a shaggy-dog story, one which may not have a punchline... In this case, though, the story ultimately finds its way to a horrible jolt, part of which readers will probably see coming and dread all the more as a result...
Flesh and Blood: A Scarpetta Novel by Patricia Cornwell
Release Date:
Nov. 11
Publisher:
William Morrow
This is the 22nd mystery that author Patricia Cornwell has released about her well-established character, forensic pathologist Dr. Kay Scarpetta. In this book, Scarpetta investigates a local accused of a string of bizarre shootings across the U.S. She becomes involved when the killer begins to leave pennies behind as clues in her own home.
If you've enjoyed any of the other Scarpetta novels, you'll really enjoy cozying up with this book. It has all the elements that most Patricia Cornwell fans expect from her books -- a thrilling plot, fascinating characters, and all the ballistic and medical details you won't get from the typical mystery novel.
Second Opinion:
Barry Forshaw of The Independent
writes
:
Notably tenser than Dust, its predecessor, Flesh and Blood justifies its 370 pages, but its sheer bulk means it's not one for the Cornwell novice.
Moriarty by Anthony Horowitz
Release Date:
Released
Publisher:
Orion
Anthony Horowitz has the rare honor of being the sole author allowed to write Sherlock Holmes novels by the Arthur Conan Doyle's estate.
Moriarty
is a follow-up to
The House of Silk
, which explored a fight between Holmes and his nemesis, Professor Moriarty.
Moriarty
explores the consequences of a fight between the two characters and follows detective Frederick Chase as he goes to Europe to find a successor for Moriarty.
As you might expect from a novel involving Sherlock Holmes, this book is an enthralling account of danger and murder. If you are heavily invested in the world of Sherlock, you'll appreciate the conclusion of the conflict between the two dueling detectives.
Second Opinion:
Laura Miller of The Guardian
writes
:
Moriarty is a sound mystery novel, with traps, disguises and a good if not exactly unprecedented twist, but whether it scratches the Holmesian itch is another matter. It is a remarkably melancholy affair. There is none of the "air of irresponsible comedy, like that of some father's rigmarole for his children" that the critic Edmund Wilson praised in the Holmes stories, or the sheer, campy brio that distinguishes Conan Doyle's detective fiction from its latter-day descendants
Saving Grace by Jane Green
Release:
Dec. 30
Publisher:
St. Martin's Press
This piece of fiction follows the lives of writer Ted Chapman and his wife Grace. On the surface, the two seem like they have the perfect marriage, but, in reality, Grace is terrified of her husband's dark mood swings. When his assistant -- the only one able to keep him in line -- gets a new job, Grace feels more frightened than ever.
And while the assistant returns, it soon becomes clear that she is the biggest threat. If you appreciate suspenseful, gripping novels with relatable protagonists,
Saving Grace
is a must-read.
Second Opinion:
Pam Norfolk of the Blackpool Gazette
writes
:
Green paints an intriguing portrait of a woman trapped within her own suspicions, slowly witnessing, as if from outside, her fragile, tightrope existence spiraling dangerously out of control.
The Heart Has Its Reasons: A Novel by Maria Duenas
Release
: Nov. 11
Publisher:
Atria Books
Maria Duenas, the New York Times bestselling writer of
The Seamstress
and
The Time In Between,
will soon release her third novel,
The Heart Has Its Reasons: A Novel.
Her most recent release introduces Blanca Perea, a woman who, shortly after getting divorced, moves to California to accept a research grant on a now-deceased Spanish writer. As Perea unravels secrets from the writer's intriguing past, she becomes involved with a professor who aids her research.
Whether you're looking for a riveting mystery or a captivating romance, this book is it. The imagery of Spain in the 1950s is vivid and intense, while the passionate romance between the two main characters is thrilling on its own merits.
Second Opinion:
Kirkus
writes
:
A slow-paced but ultimately satisfying story of a woman who comes to terms with her past by investigating someone else's.
Before you light up the fireplace this winter, make sure you have at least one of these books on hand. Consider getting a few as gifts for the book lovers in your life, as well.
To Read More About Literature and Freelance Writing, See Below:
5 Best End-of-Summer Reads
What Web Writers Can Learn from Classic Cross-Genre Artists
Write, Revise, Repeat: Insights from Professor Audrey Bilger