The Freelance Economy: Past, Present and Future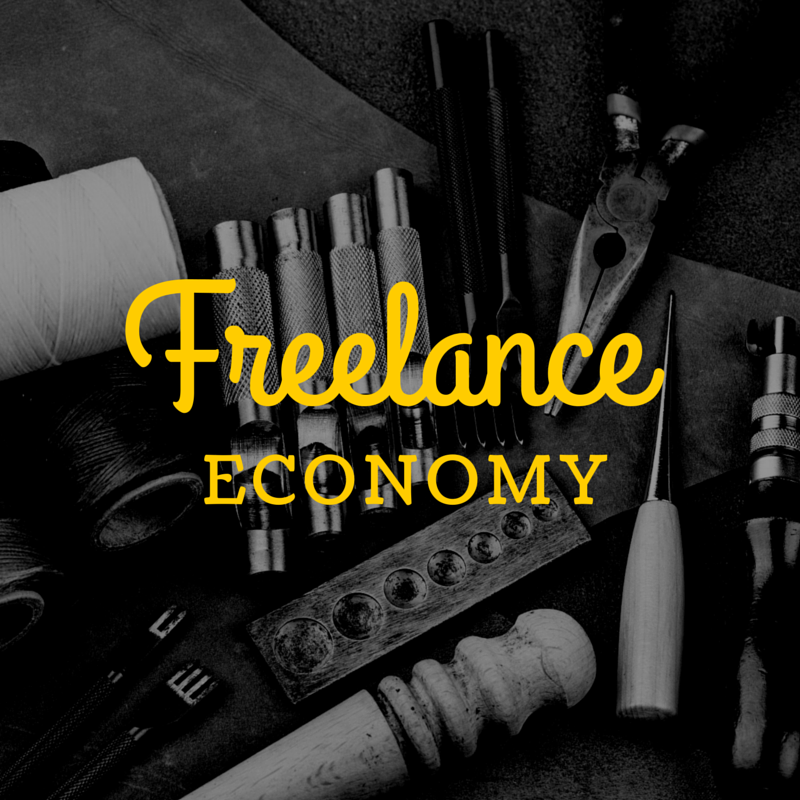 Freelancing is becoming the new norm.
The freelance economy is on the rise and changing the way we think about employment. In the United States alone, there are as many as
53 million freelancers
, a whopping 34 percent of the workforce. This is the biggest employment revolution in nearly
a century
. Freelancers contribute
$715 billion
to the U.S. economy each year, marking the freelance marketplace as much more than a fleeting trend.
Current Freelance Trends
When it comes to this new way of conducting business, trends are emerging. Technology, for example, plays a major role in the freelance economy. Nearly
70 percent
of current freelancers feel that technology has made it easier for them to find work in their field.
This may explain why so many freelance opportunities are digital ones. For example,
Scripted
hires freelance writers and editors to produce content for businesses and media outlets. In this model, the process works like a well-oiled machine -- yet a distributed one with each contributor working from his or her own location. Websites such as
Angie's List
and
TaskRabbit
also thrive online, linking independent professionals with clients. While workers can take advantage of online-only tasks, such as compiling spreadsheets or designing websites, other jobs involve manual labor and in-person opportunities. Yet even these types of jobs would not be flourishing as much without the websites' matchmaking technology.
One specific branch of technology impacted by the growth in the freelance marketplace is app development. In a highly mobile era, apps allow users to access, utilize and manage freelance work anytime, anywhere. For example,
Uber
, the ride-sharing company that has taken the country by storm, matches passengers and independent drivers through mobile technology. Last year, Uber reported having
eight million users
.
The freelance marketplace is also reaping the benefits of social media. Many freelancers use Facebook, Twitter, Pinterest and other forms of social media to market their services. In fact,
14 percent
of freelancers find work through social media -- a number that will likely continue to rise.
What's Working in the Freelance Marketplace
A lot is going right in the freelance marketplace. Many freelancers are able to work for rates that are more competitive than traditional businesses can offer because freelance marketplaces are able to minimize overhead expenses such as employee benefits, office space or commuting costs. Uber has been more competitive than traditional cab companies in part because it doesn't need to maintain a fleet of cabs.
A major success factor for individual freelancers lies in the skill of networking. As with many other businesses, it's all about who you know;
34 percent
of workers find their jobs through referrals.
How to Improve What Isn't Working
While the freelance marketplace is experiencing growth and success, there are a few areas that need improvement. For starters, the amount of money freelancers make often isn't what they had expected or hoped. While making more money is the
fourth-most popular reason
a worker begins freelancing, nearly
50 percent
actually end up making less annually after shifting to the freelance economy. As the freelance talent pool grows, freelancers must set higher prices, and companies need to recognize and pay for such talent. This may happen in the future as
larger companies
expand their hiring of freelancers.
A related challenge experienced by freelancers is the number of hours they need to dedicate to making their lifestyle work. It's not unheard of to see freelancers working multiple jobs or even holding a traditional job while freelancing on the side.
One-quarter
of freelancers work more hours than they did in a traditional work setting, and
37 percent
moonlight in addition to a regular job in order to boost their income. This should improve as rates go up. Additionally, freelancers benefit from
getting their name out there
more. The higher the demand, the fuller the dance card; the more gigs booked, the higher the rate charged -- and ultimately the fewer hours needed to make ends meet.
Another glaring issue in the freelance marketplace is how difficult it can be to get paid.
Forty percent
of freelancers struggle to collect the funds they're owed. To change this, freelancers can be more sophisticated with their invoicing and negotiate shorter payment lead times. The real change, however, needs to come from client companies who must recognize talented contract workers and fight to retain them just as they would with in-house employees.
The Future of the Freelance Economy
The freelance economy is still expanding. Freelancers have jumped on board for this new type of work for
multiple reasons
: more flexibility, more creative control, the ability to work from home, increased income and the opportunity to grow one's own business. These are powerful motivators that are not likely to weaken anytime soon.
As more workers become aware of the draw of the freelance lifestyle, additional people will join the workforce. The current number of freelancers is expected to grow by a whopping
50 percent
by the year 2020. This means freelance work may outpace traditional nine-to-five jobs.
As the numbers grow, the freelance economy can also expect to see a shift in the type of businesses involved. Right now, we see a lot of freelancers working for small businesses, but this will soon change. Major companies, such as
Yahoo and AOL
, are turning to freelance workers for everything from writers to IT workers. As much as
77 percent
of those who freelance believe this is only the beginning and that there many more good things to look forward to in the freelance marketplace.
What do you think about the future of freelancing? Let us know in the comments below.

See Below for More Freelance Tips:
Pro Bono: Writing Beyond The Paycheck
Have Your Cake (And Eat It, Too!): Work-Life Balance Can Be Achieved
Why Freelance Writers Shouldn't Fear Content Marketplaces
---
Published by
Scripted Writers
on Tuesday, June 30, 2015
in
Writing
,
Angie's List
,
Freelance Economy
,
Freelance Marketplace
,
Freelancers
,
Scripted
,
Taskrabbit
,
Uber
,
Writer
.