Scripted Workflow: The Life of a Job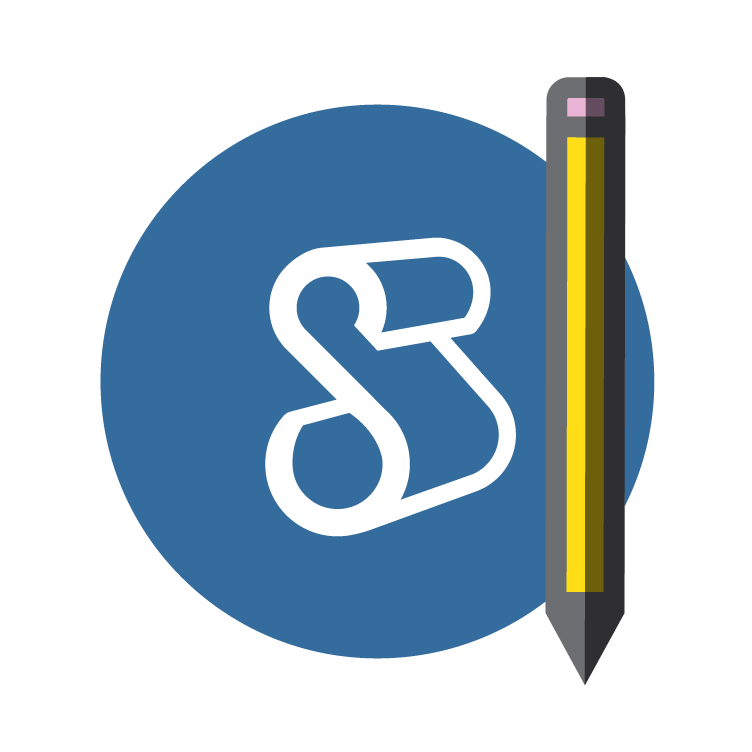 Ever wonder about the paths that a Scripted job can take? We break it down for you below.
Scripted jobs can follow a number of paths before they accepted by a customer. Depending on the format of the job, the complexity of the job and the customer's needs, a job may go through a rather standard workflow or a more complicated one.
A job that requires no revision requests or customer clarification will go through the following workflow: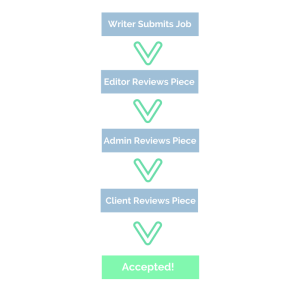 You Claimed a Job!
This job is now yours to complete within the specified deadline. Most jobs are put into Scripted with a deadline of four business days, although rush jobs and Superhero jobs often have shorter deadlines.
Now What?
Now it's time to work on your piece! Right after claiming, be sure to take a look at the guidelines. Open all attachments, check the links, and make sure that you have all the information that you need to start writing. You don't need to start your piece right away, but give the guidelines a good read-through before moving on. This way, you can assess whether the guidelines are missing anything (and click the Insufficient Guidelines button to let us know!).
Are You Working on Your Job?
Sometime near your deadline, you'll receive an email reminding you of the deadline (if you are subscribed). You'll have the option to release the job into the writer pool or state that you're currently working on the piece.
Please note: releasing jobs close to the deadline can negatively affect your Scripted standing over time. Please only claim jobs that you know you'll be able to complete.
You Submitted Your Job!
Once your job is submitted, there are two things that can happen:



An editor will take a look at your piece, say that it's good to go, and pass it on to an admin




An editor will request that you make revisions on your piece, which will be detailed in the job's comments. You will have

24 hours

to submit these revisions.



Once your job has been pushed through by an editor, the following things can happen:



An admin can send it to the customer for review.




An admin can request that you make revisions on your piece, which will be detailed in the job's comments. You will have

24 hours

to submit these revisions. This does not happen very often, but when it does, revisions must be completed before the piece can be sent to the customer.



Your Job is in the Customer's Hands!
Congratulations! Your job is now in the hands of the customer, which means acceptance (and payment) is almost here! Once the customer receives a piece of your content, they can do one of the following things:



No shock here -- they love your piece! They'll hit the big green "Accept" button, and payment will immediately be added to your next paycheck.




They love what you've done, but something is still missing. They'll probably add some comments and request a few edits from you before accepting. You will have

two business days

to submit these revisions.




The customer didn't really get the piece that was expected. The customer will reject the piece, and you'll receive up to 50% of the compensation for your work on this piece.



Is There Any Other Path That My Job Can Take?
Yes! There are other stages and timelines that a job can fall into, depending on guidelines, deadlines, and necessary customer intervention.
Plagiarism Check
Every job at Scripted goes through a plagiarism check. If your job is ever suspected of Plagiarism, it will show up as "Plagiarism" in your Submitted Jobs tab. Please note: this does not necessarily mean that your job was plagiarized! It only indicates that we're taking a closer look at the content to make sure that it's all original. If any changes are needed from you during this time, an admin will send the piece back to you.
Paused
A job can be paused by an admin whenever there is a need for reaching out to a customer. This can happen because of a writer question, insufficient guidelines, or a customer's request to change something about the job. When a job is paused, it is removed from your queue until we receive clarification from the customer. Once we hear back with more details, the job will be placed back into your queue, and you can start writing! A member of our team will also reach out, letting you know what changed with this job.