Industries and Specialties: Your Guide to Our New Terminology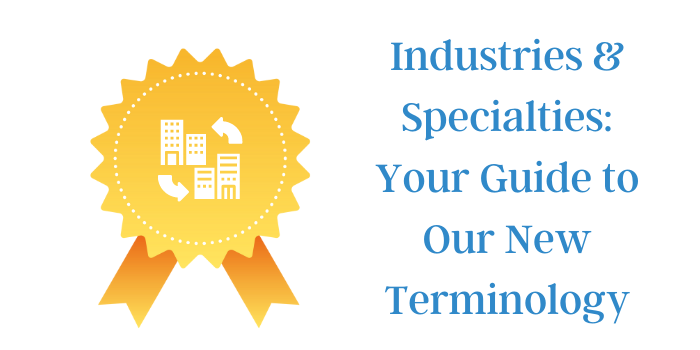 The names have changed but the concepts are the same. Here, find everything you need to know about Scripted's Industries and Specialties.

[This article was updated in March 2022 to reflect Specialty changes to the Scripted platform.]

We at Scripted are always working to make your writer experience better, and this year has been a productive one on the improvement front. You've most likely noticed the changes we've made, and we have another big change to announce: Our Specialties and Expert teams have new names.

Specialties are now called Industries and Expert teams are known as Specialties. We feel these terms more accurately represent each team's purpose and are clearer for you and our clients.

Your writer dashboard has been updated to include these new names, but don't worry-the application processes haven't changed. To claim jobs, you'll still need to be approved in at least one Industry. To become a Specialist, you'll still need to speak knowledgeably on niche topics while also contributing a higher level of research to a piece. Both applications still require writing samples.

One new improvement that we've made is to allow all Industry-approved writers to apply to our full list of Specialties, regardless of the Industry in which they are approved. This means that if you're approved in Healthcare & Science Industry, yet you've previously worked in Marketing, you can still apply to this Specialty and gain access to further Scripted jobs.

As a quick review, here's a summary of the application and approval process after you've taken our proficiency test.
Apply to an Industry (formerly Specialty)

To start claiming jobs on Scripted, you'll need to be approved in at least one Industry. What's an Industry, you ask? It's a broad classification that describes types of job by topic. For example, a blog post comparing native apps to web apps would be listed in the Internet/Software Industry. A blog post describing the benefits of California olive oil would be categorized as Food and Beverage.

Industry applications are typically reviewed within five business days. If you haven't heard from us within that time, feel free to email for a status update.
Congrats: You're a Scripted Writer!

You've applied to an Industry and your application was approved-now what?

Congratulations! You're now a Scripted Writer. Scripted Writers are those who are approved in at least one Industry and are eligible to claim jobs within that Industry.

There's no limit on the number of Industries you can apply to-feel free to apply to as many as you're qualified for and find interesting!

Please note that you can only claim jobs and pitch within your approved Industries. If you see an interesting job you're not yet eligible to claim, consider applying to that Industry-this is one way to diversify your workload and increase your access to available jobs.
Have Niche Knowledge? Apply to a Specialty

Once you're approved in an Industry, you're welcome to apply to one or more Specialties. Formerly known as Expert teams, Specialties are concentrated, niche areas of knowledge. Think of Specialties as subcategories of our Industries. Where Internet/Software is an Industry classification, Mobile Applications is a Specialty.

Our Specialists, many of whom have years of work experience in their respective fields, are deeply familiar with their Specialties. They're able to write compellingly to other individuals in their field and are expected to conduct more research to support their points.

Becoming approved in Specialties is a great way for you to gain access to jobs on the topics you love most and is another great way to diversify your workload. What's more, because they require more research and specialized knowledge, Specialist jobs also have higher rates.

To apply to one or more of our Specialist teams, visit the Specialists tab in your writer dashboard. Once you application is approved, you'll be able to claim Specialist jobs and submit pitches.
Questions? Concerns? Let Us Know!

If you have any questions about these changes, shoot us an email at -we'll get back to you within one business day.

We also hosted a webinar this morning addressing both application processes-check the blog for the playback link!