Top 6 Google AdWords Mistakes to Avoid
A Scripted Freelance Writer Writing Sample
Google AdWords is a powerful self-serving advertising platform on which advertisers can promote their products or services and drive more sales. Featuring a convenient cost-per-click (CPC) format, advertisers only pay when a user clicks their ad. But if you're thinking of launching an AdWords campaign, you should avoid making the following mistakes.
#1) Equal Bids for Search and Display Network
Don't make the mistake of bidding the same amount for Search Network and Display Network traffic. As explained in this help article, AdWords offers several different traffic networks from which advertisers can choose, the two most popular being Search Network and Display Network.
Search Network ads show on Google's search results page, whereas Display Network ads show on thousands of loosely affiliated websites that participate in Google's AdSense program. While there are exceptions to this rule, Search Network traffic typically yields a higher click-through rate (CTR) and more conversions, making it more valuable than its counterpart. To accommodate for this nuance in quality, you should bid higher for Search Network traffic.
#2) Not Using Negative Keywords
If you aren't using negative keywords, you are missing out on one of the easiest ways to increase your AdWords return on investment (ROI). In a case study cited on its website, AdaptPartners reduced its cost-per-action (CPA) and increased its conversion volume through the "strategic use of negative keywords."
As the name suggests, negative keywords are used to prevent ads from showing when a search query contains them. A business owner who specializes in PC security software, for instance, probably doesn't wasn't his or her ads showing for search queries like "free PC security software," "free malware protection," or "free virus scanner for PC," in which case the negative keyword "free" should be used. Use negative keywords to target a more narrow demographic of prospects.
#3) Using the Wrong Keyword Match Type
Another all-too-common mistake AdWords advertisers make is using the wrong keyword match type. Broad match may deliver the most traffic, but that doesn't necessarily mean it's the best choice. Whenever you target a broad match keyword, your ad also show for similar phrases, variations, synonyms, misspellings and other relevant queries.
Opting for phrase or exact match typically delivers less traffic but with a higher conversion rate. According to a study cited by the performance marketing agency Merkle, exact match keywords deliver an 8% higher conversion rate than phrase match and an 18% higher conversion rate than broad match keywords.
#4) Overlooking Ad Extensions
Ever notice how some AdWords ads contain more than just the title, description and display URL? This is a special ad format consisting of one or more ad extensions. The call extension, for instance, places a click-to-call button in your ad, whereas the reviews extension displays third-party reviews in your ad. Extensions improve ad visibility, CTR and overall value to your ads.
Manual Ad Extensions:
-
Apps
-
Calls
-
Locations
-
Reviews
-
Sitelinks
-
Callouts
Automated Ad Extensions:
-
Consumer ratings
-
Previous visits
-
Seller ratings
-
Dynamic sitelinks
-
Dynamic structured snippets
#5) Not Using a Dedicated Landing Page
Sending traffic directly to your homepage isn't as effective as sending it to a landing page. With a dedicated landing page, you can optimize the design and layout for a higher conversion rate.
Most homepages feature lots of content and navigation links, which can actually hurt your PPC conversions. If a user clicks your ad and sees dozens of navigation links on your homepage, he or she may click one of those links instead of the actual call to action (CTA). But if you use a dedicated landing page, you can eliminate unnecessary content and navigation links, drawing attention to the CTA instead.
#6) Not Tracking Keyword-Level Conversions
Tracking conversions on a keyword level is critical when running an AdWords campaign. If you don't know which keywords are delivering conversions, you can't adjust your bids for optimal performance. If a particular keyword is driving more conversions than others, conventional wisdom should tell you that increasing your bid price will deliver more conversions. On the other hand, if a keyword isn't driving sales, you should either bid lower or remove it from your campaign altogether.
You can learn more about Google's ValueTrack system by clicking here. It's one of many keyword tracking solutions that's compatible with AdWords.
Hopefully, this will give you a better idea of what not to do with Google AdWords. But even "mistakes" such as these aren't completely useless, as you'll gain valuable information that can improve your PPC campaigns in the future.
---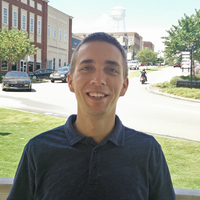 Atlanta, Georgia, United States •
Brent is a professional freelance writer, journalist, webmaster and digital marketer who's been crafting online articles and blog posts since 2008. He has written for hundreds of clients, with topics ranging from e-commerce and social media marketing to alternative medicine and computer programming. When he isn't busy writing and editing, Brent enjoys hiking, camping, fishing and spending time with his son.
Customer Ratings:
Power your marketing with great writing.

– Start your 30-day free trial today!
GET STARTED