To Lexington, With Love: Meet the Kroger Muralists
A Scripted Freelance Writer Writing Sample
In a community of multicolored houses, graffiti art and home to one of the largest outside art festivals in the country, it seems only fitting that the Euclid Ave. Kroger be artfully adorned too. Now the supermarket can match its neighborhood aesthetics with three large-scale murals. Along with the guidance of LexArts, Kroger spent $45,000 for local artists to paint three murals for its newly-renovated store. LexArts helped Kroger select three local artists from over 50 applications and also provided studio space and supply partnerships to make the creations possible. Meet the artists for this unique project: John Lackey John Lackey, owner of Homegrown Press is a writer, painter, woodblock artist, film maker and musician, but if he could choose just one thing, he would choose painting. "I'm 52; it's kind of my job to make masterpieces," Lackey said. "How often am I going to get to make a 60 foot long public painting?" Lackey painted the largest of the three commissions, an outside mural consisting of five 12 by 7 foot panels. It spans the outside wall facing Marquis Avenue. "This is going to be up there for years. I have an opportunity to make something special for people and I'm going to do it," he said. With that determination, Lackey painted scenes from Woodland Park sometimes for seven days a week, 10 hours a day. The park of yesterday and today was his inspiration. The mural consists of the skate park, the pool's iconic pirate ship, gypsy dancers during the Woodland Art Fair and 1980's punks with mohawks headed down to the softball field. "This is the hardest one to do," Lackey said, pointing to the Woodland pool panel on the wall. And you can clearly see why. The piece is the spirit of summertime and Alice and Wonderland wrapped into one. Multilayered, a tree trunk morphs into a diving board for a joyous woman in a red bikini to make her spirited splash. The cerulean sky and the pool water are one in the same, the blue welcoming viewers to dream and decide their own reality. At the top of the painting sits a cardinal in the tree, a nod to Lackey's grandmother who encouraged his art at a young age. Lackey remembers the first color markers his mother gave him. He drew the typical childhood drawings of the family cat and the Beatles, but his grandmother inspired him to do more. "She gave me some pencils and paper and said, try to draw these models in this magazine" Lackey said. "There was a lot of shading, that really broke through." Another breakthrough for Lackey is his new film project. Using the north Lexington neighborhood as a backdrop, he aims to tell a vivid story in stop motion film. What is most exciting is how Lackey participates in his own community around him. He opens his studio doors to anyone to come in and see what art is all about. Lots of people walk in with a doughnut in hand (North Lime Coffee and Doughnuts is right next door) curious about Lackey's curly cue trees and bright flowers. He also gives paints and supplies to the neighborhood kids to foster their own creativity. "People love their rules. I'm trying to show all the other stuff," Lackey said. "I'm trying to show people how to have their own rules and guidelines." He points to the mural-in-progress with the pool and flowerbed morphing together, "Some kids come in and see it right away." Liz Swanson Liz Swanson is a professor of architecture at the University of Kentucky, but for the months of November and December 2014 she spent most of her mornings painting before she went to work. She arrived in sweat pants and a warm sweater with her curly hair pulled back to avoid the paint. She looked like the quintessential artist: her pants' leg brushed with paint, white, thin brush strokes as if she used the cotton material as a palette to take the excess paint off her brush. "It was an amazing opportunity to do something large scale," Swanson said about the 9-panelled, 36 foot wide piece. With eye-catching layers of bright colors, fields full of greens and yellows, skies moody with deep purples and blues, it looks like a kaleidoscope of Lexington and the surrounding area. A Chicago-native herself, Liz calls Lexington home along with her husband and two children. "It's different scenes that zoom in and out of various slices of Lexington life," Swanson explains. The mural contains images of the Kentucky palisades, horse barns, downtown buildings, the University of Kentucky and, of course, the Chevy Chase neighborhood where the supermarket is located. The mural is reminiscent of Swanson's background in urban planning and landscape projects. Currently she is working on a project on community identity, using the Lyric Theatre as a subject. She is answering the question: What makes a place specific and unique? This mural is the answer to that question in terms of Lexington, KY. With extreme thoughtfulness, everything in the mural points to the uniqueness of the city and state, from a patch of native wildflowers to an abstract map of Man O' War and New Circle roads circling around the city. The mural itself is a collaboration with the community. Liz used donated paints from Deco Art Paint from Sanford, KY. LexArts provided ample studio space for two of the three selected artists. A teacher at heart, Swanson invites 18 energetic kindergartners from the Sayre school to make their own mark on the painting. Each child from Swanson's son's class participated by stamping their thumbprint as a fossil in the palisade river rocks. Collaboration is something Liz enjoys. This mural is a part of the bigger scope of local arts in the city. "There is such a street art and mural renaissance in Lexington. To be a part of that energy is exciting," she said.
---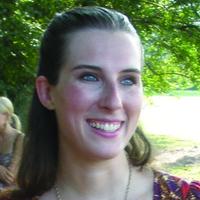 Lexington, Kentucky, United States •
Brooke Harris is a freelance writer and writing instructor living in Lexington, KY. She loves to help people communicate their vision and has written several blog posts and content for corporate and non-profit organizations.
Customer Ratings:
Power your marketing with great writing.

– Start your 30-day free trial today!
GET STARTED
Other content marketing examples from Brooke H
6 Tips for Successful Time Management for Busy Adult-Learners Between your spouse, kids, job and ... Read More