The 7 Best Mouthwashes For Gingivitis To Buy In 2018
A Scripted Freelance Writer Writing Sample
Plenty of people have heard of gingivitis in passing from advertisements or pamphlets in their dentist's office. However, these mentions don't give credence to the red-flag nature of gingivitis: it's the beginning stages of periodontitis, which can progress from irritated gum tissue and bad breath to tooth and bone loss. It may also serve as a warning sign for conditions like heart disease and stroke.
Luckily, gingivitis is completely reversible, especially if you add antibacterial mouthwash to the mix. You probably encounter mouthwashes at the drugstore all the time, but according to the American Dental Association, rinses that help treat gingivitis need to have different antimicrobial ingredients aside from the fluoride that most standard anti-cavity washes contain—meaning you'll have to do some research before choosing a product.
You should always consult your dentist if you're experiencing symptoms of gingivitis, but once you're given the go-ahead you can pick a mouthwash from our list of the top mouthwashes for gingivitis.
Best Overall: TheraBreath Healthy Gums Oral Rinse
This periodontist-formulated rinse hits a home run for its ingredient quality and value for the money. It contains FDA-approved ingredients that are clinically proven to fight germs and bacteria that lead to gingivitis. It's alcohol and sugar free, so it won't sting your mouth or damage your teeth, and additional zinc compounds fight halitosis, so your breath will be as clean as your gums.
Multiple reviewers mentioned that they avoided costly, painful dental procedures after several months of daily use, and said their dentists were amazed by the turnaround in their gingivitis. TheraBreath's rinse is one of the best values for the money on Amazon, and the glowing customer reviews make it our choice for best overall mouthwash for gingivitis.
Best Budget: Listerine Ultraclean Oral Care Antiseptic Mouthwash
Listerine is a familiar brand to anyone who's strolled up and down the mouthwash aisle, and this rinse has plenty of ADA and FDA-approved ingredients to fight gingivitis on a budget. It's clinically proven to prevent tartar buildup and germs. Although this mouthwash contains powerful antiseptics, the Cool Mint flavor makes it easy to use every day as part of your dental care routine.
Many reviewers praised the brand's consistent quality over the decades, as well as the refreshing flavors and wide availability. They also mentioned noticing a reduction in visible plaque after using this wash and said the price was just right.
Best Alcohol-Free: Crest Pro-Health Multi-Protection Alcohol-Free Rinse
There are plenty of reasons to choose an alcohol-free mouthwash when you're trying to control gingivitis: they don't have the initial burning sensation of other rinses, and washes with alcohol can worsen dry mouth in the long term. Crest's Pro-Health Multi-Protection Alcohol-Free Rinse has all of the bacteria-fighting benefits of a gingivitis mouthwash without the unpleasant aftertaste.
Germs and microorganisms are no match for this mouthwash. It's also effective for removing plaque for a brighter smile. When you're done swishing it, you'll enjoy a minty flavor instead of an alcohol burn.
Amazon reviewers said this mouthwash lived up to its promises, and one reviewer noted that after using it for a month his gums stopped bleeding (a telltale sign of gingivitis).
Best Sensitive: CloSYS Original Unflavored Mouthwash for Sensitive Mouths
Protecting yourself from gingivitis when you have sensitive teeth or gums is no easy feat: many mouthwashes include alcohol, colors, additives, or sulfates that create a burning sensation. If you've struggled to find a rinse that fights plaque without fighting your mouth, CloSYS Original Unflavored Mouthwash was designed with you in mind.
CloSYS line of products contains an ADA-approved, patented ingredient that keeps gum disease at bay without the discomfort of traditional mouthwashes. Its pH-balanced formula is gentle enough to use even if you have painful canker sores or swollen gums.
Over 900 positive Amazon reviews helped this mouthwash gain the Amazon's Choice stamp of approval. Several customers preferred CloSYS gentle flavor over the harsher taste of drugstore mouthwash options, and multiple fans noticed improvements in their canker sores and bad breath.
Best for Dry Mouths: Biotene Dry Mouth Oral Rinse
Dry mouth is an uncomfortable condition that occurs when your salivary glands fail to produce enough saliva to keep your mouth wet. Insufficient saliva makes it harder for your mouth to wash away plaque, which aggravates current gingivitis or puts you at risk for developing the condition. A special rinse can mean the difference between a healthy mouth and progressive gum disease, and Biotene's Dry Mouth Oral Rinse is up to the task.
Biotene's rinse provides immediate relief from dry mouth for up to four hours, but using it on a consistent basis can improve overall oral health for patients with gingivitis and dry mouth. The formula is alcohol and sugar-free, and it tackles the bad breath, discomfort, and higher risk of cavities and gum disease that comes with dry mouth.
Customers looking to fight gingivitis noticed that the rinse made a huge difference in their medication-induced dry mouth. Customers with sleep apnea praised it for reducing side effects associated with their CPAP machines.
Best for Canker Sores: Orajel Alcohol-Free Antiseptic Mouth Sore Rinse
Dealing with symptoms of gingivitis is difficult on its own, and adding canker sores to the mix makes treating your gums even more difficult. People with co-current gingivitis and canker sores may struggle to find a mouthwash that doesn't irritate their already-sensitive gums. Orajel's Alcohol-Free Antiseptic Mouth Sore Rinse is easy on your gums without losing any effectiveness.
This rinse kills bacteria with hydrogen peroxide, an effective ingredient that attacks the germs that cause gingivitis without any burning sensation. The wash's added menthol also gives it a subtle mint flavor kick that will make your daily dental care routine comfortable to follow.
Amazon reviewers loved this mouthwash for working quickly on current canker sores and preventing new ones from forming while simultaneously reducing gingivitis symptoms. Some customers also mentioned that it helped with other oral irritations, like sore throats or cheek bites.
---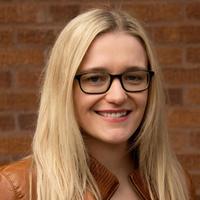 I am a freelance content writer, copywriter, sponsored content writer and journalist living in Orlando, Florida. My copywriting has been featured on Salon, Talking Points Memo, Tech Crunch, and the Allure Australia Network (Lifehacker, Business Insider, Gizmodo, and Kotaku). My content writing has been featured on Verywell Health and Verywell Fitness, and I've written editorial content for Orlando Magazine and the Orlando Weekly's print and digital outlets. I specialize in creating concise, engaging copy for a variety of industries that merges seamlessly with a brand's tone and mission. My journalism background also makes me a strong researcher, proofreader and editor for blogs, newsletters, and online and print outlets. I am a proud University of Michigan alumna and an award-winning, Second City-trained comedy sketch writer.
Hire Abby S