Photographer Advice: Why it Doesn't Matter if You're "Ugly"
This is a writing sample from Scripted writer Gretchen L. Halverson
I've been reflecting this week on a message that I received from an entrant in our Mother-Children photo contest. I won't reveal her name or any specific details, but she spoke of losing a close family member, and that photographs were so precious to her family now because the photographs were all they had left of their loved one. Professional photographers hear this more often than we want to. Whether illness or accident takes the life of someone young, or aging parents slip away, or in the especially painful event that a newborn or even unborn baby loses its life, families cling to the photographs with a poignant mixture of profound grief and thanks.* Even though I'm a photographer, today I'm not going to blog about the value of having professional portraits taken of your family. The thing is, I'm a realist, and even though professional portraits are treasures, I think it's important to take your own candid photos - and lots of them. And for all that is good and beautiful in the world: PRINT THE PICTURES. Put them in an album. Pull them out from time to time and reflect together on happy memories. If you are in the vast majority of people who doesn't like to have his or her photograph taken, heed my well-meaning, heartfelt advice: Suck it up and let your family and friends photograph you. By doing so, you are giving them a gift. One day you will be gone (and perhaps sooner than you think) and all they will have to remember you are photographs you let them capture. "But," you say, "I'm overweight/ugly/unfashionable/filthy; I have this scar/these mom jeans/ this unfortunate tattoo -- I don't want to pose for this picture right now. Maybe next time." To you, I say: NO. DO IT NOW. And do this: Think about the person you love most in the world. Imagine the camera is their face, and look at them with all the love you have in your heart. For if one day you are gone from this earth, chances are good that the person you love most in the world will be looking at that photo, feeling your love for them, and loving you back. The honest truth is that nobody who matters cares about your extra 20 pounds, or your sweaty clothes, or that ill-advised tattoo. They care about your radiant face, because your face reminds them of WHO YOU ARE. Your face reminds them of your jokes, the kind things you do, the love you give, the stories you share. When someone who cares about you sees you, they don't look with their eyes; they feel with their heart. Life is short, friends. So grab your camera. Go take pictures of the ones you love.
Written by: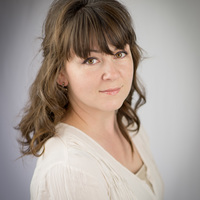 Hello! I'm Gretchen. I've been writing professionally for four years. I have an associate's degree in Business with a concentration in Office Technology, which focused a great deal on English composition and proofreading. I'm a native of West Virginia and currently live in Maine. I can write about most general topics, but my favorite clients are businesses that want life and emotion infused into their content. I have experience writing on the following topics: elder care/ Alzheimer's disease, photography, small business, parenting, gardening, home improvement. As a writer, I really enjoy ...
Hire Gretchen L