Jersey Shore To Return With Original Cast In 2018, MTV Confirm
A Scripted Freelance Writer Writing Sample
A couple amazing things happened in 2009. The United States saw its first black president take office and MTV premiered the cultural phenomenon Jersey Shore. Some might say 2 steps forward, 1 step back but as a reality TV fan myself, I sing a different tune.
You see, Season 1 of Jersey Shore is one of the greatest cultural artifacts both in terms of entertainment and sociological value. Its cast was lowbrow but with delusions of grandeur, completely unselfconscious yet pretentious in a way that only nouveau-riche partygirls/boys can be.
If, like me, you couldn't get enough this cast's explosive mix of drama, gaffes and jaw-dropping fashion moments, there's good news: they're reuniting! For those less culturally aware, keep reading to find out who these people are, what they've done and what's in store for the upcoming future.
The show premiered in December of 2009 and was the brainchild of executive producer SallyAnn Salsano who was inspired by her own youthful summers spent at the Jersey Shore. She put together a cast of 8 strangers in a house in Seaside Heights to be filmed virtually 24/7 while on summer holiday.
While there's a lot that's not real at all about reality TV, from producer-initiated staging to off camera remarks, the chemistry and drunkenness of the Jersey Shore House occupants simply cannot be engineered. The show's executives wanted something authentic, loud, young and bold and so were drawn to cast people who seemed candid and combustible. That's exactly what Jersey Shore's first season delivered.
Now, of course some aspects of the show are not "normal". The house had cameras and mics everywhere except the shower and the cast was not allowed cellphones, internet, TV or radio. It's that extra pressure to find entertainment by interacting with each other and the shore's social offerings which created the powder keg of emotional, booze-fueled chaos that captivated the nation.
While the show premiered to little fanfare, an SNL parody made viewership skyrocket after episode three. Its finale drew over 4 million viewers.
Cast members were like train wrecks in that you couldn't look away but never wanted to be in that position. Their gaudy clothes and garish tans belied the high level of grooming, care and expense each one put into their physical appearance.
Previously regional slang like GTL (Gym, Tan, Laundry) and Gorilla Juicehead (steroid bodybuilder) entered the mainstream thereby educating the masses about the elaborate but ultimately destructive discipline required of the Jersey Shore aesthetic.
The show gained controversy for its use of the terms "guido/guidette" partly because some cast members were not Italian-American. Jersey citizens like Teresa Giudice of Real Housewives and federal prison fame also jeered as they felt the show negatively stereotyped state residents.
Now lest you think the only thing noteworthy about the show is its controversial reflection of cultural trends, the show is also chock full of good ole fashioned reality tv drama. Fights in bars, hot tubs, kitchens, bedrooms and on the street occur episodically, as does some kind of hookup session in those same venues. Ah to be young again!
Other notable plot points from this first season include the tiniest cast member being punched in the face by a stranger, multiple instances of infidelity and the rebirth of the beehive hairstyle.
Given the dramatic extremes of the show throughout its 6 season run, I can only imagine what its 7th season will bring. How have money, marriage and parenthood changed the crew? I do know from social media that the excessive tanning has remained a constant source of stability in all their lives, however.
Now, unfortunately the reunion will not include two of the most captivating and annoying cast mates, on-and-off-again lovers Ronnie and Sammie. But don't worry, Snooki, J-Woww, Pauly D, the Situation, Vinny and Deana are all set to return in 2018 by popular demand. Each one has consistently proven his/herself to be 10lbs of drama in a 5lb bag so we ought to be ok.
The Jersey Shore cast members aren't in their early 20s anymore but thankfully for TV ratings, growing older doesn't actually mean growing wiser or calmer for some of us. Tune in to find out how fame, wealth and age have changed the crew and their dynamics.
---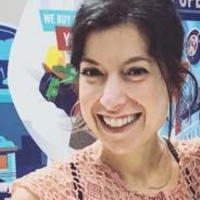 Richmond, Virginia, United States •
I'm a content writer and manager with front-end development skills living in Richmond, VA. My background as a historian has given me the ability to research, analyze information and synthesize it into a clear, conside story. I bring all those skills to the table along with my natural enthusiasm and curiosity. While I have a wide variety of interests, my love of language and story run throughout. I'm a polyglot with the good fortune to have lived or spent significant time in Oregon, California, Lebanon, Italy and New York City. Wherever I've gone, I've noticed how stories, whether historic or personal, help connect, educate and inspire everyone. I have a deep passion for style and fashion since these are visual stories of who we are and aspire to be. The word style originates from the Latin word for pen because it is the mark we leav...
Customer Ratings: