Get Fired Up in Sanford!
This is a writing sample from Scripted writer Gretchen L. Halverson
Why Sanford? Why this store? "Okay Helen," I said. "Tell me about the roots of your business. Why Sanford? Why this store?" She turned to me, full-on face to face, and deadpanned, "I wanted to get rich." We nearly fell in the floor laughing. In truth, the story of Get Fired Up is a beautiful one. It's a story of being true to one's self, but even more, it's a story of true love. Years ago, Helen's husband, Ray Hajny, retired from the submarine service in Connecticut, and was offered a shipyard position near Portsmouth. Helen researched different locations within driving distance, and they decided on living in Springvale. They moved in the spring. They unpacked. They settled in. Then one day, Ray asked, "OK Helen, what do you want to do?" Helen's first choice was to go back to school and get her master's degree in counseling. After thorough consideration, she decided that would not be the best option. "I decided I couldn't be a counselor because I'd want to take everybody home and fix them." One day, Ray asked her, "OK, well, did you think about opening up one of those paint-your-own pottery studios?" Helen explains that in Connecticut, she spent every Thursday night at a pottery studio. It was her oasis of relaxation in the week, and her knack for good technique caught on: she was offered a part-time job at the studio, and worked there until their move to Maine. Ray could see the potential, not just for a successful business, but in making his partner in life happy. "It's your turn now, Helen," he said. "All those years, you followed me in my career. Do what makes you happy. Just look into it; I'm sure you can do this." When Helen objected that she didn't know anything about running the back room and conducting the day-to-day operations, Ray didn't balk. "There are people that can train you to do that. Look into it." In the end, Ray gave Helen wings. She hopped a plane to Kansas and received an intense training on how to run her own pottery studio. Upon her return, they signed a lease, and in a few frantic weeks, Get Fired Up was open for business. "It was an amazing time." she says, with a twinkle in her eye. Happiness "So, is the business going in the direction you had hoped?" I ask. "I mean, I don't want to say 'Is the business making you happy,' but -" Helen interrupts, gushing with enthusiasm. "No, no…" she says. "It DOES make me happy. I love coming here. I love the fact that the people that come here consider me friends, family even… I get a lot of satisfaction, a lot of love. I like being able to have an impact on the community, where there is a place you can go as a family." After nine years in business, she credits, not just her husband, Ray, for her success, but Maura Herlihy, her landlord, for being so supportive. "[Maura] cares about her town, and wants to see small business succeed." The bell on the door rings, and in walk a mother and daughter, eager to spend time together and create something special. Helen hops up from our conversation and walks the two back into the pottery room. I can hear bits and pieces of her instructions. "Light paint before dark," she says, "… and don't worry if you make a mistake. Just let us know, and we can help you make it right." And really, that's what Get Fired Up is about. No matter how complicated and confusing and frustrating your day-to-day life is, you can walk in to Helen Hajny's studio, sit down, relax, and create something just right. After all, there is no wrong in art.
Written by: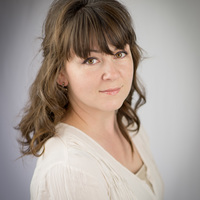 Hello! I'm Gretchen. I've been writing professionally for four years. I have an associate's degree in Business with a concentration in Office Technology, which focused a great deal on English composition and proofreading. I'm a native of West Virginia and currently live in Maine. I can write about most general topics, but my favorite clients are businesses that want life and emotion infused into their content. I have experience writing on the following topics: elder care/ Alzheimer's disease, photography, small business, parenting, gardening, home improvement. As a writer, I really enjoy ...
Hire Gretchen L