Farmers Market Finds
A Scripted Freelance Writer Writing Sample
My friend Jenna and I have a lovely tradition: every spring she flies up from Texas to spend a week in Charleston with me. We browse all the local shops and stockpile fresh produce like there's no tomorrow. (We devoured a massive bucket of fresh strawberries between the two of us within two days.)
We dip crusty fresh bread in olive oil and spicy blends of fresh herbs. We mix and knead and roll out flaky pastry dough and fill it to the brim with peaches or blueberries or strawberry and rhubarb. We eat mounds of fresh pasta topped with shaved parmesan and crunchy sea salt. We sip fresh squeezed lavender lemonade and admire all the dogs passing by.
Basically, farmers markets are everything charming and small-town-homey feeling and there's a certain level of happiness that comes just walking through them. (I think it's something like the way Holly Golightly feels at Tiffany's – if you don't know that reference, please stop what you're doing and rent Breakfast at Tiffany's on Amazon right now.)
Usually you can find a farmers market not too far from you, but if you live in the city and don't have any options close by, I highly recommend making a day trip of it and finding the nearest small town to visit. Just make sure you leave plenty of room in your backseat for the treasures you fine (handmade soaps, that massive wooden salad bowl you can't live without, the buckets of strawberries and bunches of flowers, the possible stray puppy etc.).
Each farmers market is different, so definitely buy what is local and in-season. However, most will have beautiful heirloom tomatoes, fresh corn, and fresh herbs. So. this recipe will probably be applicable to most of the USA.
One of my favorite things to make is Cowboy Caviar. You can make this all year if you want, but it is definitely best with fresh sweet corn, heirloom tomatoes, and basil just picked from the garden.
RECIPE – Cowboy Caviar
Makes 6-8 servings as an appetizer
· 1 cans of black beans
· 1 can of white navy beans
· 1 lime – squeezed
· ¼ sweet onion – diced, small
· 2-3 heirloom tomatoes - diced, small
· 1 red bell pepper – diced, small
· 2-3 ears of fresh corn – stand the ear of corn upright and carefully slide a paring knife down to remove the kernels (I like to do this over a cutting board, since it can be a bit messy)
· 2-3 tablespoons of Worcestershire sauce
· 2-3 tablespoons red wine vinegar
· A handful of fresh herbs – minced (I like basil and oregano, but chives or even dill would be nice as well)
· Salt and pepper to taste
Mix all the ingredients together in a bowl and refrigerate for 30 minutes before serving. (This lasts in the fridge for a couple of days, so you can definitely make it the day before or morning before you have friends over. It gets even better with a little time.)
Happy farmers marketing shopping, friend!
The Persnickety Chef
---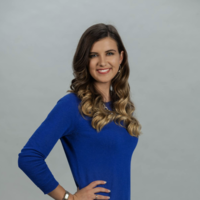 Creative leader with 10+ years of experience in blogging, writing, research, and content development and 3+ years of experience in strategic multi-channel marketing. I have grown and managed social media accounts with 750,000+ fans and a global audience. I am passionate about storytelling and deeply inspired by the power of words to motivate, inspire, and challenge people. I have expertise in food, travel, lifestyle, fashion, entertainment and non-profit fields.
Hire Ellery S