A Barbecue Enthusiasts Review of the Big Green Egg
This is a writing sample from Scripted writer Scott Kessman
Despite the popularity of industry standard Weber barbecues and Brinkmann barbecues, it's a barbecue-smoker combination that has everybody talking. It's called the Big Green Egg, and in the eyes of many who have tried it, it's quickly earning its reputation as "The World's Best Smoker and Grill".
What is the Big Green Egg?
The Big Green Egg Smoker and Barbecue is thusly named because it appears as a rather large green egg, supported by a sturdy frame. The Big Green Egg is actually designed after a 3,000-year-old oriental design called the Kamado cooker. The Kamado cooker was originally utilized by the ancient Chinese, and was then adapted by the Japanese, who gave it the name "Kamado", which translates into oven, or stove. Like the Kamado cookers of ancient China and Japan, the Big Green Egg is a ceramic cooker, but has been updated with far superior heavy-duty ceramics that comes with a lifetime guarantee, and provides better heat insulation.
Due to the unique design of the Big Green Egg, you can cook foods at both amazingly high temperatures as well as low temperatures, making the Big Green Egg an ideal smoker. Its other parts are of made quality materials, and have been vastly improved since the first inception of Big Green Egg barbecue and smoker in the late 1970s.
It is these many new improvements and the amazing food cooked using the Big Green Egg that has everybody talking, and as I love to barbecue quite often, I sought to try it for myself. Luckily, I did not have to purchase one, as a friend had recently done so and allowed me to help set it up with him and subsequently test its cooking capabilities.
Available in different sizes, prices range from $500-1500 on average. In my opinion, unless you plan barbecue for very large family or large amounts of people quite often, I'd go with the medium size Big Green Egg. It's a few hundred dollars more than the small size, but at least this way you'll have the option of being able to cook larger quantities of food should a situation call for it, and as the Big Green Egg excels at grilling and smoking, you'll likely use it often.
Setting up the Big Green Egg barbecue and smoker was rather easy, but there were two of us, so things progressed quickly. Aside from the ceramic egg and its components, you'll also receive a cookbook and video, as well as a thermometer. Depending upon where you purchase the Big Green Egg, you may also receive a free bag of Big Green Egg Charcoal. My friend also purchased the egg nest accessory, which acts as the stand for the Big Green Egg, and can be raised or lowered as you see fit.
After the Big Green Egg was set up, we first began playing with the temperature controls to see how accurate we could get it, as well as how hot. The instructions recommend using a few sheets of newspaper or an electric starter, which we did.
Using the Big Green Egg properly
The Big Green Egg is a charcoal barbecue. Because of its ceramic design, the instructions say that only a small amount of charcoal needs to be used, as the walls of the ceramic barbecue will retain heat efficiently. The facts on the Big Green Egg home page say that a 20-pound bag of charcoal will last about 4-6 months if you normally use the barbecue often during the week. When we were finished cooking, I closed the lid and all the drafts, and the flames were almost immediately extinguished. As stated on the Big Green Egg website, about 80% of the charcoal was reusable after cooking.
The temperature control provided amazingly precise temperature, and can heat up pretty quickly. Adjusting the dampers to achieve the perfect temperature took a little getting used to at first, but it seemed like we were experts in no time. We managed to get The Big Green Egg up to over 700°, and so quickly threw a couple of steaks inside for a quick sear, following one of the recipes.
Within minutes, we were enjoying steak perfection, perfectly seared and still wonderfully tender on the inside. We brought the temperature back down to 400° and added some tin foil wrapped vegetables and a few burgers. Again, the Big Green Egg exceeded our expectations, producing flavorful, delicious food.
Over the weekend, my friend tested the smoking capabilities of the Big Green Egg, and said they were top notch. He spent the day using the Big Green Egg to smoke different foods at varying degrees of smoky flavor, using the smoker at low temperatures, and said that every bit of food was a smoked masterpiece, and that the Big Green Egg was very easy to use as a smoker. None of the food was dry; all of it was very juicy. The temperature and dampers worked perfectly.
As far as cleaning the Big Green Egg barbecue and smoker, a lifetime porcelain glaze coats the outside of the egg and dirt or grease easily wipes off. On the inside, you can use high heat to treat the Big Green Egg like a self-cleaning oven, and the grill is also porcelain coated.
Aside from the egg nest accessory, you can also purchase Big Green Egg charcoal, an external temperature gauge, an ash tool to ease removal of ash from inside the Big Green Egg after use, vertical roasters for smoking poultry, and other great innovations or tools.
All in all, the Big Green Egg barbecue and smoker is a great product, and might actually be the world's best barbecue and smoker. I sample some of the smoked food, and the taste was outstanding. That, coupled with the steaks and burgers we cooked, have convinced me that the Big Green Egg is one top-quality barbecue, and a definite must for anyone who takes their barbecuing seriously, or if you just want great-tasting food.
Written by: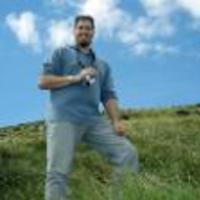 I possess a strong 20-year background in marketing, digital marketing, and advertising. However, writing has always been a true passion of mine, and after working in corporate offices for many years, I turned my passion for writing into a full-time job. As a contract content writer for the last 15 years, I can craft engaging and informative content about a wide variety of subjects. I have also written and published two fantasy novels and a collection of short stories.
Hire Scott K