3 Tips to Master Last-Minute Gatherings
A Scripted Freelance Writer Writing Sample
I think social media has put a lot of unnecessary pressure on hosting. The perfect table and dainty napkins and beautifully arranged appetizers can make it feel almost impossible to have friends over without stressing about how Pinterest-worthy your plate is.
I say forget all that. There are only a couple of things you need to master the art of a last-minute gathering.
Atmosphere:
The feeling you create in your home is everything. Usually, I refuse to have people eat at the table and opt for everyone gathering on the couches and crowding around the coffee table instead. It immediately makes things feel more casual and home-y. (You can only be so graceful eating spaghetti cross-legged on the floor.) You can create a nice atmosphere with just a couple of things: candles, flowers, music. Grab a $4 bundle of fresh daisies from the grocery store, turn on some good tunes, and light a few candles. (If you don't like real/scented candles, you can always get some of the fake ones and still achieve that nice cozy glow.)
Attitude:
If you're stressed, your friends will be able to feel it. So, take a breath, put on your comfy socks, grab a glass of wine and enjoy the evening. Your goal is to make everyone (including yourself) feel comfortable and at home.
Food:
My go-to for last minute gatherings is a cheese board or charcuterie tray. They're easy to make and if you prep a little bit during your usual weekly run to the store, you can pretty much always have these ingredients on hand. Of course there are fancy versions and you can make this as complicated as you want, but for me, I like to keep it simple:
A Soft Cheese – I love having a mild, buttery Havarti on hand
A Sharp Cheese – my favorite is aged cheddar, it's usually pretty universally appealing
Dried Fruit – I love whole, pitted dates, they're sticky sweetness is perfect with both sharp and mild cheeses
Salty Meat – I like salami (and it lasts forever) but you could do prosciutto or sausage or whatever kind of salty/smoky meat you like
Crackers/Bread – Of course a crusty French bread is my all-time favorite but I rarely have that on hand, so I usually opt for crackers instead
Extras: Honey – I love having a little pot of local honey on hand to drizzle over the cheese. Olives – Green or Kalamata olives are always nice too. Fresh Fruit – crisp apples or tart grapes are always a good addition (I just rarely have them on hand)
Put all the ingredients out on a wooden cutting board or big plate and let people dig in. It's a great, easy way to feed a crowd in a time crunch.
Happy gathering, friends!
The Persnickety Chef
---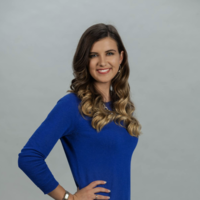 Creative leader with 10+ years of experience in blogging, writing, research, and content development and 3+ years of experience in strategic multi-channel marketing. I have grown and managed social media accounts with 750,000+ fans and a global audience. I am passionate about storytelling and deeply inspired by the power of words to motivate, inspire, and challenge people. I have expertise in food, travel, lifestyle, fashion, entertainment and non-profit fields.
Hire Ellery S