Writer Experience: Contently vs. Scripted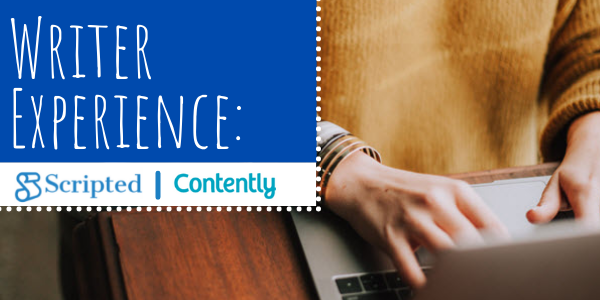 As an online writer, you're probably always looking for new gigs and checking out new platforms to work for. Over the past years, more and more online content platforms have emerged that make it easy to find remote gigs as a freelance writer. Contently is one of the most popular sites out there—they feature great content on their industry-leading blog, host cool networking events, and offer customers marketing strategy services in addition to content writing. But what is it like to work as a writer for Contently? Read on to find out more. 
Writing for Contently

Contently is an online content agency where writers can sign up for free and create a profile on their site. Once you have a profile set up, Contently helps connect you with companies that are looking for copy. To start, you register, posting a profile that includes links to your past online work. The site's editors then evaluate your profile based on their internal criteria. If their editors approve you as qualified to write for their clients, they reach out to you with an offer and project details. 
Clients set the pay rates, which usually fall somewhere in these ranges: 
300-700 Word Articles with Secondary Sources: $380-$630

400-700+ Word Reported Stories with Primary Sources: $570-$890

400-700+ Word Multi-Source Stories with 3+ Primary Sources: $1,140-$1,400

1,000-5,000 Word White Papers: $1.70 per word
Customers accept or reject your work within 15 days, and Contently will collect payment and transfer money to you within 30 days. 
Pros
Here are some upsides to working for Contently. 
Great Pay: The pay averages about $1 per word, which is a fair rate for freelance writers. They deliberately avoid using a bidding system in which writers set the rate for their work because that leads to writers having to undervalue their work to get gigs. Instead, Contently provides fixed rates for articles based on the amount of work and sourcing involved. They also pay out quickly after you submit your article. 
Exceptional Client Roster: Contently also offers a strong list of brands to work with. Their clients include American Express, TD Ameritrade, GE, and other big names. Working for big companies like this is ideal because you get to add them to your portfolio, helping you get more work in the future. 
Cons
And here are some downsides of working with Contently.
Hard to Get Work: The way that Contently works, you have to wait for their team to reach out to you once you've set up your profile. They sift through new writer profiles to find ones they feel are a match for their clients. This process means it can take some time—up to a year or two—to start getting work on the site. The best method is to build your writing network and try to make yourself stand out on the platform. 
Extensive Edits: Contently's editing process is intense, and many writers find that the edits can take more time than the actual writing. The number of revisions required can add up to many extra hours of work. 
Lack of Steady Work: Although Contently does get some big name clients, they also have a lot of clients come and go. It's hard to develop lasting relationships with clients that only use the site for a brief period and then move on for some reason or other. 
Writing for Scripted

Applying to Scripted is pretty straight forward. To get started, you just have to fill out the writer registration form, pass a writing skills test, and submit a writing sample. Then you apply to your particular specialties and provide samples for each. This is helpful once you're accepted because you don't have to sift through all types of job requests on topics you're not interested in. They only show you those in your specialties. 
Once you apply and submit your samples, you wait for your application to be reviewed. The review process can take up to two weeks, so it's best to apply for several specialties at once. Once you're accepted, you can log in to the site and view your writer dashboard. This is a super handy way to organize the platform, and it clearly lays out all available jobs, jobs you have claimed, jobs you can pitch, and all of your upcoming deadlines. 
On Scripted, you can either claim jobs from clients you match with or submit pitches for projects that appeal to you. Posted jobs already have a set rate, which is clearly displayed. With pitching, you can set your own rate. 
Pros
Here's what I love about working with Scripted. 
Variety of Clients: Scripted works with all types of clients in every industry imaginable. This means you have a wide selection of companies to work with, from Mom and Pop shops to Fortune 500 companies. It's a great way to diversify your portfolio and sharpen your writing skills. 
Easy Communication: Scripted has a great team, and I've found that it's always easy to get in touch with someone if I have a question or need help. They have an online chat portal that you can use during the workday. They are also available via email. And it's easy to get in touch with clients via the messaging boxes on individual jobs. 
Quick Payments: Scripted does payouts regularly so you receive money shortly after you submit a job. 
Easy Editing Process: They make the editing process smooth and seamless, and it's all done right in the platform. Editor feedback is always very clear and concise and, if you've written a solid first draft, edits tend to be fairly quick and easy. 
Cons
And here are some downsides of working with Scripted. 
No Byline: Because you're working as a ghostwriter, it's important to keep in mind that you generally do not get a byline on your work. This means that writing for for most clients on Scripted won't help you beef up your portfolio—but that is the nature of ghostwriting. 
Lots of Competition: Because Scripted has gotten so popular in recent years, there are a lot of talented writers competing for jobs. This means you have to stay sharp and put your best efforts forward when submitting work and pitches. 
Tips for Working with Scripted
Sign up for lots of different specialties.

Don't miss deadlines if you want to maintain a good writer score.

Check the site regularly for new job postings.
Contently vs. Scripted
Writing for Contently is a very different experience than writing for Scripted. The two companies have been around about the same length of time and many freelancers use both for additional writing income. When you write for Scripted, you're typically ghostwriting for their clients, which means you don't get a byline on what you create. 
Why I Made the Switch from Contently to Scripted
Although both platforms have their perks, I stopped using Contently to focus on Scripted. My choice came down to a variety of reasons. First of all, I make a lot more money on Scripted. Although Contently pays higher rates per job, their writing process ends up being much more time-consuming. They also don't offer nearly the amount or diversity of work that Scripted does, and you have to wait for their editors to reach out to you with work. On Scripted, you can control your own workload and take on as much, or as little, as you like. 
Scripted also has a super user-friendly, intuitive platform that organizes available and assigned work and makes pitching and claiming jobs easy. And finally, they have a great staff! I've had nothing but positive experiences interacting with their team members—they are always very accessible and friendly to work with.
Wanting More?
Get in contact with writer, Matthew Thompson, for your content needs. He specializes in 15 different industries and has outstand reviews! Connect with him today!