TikTok Marketing Strategy in 2022 for Creators & Businesses
TikTok is a social media app where users can post and share short videos. Originally launched in 2016, it has grown to be one of the most popular apps among teens and tweens. Recent stats show that up to 25% of TikTok's users are 10-19 years old, 22.4% are 20-29, and 21.7% are 30-39. With over two billion downloads, TikTok has become a social media phenomenon among Generation Z and Millennials. It's also used for marketing purposes. The future of TikTok marketing is looking bright. To improve your marketing strategy, check out these tips on how to get more followers and likes on TikTok to boost your brand's following.
What Is TikTok?
TikTok is an app that lets users post short videos of themselves. Some people use TikTok to share their talent while others use it for humor. With TikTok, you can draw on the screen with your fingertip, add filters and shoot a video or take photos through the app. You can edit them in-app before sharing your creation with friends.
Marketing on TikTok has become increasingly popular in recent years due to its simplicity and ability to engage audiences. The app's tagline "Make Every Second Count" embodies the idea of using creativity to share stories from all around the world.
Why Is TikTok a Valuable Platform for Brands?
TikTok offers an innovative way to promote your brand. It's also a great avenue for businesses that are just starting out or are on a tight marketing budget. The app creates an opportunity to use video ads to reach your target audience, especially if that audience is younger. There are also fewer brands with strong TikTok presences, so there is less competition for attention and engagement. TikTok also boasts a social media community that is receptive to advertising. 
What Content Performs Well on TikTok?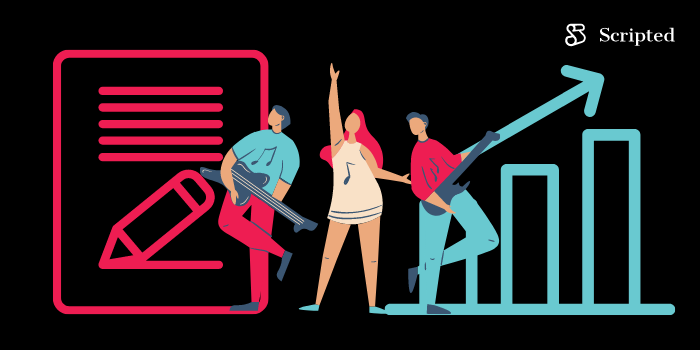 The content that does well on TikTok varies depending on what you're marketing. Any type of content can reach high-performance numbers as long as it is marketed to the right audience. However, there are several trends that you can use to improve content performance.
Use the Right Metadata
Your content must have the right metadata for the algorithm to understand how to use it properly. It's important to use the right hashtags and categories for your video to be found by the right audience.
For instance, if you're looking to promote your latest single, then the best category for you would be music. The algorithm understands that your content is almost entirely about music and will serve it to an audience that is looking for music.
Within each category, hashtags can further enhance content performance by making it searchable at a deeper level. Every category sees different levels of performance for hashtags.
For example, comedy videos likely see the best performance in the Entertainment category with the hashtag #Comedy. That way, it will be grouped with other videos for people that want to be entertained (in the entertainment category) and prioritized for people that want to laugh (from the #comedy hashtag).
Even if someone is not searching for things with the comedy hashtag, it will be grouped with similar videos and served to people that interact with comedy videos or spend a lot of time in the entertainment category.
Use the Promote Feature
You can also use the Promote feature to try to gain followers. TikTok has an internal advertising feature called Promote that lets you get your content in front of a specific audience.
Promote lets you choose a video that you want to turn into an advertisement. you don't have to make extra content for ads, just use the content that you already have. If you have a video that already has decent performance stats, use that video to draw in more viewers.
How Promote Works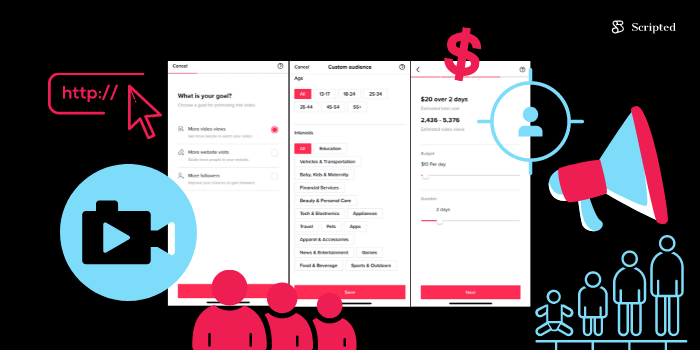 Using Promote is actually very simple. Start by choosing a video to turn into an ad. Then, you have to make a few decisions about your ad campaign:
What is your goal? (More video views, more website visits, or more followers)

Who is your target audience? (Male / Female, Age Ranges, and Interests) Interests include:

Education

Vehicles & Transportation

Baby, Kids, and Maternity

Financial Services

Beauty & Personal Care

Tech & Electronics

Appliances

Travel

Pets

Apps

Apparel & Accessories

News & Entertainment

Games

Food & Beverage

Sports & Outdoors

What is your budget?

How Long will your promotion run?
That's it! TikTok will review your campaign to make sure that everything is in order, and your ad will enter circulation. Promote even has tools for you to track your ad's performance.  The performance stats can help you target demographics like age, gender, and location among other options.
Get Discovered on TikTok's Discover Tab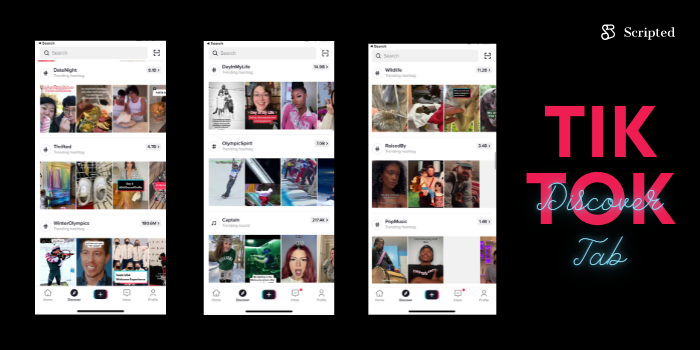 If your content starts to take off, you may be found by a larger audience using the Discover tab. Discover is a stream of popular and trending content based on metadata like hashtags and categories, as well as views, likes and interactions. All of the content on the Discover tab is connected by common elements, such as sounds or meme content. Use this to your advantage by including trendy content components. That way, viewers will find your content as they search the Discover tab for anything related to that content.
Is TikTok Only for Young People?
While many young people use TikTok, there are people of all ages on TikTok. You can reach older audiences on TikTok and plenty of videos feature older people. 
How Does the TikTok Algorithm Work?
The algorithm for TikTok is a little different from other social media platforms. It's based on a highly customized system to encourage engagement. No two users will see the same set of videos. In other words, the more you interact with other users, the more visibility your posts will get. 
Because the system is driven by the interactive choices that you make, the platform is heavily customized for each user. That means that it is exceptional at showing you things that you will probably like, but it also comes with a few benefits and drawbacks.
For example, having an algorithm that is so responsive to what you like means that you can actively customize the platform for what you will see. All you have to do is make a concerted effort to find things and interact with people that have content that you want to see. If you want to see more people playing guitar, then focus your efforts on interacting with that content. With enough effort, the system will do the work for you and you can just focus on viewing content.
Alternatively, this system is so good at showing you what you want that it can make it very difficult to change directions if you want something new. You have to actively search out and interact with content that matches your new interests. Eventually, the momentum built up by this searching for different content will push the algorithm in a new direction.
For marketing purposes, this can be a good thing and a problem. You have to make content that directly aligns with what your target audience wants to see. Otherwise, their version of TikTok may not bring your content to them organically. Put the time and effort into preparations that you need so that you are sure your content is aligned with the right audience before you even start to make any of your content. That way, you can be sure that you are going in the right direction when you do start.
The TikTok Algorithm's Quirks
TikTok's algorithm has a few quirks in it that you should be aware of if you are going to make content. Leveraging these quirks correctly is the difference between success and struggling to build an audience.
Going Live Requirement
One way to grow your audience quickly is to go live when you create new content. Going live means that you are recording content in a live stream rather than uploading prepared videos. Live content tends to bring in attention and followers faster than other options. However, you must meet TikTok's going live requirement first.
To go live, you have to have at least 1,000 followers. Once you have that 1,000 followers, start taking advantage of live content options to supercharge your audience growth. The TikTok algorithm places a higher value on live content and will recommend it to other viewers more readily than prepared content, making it effective at reaching followers.
Audio Use
Audio files that are used to make TikTok videos are often shared and reused, which gives that audio popularity and life of its own on TikTok. The algorithm takes this into account and will try to recommend videos that use audio that you positively interacted with before. That means if you like or comment on a video, you may receive more recommendations with similar audio if it is trending at the moment. This is also true if you make content with a specific audio file. The algorithm will recommend your content to others more readily while the audio is still popular.
How Do TikTok Ads Work for Brands?
With TikTok, brands can advertise their products and services. Ads are a great way to take advantage of the app's large audience and get your message across. You can use targeted ads to target specific demographics or locations. For example, you could only advertise in one country or exclude a country from your campaign if you wanted to. 
How To Grow Your Account on TikTok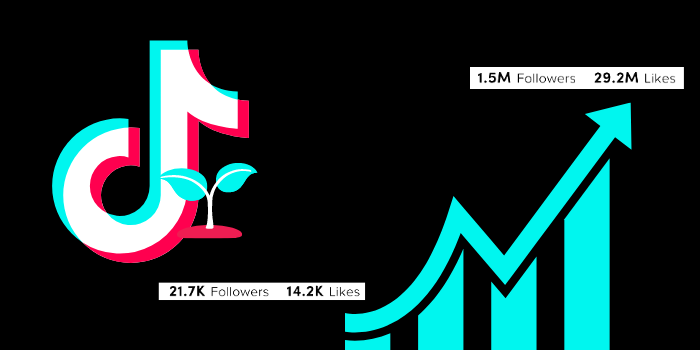 Growing an account on TikTok largely depends on the content that you create.
Some general strategies can help most accounts grow on TikTok. These include:
1. Make your content relatable and original
It's not enough to post on TikTok like you would on other social media platforms. TikTok is a different platform with a different culture. Posting a video of your new product won't get you the engagement you want unless it has something to do with what people are talking about or interested in on TikTok. You have to be relatable and original to grow your account on TikTok. 
2. Maintain consistency when posting
When posting consistently, it will allow your followers to see that you're active and invested in the app. Typically, when people post updates at least once a day, they have more success when it comes to gaining followers and likes. To maintain consistency when posting, set up a schedule for yourself by following a pattern of how often you post. It can be daily, weekly or even monthly. Just make sure that no more than 30 days go by without posting an update.
3. Be interactive 
Online marketing is all about giving your audience what they want! Being interactive is important for any type of marketing strategy, but it's especially important on social media platforms like TikTok where people come to watch short videos instead of scrolling through pages of text posts from brands they don't care about. Respond to your viewers and be sure to conduct giveaways and contests. Don't forget to thank your followers for watching or liking your videos.
4. Make short videos
TikTok works best when the content is short. This is the opposite of YouTube, where people watch longer videos—on TikTok, 15-second videos are acceptable. It's a good idea to keep the length of your video under two minutes, so you can post as many as possible in a day without running out of content.
5. Use hashtags that match your brand 
Use hashtags that match your brand so that people looking for content related to this topic can find your videos. There are also trending hashtags that can help you get more views by posting alongside popular users.
6. Use hashtags that match the interests of your audience 
It's important to include hashtags in your video descriptions. You may want to use targeted hashtags, related to your brand or industry, that will help people find your videos. For instance, if you're a clothing brand, then you could use hashtags like #fashion. By using popular tags related to your audience's interests, you can grow your following.
7. Share your TikTok account on other platforms
You can share your content on other social media platforms like Twitter, Facebook and Instagram. This will give you a wider audience and help you grow your account. Remember, posting your watermarked Tiktoks on Instagram Reels isn't necessarily good.  
8. Use giveaways and promotions
Giveaways and promotions can help you build connections with users who share your content. Make sure to also post about any contests or giveaways you have on TikTok. Posting about promotions is a good way to attract new followers.
9. Be yourself
Do you know what the best thing about TikTok is? It allows users to express themselves and be creative. The key to success on an app like this is to use your personality, make your content interesting and engage with your followers by responding to their comments. TikTok is a social media platform that, like any other social media platform, has a formula for success. There's no shortage of fans on the app, so it's up to you to make sure yours stands out.
10. Tell a story
People enjoy seeing content that tells a story, so it's important that you give them some context. Add a caption with text or even add colorful stickers to your videos. Make sure your content is engaging for your audience or it will be difficult to grow your account. With a creative video, you can stand out from the crowd and become a popular blogger on TikTok.
How Do You Find Relevant Video Ideas for Your Own TikTok Channel?
One of the best ways to grow your following on TikTok is to find relevant video ideas for your channel. This will help you stand out from other pages. Here are some ideas to get started:
1. Find popular hashtags
The best way to find relevant video ideas is by using popular hashtags. By identifying a hashtag related to your industry, you can find content with similar interests and reach new followers and like-minded people. For example, if you sell food-related items and want to generate more followers and likes on TikTok, search for "#food" or "#healthyfood." You can also make a shortlist of industry-related hashtags and search them each day to stay up-to-date with trending topics in your field!
2. Withhold judgment
TikTok is about having fun, so don't be too hard on yourself when it comes to making videos. The main concern should not be measuring success based on how many views you get; rather, it should be whether or not others think your videos are entertaining and enjoyable enough for them to watch again in the future. It takes time to grow a following, so give yourself the grace to grow and learn.
3. Create short videos
If you want more followers and likes on TikTok, then you should consider making shorter videos that are less than 30 seconds. Studies have shown that users prefer shorter videos on the platform because it's easier to digest them. You can indeed create longer videos to show off more of your product or services, but you should never go over two minutes.
How Do You Find Trending Sounds?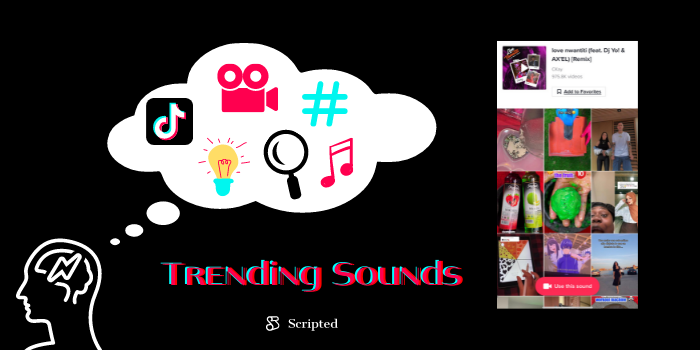 A trending sound on TikTok is a sound that gets frequently used in videos by others. It could be a weird laugh, but it could also be a clap, whoop or another sound. You can find the trends by watching hashtags and checking which sounds are getting used the most. You can then use these sounds in your videos to get more likes. There are also apps that track trending sounds such as Viral Moment or TrendTok
How To Use Hashtags and Hashtag Challenges To Grow on TikTok
You can use hashtags and hashtag challenges to grow on TikTok. Hashtags are a way to connect with other users who share your interests. By following the latest trends and hashtags, you can find new people to follow and connect with. 
One way to use hashtags is to create a challenge, for example, by asking your followers to post a video of themselves singing a song for one minute or less. You then share the videos using that same hashtag. This will help you gain more followers and likes on TikTok because it's a fun way for followers to interact with one another. Another way is by simply including hashtags in your posts, allowing your posts to be found by other users who are looking for them. 
How To Cross-Promote a TikTok
No matter what type of social media platform you use, it's always important to cross-promote your content. You can cross-promote your TikTok account with other social media platforms, like Twitter or Facebook, for example. 
Here are some tips on how to grow your following on TikTok through cross-promotion: 
Have a unique username that matches the name of your business

Have high-quality content 

Interact with followers and other TikTok users 

Use hashtags in your posts to reach more people 

Mention your other social media channels

Partner with other TikTok users to cross-promote each other
Understanding TikTok Pro Analytics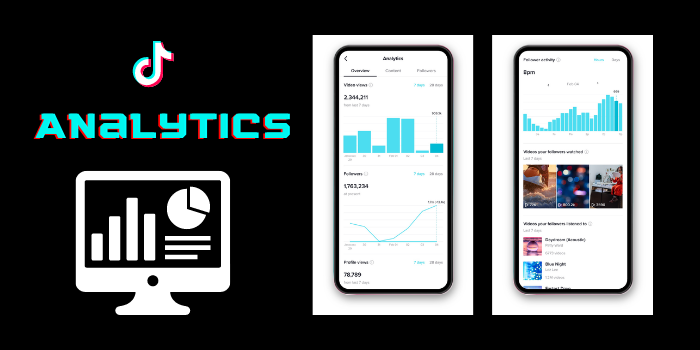 TikTok Pro Analytics is a useful tool for gaining insights into your posts and content strategy. With TikTok Pro Analytics, you can see where views are coming from, which of your posts is more popular than others and improve the performance of your content by using data to guide your decisions.
It's important to be aware of your content performance on TikTok for you to measure your success for TikTok marketing. You need to understand how many videos are being shared and liked and where the views are coming from. You can learn more through TikTok Pro Analytics.
You can see when the most popular posts are happening as well as what hashtags to use in your posts. You can also see how long your videos are and how much time people spend watching them. Finally, you can also find out which demographics your videos appeal to and you'll be able to focus on posting content that will receive the most attention. With this information, you will be able to determine if your audience is right for certain types of content. You can also use the data to plan your future posts and content strategy.
How To Partner With Influencers To Grow on TikTok
It's very important to grow your following and increase engagement with followers on TikTok. This is why it's a good idea to partner with influencers who have large followings. This is called influencer marketing. Influencers are well known or have a lot of followers and they're in high demand on TikTok. It's a great idea to use influencers to cross-promote each other with their followers through the use of hashtag challenges.
There are many different ways you can use influencers to grow your following on TikTok. You can invite an influencer to be your marketing partner, reach out to them and offer a collaboration or even ask them for ideas on content you can share. Influencer marketing can be a big part of your overall TikTok marketing strategy.
If you want to see how much engagement your influencers are getting, you can use the analytics on TikTok. You can also see how many followers they have and how long they've been on TikTok.
Choosing the right influencer will make all the difference. If the person is popular, attractive or has a large following, that's great, as long they're popular with your target audience. You won't be able to use them to promote your business if they don't have a large following that matches the type of content you post. Think about how many followers the influencer has, how mature or young the audience is and what types of content they post. If you want to cross-promote your posts through hashtag challenges, make sure they're popular enough to cross-promote with.
3 Examples of TikTok Marketing Done Right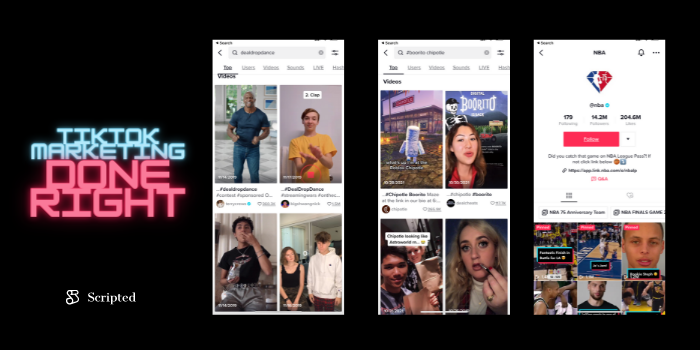 There are many TikTok marketing examples you can use to find inspiration for your TikTok strategy. Here are three ways that companies have successfully grown their following on TikTok: 
1. Walmart's #DealDropDance
Walmart encourages TikTok users to take a video of themselves doing the #DealDropDance when they see their Black Friday deals. The winner with the best video wins a gift card. It's a fun way for Walmart to get its Black Friday deals out into the TikTok world. 
2. Chipotle's #Boorito Challenge
For Halloween, Chipotle ran a very successful #boorito challenge. The company offers to give away a year of free burritos for certain years and coupons for other years. The person who posts the best video of their boorito wins a year of free burritos. With this challenge, Chipotle gets lots of engagement on TikTok. 
3. NBA's Consistent Branding
NBA was an early adopter of TikTok. At the time of this writing, it has more than 14 million followers. Its videos are consistently branded with text overlays. It uses hashtags appropriately, including in the title of its videos. As a result, NBA has a large following on TikTok.
Instagram may have more users, but TikTok is filled with young people who are eager to follow brands. Although TikTok is only a few years old compared to other social media platforms, it's a great choice for businesses looking to reach an interesting audience. By following the tips in this guide, you can get started on the right foot when it comes to TikTok marketing. TikTok can be a fun way for your business to build its brand and reach new potential customers.
Order Social Media Posts From Scripted Writers
If you want to make a big impact on your business with Facebook, Twitter or other social media platforms, you might want to think about professionally written content. Purchase our professionally written social media posts by hiring social media writers from Scripted today.