How to Hire a Religion & Spirituality Writer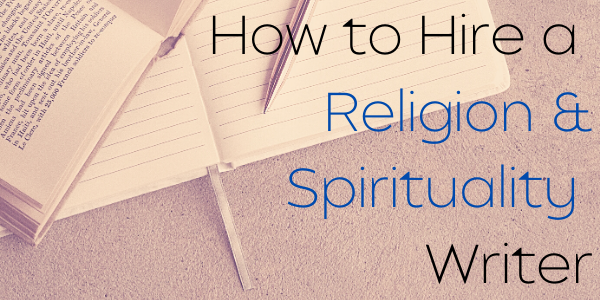 Over 75% of adults in the US consider themselves religious or spiritual. So it should come as no surprise that the religion and spirituality industry is worth quite a bit, about $1.2 trillion per year—more than big tech companies like Google and Apple. If you run a business involving religion and spirituality, or you are thinking of starting a blog about it, you'll certainly have a vast audience to cater to.
But that means you'll need lots of good content that will increase organic traffic to your site, and that can be hard to provide on a regular basis—unless you have help! Fortunately, assistance with your writing needs is easy to get, as you can hire professionals who have experience writing about religion and spirituality. If you're considering hiring one or more writers but are new to this process, here's what you should think about before you get started.
Why Should You Get Help with Your Religion & Spirituality Content?
If you're thinking about hiring a writer, you probably already know just how important fresh content is when you want to increase organic traffic to your site. After all, research shows that content marketing costs 62% less than traditional marketing methods and can produce about three times as many leads—so it's definitely worth your time to get more content on your site!
Of course, time is often the problem for most business owners. You likely don't have the hours in the day to sit down and write several blog posts per month, let alone daily social media updates for multiple platforms. And even when you do get an hour or two to yourself, do you really want to spend it writing content? Unless writing is a natural talent of yours, it will likely take more than an hour or two to create even a single blog post for your site, especially if you need to do research on topics and SEO keywords first.
Clearly, writing the kind of content you need about religion and spirituality isn't easy to do on your own. This is why it's highly recommended that you hire a professional writer—or even several—to create content consistently. In fact, think about the websites you visit that always seem to have new, quality content. It's highly unlikely the owner of the site writes it all. He or she probably has a few writers on-hand to constantly deliver fresh content, and you need to do the same if you want to compete. So check out the tips below on your journey to hiring a writer to increase organic traffic to your site.
The Religion & Spirituality Writer Hiring Process
As you prepare to reach out to writers for religion and spirituality content, first think about the following details to ensure they know what to expect:
Consider the Topics You Want to Discuss
Choosing the best writer for your site will depend on the topics you want to address. Start by thinking about what your target audience is likely looking for. Do they want personal stories about how someone found religion, or maybe advice from a religious standpoint? Or do they prefer to read about the latest news involving their religion? You should think about who your target audience is and what problems they want your site to address.
Depending on your answer to that, the following are some topics you might want to include on your site about religion and spirituality:
History of religious holidays

News that might affect religious people

Quotes from religious leaders

Uplifting stories that will inspire religious or spiritual people

Advice on common problems that people of faith might face
You can start with these topics to give your writer an idea o what kind of content you would like for your site. Of course, most writers are happy to help come up with suitable subjects for a blog, so let your writer know if you're struggling to come up with topics. Once you work together to create a list of subjects, your writer can begin the process of adding fresh content to your site in order to increase organic traffic!
Determine the Type of Religion and Spirituality Content You Need
As you look for a writer, you should know what kind of content you want and where you plan to publish it. You've probably already thought about adding content to your blog since blogging has many benefits for businesses of all kinds. In fact, businesses that update their blogs get 67% more leads than those that don't, as blogs can do the following for you:
Help increase organic traffic to your site

Attract new visitors to your website and even turn them into leads

Position your site as the authority on a subject

Keep your audience engaged
Clearly, you need a blog for your religion and spirituality site—and a professional writer can help you keep it updated. Considering that it's recommended that you publish at least two blog posts per week—or more if possible!—you're going to need help from a writer.
But if you want an even better chance of being able to increase organic traffic to your site, think beyond blogs. You should not only blog regularly, but also update your social media pages with helpful information and links to your site as appropriate. You should also think about sending out email newsletters, publishing case studies, or even writing eBooks for your target audience. And hiring a writer from a well-known platform like Scripted can help you with all this! Just let him or her know upfront what kind of content you're interested in, and you can work together to plan it out so you can increase organic traffic to your site.
Set Some Expectations for Writers
The writer you hire should have some idea of what kind of content you need, but he or she will also want some other details. So, ask yourself the following questions before you start the process of hiring a writer for your religion and spirituality site:
What tone are you looking for?

How often will you need new blog posts and social media updates?

How long do you want each piece to be?

Do you need pictures and links added?

Will you provide SEO keywords for the writer to use?

Do you want personal stories about spirituality from writers, well-researched articles, or a mix of both?
Letting writers know these details can help narrow down your options, as knowing how much work you need done and what kind of content you want is good information to have. Now that you're armed with the answers to important questions, you can start looking for writers on platforms like Scripted.
Know What Details to Look for As You Browse Writers
When you come to Scripted for writing help, you'll quickly see how many talented writers you can choose from. If you're feeling overwhelmed, don't worry. We make it easy for you to choose the best writers for each subject, as we have a separate page for each popular topic.
So, when you need someone knowledgeable about religion and spirituality, you can simply browse our page of writers who are experienced with this subject. As you look at writer profiles, you'll see a quick description of his or her education and writing experience.
You'll also see a list of industries he or she writes for, along with a customer rating that tells you what kind of impression the writer has left with past clients. Finally, you can read several writing samples to get an idea of the writing style before you make a decision.
Do you feel ready to find the best writer for your site? Browse our religion and spirituality writers so you can start the process of increasing organic traffic to your site!