How to Hire a Manufacturing Writer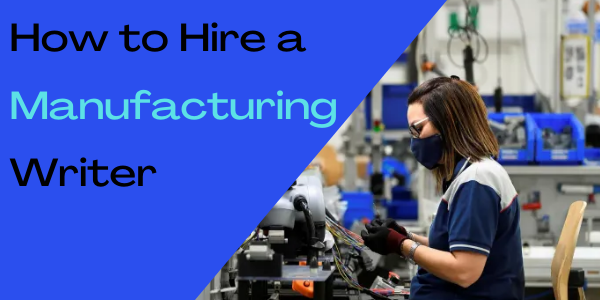 Content is the foundation of your company's digital presence and drives every interaction clients have with your brand, be it on your website, on social media, or via email. Yet, so many companies fail to consider the specialties and considerations of finding the right manufacturing writer.
As a brand in the manufacturing industry, having an experienced writer who's knowledgeable about manufacturing processes and challenges will make a world of difference when it comes to showing empathy for customers' pain points and engaging them in your content. If you're looking to hire a manufacturing writer, here's what you need to know.
Hiring a Manufacturing Writer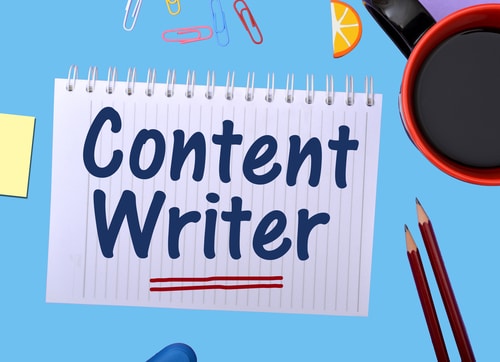 The manufacturing industry in itself is diverse and varied, so the first step of hiring a manufacturing writer is defining your niche within the market. Taking some time to consider the type of content you would like to offer your readers, along with giving some thought as to who your audience is, will help you make the most informed decision.
After all, no two writers are created equal! A manufacturing writer who's intimately familiar with clothing manufacturing may have some insight into your niche, but their knowledge likely wouldn't hold up against a specialized manufacturing writer who had specific experience in your industry, be it solar panels or recreational equipment.
With all of that in mind, hiring a manufacturing writer requires you first to review your own brand and its requirements and then consider your audience to ensure you make the right decision.
Why Hire a Freelance Manufacturing Writer?
Every company needs content, and it's a natural thought process to consider handling it yourself or assigning it to someone in-house. However, if you're taking the "DIY" approach to content, or you're putting it on the shoulders of an employee who will handle it as a "side gig" on top of their primary responsibilities, you're going to be let down.
Many people can write well, but few people have the time, experience, and knowledge that a qualified manufacturing writer will bring to the table. When you choose the right manufacturing writer, your company will save time and end up with better content that is well thought out, deeply researched, and stylistically consistent time and time again.
In other words, outsourcing your content needs to a professional manufacturing writer is an investment that will pay off for your company now and in the future. The ROI you'll see on your quality content will be incomparable to the results you'd get by sporadically producing content on your own.
Qualities to Look For In a Manufacturing Writer
Making the decision to put your content needs in the hands of a professional is the first step. Now you need to consider how you're going to go about choosing that professional. To help you narrow things down, consider these key qualities.
Authority
Ideally, the manufacturing writer you hire will have a multitude of qualifications and industry experience that makes them the best fit for the job. Whether that experience comes in the form of hands-on work experience or past writing experience, having someone who knows your industry is a basic requirement.
Beyond that, you can look for writers who have relevant degrees or certifications that can further inform their research during the writing process. This kind of authority comes at a premium, but it's generally well worth the extra cost to ensure quality, factual, and valuable content.
Personality
The personality of the writer you choose will impact your collaboration with them and the content they produce. First and foremost, you need to seek a writer who's communicative, friendly, and easy to work with.
On top of that, they need to have a writing style that fits your brand's requirements. Every brand has an image they hope to project, and staying consistent with that image in all of the content you publish is important for building a reputation and making a connection with readers.
Other Considerations
As you think about the above, ask yourself some questions so you don't miss out on other considerations that matter to your company, like:
What are your content needs?

Consider how often you need content, how many words you require in a given week or month, and so on. Knowing the volume of content you want to publish will help you determine if you need one writer or multiple writers.

Who is your audience?

Thinking about who your writer is creating content for is important throughout every step of the process, especially when hiring. Your audience will factor into how much experience you expect your writer to have, along with any niche specialties.

How much help do you desire?

Professional writers can do far more than just create content. They can also help you source images, optimize your content for keywords, and create social media posts to promote your content. Consider your need for these extra services when discussing with potential writers.
The Manufacturing Writer Hiring Process
Once you know what you're looking for in your manufacturing writer, you can move forward with the hiring process. Here's a look at how straightforward it can be, so long as you start with the correct information.
Identify Platforms
By far, one of the easiest ways to speed up the hiring process is to start out on the right platform. While you can hire a freelance writer directly, either through their website or on a mass freelancing platform, you'll save yourself a lot of time and effort by starting out on a content writing platform like Scripted.
Since Scripted is only open to professional writers, with a vigorous application process and ongoing reviews, we help you immediately narrow your search down to the most qualified, relevant candidates. No more sifting through inactive profiles or irrelevant, inexperienced, or unqualified individuals.
Ask Questions
Once you're matched with some writers, it's important to take some time to review what they each have to offer. On Scripted, we make choosing writers easy with our detailed profiles. Each writer has a profile that features a biography, link to their websites, star ratings, and more. You can also see their writer tier of Silver, Gold, or Platinum, which gives you insight into their performance at-a-glance.
Review Writing Samples
One of the quickest ways to see if a writer fits your needs or not is to review their writing samples. With Scripted, simply click on a writer's profile and you'll be met with a long list of their most recent projects so you can see their actual work. You'll also find links to their portfolio and websites.
Try Scripted for Free
Are you ready to hire a manufacturing writer for your company? Scripted makes it easy. With our scalable plans and large database of professionals, we'll help your brand connect with the ideal writer quickly. Browse our Manufacturing writers today.