Content Careers: Dayna Rothman on Being a Content Manager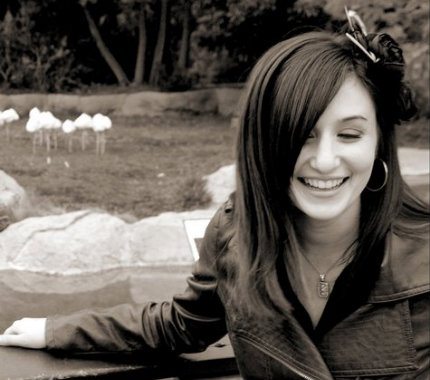 Dayna shares lessons learned from her two years at Marketo, including how she incentivized employees in other departments to blog and shares insights into her new role at Captora as Content Director.
The day-to-day operations of high-quality content creation at a company are often hidden behind a fearless leader.
Dayna Rothman
is one of those content marketing
trailblazers, with an impressive
track record in content management and strategy
.
She oversaw Marketo's blog for two years and managed to get employees outside of the marketing team invested in their content marketing efforts. Most recently, she accepted a job as Director of Content with Captora, which produces cloud marketing applications. To honor her farewell at Marketo, we wanted to learn more about her management style, day-to-day responsibilities as a content manager and lessons learned throughout the years.
Editor's note: This is the first installment of our Content Careers series where we hope to shed light on the daily functions and responsibilities of various content roles.
Scripted: How long have you worked in content and what does your role entail?Dayna:
Prior to my current role at
Captora
as Director of Content -- which I very recently started -- I ran content marketing at
Marketo
for a little over two years. Prior to that, content was always a component of my job responsibilities as a marketer. I've been working in content for probably about four or five years.
My role entails content strategy as well as content creation, production and coordinating cross-functionally across teams to come up with content promotion plans. The great part about my new role at Captora is I get to build a content strategy from scratch for a fast growing company.
Scripted: What is the structure of the content team?Dayna:
At Captora, since we are so small it is just me. At Marketo the content team was myself and a content specialist. In both roles I have created content internally myself or worked with teams of vetted outsourced writers.
See also: How You Can Look Like a Giant Content Team With a Team of TwoScripted: How much of your content is at least initially produced by external writing teams?Dayna:
At Marketo, a lot of the content was generated in-house. Even with the pieces that we used a writer for, we were very particular about how they were created. We spent a lot of time Q-Aing each piece of copy. At Captora, initially most of the writing will be created in-house, then as we grow I will reassess.
Scripted: How would you describe your philosophy of content creation and production?Dayna:
I like to create a wide funnel to attract people through thought leadership. By covering general marketing topics like content marketing, demand generation, and inbound marketing, I can help marketers be better at their job, in hope that they will trust us and eventually become a customer. It is also important to map content to your funnel so that you have content that is applicable to your customers at each step in their buying journey.
Scripted: How do you generate ideas for your content?Dayna:
To come up with ideas, we look at business priorities, messaging, industry trends and product launches.
Scripted: Can you take me through the process of creating a long-form piece of content?Dayna:
Let's take an eBook.
We start with the idea and generally write it in house. We look to see if we need to find a subject matter expert in the company -- someone who knows a lot about the topic-- and set up an hour brainstorm with them -- we call it a "brain dump."
When I write eBooks I make them as easy to understand as possible -- headings, lists, bullets -- then do multiple rounds of editing. If a subject matter expert is used, I will send the ebook to them to make sure I have the content right, then send it to design. Then once it's designed, I review the design, to make sure all the images are right, the design makes sense and the ebook is templated properly. Lots of review is the key to success.
See also: Should eBooks Be a Part of Your Content StrategyScripted: When you were at Marketo you created a program that incentivized employee contribution to the blog, can you talk more about that?Dayna:
While I was at Marketo, I created an employee incentive program to get more people interested in blogging. We had to post five days a week, so I wanted to get more diversity in the blog. I launched a formal program, trained employees how to blog, offered 1:1 consultations with me and my content specialist and gave out enticing incentives. For instance, for three total posts the contributor got something in the $200 range, for seven posts something in the $500 range. We had an employee recently who contributed 12 posts which got them an $800 gift certificate to French Laundry.
Once I get up and running here at Captora I intend to create a similar program.
Scripted: What type of content has been most successful for you?Dayna:
I am lucky in at both Captora and Marketo I got to market to marketers, so I could have some fun with the content. Traditionally, I have seen content around content marketing and social media perform the best. At Marketo, we had a lot of traction for our
definitive guides
-- which were long-form pieces of thought leadership ranging from 60-160 pages. Infographics also perform exceptionally well on social channels.
Scripted: How do you measure the success of a piece of content?Dayna:
Content measurement can be tough, but marketers should look at page traffic, downloads, leads generated, social engagement/reach and first touch attribution -- if a content asset brought an unknown lead into the system for the first time -- multi-touch attribution and how sales is using the content during sales cycles.
See also: Why You Should Ignore Vanity Metrics in Content MarketingScripted: What advice do you have to content marketers?Dayna:
I think that a lot of companies don't realize that content marketing is a lot of project management. It is more than being a good writer, you need business acumen. Many companies don't understand how much work it takes to create content. As a result they will often task a marketing generalist to work on content creation. That generally doesn't work so well. You need to have someone who understands business, is a good writer and who can effectively project manage.
What do you think about this interview? Share your thoughts with us below.
To Read More Expert Interviews, Click the Links Below:
Atomic Reach: How We're Quantifying High Quality Content
Ash Davies of Tablo: Empowering Writers to Self-Publish Through eBooks
Alexis Grant of Socialexis: How to Grow an Audience Through Content Creation