Content Careers: Mightybell's Audra Lindsey on Fostering Social Communities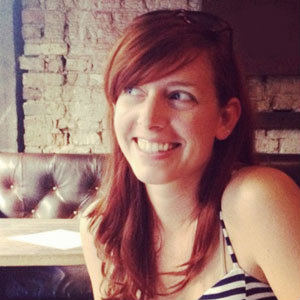 Mightybell community strategist Audra Lindsey shares her experience in creating and engaging organic conversations in the Palo Alto startup's customized social networks through content marketing.
What are the bare essentials of a functioning community online? How do you keep an audience truly engaged, raise brand awareness and do so without making an overt sales pitch?
Audra Lindsey
, community strategist at social networking site
Mightybell
, facilitates organic online communities that both raise the profile of Mightybell clients and foster passionate discussion and engagement
.
We spoke with Audra on the nature of successful online communities and content's role in fostering discussion.
Scripted: What is Mightybell?Audra:
At Mightybell we allow people to create their own professional communities, usually around a common purpose or just learning something new. We provide the software for these social networks as well as community programming and content. We recently worked with
Intuit
to launch a
community
on Mightybell just for self-employed professionals.
Our communities are more about introducing people who should know each other and allowing them talk to each other, rather than what you typically see on a Facebook page or in a LinkedIn group. On Facebook, a brand can post something and someone likes it or comments back, but real conversations aren't really happening. We discourage self-promotion or selling services -- it's about sharing your experiences with people who are like you.
Scripted: What does your job entail?Audra:
A lot of my job is focused on building our professional communities and facilitating conversations around our content, while encouraging people to share their own ideas, questions and experiences with each other. A Mightybell community is a little bit like a forum and a little bit like a Meetup, but way more fun. We've got event management integrated into Mightybell so that people can also plan local events or live chats -- it's all about collaboration.
For each of our communities, I have to figure out what our community members want to know more about. For example, we did some research which recently discovered that our
self-employed community
members wanted to know more about pricing -- how should you price your products or services if you're running your own business or a freelancer? So we created a series of articles, member profiles, and questions around this theme. We also spend time on SEO to figure out what people are looking for online so that we can create content in our communities that ranks well in search results.
Scripted: How do you build these communities?Audra:
Each one is different. With our self-employed community, we did a lot of research and discovered there are a lot of people out there who are self-employed, but don't know who to talk to about all kinds of topics, whether it's personal branding or how to do your taxes or how to sell your crafts on Etsy. We're finding those folks and bringing them together in one place so they can learn from each other, where they don't have to worry about someone trying to sell them something. Our communities then often grow just by word of mouth via invites and sharing.
See also: Does Your Community Know That You Exist?Scripted: What do you do in a typical work day?Audra:
I handle everything coming in from our members in all the communities and work with our team to develop content and engage people in our networks. I also address all the technical or support questions. And, I work closely with our engineering team to make sure everything works perfectly -- whether we're building new features or fixing bugs.
Scripted: What kind of content do you write for these communities?Audra:
A lot of success stories. We've learned that our members don't care about listicles or advice from experts. They want to see
real stories
and real experience. For the self-employed group, we'll feature Etsy sellers, cafe owners, makeup artists, freelance writers, TaskRabbit Taskers -- we'll interview them and tell their story, and people love it. It's like, "Oh, this person's experience was this, and I can apply that to my business."
See also: Atomic Reach: How We're Quantifying High-Quality Content [Interview]Scripted: Do any of these stories stand out to you?Audra:
We recently talked to a woman who was
struggling
to figure out how to price her service that sends out healthy snack boxes every month. We focused on what she learned as she was figuring out how to size up her competition and price her subscription service competitively. Now she's running a really successful business.
Another member
shared a story
about how she uses networking to not only build her client base as a freelance writer, but also just as another way to find support because working alone can feel really isolating sometimes. We always feature our member stories in our weekly newsletters and they are always the most clicked items. It's really comforting to see someone's success and think, "Well she figured it out, maybe I can figure it out."
Scripted: What sort of advice do you find yourself giving to people who want to use Mightybell to build an online community?Audra:
A lot of strategy advice. How do I create compelling content? How do I keep my members engaged? I tell them to focus on what they want their members to do together and to work with top members to make them community ambassadors.
When we talk to folks, we share that successful communities on Mightybell are made up of people who are talking to each other about topics they care about. That, or the members are deeply engaged around learning something new. We've had a lot of success with folks running online classes on Mightybell. Our community hosts are always so surprised and impressed by how highly engaged their members are.
Scripted: In your experience, what's the difference between a community that works and one that fails?Audra:
It has to have a reason to exist. It has to be more than just a fan club or a page that you passively like or follow. Successful communities are focused on building relationships among people and giving a reason to keep coming back. You have to give people immediate value when they visit -- build in activities and conversations around the things that matter to them.
What did you think about this installment of Content Careers? Share your thoughts with us in the comments section below.
To Read More Interviews With Content Experts, See Below:
Content Careers: Kyle Kelly-Yahner on Being Community Content Manager at Twilio
Content Careers: Dayna Rothman on Being a Content Manager
Content Careers: Producer Felicia Williams, A Look Inside The TechCrunch Video Strategy