Get to Know Scripted CEO Jeremy Bellinghausen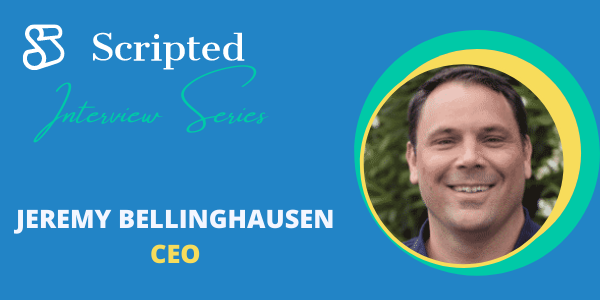 Scripted has been through some major changes since its inception in 2011. As of 2021, we are having our best year yet with a newly designed app with exciting new features coming out virtually every month, and larger community than ever with more writers and businesses being added every day. Scripted CEO Jeremy Bellinghausen tells us about his journey with Scripted and where the platform is headed. 
Tell us about yourself and how you ended up as the Scripted CEO.
I've always loved to design systems that seamlessly leverage incentives to solve problems. As a kid, that manifested itself in my designing board games that friends and family would play for hours on end. Later, when I became a civil engineer, it was about designing roads and bridges. But eventually I saw that working on the web and in tech provided both the massive reach that neighborhood board games lacked and the near-immediacy that you don't get from large civil works projects. With that combination I was hooked on working in this industry.
I've specialized in building marketplaces instead of focusing on a specific industry. I have worked in the real estate, business-to-business, marketing, travel, music, and company data industries, trying to come up with new ways to bring buyers and sellers together efficiently and effectively in every instance.
What is it about Scripted that appealed to you the most?
Really the opportunity to work with creators and give them new ways to support themselves in an increasingly complex world. I think the future of work is going to be centered around flexibility, which has only accelerated in this pandemic time, and I wanted to help facilitate that. Scripted writers, once they pass through our rigorous testing and training process, literally receive a flood of job opportunities delivered right to them with no work. We handle all of the logistics of finding customers and the overhead of billing, collecting, customers etc. We ensure that creators get paid for their work, even when we sometimes don't.
What are you most excited for customers to experience on Scripted?
Well, having worn many hats in business, I was once a product marketer in need of a ton of content and used freelancers to solve that problem. So I knew that there was this huge pain point out there. As content marketing continues to grow, literally every business has this need, whether for blog or SEO content, but increasingly social media posts, marketing videos, ad copy, sales emails, newsletters, and think-pieces to stand out from the competition.
That said, there really has never been a great solution, even after more than a decade of companies like Scripted existing. Go try to source high quality content using Upwork or Fiverr - good luck! We'll be back here waiting for you when you want to really solve the problem.
What Scripted does is make it super-easy to order the content you need, match with a great writer trained in your industry, and get back great content in just a few days. And we do all of that at a reasonable price. It's really that simple for you (but not for us; there's a lot of magic that has to happen under the hood to make it all work).
What is SmartMatch and how does it work?
It's really magic! SmartMatch is one of those keys to making this work. When you place a content order on Scripted, we match you with a writer by analyzing their body of content work to make sure they can write a great piece for you. We look for any past history with your company, the type of content that you want and they write, and the price that you're willing to pay. Also your style guide, voice, etc. - all the parameters of a content piece are considered. 
We continually learn and make SmartMatch even smarter, so we think it's the best matching tool out there. We like to compare it to a dating site algorithm! 
Where do you see the industry headed in the next 5 years and how does Scripted fit?
I really see the ownership of creating content in an organization moving out of the centralized marketing department and into the hands of the people who use it. This has happened in every other aspect of a company's operations - from printing to IT, to phones/wifi, to now even office spaces themselves, and it's overdue to happen in content. Ultimately, every content user - the salesperson who needs winning email templates, the paid marketing coordinator who needs ad copy for a new campaign, the engineer who wants to write about a new feature or technology just launched, etc. will get their content directly from a high-quality writer. We want to make it as simple as pushing a button, Jetsons-style.
We also want to be everywhere that these users already are. Content should live natively in the platforms that salespeople, etc. use every day. Why leave the SalesForce app to get content produced when it can be delivered right to you in the app?
What is the most challenging part of creating content for a business?
It's always scale. No matter what stage of business you're in. 
Scripted is an always-on utility for getting great content at scale. You can turn the volume up on us on a dime without losing quality or consistency.
What have you learned about the freelance writing marketplace in your time as Scripted CEO?
I think it's the future. The "gig economy" is a quickly-growing segment for a reason - it gives people what they want - flexibility. For writers, I see more and more writers managing their entire freelancing business through a platform like Scripted that gives them peace of mind and lets them focus on the writing, not chasing down new customers or trying to collect on past invoices. 
Tell us something about Scripted that you think most people don't know.
We are a remote-forever organization. Our writers, as freelancers, have always had the ability to work anywhere in the world they'd like. But the pandemic really shone the light on the need for us to do the same for our employees. And it has been such a huge success, really allowing us to find the best talent almost anywhere in the world, that we'll continue to stay remote. I think it gives us a huge advantage.
Want to learn more about Scripted?
Sign up for our free 30-day trial today and experience a seamless content creation service for yourself. Allow us to match you with the perfect writer and walk you through your first order. Our quality is guaranteed. Only pay for the content you love.