Social Media Content Strategy for Your Insurance Site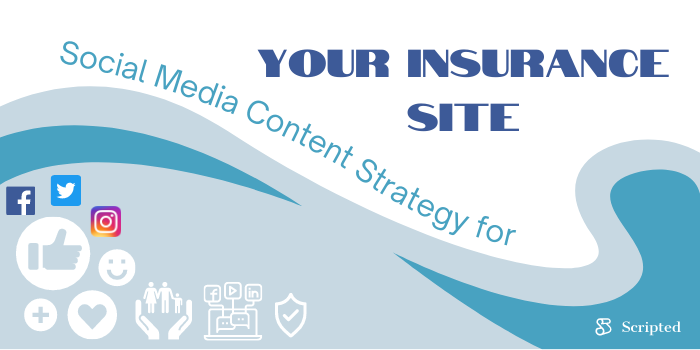 Social media is a powerful tool for small businesses. It can help generate new leads and increase revenue. With so many social networks to choose from, it can be difficult to figure out which ones are best for your business. The key is to use the networks your customers are on and focus on those connections first. Here are some great tips for using social media as a marketing tool to grow your insurance business.
Review Your Social Media Strategy
The first step is always to review your social media strategy. Are you communicating with your target audience? Are you encouraging them to visit your insurance website? Did you think about social media strategy when creating your site? A solid strategy is what will help make your insurance business stand out and increase traffic to your website.
Your social media strategy should include the platforms your insurance company is active on, how often to post, and the types of content. Develop a written document that details your plans so that any member of your team can implement it. Consider branding, tone, and voice to ensure that all posts are consistent with this strategy. If you hire third party writers to create this content for you, it will be easier for them to write social media posts that align with your style with this information.
Think About Reputation Management 
The first thing any business owner should do when creating an insurance website is to think about reputation management. It is important to consider the online reputation of your insurance agency. Have you been sued or have you been the subject of an unflattering or highly rated news story? Do you have a positive reputation that is important to your clients? You can use social media to proactively control the narrative and manage your insurance company's reputation.
You can start by asking your existing clients for reviews. You can email them after interactions with a link they can follow to social media sites to post reviews. Having as many positive reviews about your insurance company online is important for new customers. Don't wait for customers to leave online reviews when you can request them.
Automate Your Social Media Posts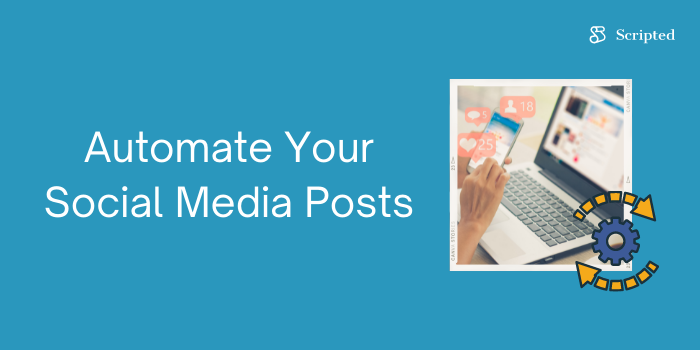 Social media is a fast-paced world with 24/7 expectations. Running an insurance agency also has many demands. You can automate some of your social media posts to help have a stellar online presence without being hooked to your computer all of the time. You can use tools like Later.com to schedule social media posts to post later in the week or the month. Other social media management platforms, like Hootsuite, allow you to hook up RSS feeds of your site's blog to post automatically on social media platforms.
Hootsuite can also help to manage some of the engagement and customer services parts of social media. You can use its interactive tools to monitor mentions and DMs from customers and respond to all messages in a single place. This means that you won't have to manually check each individual platform for customer messages and interactions. This way, there is less of a chance of missing an important message.
Connect With Customers on the Networks They're Already on
Your insurance business doesn't have to exclusively work on Facebook or Twitter. You can also leverage platforms like Instagram, LinkedIn and Pinterest. You don't have to create posts on all of these networks but they can certainly help you communicate with your current clients. Ask customers what social media networks they use. Most people have at least a Facebook profile.
The type of users found on each social media network vary. TikTok and Snapchat tend to have the youngest users while Facebook and Pinterest users are older. If your insurance company serves a wide range of customers, you might want to maintain active accounts on all of these platforms. Perhaps you feature first time driver content on TikTok and information for homeowners on Pinterest. Try to match the needs of the audience on the platform you're on.
Follow Your Competitors 
If you're not the first business in your industry to be on social media, you're probably not going to be the last. As part of your content marketing strategy, follow other insurance businesses on each of the social media networks to see the kinds of posts they create. While you don't want to share competitor posts and direct your own customers elsewhere, you can get ideas for your own future social media campaigns.
Share What You Know and Care About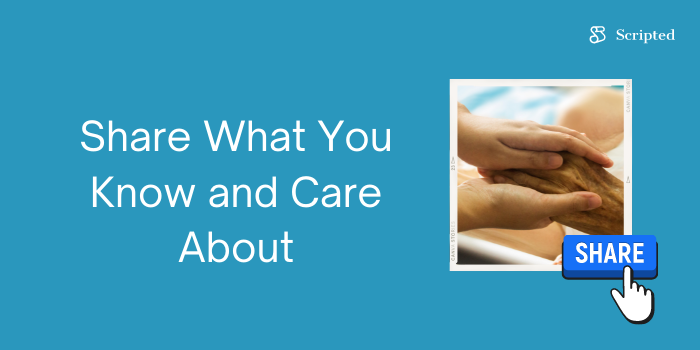 What should you put on social media? It depends on your target audience. If you sell auto insurance, you would target consumers mainly. If you sell business liability insurance, you should target business owners. Insurance is a bit different from other industries, as people want to get to know their insurance agents. If you volunteer within the community or donate food during the holidays, share images of these actions on social media to build trust with your community. It's okay to get a little personal and share the things you care about. Customers want to know.
Create Engaging Content
If you are posting content on social media, make sure it is engaging. If you are just posting links to your website with no context or no information, readers won't be able to understand your business or have a reason to follow you. Create a blog for your insurance business and use it as a platform to create engaging content to share on social media. This will not only make your social media more interesting, but it will direct traffic back to your site.
Build a Community
Social media is all about building relationships. It's important that you get to know your audience. The more you can build a personal relationship with your followers, the more they'll come to trust your company and share their experiences with you. In return, you can make the most of these connections by offering opportunities for your followers to get involved in the site. 
Remember that it takes time to build a community and that you will not be able to grow it overnight. Build relationships and then those followers will spread the word about your company via social media channels. Answer their questions. Support them in their successes. 
For many decades, small businesses like local insurance brokers have supported youth sports leagues. You can use social media in the same way by supporting the community online. This can help you get your name out to more potential customers.
Make Social Media a Priority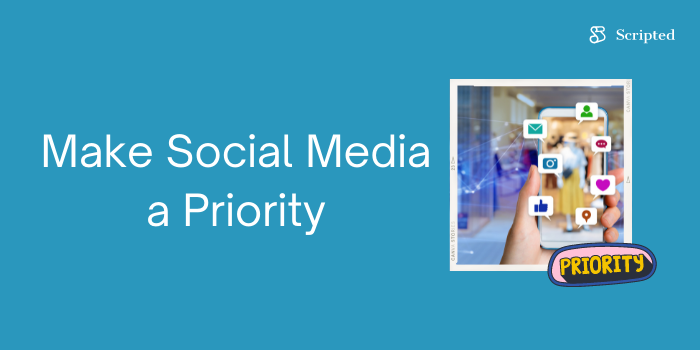 No matter how busy you are, take the time to set up social media accounts for your business. It's important that you use it as part of your marketing strategy. If you're not sure about starting an account on all platforms, then focus on Facebook first. You can always set up other accounts later if the need arises.
Social media must be a priority for your business for it to succeed. Obviously, it's not the most important strategy. However, half-hearted efforts at using social media are not going to pay off. It takes time and commitment to cultivate a following and to benefit from these networks. Plan on being involved in the long haul. 
There is a general misconception of creating this overnight viral content that garners lots of attention. In truth, most pieces of viral content require effort. You need to know what your followers want to see and test to ensure that your posts perform well. This information increases the likelihood of better engagement. 
Use the Proper Tone When Writing Posts
Social media is not just for sharing information with people; it's also an opportunity to communicate with them more personally than you would normally do in person. Use your tone to set the mood. If you're an upbeat person, your comments should be upbeat, too. If you're a more formal professional, don't make jokes with your tweets and keep your tone professional. There is not a one size fits all approach to the tone that insurance companies should use on social media. It should match the rest of your marketing efforts.
Be Specific
Social media is all about connecting with people and making them understand what you do. You can help potential customers by being specific about what you offer and why they would want to work with your insurance company. You can even go into a little more detail in the comments of the posts they share on your social media profiles. 
At first glance, all social media pages from insurance companies might look similar. It is up to you to show casual observers what makes your firm stand out. How many clients do you have? What's your satisfaction rate? Why should homeowners choose your company, specifically? Feature this information on your social media pages. It is your chance to let potential customers know.
Use Social Media Analytics to Measure Success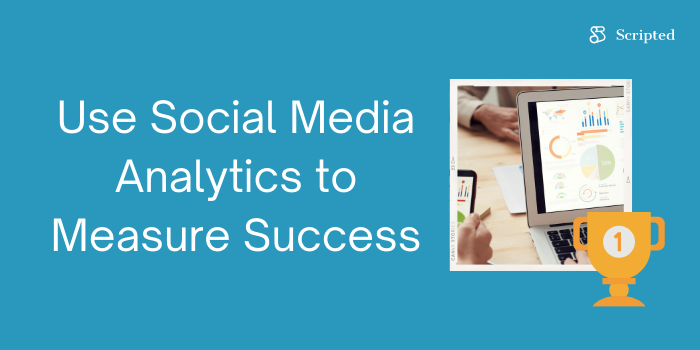 The beauty of social media is that you can measure what's working for your business. That's why you need to use some analytics to see what's working and what's not. Many people think analytics are just for big businesses. It's not. You can use analytics to track and measure the impact of each social media post. By having insights into what's working for your customers, you can learn what to focus on next. Plus, by tracking the metrics, you can get a better understanding of what your audience likes and do more of that.
Social media platforms have ways to monitor social media analytics. You can learn about reach and engagement this way. As your social media marketing grows, there are other tools that you can use to monitor successes. SEMRush is a powerful tool for brand monitoring that can research keywords with so you can focus on using only the best ones. Sprout Social has a wide range of analytics tools to get even more advanced information on social media performance.
Stay Consistent and Make Updates Often
Content that is regularly posted will not only keep your audience engaged, but it will drive new customers to your site. The good news is that social media is always changing. New channels are being created all the time. It is worth trying out new platforms to see what works best. 
One of the keys to social media marketing is consistency. Always post frequently and use engaging content. Create articles, videos, and slideshows that share valuable information. Use relevant hashtags and use them throughout your posts to reach your audience. That will help your posts show up higher in search results. Don't be afraid to post videos and infographics, too. 
Best Practices for Social Media You Need to Know
Creating and optimizing social media content can be a big task for a small business. SEO is an important component of building any business' online presence. It can help you rank higher in Google for keywords that you're targeting, improve your site's visibility and encourage readers to buy. Having an active social media presence can create valuable backlinks for SEO by exposing more people to your content. 
Whenever possible, aim to use hashtags that are relevant to the content that you want to share. You can use your company's name as a hashtag to link all social media posts together within the platform's search functionality. Also use trending hashtags within the insurance industry and others to ensure your content is found when it's relevant. 
You don't have to create all of your insurance company's social media content on your own. You can hire professional writers with experience writing relevant and engaging content for all of your content marketing needs. Browse our large selection of highly rated writers who can help you quickly write 100% original social media content.