How to Hire an Injury Law Writer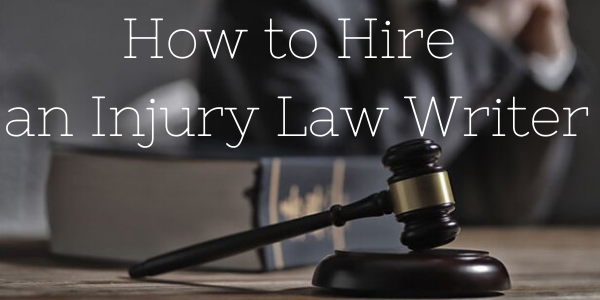 Finding an injury law writer is no easy feat. In this niche, readers expect actionable, straightforward, and factual content delivered in a no-nonsense manner. Meanwhile, the topics at hand require a writer who also has the background necessary to guide potential clients, all while adopting the brand image your firm or company intends to uphold.
If you're trying to hire an injury law writer to represent your law firm or company and increase organic traffic, this guide will help you make an informed decision.
Hiring an Injury Law Writer
Without a doubt, hiring an injury law writer is a major decision. The writer you choose has to be able to address serious, often emotional topics in a concise, factual manner. They need a style that engages readers by offering valuable information in a well-structured, direct, and straightforward manner, all while representing your brand in a way that's consistent with your needs to increase organic traffic.
With all of that said, don't expect to make an instant decision when it comes to who you hire as an injury law writer. This is a decision that requires a good deal of thought, and it's important that you follow a reliable process so you can make an informed decision.
Why Hire a Freelance Injury Law Writer?
Whether you're trying to save money or just keep things in-house, it can be tempting for any business to ask a current employee to handle their content needs. However, asking an employee to take on content creation as a "side job" on top of their primary responsibilities is sure to backfire. While, at first thought, writing an article every week or creating content for your social media pages may seem easy, great writing takes significant time and effort.
The best injury law writer isn't just going to write your content. They're going to help plan it, outline it, research it, create it, edit it, and expand upon it with the help of keywords, metadata, images, and other elements. All the while, a professional will ensure the style is consistent while the information is straightforward, ensuring that it fits within your larger selection of content offerings. 
If you've tried to handle your content yourself or you've been thinking about it, save yourself the trouble. Hiring a freelance injury law writer will save you time and, ultimately, get you far better results. 
Qualities to Look For In an Injury Law Writer
Thinking about who to hire as an injury law writer? You can't expect just any professional writer to meet your needs. Here are the specific qualities you should look for along with questions you should ask yourself so you can start thinking about your firm's more specific needs.
Authority
When a reader is seeking content in the injury law niche, they expect information that is factual and helpful. They don't want to hear opinions or anecdotes -- they want to know the law, their rights, and case studies that help them understand the potential outcome of their situation. To ensure your content checks all these boxes, it's important to hire an injury law writer with real authority.
Authority is a combination of experience and recognition, and it's something you'll pay a premium for, but it's a worthwhile investment. An authoritative injury law writer will give your readers the high-value, straightforward content they require while adding trustworthiness to your brand's name. Of course, there are instances where you may opt for a less experienced writer.
Oftentimes, firms who are writing for the general public save money by using a general ghostwriter or someone with less experience in their industry, and that can work out as long as the person is doing their research. However, the less experienced your writer is, the more time someone at your law firm should spend reading their content to fact check it and make sure they aren't offering inaccurate, outdated, or potential harmful information.
Personality
Readers want factual information, but they also need content that is empathetic to their emotional state and needs. The personality of the writer you choose is going to shine through in their writing style, so it's up to your brand to determine what you want that personality to be. Do you want someone serious and knowledgeable or someone caring and empathetic?
The writing style you opt for will ultimately come down to your brand's style guide and the image you have spent time establishing. If you're unsure what style you should pursue, analyze the content of your top-performing competitors and see what they have adopted. 
Other Considerations
Depending on your brand's unique needs, you're going to have additional considerations to think about when choosing your writer. Some questions to ask yourself include:
How much content does your company need?

The volume of content you require will influence the productivity requirements of your chosen writer and help you determine if you need more than one writer to stay ahead of your schedule.

What audience does your content serve?

Considering your audience will help you choose a writer with the right background and experience level to meet readers' expectations. For instance, injury law content aimed at attorneys will certainly require a more experienced writer than content aimed at potential defendants or plaintiffs. 

Do you have any special requirements?

If you serve a target market, is it important that your writer has knowledge about your state or local laws, specifically? If you serve a target niche, is it important that your writer has knowledge about workers' compensation or another specific area of practice? Consider these special requirements when choosing your writer. 
The Injury Law Writer Hiring Process
Once you know what to look for in your injury law writer, you can move forward with the hiring process. 
Define your needs.

When talking to writers about your needs, make sure you tell them the specific topics you want to cover, the audience you target, and any special requirements you have -- like the need to include expert quotes or reference specific court cases.

Talk pricing.

Experienced writers know their worth, and you'll pay a premium, especially if they hold a relevant degree or certification. Likewise, you'll pay more for a more specialized writer, but the investment will pay off in quality content. 

Discuss availability.

Your content schedule and volume needs will determine whether or not a writer's availability meets your requirements, now and in the future. Ask them about long-term availability, too, so you aren't blindsided if they end up stepping away for a while. 
Try Scripted for Free
One of the absolute best pieces of advice you can take when hiring an injury law writer is to start on the right platform. At Scripted, we help save you time through our rigorous vetting process that ensures only the best writers are accepted. That means no sifting through thousands of inactive or irrelevant profiles -- simply search and you'll quickly see a handful of qualified candidates who are available to help you increase organic traffic. Ready to get started? Browse our database of injury law writers.