How to Hire a Payments Industry Writer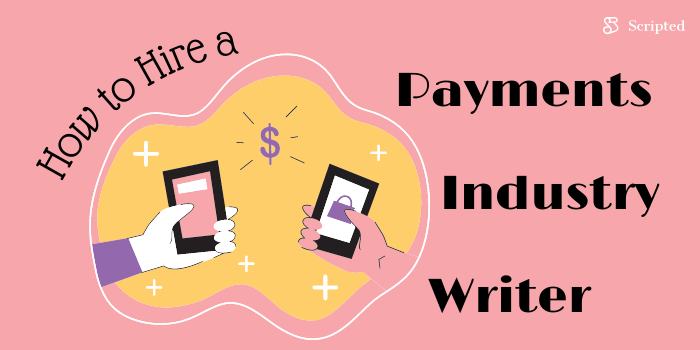 According to McKinsey, the global payments industry revenue is growing bigger with each passing year, with a value of almost $2 trillion in 2019. Meanwhile, payments continue to increase faster than banking revenues, with a share of nearly 40% (an increase from about 33% just five years earlier). These numbers prove one thing: The payments industry is a thriving place to be.
Whether you're helping brick-and-mortar retailers upgrade their terminals so they can enjoy new features like contactless payments or you're helping eCommerce stores get started with a secure and convenient online payment option, content in the payments industry requires in-depth knowledge.
With that said, it's not something you can contract out to just anyone, and it often takes too much time to handle on your own, so who do you turn to for content that can increase organic traffic and truly interest your readers? If you're thinking about hiring a payments industry writer to help your business grow, this is the guide you need to follow.
Why Hire a Freelance Payments Writer?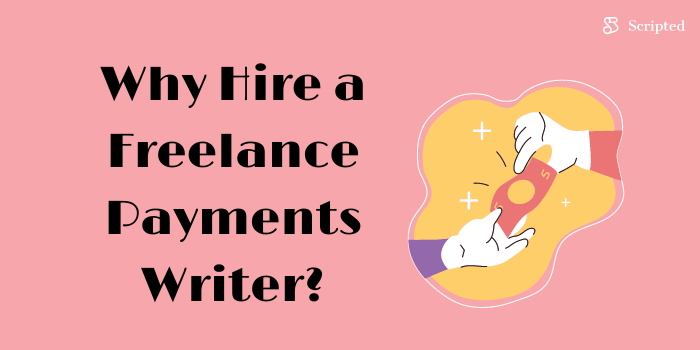 Every business, large or small, seeks out ways to cut costs. It's a fundamental part of being profitable and increasing capital, but when it comes to things like content writing and digital marketing, cutting costs is almost always a bad idea. At least, if you plan to cut costs by assigning content writing to yourself or an employee who already has another role to fill, you're going to run into trouble.
Content writing is about more than simply typing up words. The planning, research, writing, editing, optimization, and revision process all take a great deal of time. An experienced writer can do it more quickly, and they'll also have the tools and processes established to be more efficient and cost-effective than you could even imagine being on your own.
With that said, you might consider the option of hiring a content writer for a part-time or full-time position. This could be beneficial if you have steady content needs and the budget to hire a new employee. However, most businesses find that outsourcing is the best choice when they need a writer to work with. In the payments industry, in particular, finding the right professional is a smart move since they need to know industry practices, standards, and some laws.
Qualities to Look For In a Payments Writer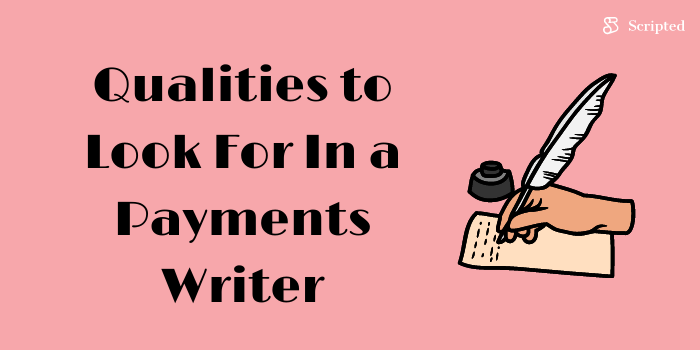 While there are countless professional writers out there, they aren't all suited for your projects. The first step in the hiring process is looking for individuals who possess the qualities you care about the most.
Writing Style
It's time to take out your brand book and figure out what writing style your brand actually wants to represent it. If you already have this information established, that's great. Providing your brand book to a writer will help inform them and ensure consistency across all of the content your brand publishes.
If you're unsure what writing style your brand should pursue, look to your competitors. In the payments industry, specifically, the best writing style will come across as well-informed and trustworthy, without being dry or dull. You may choose to inject humor into your writing style, too, if that fits your brand image.
Most professional writers are highly adaptable and can change their style to fit a variety of projects, but it's still best to review writing samples before you hire so you get a feel for their voice and how their content flows. Moreover, you can fact-check the content and get a general idea of their content's quality.
Authority
Credibility is important when choosing a writer, whether it's something that will be publicly known or not. Ultimately, credibility means finding a writer who takes pride in their work and does the research to ensure they're only ever offering the most factual and up-to-date information available to them. Of course, you can take things a step further.
Writers with "authority" often possess a well-known name or they hold a degree or certification that makes them more trustworthy in the eyes of readers who have just stumbled across your content. You'll pay a premium for these writers, with the price going up the more recognized they are. However, it's generally worthwhile for your brand's long-term reputation.
Additional Considerations
Authority, writing style, and general things (like communication and experience level) are all important characteristics to consider, but what about your company's specific needs? Ask yourself these questions to think about what else you need to look for.
Who is your audience? They will determine the depth of information your content needs to offer, the terminology used, and other aspects of the content creation process.

How frequently do you need content? Ideally, you'll be able to establish a relationship with at least two writers who you can turn to whenever you have a project. So, ask about their availability over the next few months to ensure you don't have to start your search over again anytime soon.

Do you plan to do the research yourself? Some writers can help you conduct keyword research and plan out content ideas, while others will expect you to bring that information to them, perhaps with a completed content brief, too.
The Payments Writer Hiring Process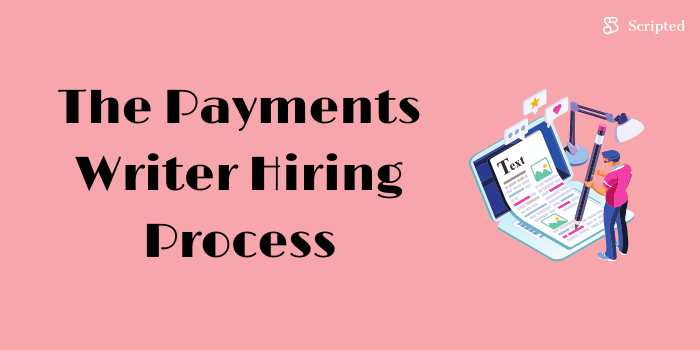 Once you have an idea of what you're looking for in your ideal writer, it's important that you follow the right steps in the right order. Here's what you need to do.
Define Your Needs
You can't move forward with hiring a payments writer until you know exactly what your organization is looking for. Do you know your company's writing style? Do you have a brand book created? Do you have your audience mapped out? If you can't confidently say "yes" to questions like those, it's paramount that you spend time evaluating your company's needs more closely.
Consider Your Content
In addition to understanding your basic requirements, you'll need to get an idea of the type of content you want to publish. This starts with defining the platforms you're going to publish on, which will help you make a list of all the formats you need (e.g., blog posts, Facebook posts, email newsletters, etc.). From there, you need to determine the length and frequency of the content you need. This will impact a writer's pricing and turnaround.
Find The Right Platform
Lastly, making the right choice when hiring a payments writer ultimately comes down to using the right platform. In addition to matching you with a true industry professional who has knowledge in your niche, the right platform will empower you with a broad selection of content editing and project management tools that will ensure your collaboration is a success.
Scripted does all of that. With a state-of-the-art platform and user-friendly dashboard, Scripted connects you with thousands of top writers who can help you build and execute your content strategy with confidence. We'll save you time because we only let in proven performers, evaluating each application by hand and ultimately accepting less than 5% of applications.
Scripted's writer profiles also reveal their top industries, client ratings, latest writing samples, and tier level, allowing you to make a decision for your company quickly. Ready to get started? Browse our payments industry writers today.