The Scripted Podcast: Freelance Writing with guest Michael Schlossberg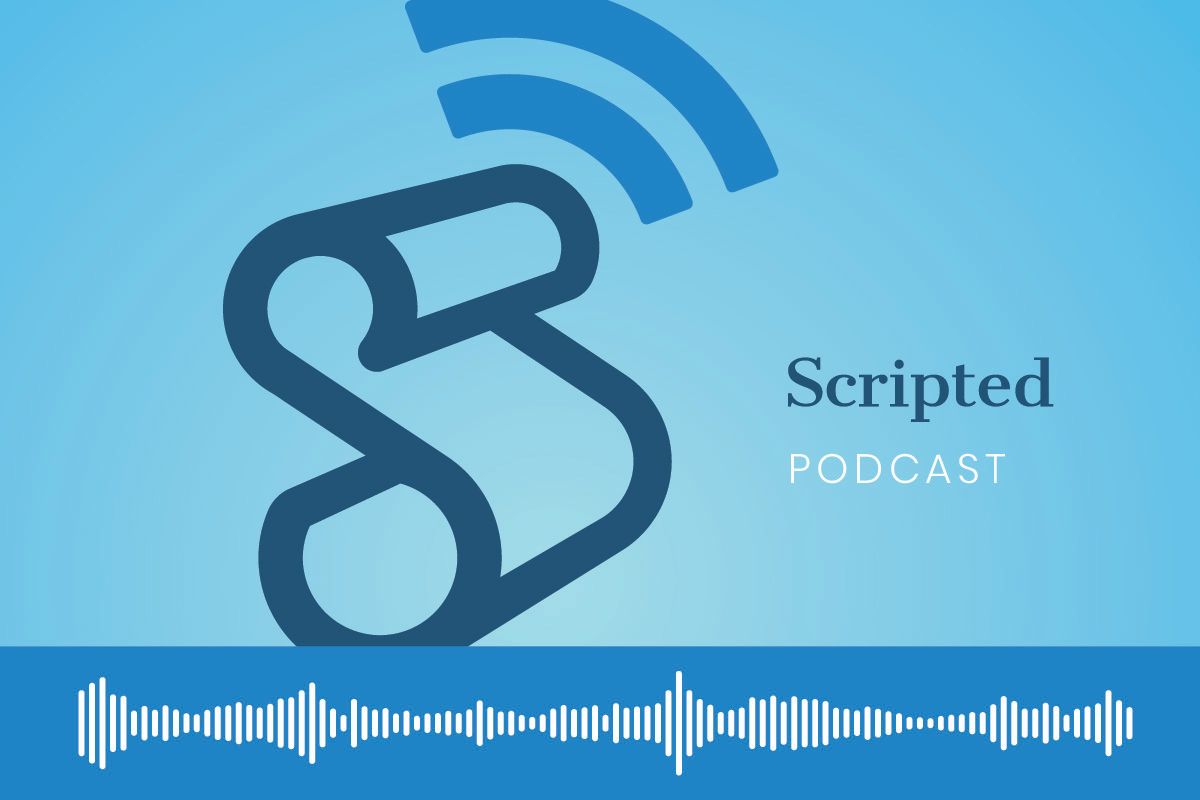 Welcome back! In this episode of The Scripted Podcast,  Kevin O'Connor and John Parr sit down with Michael Schlossberg — a Scripted writer who also works also works as a member of the Pennsylvania House of Representatives. We talk about how he manages an insane schedule as a full-time politician, prolific Scripted writer, post-apocalyptic novelist, and mental health advocate. For you writers out there struggling with meeting deadlines or balancing your work and personal life, this episode is for you.
The Scripted Podcast is a show created for content marketers and content writers featuring real Scripted writers. We'll talk about best practices in content and SEO, our favorite marketing tools, how to find and hire writers, and all the fun and misadventure that comes with being a professional freelance writer.

So if you are interested in content marketing to help grow your business or you're a content writer looking to refine your skills and learn from professional, experienced writers then this podcast is for you.

Welcome to The Scripted Podcast!
SUMMARY KEYWORDS
Scripted, pennsylvania, people, allentown, writing, book, blue collar, writer, mental health, governor, articles, lieutenant governor, district, grew, full time job, world, state representative, job, michael, hear
SPEAKERS
Kevin O'Connor, John Parr, Michael Schlossberg
John Parr  00:00
...the platform, but then you see your background, and I was like, how does this guy manage his time?
Michael Schlossberg  00:06
I haven't slept since the mid- to late-90s!
[music intro]
John Parr  00:28
Hello and welcome to the Scripted podcast. My name is John Parr and I'm joined by
Kevin O'Connor  00:33
Kevin O'Connor.
John Parr  00:35
All right, Kevin, we are back. It is spring. I believe on the end of the last episode, I made a promise to you that we would only have another podcast if I met a certain condition. I'm happy to tell you that I have watched MacGruber
Kevin O'Connor  00:52
Oh, really?
John Parr  00:52
Yes. I watched it on your birthday. In memory [inaudible]
Kevin O'Connor  01:00
I mean, immediate thoughts?
John Parr  01:04
Okay, so, here's the best part: Despite preparing this idea that I was going to tell you this in the intro in advance, I had not prepared any comments beyond that. But what I will say is this: I loved it. I am not in the, say, cult follower category that you and Michael N. from the previous podcast are. I think that probably is born from people that saw it when it dropped.
Kevin O'Connor  01:37
Possibly. Maybe you just need like 10 more viewings.
John Parr  01:40
That may also be. What I will say is it's way better than an SNL-derived film, than it has any right to be.
Kevin O'Connor  01:50
Oh, absolutely.
John Parr  01:50
Like, the skits from the original SNL are nowhere near touching what this film is.
Kevin O'Connor  01:58
Right, right. Yeah. And I mean, you can say like, there's SNL-produced films like Tommy Boy that are great, but very rarely spawning from an actual sketch. Which, you know, like, Coneheads. What are we talking there?
John Parr  02:12
Right? No. Coneheads is a perfect example of that. It's the SNL sketch movie. This is like another beast. This takes on like every action film ever. So, I just wanted to add on that yes, I've seen it. I'm part of Team MacGruber. We'll talk about it again. Maybe from every episode moving forward. From this one, we will start asking guests whether they've seen it or recommend it. But today, we're going to kind of... We're going to dip a little bit from that, or maybe not so much? Because we're going to be talking a little about America today. We're going to be talking a bit about politics and writing. And we're going to have Michael Schlossberg on the podcast today. And he is a Representative of Pennsylvania, which is our home state. And he's going to be talking a little bit about his experience on the platform. Michael Schlossberg has been just on a crazy rise on Scripted, just taking on tons of work, delivering high quality, and I'm super thrilled to talk to him.
Kevin O'Connor  03:14
Yeah, I'm excited, too. And yeah, he's very MacGruber-like, and the fact that he just does everything. And he does it at like the highest level. It's very true. Very true. I'm sure. I think he did. I think you'll appreciate that.
John Parr  03:27
I think he would. Let's jump into it.
Kevin O'Connor  03:29
Let's do it. Michael, welcome to the show.
Michael Schlossberg  03:33
Thank you for having me.
Kevin O'Connor  03:35
Yeah. So why don't you tell the audience a little bit about yourself? First off,
Michael Schlossberg  03:41
Sure. So, my name is Mike Schlossberg. I live in South Whitehall, Pennsylvania. Now my full-time job is—ironically enough, I do a lot of interviews in my full-time job. I'm actually a Pennsylvania State Representative. That's what I do for a living. So, full-time I serve the people of Allentown and South Whitehall as their representative in the Pennsylvania House of Representatives. On the side, I've done fiction and nonfiction writing in the past. I've had one fiction book and one nonfiction book published with more coming. I started to do Scripted, more than anything else, as a way of kind of keeping my skills sharp. It's something that I've really come to enjoy, particularly as, I don't want to call it a hobby, because that diminishes the work that we do, which I do really think has value, but it's become another passion project of mine, I would say.
John Parr  04:31
Yeah, interesting. We were I was curious about that myself when you came on and you've been an incredible writer on the platform, but then you see your background, and I was like how does this guy manage his time?
Michael Schlossberg  04:43
I haven't slept since the mid- to late-90s! And then well, that's important because as much as I love Scripted, there's no question, of course, but my full-time job is serving as a state representative and making sure I'm fulfilling the needs of my constituents and all that. And that is a very full-time job. But the true is that some people—and I'd like to think I'm one of them—enjoy what they do for work. And to a large extent, this is something that—I don't want to say that I do it for fun, because again, that diminishes the work. But it's something that I've truly come to enjoy. And I've come to enjoy it from the perspective of someone who has always loved writing. I've loved writing since I was a little kid. It gives me the opportunity to do that. It's actually, believe it or not, it's been very interesting for my full-time job. I'll use this as an example: I've done a lot of writing on CBD and other healthcare related issues in particular. And in the course of writing on CBD, I've become somewhat of an expert on the subject, and that has then had applications for my full-time job, because it's a very controversial issue within this world. Kratom is another example. I've done writing on kratom. And that's helped to give me a better idea of what the substance is, and potential interactions with state government. My passion in public policy has been mental health. So, whenever there's a mental health related article, I grab it as quickly as possible, more than any other article. Because—that's why I've been very open in my career as an elected official, as someone who's suffered from depression and anxiety. And I use my mental health experience in the public policy arena. That obviously has some very interesting overlaps as I write for organizations that are involved in mental health and addiction treatment.
John Parr  06:27
Fascinating. And that's so great to hear as well. Especially, I mean, first of all, mental health in the United States in general is getting worse. So, a little bit of background, too: both Kevin and I are Pennsylvania natives.
Michael Schlossberg 06:42
Oh, no kidding! Where from?
John Parr 06:44
Yeah, I'm from Bucks County. Kevin, aren't you also from Bucks?
Kevin O'Connor 06:48
I'm also from Bucks.
John Parr 06:50
Yeah, so we're both from Bucks County. And yeah, I grew up there. I lived there until I was about 21. Then lived in Minneapolis, then San Francisco, then Tokyo, then San Francisco, down back in Minneapolis.
Michael Schlossberg 07:00
That's interesting.
John Parr 07:02
It is. But I, you know, obviously Pennsylvania is near and dear to my heart. Kevin, you lived there until when?
Kevin O'Connor  07:10
Yeah, until my early 20s like 23. Then I went to Las Vegas for about 11 years. Now I'm out in Colorado, outside of Denver.
Michael Schlossberg 07:17
Good for you guys.
John Parr  07:20
Yeah, but we were excited. I mean, here we go!
Michael Schlossberg  07:24
I know plenty of people from Bucks County and I work and serve with them on a regular basis.
John Parr 07:28
Amazing.
Kevin O'Connor  07:29
Yeah, which brings us to—actually, we want to learn a little bit more about your day-to-day because obviously, you're a very busy man. You do a lot. But I don't think a lot of people know what a US representative's day is like.
Michael Schlossberg  07:42
I have to be honest. One of the reasons I really love this job is because no day looks the same. Every day is very, very different. And I will—you know, I'll use my schedule today. So today, I'm going to pull up my calendar here. I've always been an early riser. I wake up probably around 5:30 in the morning. Some mornings I'll get to the gym—not as many as I wish I did. But that 5:30 in the morning is actually my Scripted time. And you can ask the poor editors who have the misfortune of working with me that they will get articles from me at 6 or 7 a.m... So, that's usually Scripted time. Today, I had a meeting at 9 a.m. with a nonprofit that's deeply involved in the Allentown School Districts—one of the two school districts that I serve—about trying to make kids career ready. I had a meeting at 11:30 with a couple of local doctors. This is more or less lunch. Ten minutes beforehand, I was jamming a sandwich down my throat. At 2 p.m., a meeting with a Democratic candidate for lieutenant governor. At 3 p.m., I'm going over to our local Jewish Community Center to celebrate Israel's anniversary as a country, and then at 5:30 p.m., I'm traveling to Monroe County for a panel discussion and screening of a suicide prevention related film, and then I'll probably be waddling back in the door at 9 o'clock. And I will say that that's a typical day in that it represents the randomness of my day. And I mean, obviously I'm home today.
John Parr 09:08
Right.
Michael Schlossberg 09:09
When I'm in Harrisburg, the day gets even crazier. Harrisburg, for those of you listening who don't know: Harrisburg is the Pennsylvania State Capitol. We're in session 20 to 25 weeks a year, three days a week. There's a lot of other random travel as well, so there's a decent amount of time on the road. And those days get even crazier because when you're in Harrisburg, everything gets really, really condensed. And that's what makes life even more interesting. I joke with my staff that I feel like a pinball sometimes.
John Parr  09:35
I bet! Yeah. In fact, I feel like people who use the term that they're "busy" are maybe kind of overstating it in comparison, this is—
Michael Schlossberg  09:45
I will say this though: it is feast or famine. April to June is typically our busiest months, especially because you have to deal with the state budget which is due by the month of June. So, in the month of June, I joke with my wife that I turn into a ghost and spend most of the month of June in Harrisburg.
John Parr 10:03
Right?
Michael Schlossberg 10:04
But summers typically are a little bit slower. An unfortunate habit I think some have is "Oh, it's summer. So, it's slow." And it is slower, but you need to keep yourself busy to do this job, right. So, over the summer, I will typically start knocking on people's doors, on my constituents doors, to say, "Hi, I'm here! Just want to introduce myself," and you know, talk with folks. And that keeps you connected to people. And you know, if you're in this job, hopefully you're a people person. And I've always enjoyed that aspect of it. Going door-to-door and actually having conversations with constituents. That's the fun part of this job.
John Parr  10:35
I think it's beautiful to hear that people are still doing the door-to-door.
Michael Schlossberg  10:40
And well, you can't just anybody—my colleagues and I have this conversation all the time. Twitter is not the real world. Social media is not the real world. And I'm an obsessive social media user. But it presents a skewed platform, and you actually have to make an effort to talk to people to make sure you keep in touch with their needs and find out if there's anything that they need state government help with.
John Parr  10:59
Oh, 100% Yeah, no, it's so good to hear that. Especially that concept about social media not being the real world. Let's take it back, though. So, how did you get started? How did you end up in this position?
Michael Schlossberg  11:11
In government, you mean?
John Parr  11:12
Yeah, the whole story. Yeah.
Michael Schlossberg  11:13
I'm a huge masochist. [laughter] No, I knew from eighth grade on that this was something I wanted to do for a living. And I took a civics class, like "is that what this is for?"
Kevin O'Connor  11:27
I was going to say, I was like, was that a civics class?
Michael Schlossberg  11:29
Specifically, it was a Model Congress in eighth grade, I was very lucky. So, I participated in this. I was absolutely hooked on government and on elections. I grew up in—I joke that my dirty political secret is I'm from the state of New Jersey. And I came to Allentown, Pennsylvania through Muhlenberg College, where I went to school. Senior year I interned for the woman who I wound up succeeding in the legislature, and it was Jennifer Mann. She is one of my dear friends and mentors. I learned a lot about the community, fell in love with Allentown, decided I wanted to stay. And then she was very helpful in my career. I got a master's degree in Political Science to work for our Chamber of Commerce here. Two years later, I ran for a seat on Allentown City Council, which that is a part time job. I won it. Jen Mann retired in 2012. She said, "I've had enough. I'm going to leave this job. You're up!" And with her support, I ran and won, and I was elected in 2012. And then we unfortunately have to run for office every two years, which is way too frequently.
John Parr 12:28
Yeah?
Michael Schlossberg 12:29
Yeah. It's ridiculous. And you're just constantly campaigning.
Kevin O'Connor  12:32
We looked into that, though, you haven't had a lot of competition.
Michael Schlossberg  12:35
Well, and that's actually—that is a public policy problem. And one that will, well, that will change to an extent this year. On one hand, I represent the city of Allentown, which is overwhelmingly democratic. Now, that has changed thanks to redistricting. I will say that the maps that were drawn 10 years ago, jammed me in order to shore up Republicans around me. It's a process known as gerrymandering. They put as many Democrats as humanly possible in my district. My district, on average, performed about 65% democratic, which meant that if I committed multiple felonies, I would get down to 55% Democrats. It was ridiculous. Now, the new district, the district has changed—and in a good way. Now, I go from 67% to 57%. I have a lot less of the city of Allentown. I have the entire South Whitehall Township, which is actually where I live, and then a piece of another township next door, upper McKenzie Township. At the moment, I'm very lucky. I don't have an opponent, but somebody at the primary is in just 12 days from now. And someone is going to try to run against me to get enough write in votes that they can get on the ballot. So, we'll see how that goes.
John Parr  13:44
Okay, yeah. We have so many questions. We were actually sitting here before you hopped on, still taking a look at your district. Well, I'll start with this one; one that we were curious about as Pennsylvania boys. So, isn't Allentown traditionally like blue collar?
Michael Schlossberg  14:00
So, it depends. The definition of blue collar should have, at least in my mind, changed. Right when you hear the phrase blue collar you're going to think of like steel mill workers and we're living here in Allentown, which is actually about Bethlehem [inaudible, laughter]. Just think—it is still largely a blue-collar city. However, I will change the definition of blue collar because when you think of blue collar, you think of steel workers, miners, and you think of white people. And I say this as a white person—blue collar still applies. But the people who are blue collar have changed because Allentown is a majority minority city. The city is somewhere in the neighborhood of 50 something percent Hispanic, about 15% African American, about another 5% to 10% are Middle Eastern and Asian, and the rest white. So, it's a very diverse city and growing more diverse all the time. So, I would still call it blue collar. I would just say that Blue Collar means something different.
John Parr  15:02
That's certainly true. I mean, yeah—it's kind of bizarre that, in 2022, we still use this really dated concept of a collar to begin with.
Michael Schlossberg  15:10
Exactly. So many people refer to like, you know, the working class. And when a lot of people use those terms, a lot of times people will default to white. "That is somebody who represents a heavily minority district," I have to say, "No, no, no, let's make sure we're clear about what we mean." And it's funny because my new district changes very significantly, in a lot of ways, not the least of which is racial demographics. I go from 40% Hispanic to 15% Hispanic, and I will have more Asian Americans in my new district than African Americans, which is a very, very big switch for me.
Kevin O'Connor  15:45
And you said you're meeting later today with a candidate for lieutenant governor, right?
Michael Schlossberg 15:50
Yep.
Kevin O'Connor 15:53
Can you talk about your relationship with the governor?
Michael Schlossberg  15:55
Absolutely. I'm very lucky. I have a pretty good relationship with the Governor. As you know, if you've been listening—people know that I am a Democrat. The Governor of Pennsylvania is Tom Wolf, who's also a Democrat. He is finishing his second and last term. He's term-limited. So, he can't run for reelection. We are—
Kevin O'Connor  16:11
Not the novelist?
Michael Schlossberg  16:13
No. There's no "E" at the end of this guy's name. I know, he gets asked that a lot. I have a good relationship with the governor. We have a lot of political overlaps. I mean, he's been very good to my district, and I've been able to work closely with him on some really important issues, including education and mental health, which are the two things I'm most passionate about and I think matter deeply to my constituents. But he's term limited. So, that means that in November, Pennsylvania is electing a new governor. And we also elect a new lieutenant governor, because it's a dumb system. It really should change.
Kevin O'Connor 16:47
Yeah, I thought it was appointed.
Michael Schlossberg 16:49
Nope, nope. So, the governor, the lieutenant governor run, but they run separately, even though they have to serve together. That led to a very awkward situation in 2014, where Tom Wolf was elected governor, State Senator from Philadelphia named Mike Stack was lieutenant governor. But Stack and Wolf never really got along very well. And then a report came out that Mike Stack and his wife had abused their security and their housekeeping staff and the governor actually stripped him of both, and then sSack wound up getting destroyed in the 2018 primary by a guy named John Fetterman, who some listeners may know was the front runner for the United States Senate for the Democratic nomination, and Pennsylvania is a brand unto himself.
Kevin O'Connor  17:30
Yes, very much so.
Michael Schlossberg  17:32
Yep. So, the interesting thing is that the Democratic nominee for governor is going to be Josh Shapiro, he's our Attorney General. He's unopposed. It's a done deal. I think the world of him. He's been an amazing Attorney General. He's an incredible candidate. He is a fundraising machine, which we need. But, he has said, I want a guy named Austin Davis, who's another state representative from Allegheny County to be my lieutenant governor. And I've endorsed Austin. I support him. He's going to be in Allentown, we're going to introduce him to the mayor of Allentown and hopefully do a little bit of campaigning stuff.
John Parr  18:07
Wow. Yeah. Well, one thing to go back to regarding your dirty secret: I think one thing that a lot of people probably don't recognize if they haven't lived in Pennsylvania is the weird interplay between Pennsylvania and New Jersey. Yeah, I mean, I lived in Bucks County I grew up there and I went to school in New Jersey.
Michael Schlossberg 18:28
Really?
John Parr 18:29
Yeah, I went to high school in Trenton so you know…and then of course the classic "down the shore" and—
Michael Schlossberg  18:36
Yeah, "down the shore" and "nobody from Jersey can drive," which I will confirm as true. [laughter] Pump your own gas etc, etc. You know, our two economies are linked to Lehigh County. It isn't quite a border County, but it's pretty close. So, we hear about that all the time. And as I tease people, "I'm a New Jersey refugee." We're a state that should be very grateful for the continued importation of people from other states and, frankly, from other counties.
John Parr  19:06
Oh, yeah. Oh, yeah. No, no, for sure. And so, Allentown is growing then as well?
Michael Schlossberg  19:11
Allentown is Lehigh County, which was the second-fastest growing county in the entire Commonwealth of Pennsylvania at 6%. The eastern part of the state is rapidly growing. The Eastern and South Central or the North Central and West is by and large shrinking. It creates some very interesting dynamics. As I mentioned, my district changed, which it has to every 10 years. Part of the reason for the change was because Lehigh County grew so much and specifically Allentown. Allentown grew about 6%. South Whitehall Township, which is the other part of my district right now, grew 10%. I am picking up five eighths of upper Macungie Township, which grew 33%. So, we've got really hardcore growth numbers in the area that I live and it really makes the job a lot more interesting.
John Parr  19:59
I bet, yeah. What—Sorry, go ahead.
Kevin O'Connor  20:02
Now, speaking of interesting jobs, I kind of want to talk a little bit more about your freelancing career.
Michael Schlossberg 20:08
Yeah.
Kevin O'Connor 20:09
You said you got a couple books published. But before you joined Scripted, were you freelancing?
Michael Schlossberg  20:15
I was. So, I freelance for a different service called Textbroker. And I will still pick up an assignment from them once in a while. That was kind of my entry into it. I've enjoyed that platform. I will say I enjoy Scripted more, because I think it's a little bit more user friendly, for both the clients and on my side—certainly for the writer. The editors are so much better to work with, and especially I really appreciate the editors that are very hands on. That's not something that I had worked with previously. That not only makes the article better but, as a writer, that makes my writing better and hopefully teaches me the skills I need in order to continue writing. Not just as a freelancer, but I continue to do creative writing when I can, I will hopefully have another book published within the next—gosh—I don't know…the next year or so? The publishing industry is slow, but I've got more stuff coming. So, it's, you know, again, just from a selfish perspective, freelancing helps me become a better writer in general.
Kevin O'Connor  21:19
Right. Do you consider yourself a writer first?
Michael Schlossberg  21:21
No. No, I have to be a state referee. Well, first, before the obvious, without trying to sound trite: before I'm anything else, I'm a husband and a daddy.
Kevin O'Connor 21:30
Right.
Michael Schlossberg 21:31
But from a professional perspective, the first job as an elected official always has to be being an elected official. That's what I've signed up for. And that's what people ask of me. The freelancing is partially, you know, a creative passion. But, to be perfectly honest, it's been very helpful from a financial perspective, there's no question about it. It's really…it's made our lives a lot better. And I clearly appreciate that.
John Parr  21:59
Hey, that's great.
Kevin O'Connor  22:00
I think there might be a lot of people listening that are like you that have full time positions that are very busy, that have a family, but they have a passion for writing. And that they're considering, "how can I get into freelance writing?" Do you have anything to say to that?
Michael Schlossberg  22:15
Oh, and to that, the answer is yes—if you have the right personality traits. I am very organized with what I have to do with deadlines that I have to meet. I know when I have to sit down and do things. And you also—one of the things I realized about Scripted right away, too, is that you have to be able to plan your time. And especially in my job. Obviously, I run around like a chicken with my head cut off when I'm at my full time job, which means that I have to plan my time accordingly if I'm going to meet deadlines. And that means that you can't overburden yourself and take on too many assignments at the same time. But, as long as you're organized with your time and you're a good self-starter. There's no question that you can get work done. There have been times—like anybody else—there's been times where I've either taken on too much or gotten articles back, and I've had to say, "Okay, guys, can I get an extension?"
Kevin O'Connor 23:03
Sure. Sure. Sure.
Michael Schlossberg 23:04
Yes, and I appreciate that. And clearly, as long as you're a writer who doesn't abuse that ability, it makes your life better to know that everything's not set in stone: "Do this, or we're going to set you on fire."
John Parr 23:15
Exactly.
Michael Schlossberg 23:16
"These are the deadlines. If there's an issue, we can accommodate. Just don't abuse that privilege."
John Parr  23:20
Yeah, no. And well, I would go as far as saying if you, in particular, can meet these deadlines, then I think anyone can. [laughter]
Michael Schlossberg  23:29
The only people that it's not for are people who aren't self-starters. And I would think that wouldn't be good for anybody—for the person in question or for the client, because they couldn't meet the deadlines. There have been so many times where I've picked up articles, especially for one client in particular, like, "Hey, this guy flaked out. Can you finish it?"
John Parr 23:50
Yep. Yep.
Michael Schlossberg 23: 52
So, I finish the article. And that's, you know, that's an easy one for me, I always like doing that. But you've got to have the right personality traits. But if you do, and if you're confident in that, this platform can unquestionably help you be a writer, be a better writer, fulfill a passion, and make real money on the side.
John Parr  24:15
Yeah, I mean, I completely agree, I think a lot of the people who don't have that trade have a tendency to kind of naturally filter themselves out in my experience, you know? You really can't hang if you can't meet those, I would say. And then we have a lot of writers, I think, that are also like you where they have another thing that they're doing. Many of which are also writing larger, more creative projects. What kind of stuff are you writing? What are you writing about? What are these books?
Michael Schlossberg  24:42
So, the first book I ever had published was a book called Tweets and Con-- and it's an ironic book in retrospect. It was published in 2014, and I say that for a reason. It was a book called Tweets and Consequences: 60 Social Media Disasters in Politics and How to Avoid Making a Career Ending Mistake. And it is deeply ironic because I wrote it before Trump. And broke every one of my rules!
John Parr  25:04
I was gonna say it's not [inaudible]
Michael Schlossberg  25:08
Got it all wrong. It needs a new version. But the second book I wrote was a fiction book; a young adult fiction book called Redemption. And it's got a science fiction twist: 20 teenagers find themselves on a spaceship. They don't know how they got there, but they have to save the world from a deadly plague—written before COVID. That's a different story. But the twist on that book is that the main character suffers from depression and anxiety issues, and has to engage in all the world saving shenanigans while also fighting off his own demons. So, obviously, it was inspired by my own personal experiences with depression and anxiety.
John Parr 25:44
Yeah, super cool.
Michael Schlossberg 25:45
Yeah, that was a good one. So, the sequel's in editing right now. So, I'm hoping soon that will be out. I also have another young adult book coming out. This one's probably further away. That was… Well, it was informed by COVID. I had the idea before COVID. And I finished it during COVID. A book, I love dystopian books, you know, the world is going to end blah, blah, blah. And then one day as I was thinking about it, I thought, well, what happens if the world doesn't end? And the first scene of this book is from the perspective of a teenager at home who's watching Bruce Willis up on the asteroid, and they win, and the world is going to be saved. And it's a "now what?" book. Because I always found that circumstance kind of interesting. How scarred is the world after a year thinking, "Oh, my God. We're all going to die."? But the world is saved, and then everyone shoots off fireworks and celebrates, and then you have to pick up the pieces of a broken world.
John Parr  26:40
That's so true. Yeah, all disaster movies as well. It's like the sheer amount of damage and other things. And then credits roll.
Michael Schlossberg  26:48
Exactly.
Kevin O'Connor  26:49
Yeah, you're right. There's a whole other chapter. [Inaudile] that's just everybody holding hands and singing Kumbaya.
Michael Schlossberg  26:54
It's like, "Oh, God. We have to go back to work now!"
[laughter]
John Parr  26:58
And then, unfortunately, we ended up living a little bit of that story recently.
Kevin O'Connor  27:03
We know the reality of it a little bit.
Michael Schlossberg  27:05
I started it before COVID! Finished it during—I was struggling with it, actually. And then I realized I was focusing on all the wrong things in the book, so I tweaked it. And then unfortunately, that should be published. I think it's still a ways away, it's still very much at the beginning of the editing process.
John Parr 27:19
Sure.
Michael Schlossberg 27:20
And that book was informed by my own mental health experiences, but not nearly as direct. And that's definitely a theme throughout my writing.
John Parr  27:28
We're going to have to eventually dig some spoilers out of you, as apparently there's a prophetic nature in all of the things that you're writing.
Michael Schlossberg  27:34
And completely unintentional! Well, I will say there was a funny—it was a throwaway line. And as a Democrat, it broke my heart to edit in my first book. I make reference to, you know, their first book takes place in the future. And I make reference to historical film, historical pictures that happened in present day. And I made reference to the female president smiling and waving, thinking, like most people did, that Hillary Clinton was going to get elected president in 2016. And then having to go back and go, [laughing sound] and then make the edits accordingly. One of those random things you try not to think about.
John Parr  28:09
Fortunately, we still live with the ghost of all of that, right.
Michael Schlossberg 28:11
Oh, and we will be for some time.
John Parr 28:14
Yeah. Well, which actually kind of leads me to another question. So, you know, obviously, there's only so much you can say, but what are you thinking as far as political ambition for the future?
Michael Schlossberg  28:24
Oh, no. Oh, I can happily answer that.
John Parr 28:25
Okay.
Michael Schlossberg 28:26
I am very happy in my current job.
John Parr  28:27
I don't know what the current status is…
Michael Schlossberg  28:30
I am a state representative right now. You know, in theory, if I was more ambitious, I'd either look at running for the state senate, or Congress. I have negative desire to do either of those things.
John Parr 28:41
Interesting. Why?
Michael Schlossberg 28:42
I'm already at the limit of the amount of time that I spend away from home and obviously very busy as it is. I really enjoy the job. Plus, you can channel your ambitions elsewhere. I've become the mental health guy in the Pennsylvania House of Representatives, and it's an issue that has meaning to me. And I've been able to do some good work. I was also last year elected to a House leadership role, which means my colleagues felt that I was—I'm the House Democratic Caucus Administrator. It's a position voted on by other colleagues. And that means I help to manage the House Democrats, set policy, and try to help other people out with some of the things that they're working on. So, that is where my ambition has been channeled, and it's given me the opportunity to have more of a voice, at least in part. Because of that leadership position and last year's budget, I was able to get through a huge boost to education spending: $100 million to the 100 poor school districts in Pennsylvania, which included my home school district of Allentown and that was a big deal. The longer you're in the legislature, if you're doing it right, the more impactful you should become. I like to think that's where I'm at. So, I don't want to start over anywhere.
John Parr  29:46
That's refreshing to hear. I think that there's sort of a perception that all politicians are just driven by this sheer kind of selfish ambition.
Michael Schlossberg 29:55
Oh, totally.
John Parr 29:56
You think that's true?
Michael Schlossberg  29:57
Sometimes, we bring it upon ourselves. I can't say that's not well-earned. But you know, you think about it though, most of us get to a position and hang out. I mean, within the Pennsylvania House of Representatives, I would say 80% of the people this is their quote unquote" highest political stop." And there will always be people who are more ambitious. And to be clear, like I was a member of Allentown City Council. This was something that I always wanted. And I knew it. Ambition only becomes a problem when it stops you from doing the job the right way. And I hope that was never me. I don't think it was.
John Parr 30:30
Do you think that's a thing that happens?
Michael Schlossberg 30:32
What? People doing the job the wrong way for ambitious purposes?
John Parr  30:35
Yeah, or essentially neglecting it to some degree?
Michael Schlossberg  30:38
Oh, there's no question.
John Parr 30:39
Yeah.
Michael Schlossberg 30:40
But usually, those people get caught. The public is not nearly as stupid as I think some elected officials wish it was.
John Parr  30:46
Well, it's a black box in a way. You know, I think for a lot of the general public, I mean, even before we hopped on to do this podcast recording, Kevin and I had to do sort of a civics refresher here. We're like, wait a minute, does he do you report to the governor?
Michael Schlossberg  31:01
Is he in Congress? No, no.
John Parr  31:03
Right. Right. Exactly. Yeah, there's a lot of that. There's also just, I guess, maybe even the bizarre chain of things that leads up to say, like the Senate or something like that, you know, how often do you interact with those kind of guys?
Michael Schlossberg  31:16
So, you don't usually personally interact with the governor? I do from time to time, either I'll see him at events or he'll come into my district. And then during budget time, I typically work with him a little bit closer. You interact with the governor's staff on a pretty regular basis, I will say. Well, at least if you're of the same party. If you have different parties, hopefully you do as well. But it's certainly more of a challenge then, especially if you're fighting directly over some public policy issue. The Senate? Again, it depends. I worked pretty closely with my state senator on a couple of issues [inaudible]. We're actually of different—he's a Republican, I'm a Democrat. We've been able to get along relatively well. But you also [inaudible]—it works. But usually, and I am in the minority party here, so we don't pass bills as frequently. So, usually, when you do work together, it's on outside the building stuff like message coordination, foreseeing overlapping campaign events, something like that.
Kevin O'Connor  32:14
Very cool. Yeah. So, we don't want to keep you much longer. We really appreciate you coming on, all the work you do on Scripted, and really happy to hear that not only is it helping you kind of professionally, but it sounds like your writing career is also a therapeutic use.
Michael Schlossberg  32:29
Deeply. It's the only thing that's kept me sane sometimes.
Kevin O'Connor  32:33
Yeah, that's great to hear. And I think a lot of aspiring writers out there might not really view it that way.
Michael Schlossberg  32:40
Well, it depends on what you do and what you're willing to put in. Like, if you just kind of crap out articles, you're not going to get anything out of it. I try to pay attention—I know my biggest problem is that sometimes I won't give articles the proofing that they need. And then an editor will very gently slap my wrist and say, "No, no, no," and I'm trying to get better at that. But if you do it the right way, then this can be really beneficial for your writing. You know, it's not the same thing as creative writing, necessarily. But that's not to say that watching for certain keywords when you write isn't important when you write a book, or being concise when you're trying to write an article and keep something under a word count.
John Parr  33:18
You know, real quick, let's take it back. I think it's been how many months that you've been on Scripted, now?
Michael Schlossberg  33:23
I want to say in like December..
John Parr  33:27
Yeah. So, you have been on just a meteoric rise. You have moved faster upwards on the platform, maybe than any writer we've had. I'm pretty sure about that. I've been here about seven years. And I'm about 100% on that. Now, what's interesting is given your schedule, I think one thing that we could probably even close this on is: I want to know what would you recommend to, say, a writer who's got a family, who's got a job, about time management? You seem to have it down to a science and that is so hard to do.
Michael Schlossberg  34:00
And I'm lucky that I think I do. And the answer is: if you don't have the time, you can't do it, but you carve out the time. Like I said—early writing, early morning, and late night tends to be my time. You know, late nights, depending on what on when I have events. And then I'll also try to blast out as much as I can over the weekend. But again, that's dependent on my schedule. You have to know your schedule, know what your limits are, and go backwards from there.
John Parr 34:26
That makes sense.
Michael Schlossberg 34:26
Because I've been able to do that, I think I've been relatively successful. And you know, I would, again, I love you guys and I love this platform, but I would obviously never miss legislative or government duties in order to—
John Parr 34:38
Oh, of course, yeah!
Michael Schlossberg 34:40
So you have to you have to be disciplined enough. And if this is your first foray into being disciplined, that can work. You just have to start really slow. And the nice thing about platforms like Scripted is that there's no pressure to grab a million articles. Do one article a month. Okay, great, wonderful. Then you're going to do what you need to and then you could slowly ramp up from there.
John Parr  35:01
Right, right. And so, do you think that that's sort of how you got to where you were eventually? Or where you are presently? Is that at one point you just grew and grew and grew this thing until now you've got this schedule every day that you're holding together?
Michael Schlossberg  35:15
100% Yeah. I know I started slowly and, you know, duh. And then you kind of fill up until you go, "Okay, this is the most that I can do without sacrificing the little shards of my sanity or my actual job performance." Yeah.
John Parr  35:25
interesting. Yeah. No, it's so hard to do. It's something that I spent a lot of time on in my own life with managing multiple disciplines at once. And it is very hard to do, but sounds like you've got it in. Sounds like sleep might be a little rare, but…
Michael Schlossberg  35:41
I've heard of this sleep concept. Just inject coffee straight into my veins.
[laughter]
Kevin O'Connor  35:48
John, before we let him go, is there anything you want to ask him about for a Pennsylvania guy who just hasn't been back to Pennsylvania in a while? Like, for me, you know, how's the pizza?
[laughter]
Michael Schlossberg  36:01
You know, it's like anything else. It's hit or miss.
John Parr  36:05
Spoiled, so spoiled.
Kevin O'Connor 36:09
Almost all miss.
John Parr 36:10
You're spoiled my friend..
Kevin O'Connor 36:11
Like, yep, that's true.
Michael Schlossberg  36:14
Jersey pizza is good. It's something I miss about Jersey, I will say that.
John Parr  36:15
See that? That's a Pennsylvania man answer through and through. So, so rich in delicious pizza options that that he has the ability and privilege to be like, hit or miss. I'll tell you, as Kevin was saying a second ago, you go maybe three hours west and it is miss all the way to the other coast.
Michael Schlossberg 36:38
Yeah. Yeah. I believe that.
John Parr 36:40
It's dark. [laughter] I was home in Philly maybe a few weeks ago. And I think I had pizza within the first 24 hours just to get it out of the way. [inaudible] Yeah, well, thanks so much for joining us today, Michael and carving out some time for us. We're thrilled to have you on the platform. It's awesome to talk to a politician who cares and especially one from our home state and just really, really grateful to have you on today.
Michael Schlossberg  37:03
My pleasure. Thanks so much for having me, guys.
Kevin O'Connor 37:06
Yeah, cheers. Absolutely.
John Parr  37:17
All right. Yeah. Quite a bit. There. I am just in awe of the way that this man handles his schedule.
Kevin O'Connor  37:25
Absolutely. I mean, I'd like to think of myself as an organized person. But—
John Parr  37:30
Same. Put me to shame. Thoroughly embarrassed…just literally a never-ending, burning ball of energy.
Kevin O'Connor  37:39
Yeah, that's crazy. Like, he came in hot, stayed hot…
John Parr  37:43
Left hot.
Kevin O'Connor 37:44
Great!
John Parr 37:45
Right. All the rest of the day today.
Kevin O'Connor  37:46
So, so envious.
John Parr  37:48
[inaudible]
Kevin O'Connor  37:52
I'm on my like fourth coffee. And it's 11:30.
John Parr  37:56
I have never felt like such a schlub in my life. Oh, I feel filthy. I put a lot of pride into my schedule. I have I have a daily planner. I do stuff in time blocks. And I still cannot touch the level of productivity that Michael seems to be able to pull here. And again, you know, as I had mentioned before we even started the chat with him, the quality that he puts together here is kind of unmatched. Yeah, what stuck out to you here?
Kevin O'Connor  38:32
I think what comes across the most is he's very passionate about what he's doing. Right. So, like, he doesn't have to do this. He doesn't need to add another thing to his schedule, like waking up at 530 and working on Scripted articles. But he does it because he loves to write. And I think it starts there. If you don't love to write, you probably won't be successful as a freelance writer. That's just the bottom line.
John Parr  38:57
Yeah. And I mean, listen, I love what he's doing as a politician regarding mental health. And in a weird way, I kind of feel like listening to him is, is quite inspiring. Because specifically, obviously, a lot of scripting writers, a lot of writers on the platform, love writing. That's why they're here. That's how they got started. But to see the passion in this guy, who is also a politician, who's also a father, also a husband, also writing novels, and, you know, we can only really aspire to kind of that level of energy, but just kind of a reminder that, you know, passion has to be kept alive by yourself there. And…
Kevin O'Connor  39:43
absolutely, yeah. And I, you know, he started when we asked him why he started freelance writing, he started or he began saying, you know, to keep his skills sharp, which is a great, great thing to do for any writer. Yeah, absolutely. Take any job you can get and write. But then as we dug deeper and asked him about his novels, he made it very clear that writing is therapeutic for him, and that he writes about mental health, and that's a part of what he does as a state representative.
John Parr  40:20
Yeah, we talked last time, but there is a very, I think, we talked about, on the last podcast, we had mentioned that, you know, whatever your end goal was as a writer does not need to die with your life as a freelance writer. And, in fact, can be informed by it and you can kind of sharpen that blade through it. And then, you know, obviously, right here on this show, we have an example of it, and really can't hammer that home enough, like the, to stay good at writing, you have to write a lot. And one good way to do that is certainly to be a freelance writer. You can also make some money. You know, as Michael was saying, the financial benefits don't go unnoticed. But also keeping him sharp enough to continue writing these novels and keeping your head in the game. I think the fact that we are able to kind of provide that for writers is great. And to see someone be able to do that, you know, and put these ideas into practices is a beautiful thing.
Kevin O'Connor  41:25
Yeah, and you just never know where you're going to find professional or personal growth. And then what you can do is just put yourself out there and, and take what comes, right? So, like you said, he started to learn about CBD. And that really actually falls in line with his mental health initiatives in his job as a state representative. Like, that, is not completely random. It's something that will come to you as as a freelance writer because you're going to find a ton of different topics and subjects that you might end up…
John Parr  41:59
Yeah. And it's hard not to… Like our previous guest had mentioned that through being a Scripted writer for such a long time. He has become just a beast in trivia. And then we have Michael Schlossberg today, talking about how it kind of informs some of the issues that he's dealing with, specifically as a politician. So, there's so many benefits that can kind of come from, you know, continuing to feed your craft regularly. And then those lead to even more opportunities. Yeah. Michael Schlossberg was a great guest. And I think, you know, who knows at this rate? That would be our second political guests. You know, maybe we'll have Uncle Joe on in a couple of weeks. We'll see what happens. Yeah, okay. All right. I'll reach out. Yeah. So, once again, thank you for joining us on the Scripted podcast. Be sure to like and subscribe and share with your friends and join us next time.
[music outro]