How I Used Scripted to Travel the World
Personal Story Guest Post Written by Scripted Platinum Writer Josh Clark 
Scripted is a tool that I used to make travel happen. As a writer, it's an online platform that connects you with companies and writing gigs. It enabled me to travel around my own country of Canada for the last couple of months. Scripted has helped me cover my living expenses, and it's given me the freedom to live as a digital nomad. Now that travel is reopening, I've also booked a flight to Lisbon, Portugal, where I intend to continue writing each day for Scripted.
My background
I began my writing career during University when I started my own eCommerce store. To sell products better, I taught myself how to write engaging product descriptions and landing page copy. Using storytelling as a main driving force in my sales copy, I was able to take my store to the top 1% of Shopify. 
I then started my marketing agency, where again, I would write all the copy for clients. I wrote copy for hundreds of marketing campaigns, email sequences, and numerous landing pages and helped my clients increase their social media followings, leads, and sales. 
However, I wasn't happy with my work/life balance and never had time to spend with family and friends. During these years, I took maybe a total of 4 days off, which never allowed me to pursue one of my greatest passions...travel!
That is until I was introduced to Scripted!
What was the onboarding process like?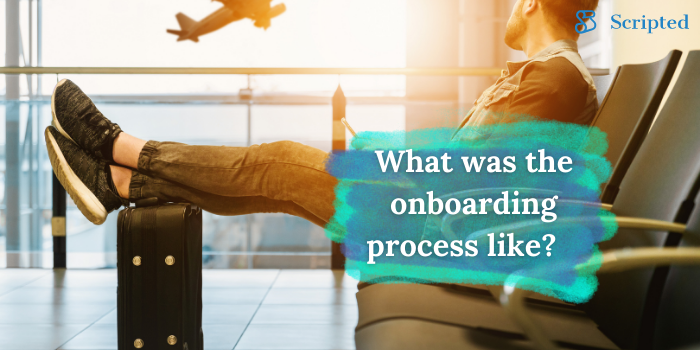 The application process is quite simple and involves submitting prior work. Thankfully due to my previous experience, I already had a portfolio site, so I just submitted my site link and hoped to be accepted.
A week later, I received an email in my inbox telling me I was accepted into Scripted! At this point, I was extremely excited and hoped that I could get started immediately.
When you first start at Scripted as a bronze writer, they will give you writing gigs to test your writing ability. Jobs came in at a slow and steady pace at the start, and I wrote a 500-1000 word article every couple of days or so. However, it didn't take long to get out of the "trial" phase, and soon with the help of a few good reviews, I was promoted to silver writer.
I loved the onboarding process because Scripted offered an introductory webinar when you come on to review the platform and show what's possible as one of their writers. It was an excellent way to get used to the interface and gave me a good idea of what I can expect if I seriously focus as a Scripted writer.
What industry topics did you first write for?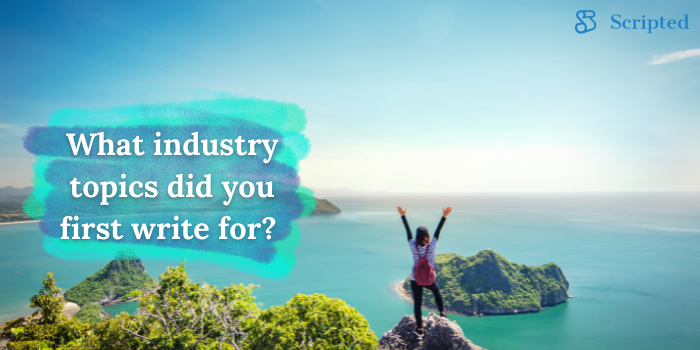 At first, I was writing for the travel and lifestyle industries. However, the great thing with Scripted is that you'll get the opportunity to write on topics that you're passionate about.
Within the dashboard, there's a tab to see all the jobs available to you to take on labeled as "smart jobs" and an additional tab for job listings that you can pitch ideas for. If there's a listing in your preferred niche, you can send over your pitch, including the title of the article you'd like to write for them and a breakdown of the outline. At this point, you can select your preferred payment amount, and if it's accepted, you can begin writing immediately!
The great thing is that whenever you write a great article, the client has the opportunity to mark you as one of their favorite writers. This means that you'll likely be chosen to write any of their future articles.
What type of content did you first write?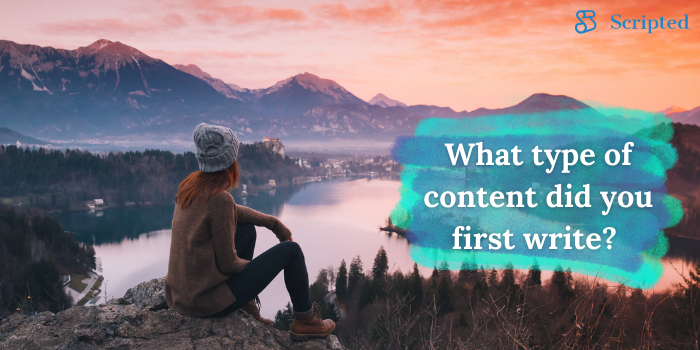 In the beginning, I wrote many "Top x things to do in..." articles that were in the travel or lifestyle niche.
As things progressed, I began to write for many different industries which required different types of content.
As it stands, I have written many different types of content, including product descriptions, tech overviews, marketing strategies, fashion tips, travel guides, recipe books, eBooks, etc.
I enjoy the diverse writing topics as it keeps things exciting and often gets me to learn new things I would've never known otherwise.
How did you become a client favorite?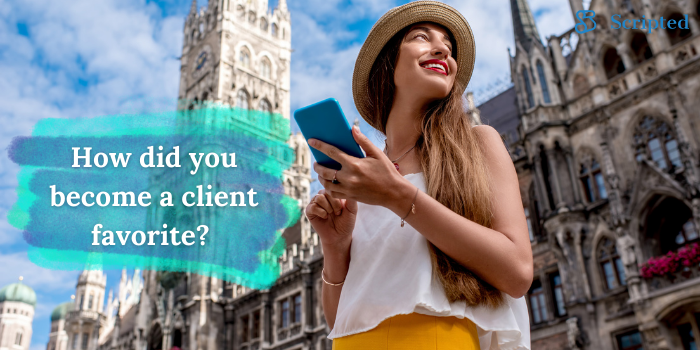 As of right now, I have written just under 200 different articles and have been promoted to being a Gold-level writer. Over this time, I've continuously tried to improve my writing skills and communication with the client. With the number of articles written so far, I've proven to some clients the quality and consistency of my work which thankfully paid off with them marking me as a favorite.
For new writers, becoming a client favorite should come over time as long as you are consistent with your work. Scripted hires editors to review each article you create, which ensures a high standard. Learn from suggestions given to you by the editors, and you'll become a client favorite in no time.
What has been the most challenging part of working at Scripted? 
Honestly, one of the most challenging parts of working at Scripted, I find, is not taking on too many jobs at once. Scripted offers gigs with a good pay-per-word, which is exciting but dangerous if you take on too many gigs. Each article has a three-day turnaround, so you have to know your limits to write at a good pace but still produce top-quality content.
Do you feel like there's room for growth within this position?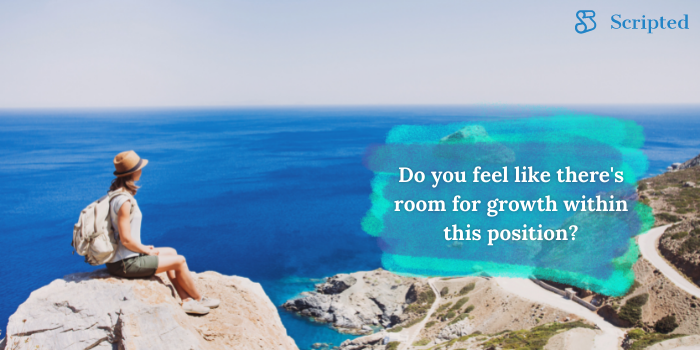 Absolutely. As a Gold tier writer, I hope to become Platinum soon, which will open up more doors for me in terms of job opportunities. At this level, I feel more secure about my writing role and monthly income expectations. I hope to work more closely with Scripted in the future and perhaps even look into editor roles.
How Scripted allows me to travel the world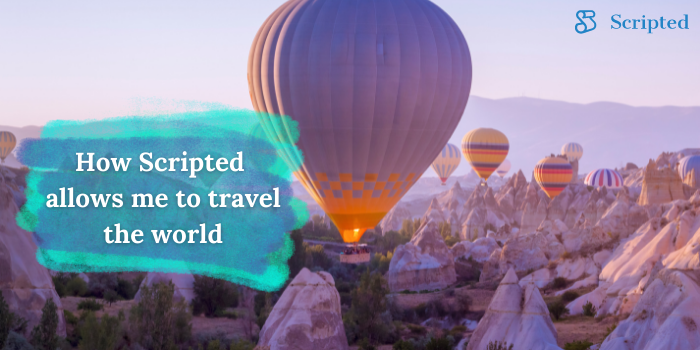 Through Scripted, I've been able to travel the world and experience places that I might not have had the opportunity to go. With each article set at a fair pay-per-word rate, it's allowed me to budget my money accordingly for trips abroad. As a Scripted writer, the only things you'll need to become successful are a laptop and wifi, and the rest is up to you!
As a freelance writer, your schedule is entirely up to you, which makes travel a lot easier. If there are tourist sites you'd like to visit at certain times, you're able to schedule your writing hours before and after these activities.
As a writer from Calgary, Canada, we often go out west during the summer to a lake town called Kelowna. This past summer, I visited Kelowna 3 times and even worked from a boat all day using data on my phone.
Tips on how you can use Scripted to travel the world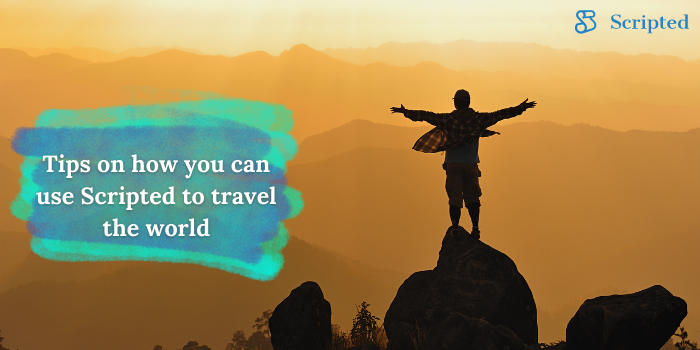 For me, the greatest perks of being a Scripted writer are the freedom and security it provides. Without this, I wouldn't be able to live as a digital nomad and travel the world, which I urge every writer to do!
If you are like me and travel is one of your greatest passions, here are some tips to help you book your first flight abroad.
Get used to the Scripted workflow (how many smart jobs on average you can expect to get each week).

Know how many articles you can write per day while still maintaining the highest quality.

Write at least 100 articles to accumulate lots of 5-star reviews from clients.

After a couple of months, you may be eligible for the Gold tier. If you haven't been promoted even after having over a hundred articles with many 5 star reviews, ask one of the super helpful staff if they could review your status.

It's essential to have a Gold tier since you'll have a higher concurrent job limit, and I would recommend getting to this point before looking to travel abroad.

Save up a good base of money that doesn't include flights, accommodation, and food. You should always be prepared for emergencies abroad!

Make sure your laptop is in good condition and that you'll have high-speed wifi in each location you travel to.

Take the time zones into account, as you might get the article due dates mixed up.

Have fun and enjoy the incredible life of being a Scripted writer!
Want to start living life on your terms? Apply to become a Scripted writer!
Scripted Writer Profile for this Article