Top 10 Nutrition Blogs by Traffic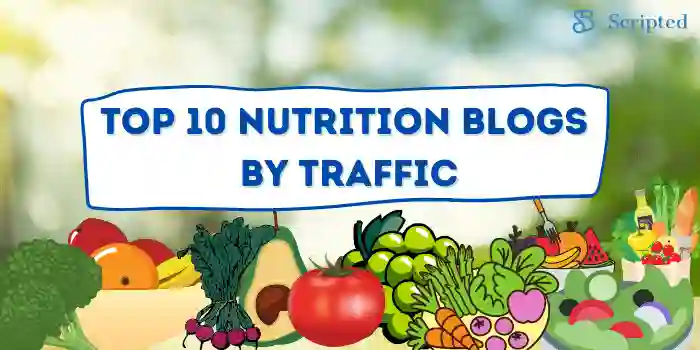 According to the USDA, the current state of nutrition in the United States shows Americans are eating more fruits and vegetables than they were in 1970. However, the average still falls short.
Although 93% of consumers want to eat healthy sometimes, and 63% try to eat healthy most or all of the time, most don't reach their goals. The CDC reports that only around 9-12% of U.S. adults eat enough fruits and vegetables. The Mayo Clinic also found that just 2.7% of Americans live a "healthy lifestyle" — meaning they are active, eat a healthy diet, do not smoke, and have a healthy body fat percentage.
For those in the nutrition industry, this means that there's a large market of consumers who need guidance. Many want to eat better, but they need support. Whether you are a dietitian, a health and nutrition blogger, or someone running a fresh meal kit company, content marketing will allow you to reach your target audience.
To help you develop a well-thought-out strategy, Scripted has leveraged data from SimilarWeb. The list below is based on the top nutrition websites by traffic under the health-based category "nutrition diets and fitness." For this list, we will highlight the sites that focus on nutrition and overall wellness. Draw inspiration from these sites, focusing on the most successful tactics.
Whether your goal is to drive sales, boost brand awareness, or increase organic traffic, these websites will help you. Here's an inside look at the top nutrition blogs — and what makes them so successful.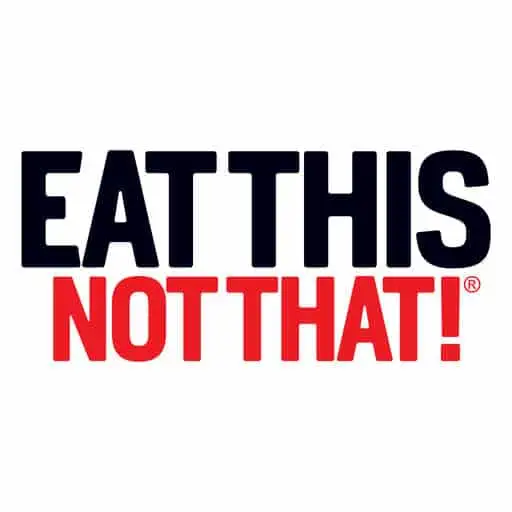 Eat This, Not That! is the leading authority in food, nutrition, and health. This website (and media franchise) established its reputation based on the vast amount of content this brand publishes. Eatthis.com gets an average of 26.43 million visits a month, with over 83% of traffic coming from the United States, followed by Canada (4.6%) and the United Kingdom (2%). Over 77% of this brand's marketing strategy is focused on search, followed by direct (11.39%) and referrals (8.94%).
This site is essentially an extensive blog, featuring nearly a dozen categories — ranging from healthy eating and weight loss to groceries and restaurants. Eat This, Not That! ranks high based on both the quantity and quality of content published on its site. Sample articles include This Popcorn Is Being Recalled in 16 States, FDA Says and Why You Can't Lose Those Last 5 Pounds.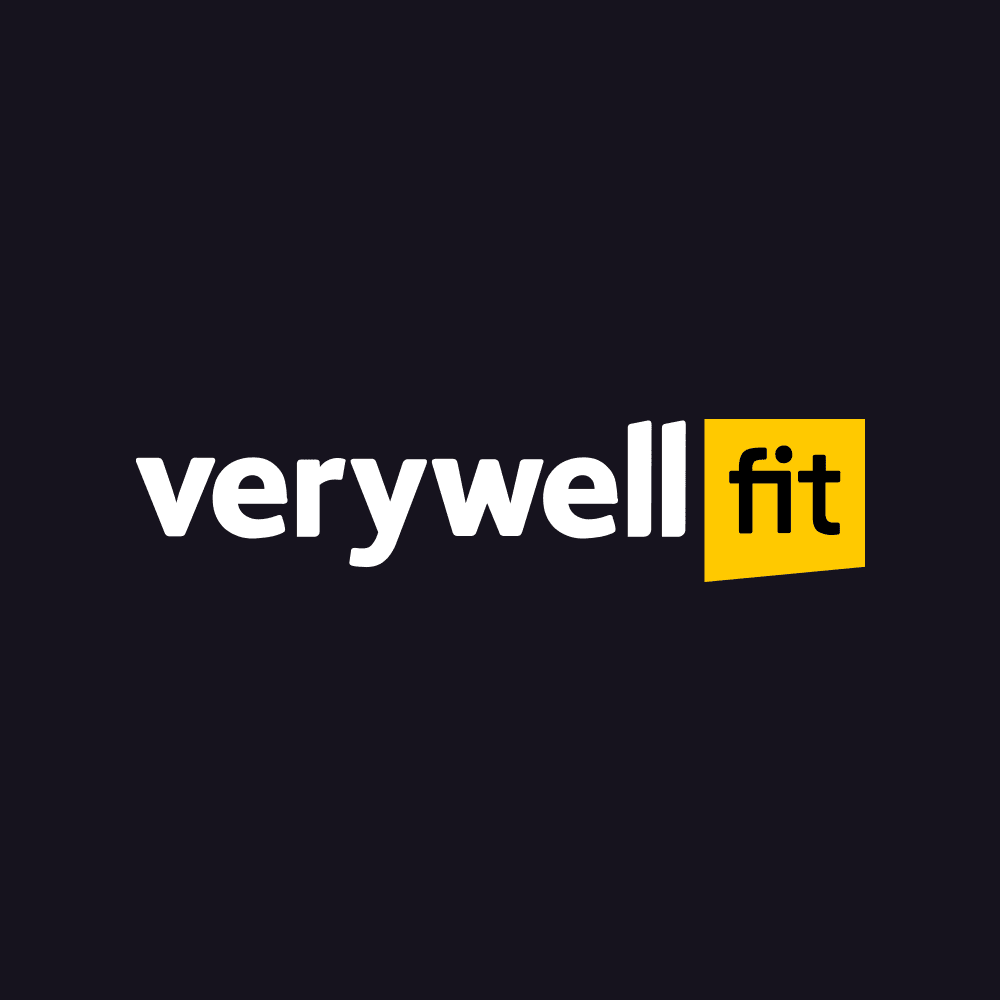 Verywell Fit is the "trusted source for information on eating well and exercising." The goal of this brand is to be seen as experts in the nutrition and fitness space, offering content that is educational and engaging. Pulling in an average of nearly 13 million visitors each month, this site is most popular among Americans, Brits, Canadians, and Australians. The bulk of traffic is from search (87.4%) — 99.99% of which is organic.
Upon visiting verywellfit.com, you can choose one of several trending topics or select the category that interests you most. Some that focus on nutrition include diet plans, dining out, snacking, sports nutrition, and recipes. Each article is well-written, featuring small paragraphs and quick tips. Sample articles include What Are the Healthiest Types of Bread? and Foods for Fighting Fatigue.

Health.com covers diet and nutrition topics, as well as advice on health conditions A-Z. Attracting an average of 11.25 million visitors a month, the bulk of which are from the United States, this site gets 83.13% of its traffic from search. The goal of Health is to empower its readers through valuable content. This has helped the brand build a dedicated following.
All "diet and nutrition" content is broken down into subcategories, including the Mediterranean diet, keto diet, recipes, whole30, groceries, and more. In addition to evergreen articles, such as This Is How Much Protein You Really Need to Eat in a Day. Health.com knows how to stay relevant, tracking industry trends and must-read news topics. Examples include What Is Protein Coffee, and Is It Healthy? Here's a Nutritionist's Take on the Trend and Ireland Court Rules Subway Bread too Sugary—Here's What That Means for US Consumers.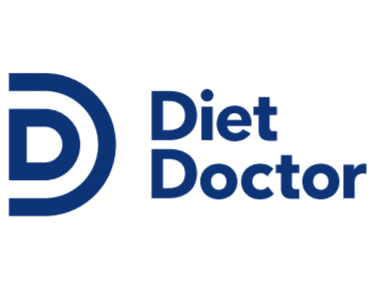 For those looking to start a low-carb or keto diet, Diet Doctor has the answers you seek. Pulling in an average of 5 million visitors per month, dietdoctor.com has attracted a global audience, including those from the U.S., UK, and Sweden. Relying heavily on search, with 72.25% of traffic coming from this channel, the top five organic keywords are diet doctor, keto diet, keto snacks, low-carb diet, and keto.
The Diet Doctor blog is well-organized, allowing you to browse a range of topics, as well as news articles and top blog posts. Dozens of blog titles are featured on the blog's main landing page, encouraging visitors to check out multiple topics, including The 16 Best Keto Cheesecake Recipes and High-Protein Diets Are an Option, but Not the Only Option.

The Healthy is dedicated to health and wellness, offering real, expert-backed advice for its audience's most important health questions and problems. With over 4.2 million visitors coming to thehealthy.com each month, it is known for its trending topics and science-backed approach. The content is authoritative yet entertaining.
Offering advice on several topics, including self-care, mental health, and nutrition, The Healthy educates its readers about important topics while maintaining a light-hearted and engaging tone. Sample articles include 6 Reasons Nutrition Experts Love Dragon Fruit and 10 Things That Happen to Your Body If You Stop Eating Red Meat.

Eatthismuch.com automatically creates custom meal plans based on individual diet goals. This makes Eat This Much the perfect site for bodybuilding, weight loss, Atkins, vegan, and paleo enthusiasts. Drawing in over 3.72 million visitors a month, they help their audience "put their diet into autopilot."
The Eat This Much blog offers nutrition and health resources, tutorials, and meal planners. Browse based on specific topics or the newest articles. In addition to articles and diet guides, they also offer engaging collections, such as the Top 10 Vegan Recipes on Eat This Much.

Nutritionix is the largest verified database of nutrition information. Each month, over 3 million visitors come to nutritionix.com to use consumer tools, such as their track mobile app and restaurant calculator. The Nutrionix app has led to a growing community of over 1.02 million users. The majority of traffic comes from the U.S., Canada, and India.
Nutritionix focuses more on database info, food lists, and recipes instead of typical blog posts. The brand's content helps push its tools and app, all while creating a large, dedicated following. Taking a unique approach, most content supports nutrition database info, such as Which Foods Are Highest in Iron?

With Cronometer, you can track nutrition and count calories. With over 4 million users, cronometer.com gets around 2.6 million visitors each month. The top five countries for traffic include the U.S., the UK, Canada, Australia, and Germany. Unlike many other sites, the vast majority of Cronometer's traffic comes from direct channels (81.84%), followed by search with (10.63%). As seen on Women's Health and Lifehacker, this app allows users to track calories, exercise, biometrics, and other health data.
Upon visiting Cronometer's blog, you are greeted with the slogan, "Eat smarter. Live better. Discover your nutrition with Cronometer." Although several articles focus on the apps' features and updates, there are also plenty of posts that highlight inspiring individuals in the industry, as well as news articles, such as Micronutrients That Help Support Your Immune system During COVID-19 Pandemic.
Everyone likes to splurge once in a while, and those who are mindful of their health will pay close attention to their "cheat" foods. Calorie King offers nutrition facts for the most popular fast-food restaurants and brands. Calorie King's marketing strategy is focused on search, with 85.9% of traffic coming from this channel — which is followed by direct (13.58%). The goal is to help people stay mindful of their calorie intake so they can maintain a healthy weight. Attracting an average of 2.54 million visitors each month, Calorie King is "America's trusted food database."
The site's main menu features options such as foods, recipes, tools, products, and articles. These articles are what Calorie King calls "LearnAbouts." This educational hub offers content on a wide range of topics, including Breakfast for Non-Breakfast Eaters, Do Vegetarians Get Enough Protein, and Naturally Occurring Sugars Versus Added Sugars.
Are You in the Nutrition Industry? Scripted Can Help!
If you're in the nutrition industry, Scripted can help you execute a winning content marketing strategy. Stop wasting your time and money on mediocre writers that do not contribute to the growth and success of your brand.
With Scripted, you will gain access to the platform's top 2% of applicants. Thousands of expert freelance writers are available, many of which have an extensive background in nutrition. Although the Scripted team can help you create blog posts that convert, you can also benefit from other forms of content, including newsletters, social media content, website copy, press releases, and more.
Ready to take your content strategy to the next level?
Browse and hire Scripted's expert pool of nutrition writers today!