How to Hire a Family Practice Writer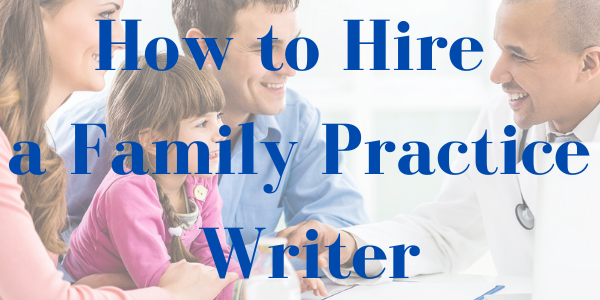 Healthcare in the U.S. is a booming industry, and this last year has brought the importance of staying healthy into the spotlight more than ever. If you operate a family practice, you're already aware of the growing need for information related to health and wellness, medical news, vaccinations, keeping kids healthy, and other forms of healthcare. The best way to keep new patients coming to your practice is to offer them content they need and increase organic traffic to your site. This article walks you through the process of hiring freelance content writers to help your business provide all kinds of valuable information to your audience. 
Why Should You Hire a Family Practice Writer?
Professional content writers have become a critical way to increase organic traffic and boost a brand's reputation. This is the case across all industries - and the family practice field is no different. If you want your business to stand out and attract new patients, you can definitely benefit from hiring a family practice writer to create relevant and educational content. The right kind of website content engages your audience and offers them something of value, all while using search engine keywords that help your site rank better and get found more easily. 
A recent study showed that a whopping 94.3% of pages on the web don't get even a single visit from Google. That means that only 5.7% of them ranked in Google's top 10 search results for at least one search query. No wonder so many businesses are desperate to improve their SEO. 
However, writing content that both attracts readers and boosts your search rankings isn't easy. It takes a little finesse and a lot of expert wordsmithing to find the balance of information readers want to read and keywords that need inclusion. It's a job best left to professionals - and that's where skilled family practice writers come in. 
Investing in content marketing services like professional writers will improve your digital marketing strategy in a number of ways. Dedicated content writers with a health and wellness background can ensure that your marketing communications are on-brand and authoritative. They help increase organic traffic and conversion rates by providing consistently high-quality, polished content. And professional writers also take the considerable straight of content generation off your team members so they are free to focus on other tasks. 
How to Find a Family Practice Writer
So, how can you find the right writer for your family practice? Just like hiring a writer in any industry, you want to make sure you use the right approach to find writers that offer exactly what you need. Here are a few steps you can take to find an ideal family practice writer. 
Determine your Content Needs
The first step in the process is to figure out exactly what content you need. Writing credible articles on some health topics might require a writer with a broad range of knowledge about the industry while other articles might require someone with subject matter expertise. Content that performs well calls for reliable sources, accurate research, and SEO to boost your rankings. 
It's best to develop a comprehensive strategy for your content marketing. This might include blog posts, interviews with experts, social media posts, website copy, white papers and more. Give some thought to how much content you would ideally like to publish and which formats will most appeal to your audience. 
Specify Areas of Focus
Once you have figured out the kinds of content you'll need, it's time to get specific about topics you want to address. Since family practice covers the entire scope of primary care services, you'll have a lot of topics to choose from! Try to come up with a rough editorial schedule so you can clarify the deliverables in as much detail as possible. 
For example, if you want to publish two articles per week for the next 3 months, then you'll need topics for 24 articles. Do you want to come up with the topics yourself or have writers come up with ideas for you? Getting a clearer picture of what you'll need your writers to do helps you focus on finding the best writers for the job. 
Know Where to Look
The next step is finding the right source for your family practice writers. There are a few different ways you can seek out writers. One is by conducting a Google search for "Family practice writers" and any other relevant search terms and perusing the writers or writing agencies that come up. The downside to this is that most don't post rates on their site so you can end up doing a lot of back-and-forth before determining that someone is too expensive for you. Also, many independent freelancers have long wait times before they can dive into new projects. 
Another method is the more traditional hiring process of writing out a job posting and publishing it to different sites. The drawback with this option is that you're likely to get a mountain of responses and it's a time-consuming task to go through all the candidates one by one. 
You can skip all this hassle by using a trusted content creation platform like Scripted.com. Scripted offers you access to high-quality, pre-vetted writers across a variety of industries, and they feature a wide selection of writers who specialize in family practice writing. They have the expertise and background to produce top-tier, well-researched content for both big and small family practices. You can search through writers to view their experience, background, and previous work. You can also check out their success rates with other Scripted clients to get a sense of what it's like to work with them. 
What to Look for in A Writer
Now that you've honed in on a pool of qualified writers, here are a few qualities to look for to further narrow your search. 
Consistency
When reviewing writing samples, look for writers that display consistently high-quality work. Hiring a family practice writer is only worth your money if they can reliably produce excellent content. Top writers might have higher rates, but they also bring more skill and experience to the table. 
Voice and Tone
Most online readers want information that speaks to them and their current needs. This is especially true in family practice writing. In order for writers to connect with your target audience, it's important to make the writing personable and engaging. Some writers have a knack for this while others come across as more factual and formal. Try to find a writer that matches your branding. 
Rates
With content writing, you usually get what you pay for. It's not an area where you want to penny-pinch. If a writer's rates seem too good to be true, they probably are. It's worth it to pay for writers who have a lot of experience, both in your industry and in content creation in general. At the same time, you don't want your content marketing strategy to break the bank. Try to determine your content budget based on the average rates of high-quality writers. 
Related Work Experience
In the medical field, it can be helpful to bring on a writer that has a background in the industry. Look for writers who have additional experience related to medicine or family practice. This can come in handy when you need articles on specific products or services your practice offers. 
Get Started On A Project
Navigating the hiring process can seem daunting if you've never done it before! There are plenty of online writing platforms these days and it's easy to get overwhelmed. Scripted makes it easy by giving you access to a large pool of pre-vetted, professional writers to choose from. Browse through our selection of Family Practice Writers to find one that's right for your business.