Top Counseling Websites by Traffic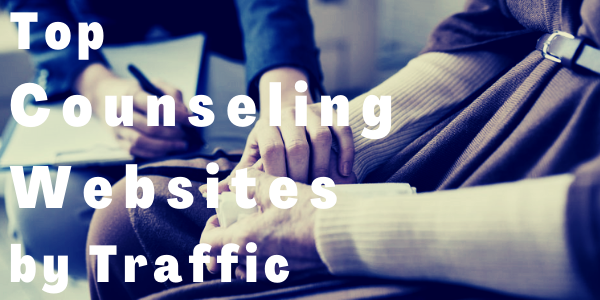 2020 was a hectic year, and people around the world are feeling the mental health implications of COVID-19, isolation, and all of 2020's uncertainty. With that in mind, it makes sense that mental health and counseling websites have become so popular. And while there are thousands of them out there, they're not all created equal. 
In this post, we'll explore ten of the top counseling websites on the internet today, what makes each of them unique, and how you can take a few tips from their books to improve the organic traffic to your website. 
Let's dive in.
What are Counseling Websites?
Counseling websites and self-help websites serve one big purpose: to help people help themselves feel better. According to the Mental Health Empowerment Project:
Self-help is a process of sharing a common experience, challenge, or concern. It is participatory and involves getting help, giving help, and learning to help yourself, as well as sharing knowledge and experience.
While self-help isn't a substitute for professional therapy, it can be an important part of the puzzle when it comes to helping people overcome personal issues like anxiety, depression, or trauma. 
The top 10 Counseling Websites
Tiny Buddha is an online platform that stands out as one of the web's leading resources for people searching for peace and happiness. The site has more than 6 million readers and followers and is home to a vibrant community forum. In addition to original stories, the site also offers tips and insights from readers around the world. 
Here's how Tiny Buddha describes itself:
You'll find posts about happiness, love, relationships, change, meaning, mindfulness, spirituality, simplicity, minimalism, letting go, and more. Much of it has its roots in Buddhism, but this is not a site about religion. It's about ideas that make sense and make a big difference when applied.
What to learn from this site: Tiny Buddha is an excellent case study in the power of diversity. The site is far from a one-trick pony. It offers original blogs on topics ranging from divorce to mental health and fulfillment in a career. It also offers quotes, forums, free ebooks and downloads, courses, and much, much more. 
This approach is excellent for organic traffic because it draws a wide variety of visitors to a wide variety of content. People looking for blogs can find them, while people looking for an interactive forum can find that, as well. If you learn one thing from Tiny Buddha, it's that creating a variety of content is a great way to draw a wide base of readers.

Mark Manson is the #1 NY Times Bestselling author of The Subtle Art of Not Giving a F*ck and Everything is F*cked: A Book About Hope. His self-help website is subtitled "Life advice that doesn't suck." As you might realize, by now, Mark Manson is witty, swears like a sailor, and offers dry, approachable life advice that, in his words, is "science-based, pragmatic, and...doesn't suck."
Manson's writing has appeared on NBC, HBO, CNN, Men's Health, Time, and The New York Times, among many others. Visitors to Mansons's site can find a wide variety of posts on a wide variety of topics, including the virtues of delayed gratification, the importance of goal setting, philosophy, relationships, productivity, psychology, and more. 
What to learn from this site: If there's anything Mark Manson does well, it's speaking directly to his audience. He knows who his readers are, and he's crafted a voice that they love. In a self-help landscape that tends to be quite emotional and gentle, Manson stands out with his no-nonsense, rough-and-tumble tone. It's a refreshing addition to the landscape. 
Manson is also a titan at creating content. His website features thousands of posts, and readers visiting his site for the first time can dip their toes in the water with an assortment of free ebooks on topics like life purpose, personal values, discipline, and relationships. 
The lesson to learn from Manson is this: publish early, publish often, and know who your readers are and what they like. 
Marie Forleo is a new breed of self-help writer. The entrepreneur, writer, and self-proclaimed optimist runs a blog dedicated to sharing ideas, resources, and tools to help people create the life they want and have imagined. Forleo also runs a YouTube channel called Marie TV that provides tips on success and self-development. 
Forleo skyrocketed to self-help fame when her blog was featured on Oprah. Since then, she has become the go-to self-help writer for people looking to take a leap, develop their skills, or generate more positivity in their lives. 
Compared to the other two self-help sites on this list so far, Forleo's is quite a bit more streamlined. Unlike Manson, Forleo strikes a bright, professional tone. And unlike Tiny Buddha, Forleo's site features her content, not content generated by other people. 
What to learn from this site: Forleo runs her site like the business it is, and professionalism bleeds through every corner of it. The site itself is clear, easy to navigate, and welcoming, and Forleo demonstrates her clout with pictures of herself with Oprah, Tony Robbins, and Richard Branson, among others. 
Where Forleo really stands out, though, is in her video content. She masters accessibility, warmth, and empowerment, and makes her visitors feel like they're the heroes in their own stories. To boost your organic traffic, take a page from Forleo's book - find your content niche and do it well.

Michael Hyatt is a leadership mentor and one of the leading online personalities on the web. He's the author of several bestselling books, including Platform University: Get Noticed in a Noisy World and Living Forward: A Proven Plan to Stop Driving and Get the Life You Want. Besides his incredibly popular blog, which gets thousands of hits a month, he runs a podcast channel titled "Lead to Win."
Hyatt's blog is like many others in the self-help sphere. He helps people learn to be outstanding leaders and develop both their leadership skills and productivity. 
What to learn from this site: Hyatt puts his content first. When you visit his blog, you don't have to wade through anything to find the content you're looking for. Instead, it's right there waiting for you, and it's easy to navigate to the material you want. 
In a world where there's a lot of noise surrounding multi-platform marketing, shiny websites, and flashy ads, Hyatt keeps it old-school. He knows that content is king, and he keeps that top of mind at all times. 
To boost your organic traffic, take a page from Hyatt's book. Develop outstanding content, publish it often, and keep it the focus of everything you do. Your audience (and your clicks) will thank you. 

Barrie Devenport runs a blog titled Live Bold and Bloom. While much of Davenport's content focuses on how people can have healthier relationships, all the material comes back to a baseline of quantifiable actions that are scientifically proven to work. Much like Mark Manson uses his unique voice to set his content apart, Davenport takes a scientific approach to self-help. 
The result is a large base of faithful readers that hang on every word Davenport writes. 
What to learn from this site: If there's anything to learn from Davenport, it's that you can make your content more powerful by backing yourself up with data. Any place you can, seek facts, stats, and information to back up your claims. Besides providing a strong link strategy that boosts your domain authority (and helps you rank higher in the SERPs), it also provides a network of information for data-minded readers who want to learn more. 

Ramit Sethi is a leader in the world of personal financial growth and self-help. The author of the bestselling book I Will Teach You to be Rich, Sethi pens a blog that provides people with the tools and information needed to boost their earnings, start an online business, and find their dream job. He also writes content designed to help people master inner psychology to advance their lives. 
What stands out about Sethi's content and site is that it's powerful and direct. Take the CTAs, for example. They generally begin with the word "Yes." For example, "Yes, I want Ramit to show me my earning potential—so I can start making money in as little as an hour." Sethi knows how to use powerful language to drive his visitors to take action.
What to learn from this site: Where Sethi shines is in his simplicity. His site is straightforward, and it puts the content and message front and center. Unlike many other self-help bloggers, Sethi does not fill his content with splashy visuals and photos. Instead, he focuses on creating blog content that caters to his users and speaks to his direct, expert style of writing. 
To take a page from his book, focus on cutting the "fluff" from your site and content. Edit your material ruthlessly and focus on creating an online ecosystem that provides readers with exactly what they want. Not only will you get more visitors, but the visitors you nab will be higher-quality. 
Brain Pickings is a free self-help platform spearheaded by Maria Popova. The site started when Popova noticed her coworkers at an advertising agency were circulating inspirational material within the office. She got the idea to start her own mailing for inspiration and called it Brain Pickings. 
Today, Brain Pickings caters to thousands of readers monthly and provides a wide variety of self-help content from the world's top writers, artists, and thinkers. Her content is free to everyone and ad-free.
What to learn from this site: Brain Pickings excels at long-form content. And when it comes to SEO and organic traffic, this is key. According to Search Engine Land:
A study conducted by Moz shows a direct correlation between the length of the content and the number of backlinks pointing to it. It's further evidence that long-form content is great for SEO.
Some other studies and examples back this up. 
Crazy Egg, for example, increased its conversion rate by over 30% with the use of long-form content. And for good reason - long-form content provides more space to provide value and information for users. While it takes more time and effort to write, it's also an incredibly valuable tool for anyone who wants to boost organic traffic. 
While there's no one-size-fits-all rule for content length, content optimization go-to MarketMuse recommends keeping long-form posts between 700-2,000 words. 
Tim Ferriss broke into the self-help scene with the publication of his blockbuster book The 4-Hour Work Week. In the years since then, he's built a content empire consisting of several best-selling books, hundreds of podcast episodes (with over 600 million episode downloads and 10,000+ 5-star reviews), and more. 
So, what makes Tim Ferriss so popular? The answer is simple: he demystifies self-help. Unlike other self-help bloggers, who make the industry hazy and difficult to fully grasp, Tim interviews top performers to find out exactly what helps them achieve their goals and drive their careers forward. 
What to learn from this site: Like Brain Pickings, the Tim Ferriss blog excels at long-form content. All of his posts are at least a thousand words long. Not only are they long, they're packed with information. He provides links to research he consults, people he mentions, products he likes, documentaries, videos, and more. To put it simply, his blogs are a wealth of information and resources for anyone who cares to visit them. 
While all this long-form content is excellent for people who have time to browse it, it can also be difficult for those of us on the go to digest. Fortunately, Tim Ferriss has a fix for this: his "5-Bullet Friday" email. This weekly newsletter distills tips, tricks, favorite products, and hacks into a simple, easy-to-skim newsletter that offers something for everyone.
To apply the same trick to your site, get good at repurposing your content. Tim Ferriss creates an assortment of long-form material for the readers who want it, and then shortens and distills that same content into short-form material to make it more digestible for other readers. It's a one-two-hit strategy that works incredibly well for boosting organic traffic. 

James Clear is the author of Atomic Habits, a #1 NYT bestseller that has sold more than 4 million copies worldwide. When you land on Clear's blog, the first impression you probably get is that it's very organized. While he's published thousands of posts, it doesn't feel like an overwhelming jumble.
Instead, visitors are greeted by a clean interface that features blogs broken down by topic - creativity, decision-making, focus, habits, life lessons, motivation, productivity, and more. This serves one incredibly important purpose - it makes the site inviting and easy to navigate. That, in turn, boosts organic traffic and increases shares.
What to learn from this site: Clear is excellent at breaking complex topics into manageable bites people can ingest. While the self-help topics he covers are detailed and deeply scientific, he breaks them down into "incremental lessons" that are easy to read, share, and interact with. The result is viral content that's easy for users to share. His expertise shines through and it's easy to see the passion behind the writing.
To bring the same feeling to your content, we recommend working with a copywriter who knows your industry inside and out. Not only will an expert writer be able to infuse feeling into your material (Which will translate to readers), but they'll be able to transform complex ideas into simple topics readers will love to read and share. 

Tony Robbins is a household name in the world of self-help. He's known for his "rags to riches" rise to fame and success, and for making the journey accessible to people who want to follow suit. If there's anything Tony Robbins has mastered, it's the art of persuasion. Everything about his blog is exciting, passionate, and full of momentum that makes people want to act. 
He's an electrifying speaker and writer, and he brings that back to his blog, where readers and visitors flock by the millions.
What to learn from this site: Tony Robbins is a case study in a powerful voice. He's a skilled writer, and he brings that passion into his content. He's taken his time to build a brand, conduct his target audience research, and know exactly who he is talking to. The best way to recreate this for your site is to work with a skilled team of writers who know how to craft persuasive content that readers will share and click. 
How to Increase Your Counseling Website's Organic Traffic With Scripted
While these counseling websites are the best of the best on the web, they were all created by people just like you! That means you can learn from each of them and boost your site's organic traffic. 
Here are our top tips:
Simplify your design

. Great content deserves a great website. Make yours adaptable, easy to read, and accessible. Keep the design simple and focus on putting your content on a pedestal at every turn. 

Publish original content.

Many of the sites on this list stand out because they've become a go-to for high-quality original content. Even sites like Tiny Buddha, which publish user content, also publish original material. Be like those sites. Publish original content like blog posts, white papers, infographics, and visuals to boost your organic traffic numbers.

Invest in excellent writers.

Today, great content is essential for all counseling websites. Since Google evaluates these sites differently (because they're considered "Your Money or Your Life" sites, which contain important, possibly life-altering information)  the information within them must be top-notch. We recommend working with expert content writers with experience in the counseling and self-help industries.  Here at Scripted, we're in the business of matching top-quality, industry-expert writers with the companies who need them. Browse our

selection of self-improvement writers

today to find your perfect fit! 
Put Your Content on Cruise Control
If you're looking for ways to increase your counseling website's organic traffic, we're here to help. 
Our innovative Cruise Control option provides comprehensive content marketing and content creation services to help you stand out in your industry. We can provide an SEO strategy and execute that strategy with our many writers in the family practice space, for better organic results for you! 
Learn more about our services or request your consultation now. 

---
Published by
Carolyn Heard
on Tuesday, May 25, 2021
in
Counseling
,
Website
,
Barrie Davenport
,
James Clear
,
Maria Popova
,
Marie Forleo
,
Mark Manson
,
Michael Hyatt
,
Ramit Sethi
,
Tim Ferriss
,
Tiny Buddha
,
Tony Robbins
.