ContentFly Tool Review: Pricing, Quality, and Services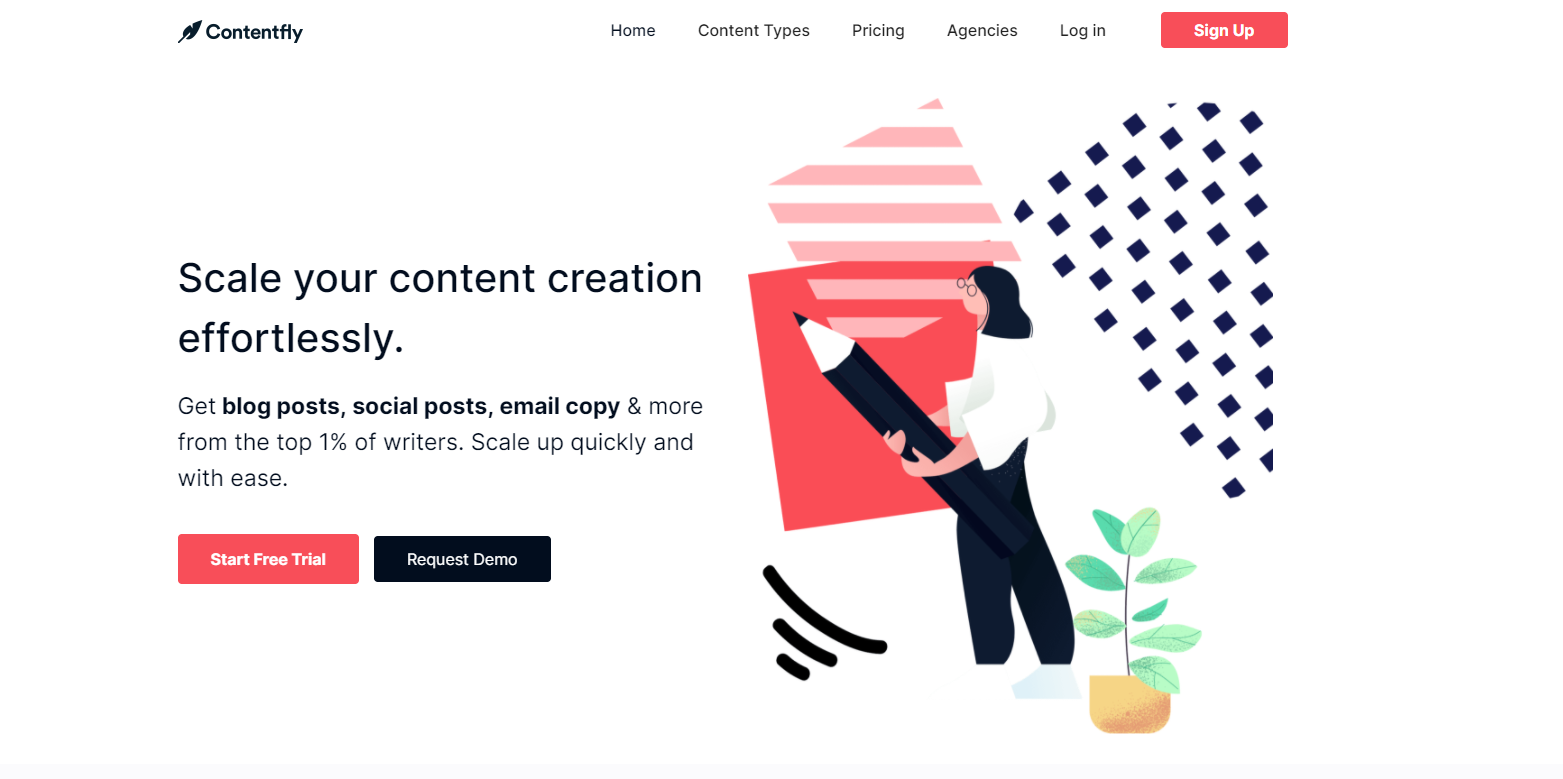 Jumpstart your online content marketing strategy with the right content agency. Whether you're just launching your brand or looking to take a new direction in your marketing strategy, partnering with the right content agency can make all the difference.
Find out how ContentFly and Scripted compare when it comes to providing content writing services for your business. From customer reviews to pricing factors, review these two services head to head before browsing highly rated writers.
Things to Consider Before Signing Up for a Writing Service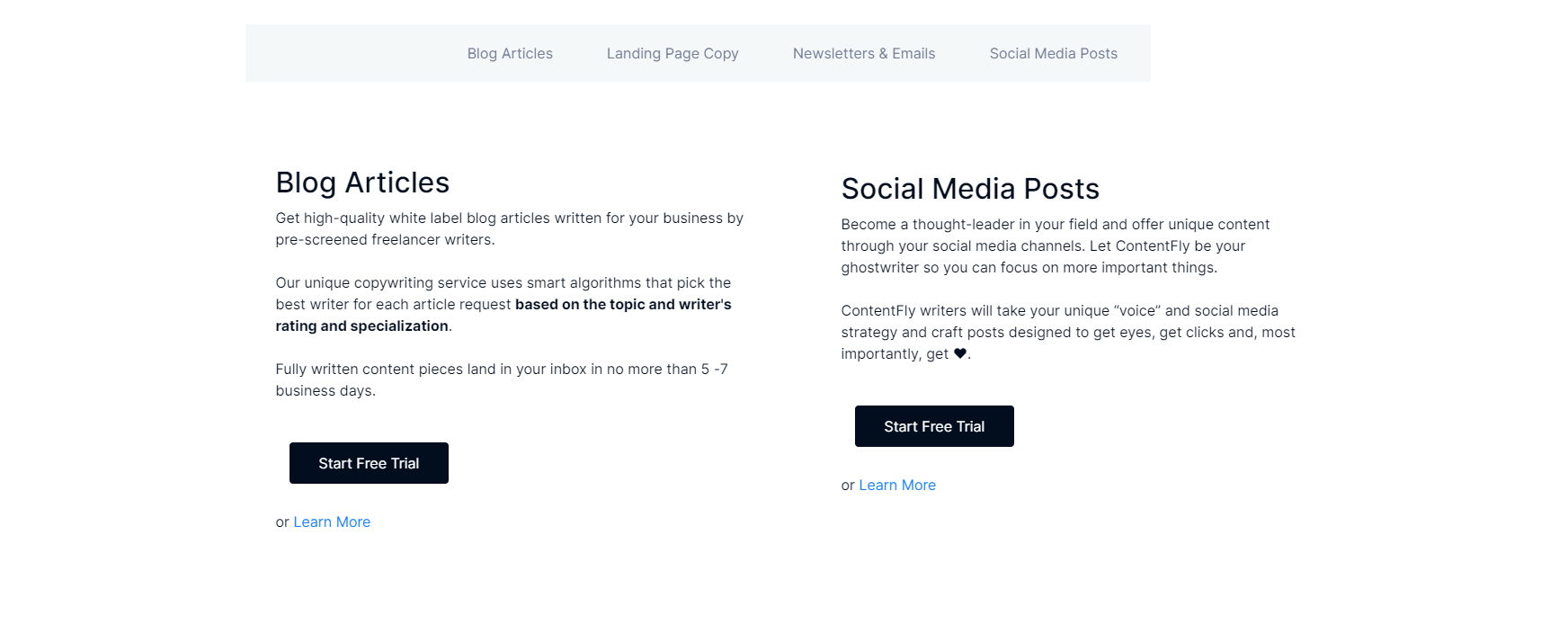 You deserve quality content, so it's important to review content writing platforms that carefully vet freelance writers. Here are some key things to consider as you review content writing services for your content creation:
Is the service reliable?

Do freelance writers understand your audience?

What are your SEO goals?

How much does the service cost for your small business?
These questions help you navigate the various content writing services and see how Scripted compares to alternatives like ContentFly. Find out how Scripted and ContentFly answer these questions in different ways before you sign up for a writing service.
Reliability is a major decision. As a small business owner or manager in a content marketing agency, you can't afford to have freelance writers miss deadlines or submit poor-quality work. You need a service provider you can reach at any time of day and expect to receive prompt answers.
You also need to know that the pool of freelance writers has the expertise you need. A small pool of freelance writers may mean your content is in the hands of someone without the industry expertise you deserve. Both ContentFly and Scripted promote industry specializations and other features to help connect you with writers who understand your industry.
Both platforms promote SEO-friendly content creation, but only Scripted offers SEO reporting for enhanced visibility. Be sure your blog articles and social media posts are helping you reach your content marketing goals.
How Does ContentFly Compare to Alternatives?

ContentFly is a content marketing service provider that offers blog articles, email copy, social media posts, and other copywriting services. Just like many other platforms, ContentFly connects you with a pool of vetted freelance writers to help you launch a website or scale up your business.
ContentFly uses a dashboard to request content. After signing up and submitting a request, your copywriting is handled by an editorial team and a pool of freelance writers. An important selling point that ContentFly promotes is that they hire only the top 1% of writers.
Compared to Scripted, the ContentFly system doesn't have the same level of collaboration. Scripted offers managed services that includes content marketing strategy, content ideation, and post publishing performance reporting. Both platforms offer the following services for a monthly or annually paid subscription:
Fully customizable word count

Researched, original content

Royalty-free images, if requested
ContentFly uses an algorithm to determine the best writer for your content creation project. Scripted uses a blend of algorithms and real human managers to review projects and writers to make a match.
You'll need to request individual blog posts and ideas when working with ContentFly. Both services help you avoid sifting through resumes and vetting writers yourself.
What Does ContentFly Have to Offer?

The main benefits ContentlyFly advertises are highly vetted writers, easy content requests, and affordable per-word pricing. Depending on the length of your blog articles and other copy, you can order more individual projects through ContentFly for a similar monthly rate. You'll need to order each piece individually and enter separate instructions for each one.
Freelance writers working with ContentFly have been vetted to work in specific industries and niches. You won't be able to individually select the writer you want, but you can submit posts and know that a specialist freelancer will handle your content writing with a guaranteed turnaround time.
What to Expect When You Use ContentFly?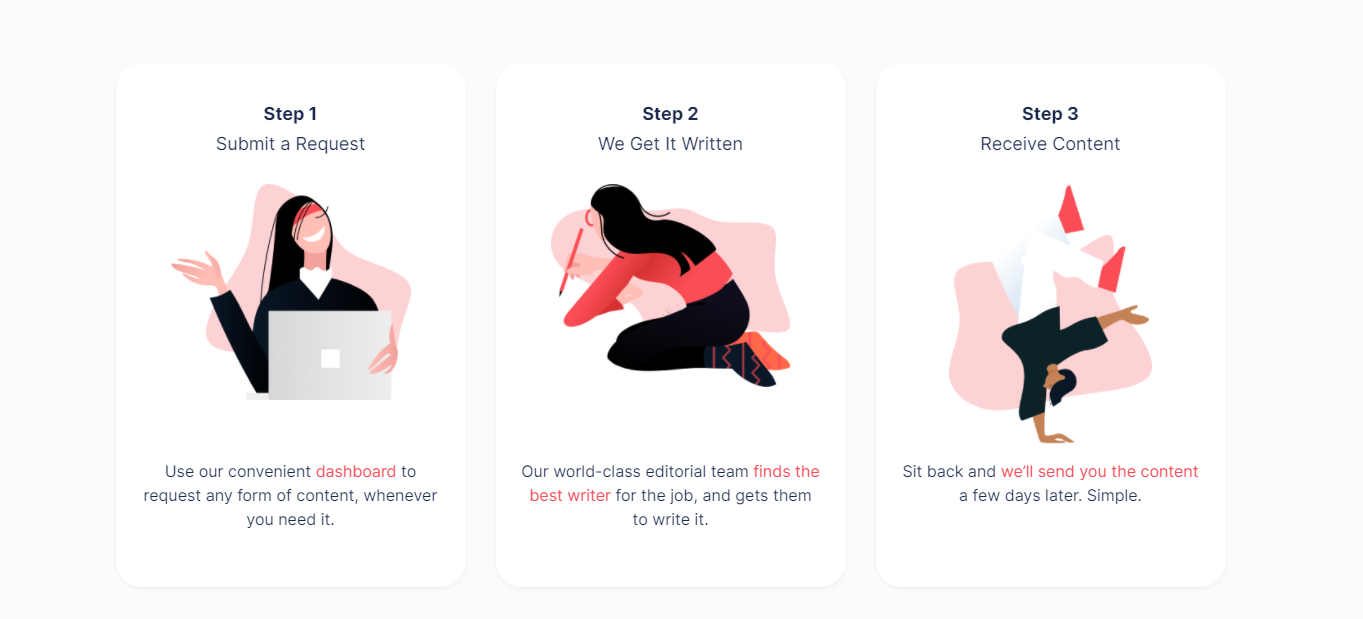 You can order a wide range of content types through ContentFly. Just like Scripted, you can tailor each project to your specific industry and SEO strategy. The process is streamlined and designed to minimize the time you spend vetting writers or reviewing resumes.
After signing up, you simply submit a request using the ContentFly dashboard. ContentFly also uses artificial intelligence to help you receive the business copywriting you want. Here are some content types they specifically advertise:
Blog articles

Landing page copy

Social media posts

Newsletter copy

Email copy
The platform is designed to be flexible, so you can request other forms of writing from freelance writers. You can't search for a specific writer or review a profile to find a preferred freelancer.
Scripted is more open about the process of evaluating and choosing writers. Here are some of the features that the platform looks for when accepting writers:
Grammar

Research ability

Organization

Creative thinking

Editing skills

Vocabulary

Collaboration

SEO experience
Every writer's profile displays a rating as generated by client reviews. This feature is shared by ContentFly, but Scripted also offers information and writing samples in a comprehensive profile. Review writers based on interests, personal experience, industry specializations, and recent work in the industry.
Scripted also offers blog idea proposals and specific project proposals. With a proposal system, you can see an in-depth description of the way a specific writer will handle your blog article, landing page, or other projects. You can review proposals and accept one that fits your budget and brand voice.
ContentFly doesn't give you the opportunity to pitch blog articles at different price points or field proposals with customized pricing. You also can't field new ideas from highly skilled writers, so you'll need to generate every content creation idea in-house.
How Much Does ContentFly Cost?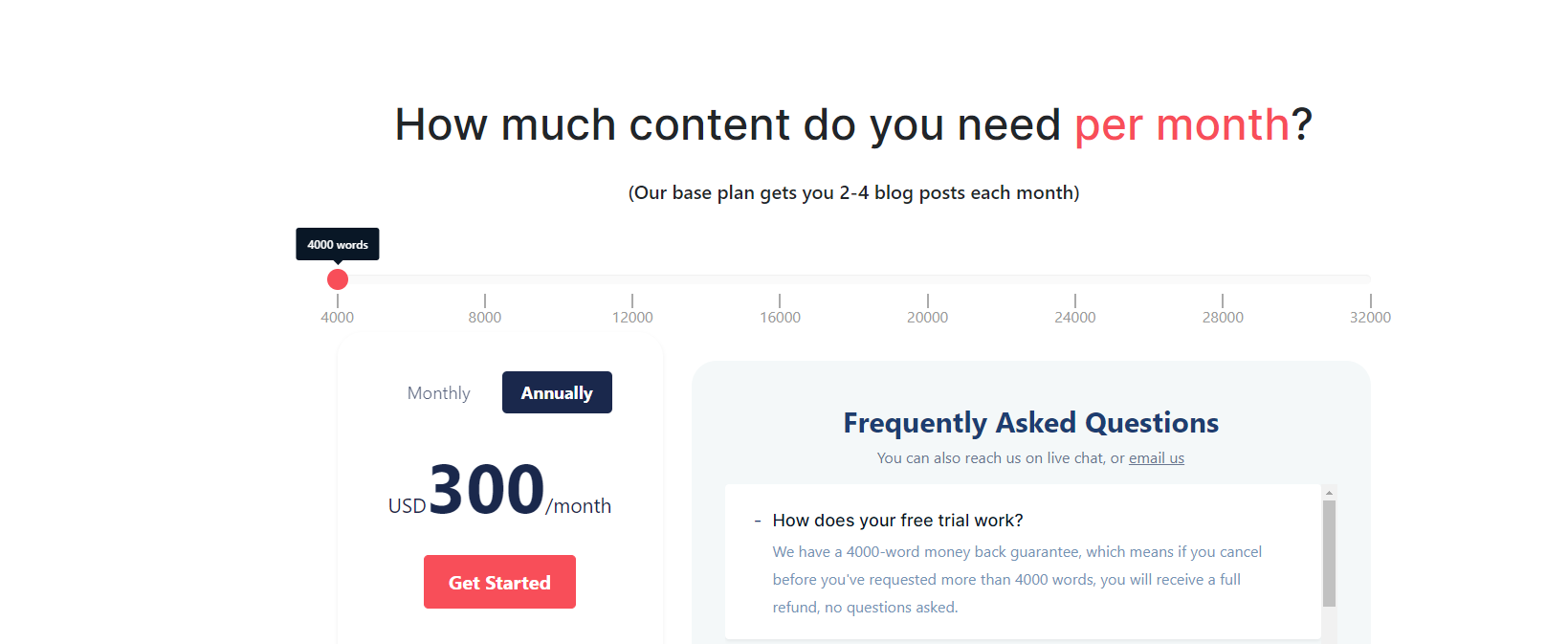 ContentFly helps you find freelance writers for affordable rates. The pricing is slightly higher than Scripted membership plans, with the lowest plan starting at $375 per month or $300 per month, paid annually. Scripted membership plans start at $199 per month. This Self-Serve Basic plan from Scripted is ideal for two to four monthly content pieces, while the starting ContentFly plan offers 4,000 words per month.
Scaling up your content marketing with ContentFly just means requesting more words. You can receive up to 32,000 words per month for $3,000 per month, or $2,4000 per month if paid annually, but the services that come along with this massive word count remain the same as the entry-level pricing.
Scripted offers additional services for Premium and Fully-Managed clients. Invest $1,299 per month, paid annually, to receive the following content marketing services:
Dedicated account manager

Free blog ideas

SEO performance reporting

Fully managed content production
These features help reduce your workload as you scale up your content marketing. Discuss your goals with a real human manager when you work with Scripted. ContentFly has a dedicated support team you can reach out to, but you'll still need to work on projects one blog article or web page at a time.
How Does ContentFly Compare to Scripted.com?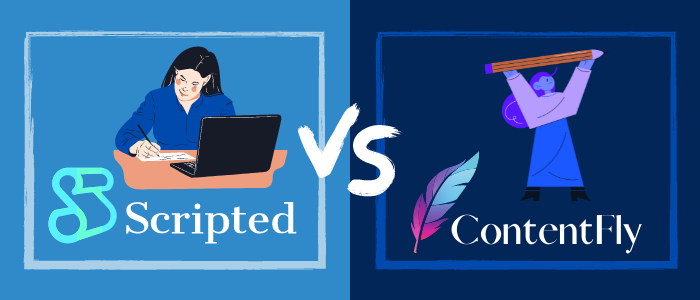 Scripted, however, gives you the freedom to choose writers or rely on the platform to offer your blog articles and social media posts to carefully vetted pools of industry experts. This flexibility means you can still carefully review the experience and portfolio of a specific freelancer, or you can switch on Scripted Cruise Control to delegate nitty-gritty content marketing decisions.
ContentFly offers a hands-off experience of selecting vetted writers, which can be a pro and a con. You won't spend weeks searching for a quality freelancer, but you also have less control when it comes to finding the right writer and building an ongoing relationship.
Both ContentFly and Scripted have a number of strategies to ensure you receive quality content. Here are the steps ContentFly takes to maintain a high level of content creation quality:
Less than 1% acceptance rate

Unlimited rounds of revision

Money-back guarantee

for up to 4,000 words of content at the first subscription

Offers new writer for your project, if necessary
Scripted takes a similar approach. Here are the ways this highly-rated platform helps you receive quality content for your content marketing strategy:
Less than 2% acceptance rate

Spelling, grammar, and plagiarism check software

Editorial review process

Two or three rounds of revision, depending on your membership level

SEO performance reporting
Both companies offer phone, email, and chat support when you wish to speak to a real human about your content goals or any issues with your content. ContentFly doesn't allow you to see any examples of work from their writers, but Scripted writers have portfolios and profiles that explain their expertise and show relevant writing examples.
What Are Others Saying About ContentFly?

ContentFly has over 2,000 businesses trusting them with their content writing. They're highly rated on independent sites, like G2, Other independent sites, like ProductHunt, offer mixed reviews.
Positive reviews of the content writing service describe fast, convenient, and affordable services. Negative reviews mention inconsistent quality or lack of interaction with writers.
ContentFly or Scripted — Which is Right for You?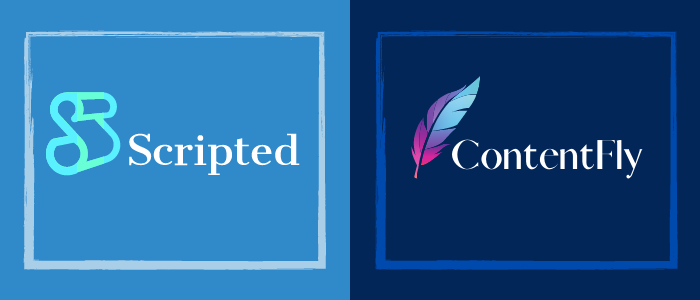 Are you looking for a content marketing platform that offers the lowest possible price for bulk words, or do you want to create a long-term relationship with a pool of highly talented writers? Both ContentFly and Scripted offer different benefits for the content marketing process. Consider what matters most for your business as you consider the pros and cons of both platforms.
ContentFly offers a low-cost, low-commitment way to order content. You don't have much control over who writes your blog articles and social media posts, but a hands-off strategy and flexible ordering process can be attractive for your small business.
Scripted connects you with a talented content marketing team for enhanced flexibility. Instead of simply choosing the number of words you'll need for a particular month, you can choose the plan that matches your business goals. Here are the specific features that you can enjoy with a Scripted membership plan that aren't included in a ContentFly monthly service:
Free blog ideas

Account management services

SEO performance reporting

Content calendar creation
Scripted also has membership plans specifically for agencies and large enterprise businesses. These plans offer turn-key content solutions with no membership fees and large, dedicated writing teams to handle your bulk orders. Whether ordering content for your own business or managing dozens of clients in an agency setting, the Scripted account management team can assist you with finding content you love.
Pros & Cons of ContentFly & Scripted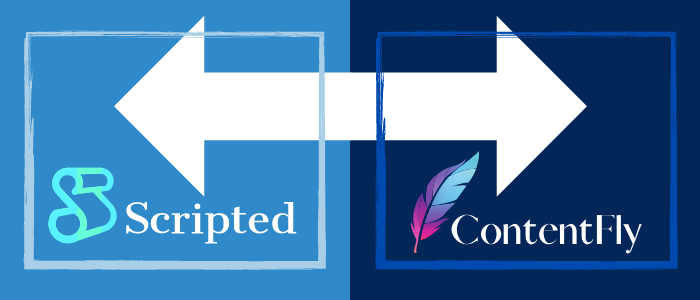 See how these two platforms compare head-to-head before reaching out to find a writer or order a blog article. Both are competitive options for some small business copywriting needs, so review these pros and cons to see which content marketing service is right for your unique small business.
ContentFly
Pros
Only accepts 1% of writers who apply

Rolls over unused words from month to month

Offers unlimited revisions

Charges a low price per word

Uses an algorithm to match your projects with freelance writers
Cons
Lacks control over writer selection

Doesn't offer any example work from writers

Entry-level pricing starts higher than Scripted pricing

Doesn't offer any account management or SEO reporting services
Scripted
Pros
User-friendly panel to see all open projects

Offers flexibility in finding writers or allowing the SmartMatch feature to find them for you

Adds significant benefits with Premium plans, like fully managed support

Allows you to review and invite specific writers to projects

Allows you to see writing samples before hiring a writer
Cons
Doesn't offer a batch option for uploading bulk projects without fully managed support

On-platform messaging can take some time to become familiar with
Get Started With Scripted Today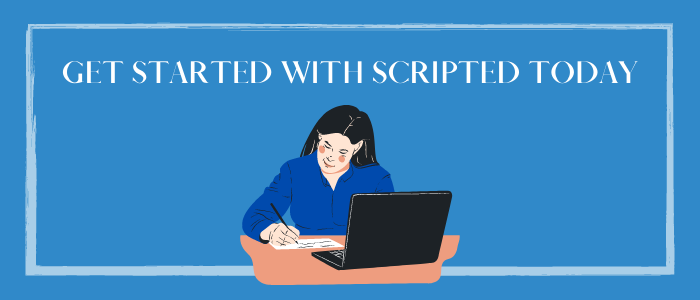 Whether you're a small business owner or marketing manager in a large enterprise, Scripted offers the flexible SEO solutions your content marketing strategy needs. 
Sign up for a free trial today and browse Scripted Writers to learn more about our team.