Top Injury Law Sites by Traffic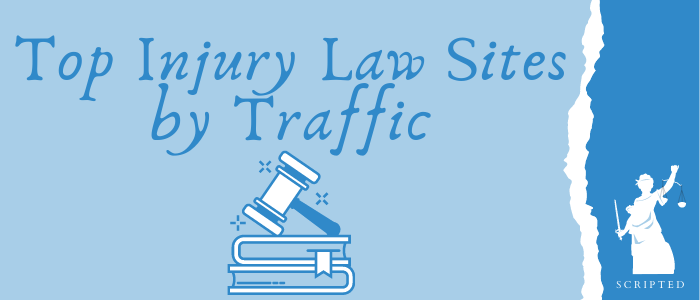 Injury law is big business, but even the best attorneys in that area need to get traffic to their websites if they want to be successful. Understanding the best way to do that matters. If your site isn't getting the same traction as other injury law websites, or you wonder why they rank higher than you, it could be because of their SEO strategy.
To understand what that means, and why it's working so well for them, it's vital to understand what organic traffic is. That involves the monthly traffic that comes to your website organically. In other words, people find it naturally in a search for keywords you want to rank for in the search engines. Since personal injury is such a highly competitive field, that ranking may make the difference between success or failure for your law firm.
When people find your site naturally, it's most often because you're ranking well for important keywords that are commonly used in your industry. For example, someone searching for an "injury attorney" and the city or state, should find your site easily. Ideally, your website would come up first in the search rankings. So, what's the best way to accomplish that, and how are other sites doing it so well?
What Makes a Good Injury Law Website?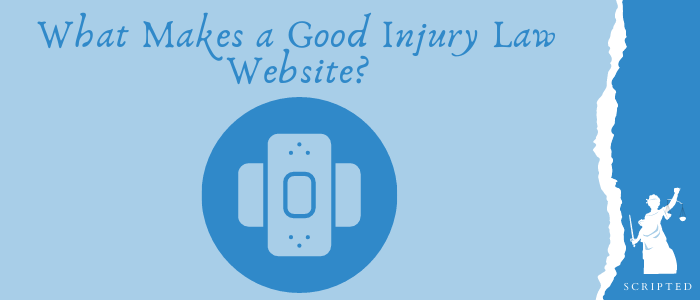 A quality website in the personal injury law area needs to be highly competitive. There are thousands of personal injury attorneys, and many of them are competing in geographic areas where they have a lot of other attorneys vying for the same client base. Some attorneys are chosen randomly by a potential client, but many are chosen because the site visitor feels good about what that attorney can offer.
Clients want to feel like they'll be taken seriously, and they also want to feel like the attorney understands their needs. In addition to that, they need to know the lawyer and their staff have the education and experience to help them succeed in their case. There aren't any guarantees of winning, but feeling like they have the best chance at it is important. With the right attorney's website, you can provide peace of mind.
For attorneys who want to make the most of their personal injury website, the goal is to determine what potential clients want and then provide it. That usually includes experience, education, and knowledge, along with assurances that you're the right person for the job. Not all personal injury attorneys handle all types of cases, and some have specialties. Making yours clear can help with SEO for attracting clients.
A quality mix of everything that clients are looking for can make it easier for your injury website to get noticed, but without strong SEO it won't show up in the search results as effectively as it could. With that in mind, it's important to remember that the way a website is marketed and how SEO is used on it is just as important as the content offered on it and the quality of the attorney and staff behind it.
Here are the top injury law websites by traffic, and what you need to know about how they use strong SEO to be so successful.
This law firm ranks very highly for its target market, which is the New York area. When people are injured in or around New York City, and they look for injury law websites, this is one of the first ones they'll find. The reason it performs so well is that its SEO is on point. It targets the right people in the right location, with the right mix of short and long-tail keywords.
In other words, not only does it use a lot of terms like "personal injury" and "injury attorney," but it also uses the location in the copy on its pages. But that's not all it needs to do. Long-tail keywords — which are actually more like phrases — are important. "personal injury attorney in New York" for example, is one of the targeted phrases used by injury law websites like this one, so they can be found more easily. 
The content on the site itself is clear, direct, and easy to read, and it's not difficult to navigate from one area to the next. The colors stand out but aren't distracting, and it's easy for people to stay on the site and keep browsing for information they might want or need. While it's not a guarantee that clients will choose this attorney because their website looks nice, the site offers a significantly high level of quality for visitors.
For good SEO, this site is focused on more than just the ways it can be found in search engines. It's careful with its long-form content, in order to make sure clients can find the information they want without getting lost in too many other things. If a client can't easily navigate the site, they're not likely to stay there very long. Good injury attorneys know to get to the point and then expand on that point for clients to keep reading.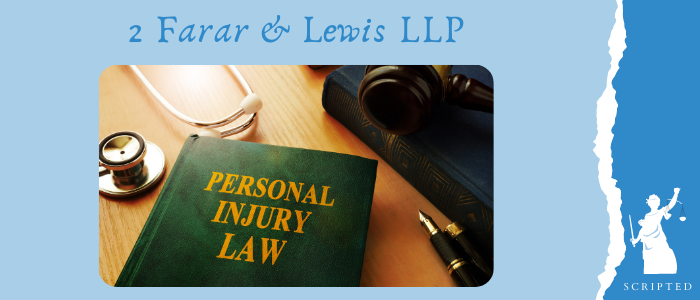 One of the biggest areas of value for this law firm is the quality of the copy on its website. Not only does it have great SEO, but it also makes full use of tags, titles, meta descriptions, and more, that all work together to bring in traffic. Good quality SEO is more than just keywords in the copy on a website's pages. It's also all the incidentals you can find that make up the site and are read by search engines.
Personal injury law websites like this one are high-ranking because of the good SEO they use, and also because of the backlinks they acquire from other sites. When a quality site links to another quality site, they may both get a boost. Without a strong, valuable site with good SEO, though, the chance for backlinks is much lower. That can hurt your firm's chances of getting an extra, added boost in the search engines.
If you want to get a lot of backlinks to help boost your SEO value in the search engines, you'll need to be sure you're creating content that people want to link to. The quality of the sites that give you backlinks also matters, but the number of backlinks can become a significant part of your SEO strategy. That will help your injury law site get noticed more easily because you'll be nearer to the top of the search engine rankings.
This website understands that, but it's more than just the number of backlinks or other SEO-based information created on the site. It's everything put together, along with the number of valuable insights and pieces of content the site offers to potential clients. That can help visitors to the site feel comfortable with the knowledge base of the attorneys they're thinking about hiring to help them with their personal injury case.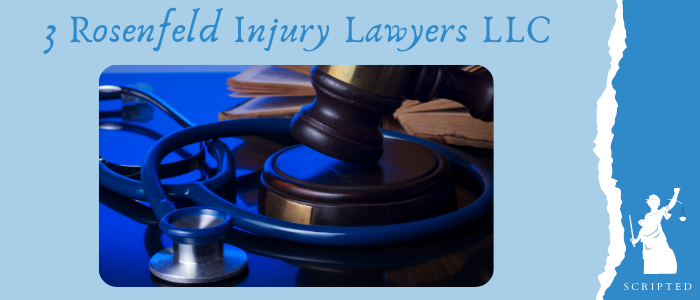 This law firm is one of the highest-ranked firms in the Chicago area. While the windy city may not have more personal injury issues than any other metropolitan area, it does have a lot of personal injury attorneys. Because big cities are areas with heavy competition, standing out in a larger city may be more difficult. The quality of this attorney's SEO is vital to get noticed in such a large market as Chicago.
That's true of any major city and the surrounding suburbs, and much of the SEO this firm does also extends past the suburbs to smaller towns throughout the Chicago area. It's highly important to make sure that these populations are served, and there may not be any attorneys in their town. By using the right SEO tactics, this law firm gets found by people from outside of Chicago, because it also lists other cities searchers seek out.
That's an excellent way for a bigger firm like this to expand its client base, and to be found by a lot more people than might otherwise locate it. While there are probably plenty of personal injury cases in Chicago, it's important for people in the surrounding areas to know they have attorneys who can help them if they become injured. By targeting some of the smaller communities too, this firm can bring in more clients.
Not only does the site address the standard types of SEO-based terms for its field, such as "personal injury" it also makes good use of variations of those terms. The site is clear and easy to read, with short paragraphs and plenty of bullet points. Side-bar boxes also help find more information, without the site feeling cluttered or difficult to navigate. Clients who can navigate the site easily are more likely to stay on the site longer.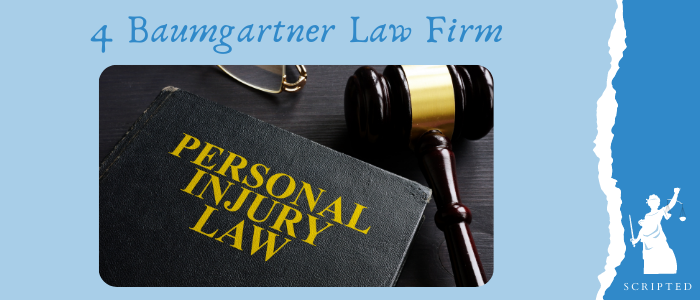 This law firm is located in Houston and is dedicated to helping clients in that area who have been injured in accidents and through other types of negligence. The clarity and value provided by this firm are both evident in the content on their site, the colors and pictures they use, and the way they encourage clients to reach out for help. The understanding that clients deserve good help is part of the firm's SEO focus, as well.
The bold and professional nature of this site's design is one that speaks to authority and quality. That helps clients who find the site feel comforted by the knowledge and experience the firm provides. The right color combination can go a long way toward showcasing a subdued, strong presence, which is much of what this particular law firm wants its clients to see. It has a good understanding of its target market.
Because Texas is generally one of the more conservative states, making sure the law firm's site fits that focus is important. While most people think of SEO as putting the right keywords into the content, injury law websites must do much more than that to get the kind of traction they need in the search engine rankings. They also need the right look and feel, because that will continue to encourage clients and backlinks.
When someone researches a law firm, they want to see competence and experience, but they're often also looking for a sympathetic ear and someone who will advocate for them. Potential law firm clients who don't see that from attorneys may choose another firm. But many injury law websites don't realize the importance of the human connection. This site does, and that's part of why its SEO value is so strong in the rankings.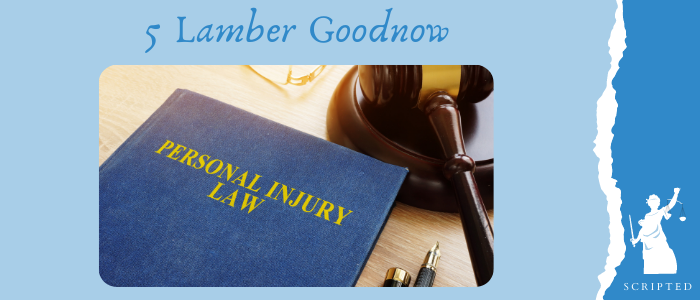 Among the reasons this site ranks so highly when it comes to personal injury law websites is its focus on quality SEO coupled with a site that's easy to navigate. Both of those things matter to attract potential clients and encourage them to stay on the site and get the information they need. Getting them to the site is obviously highly important, and can be done more easily with the right SEO tactics and focus.
This law firm understands what it takes to get Phoenix-area clients to their website. Not only do they focus on the Phoenix area, but they also expand their offerings and SEO tactics just enough to bring in clients from the greater metropolitan space around Phoenix. There are many little towns there, and this firm works to make people in those towns feel heard and seen. That encourages clients to work with the firm.
Because there are so many choices for clients who are looking at injury law websites in larger areas, and fewer choices for those in more rural locations, the big-city attorneys who expand their reach may bring in many more clients. A lot of people who are injured in smaller cities may have trouble getting the help they need, and they'll be more likely to choose a particular attorney if they feel valued by them in some way.
But it's not just about getting potential clients to the site. It's also about making sure they stay there, take a look around, and find what's going to work for them. They'll be searching for a personal injury attorney they feel they can trust and rely on. They also probably want one with the experience they expect and one who cares about their case. You can show them all of that, with the kind of SEO that's used on this firm's site.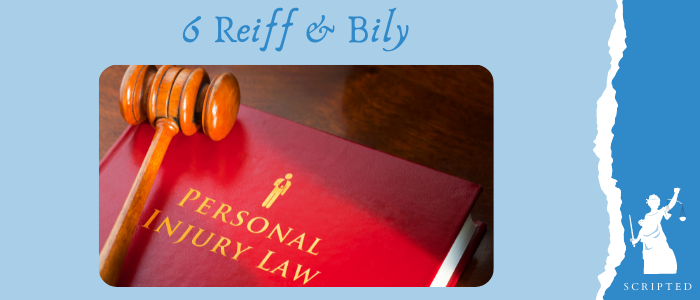 This law firm is located in Philadelphia and is carefully focused on the value of SEO. It contains a lot of content and information, which can improve SEO value and rank with the search engines. Additionally, sites that include long-form content often perform better in search results, because they offer the option for plenty of knowledge. Long-form content is becoming more popular today, for that reason.
This firm isn't typical of the attorneys in other areas, in that their website has a lot of content on the first page. That might seem like too much for some people, but it's clearly working well because the site ranks so highly. It's not necessary for the firm to shorten its content or change its focus. It's giving people in the Philadelphia area what they want and needs from the site of a personal injury attorney.
With hundreds of backlinks and thousands of website pages, this firm outranks many of its competitors in its geographic area. That's easier to do when there are more pages on the site because it's more opportunities for long-term, SEO-based content that adds value for visitors and search engines alike. The additional pages of this site all add good information, which is vital for a higher ranking in the search engines.
Even though this firm offers a lot of content to sort through, they've also carefully addressed this issue by making it easy to find everything that's needed. With good organization to add to the quality of the provided information, this firm's SEO practices keep potential clients coming to their site. It also keeps them on the site, allowing them to learn more at their convenience and get the answers they need for the future.
The Benefits of Quality SEO for Injury Law Websites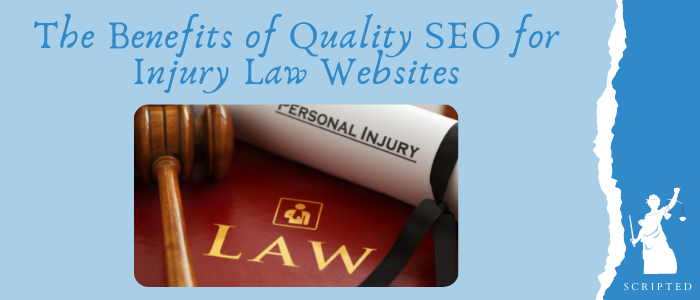 SEO adds value to any website, but it's especially valuable for injury law websites because of the high level of competition that they face. Additionally, there are many attorneys who have specialties, and because of their strict legal requirements, they have to word things in certain ways. If they word things the wrong way, they could actually face legal trouble for making unsubstantiated claims about their abilities.
For example, you can't say you guarantee a settlement or a particular amount. You also can't say you specialize in certain things simply because you've handled cases in that area. Attorneys are limited in how they phrase things and what they can say about their competition, so the SEO that's generated for them has to abide by those particular principles. That helps to reduce problems for everyone involved.
To make sure your law firm's website is ranking highly for the keywords clients are using, but also following all marketing and advertising laws for the profession, you need to work with a company that can help. By analyzing what keywords your competitors are using, how they're ranking, and how you can move ahead of them in the search results, Scripted can help your law firm increase its success.
Ready to Make Your Law Firm's Site Stand Out?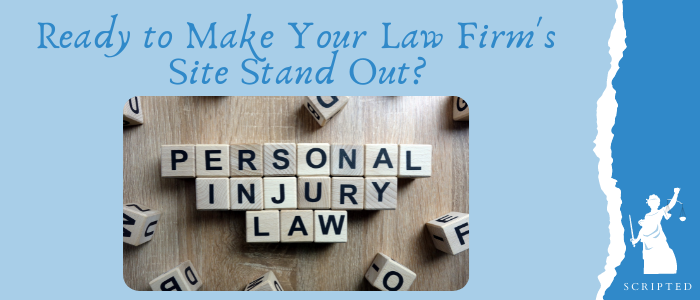 When you want your site to stand out from all the other injury law websites out there, you want to work with Scripted. We can provide the knowledge and know-how you're looking for, so you can rise in the search engine rankings and get noticed. With the right SEO strategy and execution, Scripted's quality writers can help your firm become more successful in the injury law space.