What to Look for in a Crypto Writer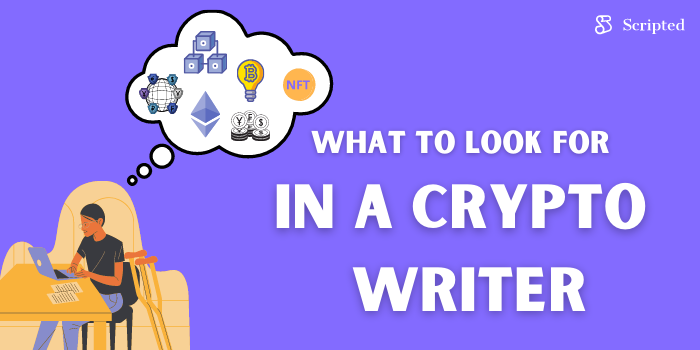 Have you been searching for a crypto writer? If so, this post will have some valuable tips to help you find the perfect candidate. Finding a freelance writer who is truly an expert in cryptocurrency and delivers the results that you are expecting is a dime in a dozen. This article breaks down those attributes and provides helpful tips for hiring a great crypto writer.
What Are Their Qualifications?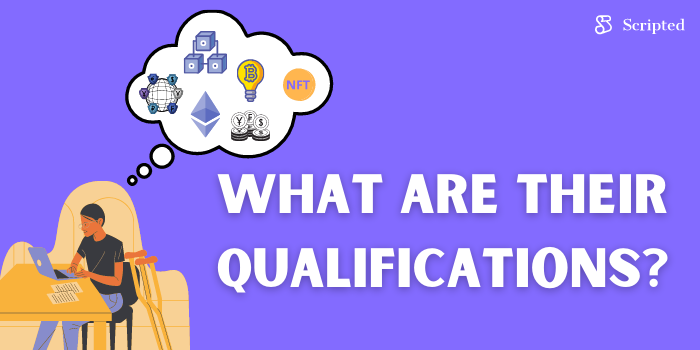 A good crypto writer should have experience with the topic they are writing about. You can tell a lot by what someone has written previously, and it is vital that your content creator understands not only crypto but also how to write well in this niche.To be an excellent crypto writer, they should have a fundamental understanding of the subject. They don't need to know everything about cryptocurrency and blockchain technology to write for your blog or company, but they should know enough to know where the gaps are in their knowledge and where to look up new information.
They should understand the cryptocurrency market, terminology, and trends. They should be able to do research, develop ideas for posts, and know how to get information about a topic quickly. This knowledge will help them produce quality content that readers want to read by providing insightful commentary on new developments and analysis from an expert perspective. 
If they are not interested in the topic, this will reflect poorly on them as a candidate. If they aren't passionate about crypto, chances are they won't be keeping up to date with the latest news in this niche and will not be able to write compelling content that your customers want to engage with.
Some qualifications to look for are:
A Journalism or Creative Writing Degree

Experience in the field of crypto writing or other related areas like financial blogging.
Are They Independent and Consistent?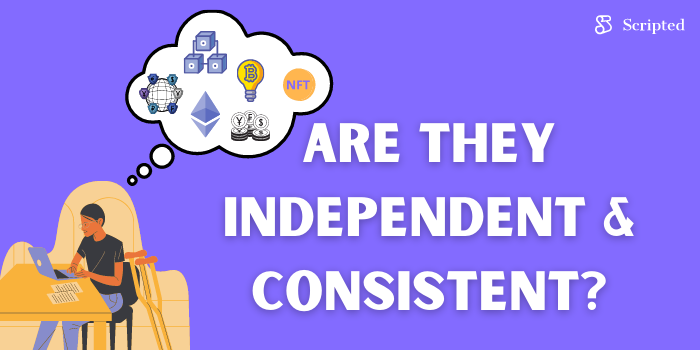 This is important to know so you can plan accordingly. A writer might not be available at all times, and consistency is critical for research, writing, editing, and publishing posts on a regular schedule. The world of crypto can change instantly, and having a writer available who can quickly bring new information to the table is essential.They shouldn't need constant management or editing because it will cause delays when new content needs to go live on your site, which defeats the purpose of hiring them. If they can work independently and submit articles on time, they will be a tremendous asset to any blog or company.
Can They Adapt to Different Voices, Tones, and Content Types?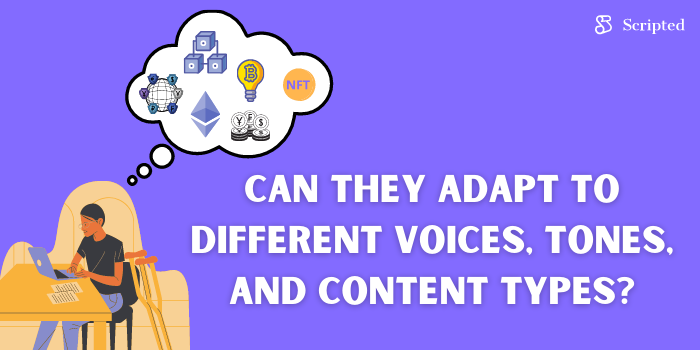 Crypto is a broad topic written in many styles. A writer should be able to produce content in these formats and use tone effectively for the desired effect-whether it's informative or persuasive. Even though the subject is the same, content needs to be written differently depending on the publishing platform. It's essential that the person you hire understands this so they can use a distinct style for each place your content is being shared, such as social media or blog posts. Linkedin, for example, is more formal than Facebook, and thus the content should have a more professional tone and can have more business terms laced within the content.
What truly separates a skilled writer from a typical freelance writer, is the ability to write different styles and formats based on the content piece required. Whether writing webinar scripts, blog posts, and social media content, the writer should be able to tailor the tone and style should to each audience. Different readers use different platforms, so it is imperative to write appropriately based on the article type. Hiring a writer with this ability allows you to deploy content in many mediums like infographics, blogs, webinars, and social media posts without needing multiple writers.
The best writers are those who can provide original content that is both informative and entertaining — because this will keep your readers engaged, so they want to come back for more. Even if the content in your site is valuable, it likely won't get read if the delivery isn't exciting.The best ways to keep content entertaining are by using lists, anecdotes, and quotes. These are all writing techniques that writers can use to make a reader feel like they're reading something new or different every time they read your blog posts.
Can They Use SEO Effectively?

The best crypto writers will understand how content marketing and SEO work to increase website traffic. SEO is essential for anyone who wants their crypto website to stay afloat and be profitable. After all, there's no point creating content in the first place if no one can find it.
A good crypto writer will know how search engine optimization works and will quickly optimize your content for use on social media sites, the blog, or any other medium you want it published in. You can work together, or ask them to research, which keywords and long tail keywords you want to rank for. Even though they should understand SEO, don't rely solely on them for this — make sure that what is being written sounds natural as well. 
Conclusion
A great writer and crypto writer will know all these things and more. If you are looking for someone who can take your blog or company to the next level, then look no further-a professional crypto writer from Scripted is just what you need! Check out the link here to start the process of hiring a top crypto writer for your business.