Networking: The Not-So-Secret Ingredient for Content Writing Success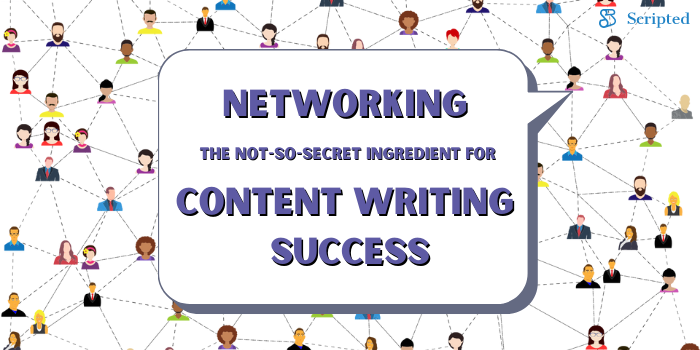 As a professional content writer, you've made communication your bread and butter. Unfortunately, many writers assume that communication begins and ends with the words they craft for their clients. But where do those clients come from? Inbound marketing can certainly play a role in snagging them for you, but you must also take advantage of the power of networking if you want to reach the next level of success in your writing career. Let's examine some key factors involved in networking for content writers, from digital platforms and strategies to in-person networking best practices.
Why Networking Matters for Content Writers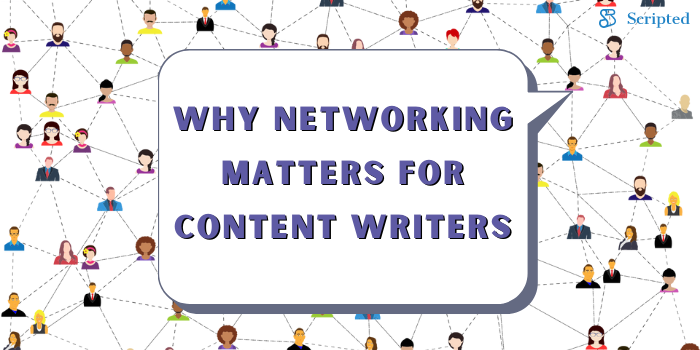 Writing has earned a reputation as a solitary profession. When you're not staring at a digital monitor, you're probably staring at the wall of your home office, lost in thought, possibly with earplugs inserted and curtains drawn to block out distractions. However, no matter how helpful that approach may prove for the actual writing, it can all but ensure that the wider business world never hears about you or gets to know your work.
Businesspeople traditionally use networking to get out of their work environments, mingle with others in various fields of endeavor, and forge new bonds that later (with any luck) turn into ongoing work requests and revenue streams. They also get to exchange information on the latest happenings around town or in their respective industries. If your writing serves the business community, it only makes sense that you should make yourself as visible as possible in that community.
Public interaction may go against the grain for introverted individuals originally attracted to writing because of its solitary nature. But even if you don't normally feel comfortable hobnobbing with strangers, networking presents so many potential open doors that you literally can't afford not to put yourself out there.
Before You Network, Build Your Website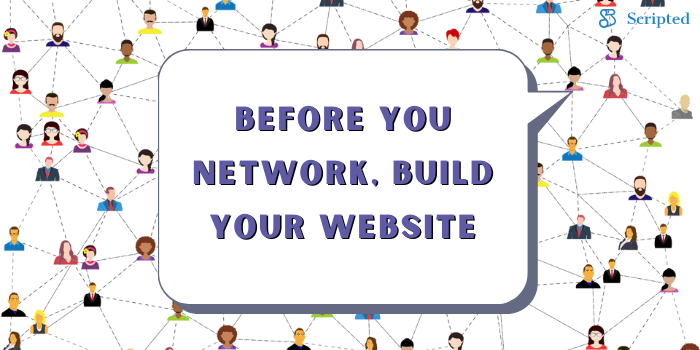 Every business needs a professional-quality website. If you write as an independent contractor, that makes you a business owner. You must therefore keep up with the professional standards expected in the corporate world. Creating a virtual storefront that serves as a combination of an online portfolio, marketing engine, and sales platform.
While a professional website provider can give you the ultimate in flexible, customized web construction, smaller businesses and one-person shops can manage well with a web-based DIY website and hosting service. You'll want to spring for your own domain name, though, ideally one that markets your name or includes keywords that will help your site pop up in search results. If your website-builder has its own built-in SEO guide, follow the instructions carefully to optimize your site as successfully as possible. If it doesn't, look up some SEO specialists and find out what they'd charge to walk you through the optimization process.
What should a content writer's website include? For starters, you want a home page that works as a marketing hook, complete with enticing material about your unique value proposition (that is, whatever sets you apart from your competition) and a call to action that directs the reader to contact you. You should also complete an About Me page that discusses your background, education, experience, and any special skills or certifications you may have. On your Services page, lay out the specific types of writing you do. You can include writing samples on this page, or you can maintain a separate Portfolio page just for that purpose. Last but certainly not least, include a Contact page with all the necessary information to ensure that you get those incoming calls or emails.
Using Social Media Channels as Networking Outreach Platforms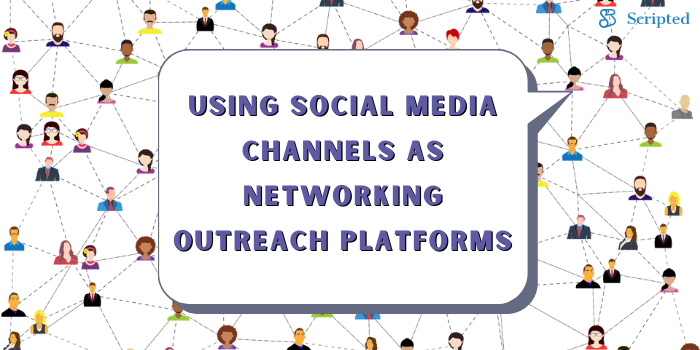 Actually, there's one more web page every content writer's website should feature: a Blog page. As one of the oldest forms of social media, blogging has helped organizations and individuals attract online attention to themselves since the late 1990s. Your blog page allows you to post relevant, authoritative articles on subjects close to your target audiences' hearts. You can discuss specific content writing problems and solutions (positioning yourself as the solution, of course), dispense advice on how to use that content for maximum effect or discuss the various ways content writing and business intersect. When prospective writing clients search Google using keywords related to that subject matter, your article will hopefully pop up on their search results. The readers then land on your website, learn about your services, and reach out to you for help.
These days, blogging represents just one of the many social media avenues available to you. Consider the following options.
YouTube — Even if you normally think in terms of the written word, don't discount the power of visual images. Google owns YouTube, the most popular and widely used online video channel in the world. You can post YouTube videos that address the same kinds of subjects you might write about in your blog or even integrate those videos directly with specific blog articles through backlinks to your website. Add SEO-friendly text to the videos' descriptions to make sure they capture Google's attention.
LinkedIn — LinkedIn serves as the primary online networking platform for businesses, especially businesses in the B2B sector. If you want to connect with other business owners and key players, you can almost certainly do so here. Just remember that your LinkedIn profile requires the same writing skill and attention to detail you might lavish on your website since many people will encounter you for the first time through this profile. If you want to become a mover and shaker on LinkedIn, join multiple LinkedIn groups and participate actively (and persuasively) in LinkedIn conversations.
Facebook — Facebook doesn't revolve around the business community the way LinkedIn does, but you'll still find plenty of business pages on this social media powerhouse platform. You'll also have plenty of chances to connect with old friends and make new ones all over the world, which of course can lead to content writing opportunities. If you write your own fiction alongside other forms of content, Facebook could prove an ideal environment for spreading the word about your latest masterpiece.
Networking Organizations and Events Worth Attending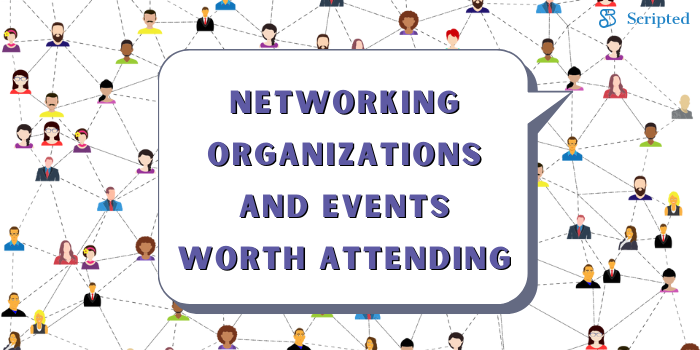 With all the online social media networks available to you, you may wonder why you'd ever need to network with others on a face-to-face basis. But face-to-face contact, either in person or over a video connection, does much to build trust. People like to see that they're communicating with a real-life human being and pick up those enlightening little visual and aural cues that help them understand who you are and what you're about. It also helps them remember you by attaching a face and/or voice to your online presence.
In-person networking events can help you make an even more vivid impact on others in the business world. The COVID-19 pandemic forced many of these networking organizations to shift to a video-only environment, but you can expect them to return to the "real world" when circumstances permit. A few popular networking options include:
Business Networking International (BNI)

— BNI stands as the largest and most successful networking organization worldwide, with countless local chapters of members from different professions and industries meeting weekly.

Network After Work

— Network After Work hosts various kinds of mixers and educational networking events. Some of their online events attract attendees from across major U.S. regions or nationwide. In the absence of a pandemic, you can also find local Network After Work events at restaurants or watering holes in many major cities.

Meetup.com

— This major online platform lets you search for local Meetups (get-togethers) based on whatever subjects, industries, or population segments interest you. You may choose to network with your fellow writers, with members of a particular industry vertical you hope to write for, or anyone else who might prove helpful for connecting you with the community. Keep in mind, however, that these groups emphasize casual interaction instead of aggressive, business-forward networking.
Effective Networking Interactions and Behaviors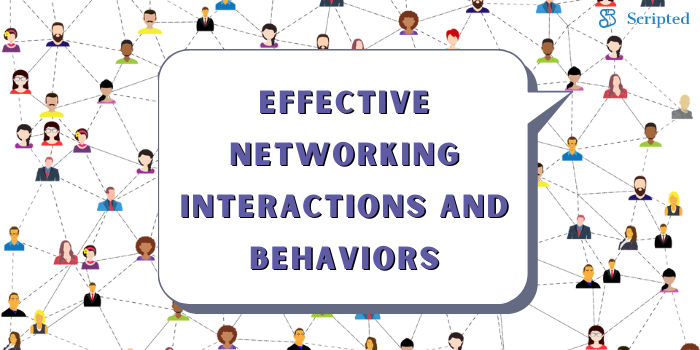 Whether you attend online-only networking meetings or in-person events, you need to understand the rules of the road when it comes to successful, pleasant interaction with other networkers. Depending on how you conduct your networking conversations and followups, you could end up with some profitable new relationships or you could actually stamp out those relationships before they ever have a chance. Let's examine, in no particular order, some important basic rules about networking etiquette and behavior.
Rule 1: Don't turn into a human business card dispenser. If you've invested good money in thousands of business cards, you naturally want to put them to good use. However, you don't want to shove them into everyone's hands indiscriminately. Until you've actually had a mutually enlightening conversation and struck up the beginning of a relationship with a fellow networker, assume that the networker doesn't need or want your contact information. Present your card only after the other party has requested it or given you their card.
Rule 2: Don't sell. Many people get the mistaken idea that a networking event represents a direct sales opportunity. In reality, selling your products or services directly to individuals (or to the entire room if you attend an event where each attendee gets to give a short spiel) comes across as crass and obnoxious. The point of networking is to build mutually productive new relationships — farming as opposed to hunting. If others at the event need what you offer, they'll reach out to you after they understand more about you. Focus on educating instead of selling, and ask for introductions instead of sales appointments.
Rule 3: Follow up. All the promising conversations in the world will mean nothing if you don't follow up on them shortly afterward via phone, email, text, or your preferred means of communication. Think about how many of the people you meet will actually linger in your mind in the days to follow, and for how long. The reverse holds equally true, of course; most of the networkers you meet won't keep you top of mind unless you take action to stay in that exalted spot.
As you can see, networking can build critical bridges for you as you develop your professional content writing career. Don't feel intimidated by the many options, best practices, and steps that lie before you. Instead, leverage what you've learned, refine your strategies until they yield optimal results, and get excited about creating the ideal network for your needs and goals. In the meantime, secure a variety of lucrative writing jobs right here by becoming a Scripted writer!