How to Hire a SaaS Writer for Your SaaS Website or Blog
Cloud-based businesses were doing well before the pandemic. The past year has seen a huge boost to software-as-a-service (SaaS) providers in all industries as companies and employees shifted to work from home. Studies show that the industry's market capitalization reached approximately $110 billion at the end of 2020, and experts expect a growth of an additional 14.5% by the end of 2021.
In addition to being a thriving market, it's also a crowded one. To stand out, of course, you need a great product. However, even if you have the best product on the market, it doesn't matter if no one knows about it. So, it's important to tackle the most effective marketing practices currently available, and one of those is utilizing content as an inbound strategy. Content marketing has been proven to be powerful for companies; in fact, 70% of marketers believe that content is one of their most valuable business assets.
So, to fill your SaaS business site or blog with the best content possible, you should hire talented writers. Trained content writers are able to attract leads to your brand and convince them to buy your product. If you're not sure where to start, here are our most useful tips for finding and hiring the best content writers on the web.
Decide What You Need in a SaaS Writer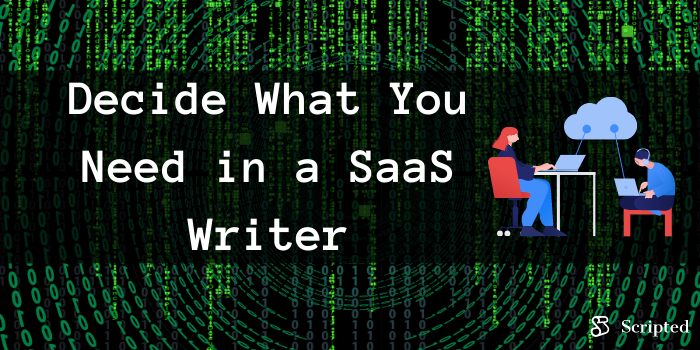 A SaaS writer should be knowledgeable in your field and know how to craft content optimized for search. Here's how to begin the process of finding the right SaaS writer to explain the benefits of your offering and attract customers. 
Consider experience
While working with a new or relatively inexperienced freelance writer can work out, experience does matter. Like any profession, writers get better at their job over time. That said, for SaaS, experience can make all the difference. Browse a writer's CV or resume, and look to see if they have experience working with companies similar to your own. You may also request samples of writing they've done on SaaS topics, to gauge if they have the understanding of the level of information you are looking for. The more experienced a SaaS writer is, the better, so it can pay to spend some time searching for the most seasoned writers around.
Gauge their basic understanding of marketing
While they don't need to be a marketing expert, freelance writers should understand the basics of marketing. Two areas in particular are important:
SEO essentials:

Content writers should have a knowledge of SEO. This will allow them to optimize your content for search Content writers who've mastered SEO understand how to choose target keywords, and where to place keywords in blogs for maximum impact. A genuine understanding of SEO will help a writer boost organic traffic to your site and make sure the right audience finds you when they search.

How blogs fit into marketing strategy:

Outbound marketing is important for businesses, but inbound marketing is essential, too. A content writer should understand how the content they're crafting fits into your business's marketing strategy. A writer should know what type of audience you're trying to attract, where a reader might be on their customer journey, and what other marketing materials a visitor may have encountered, so they can craft content that appeals to leads in the right way, at the right time.
Determine if they can write in your voice
All writers have their own personal style. The best freelancers are chameleons, able to adopt the voice of their client(s). And some writers are better at one tone of voice over another. 
If you want a professional tone, find a writer comfortable writing in that style. Likewise, if you like a looser, more informal style of writing, look for a writer with that style. While many professional writers can do both, they're often better at one style or the other.
To see if a content writer can write in the voice you want or not, it can help to have them do a test job for you. You may want to pay them to do an initial job to see if they are successful at reproducing the voice you want in your content. Alternatively, some writers may be willing to do a small sample job for free to show they can nail your voice, especially if you are willing to hire them for more content work after you've completed the test-run.
Decide whether you want a technical or business-focused writer
You could get lucky and find a unicorn; a technology writer who can address both the technical aspects of SaaS and the business benefits equally well. More likely, you'll find writers who are strong in one area or the other. 
If your marketing revolves around explaining how your unique SaaS product can benefit the way a company operates, consider hiring a technical writer who can describe the perks of your product with ease. If you want to show off the ways that a SaaS product can boost business (i.e. increase revenue, generate more leads, etc.) then focus on hiring a business writer. Business writers will know how to explain the financial and growth benefits that can be derived from investing in your product.
Best case scenario: you find an experienced content writer who can describe your product in-depth, explain how it can improve the way a company functions, and summarize the business benefits an organization can expect to see after making a purchase.
How to Find the Right SaaS Freelance Writer for You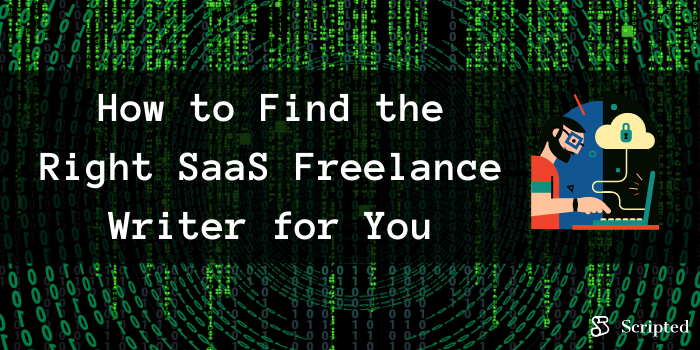 There are more than 57 million freelancers across the globe, and that number is steadily growing. Some are full-time freelancers, others write as a side hustle to make extra cash on the side. Like any profession; some of them are good, a few are excellent, and the vast majority are average. 
Average doesn't move your business forward. How do you find the diamonds amidst all of the coal? Take the following steps to hone in on the excellent content writers on the web.
Know what you want
Get clear about your content needs and goals. When you're certain about what kind of content you want, and what you want it to do, it's easier to be sure you're hiring a freelancer that can help you meet those needs.
Read writing samples
Ask for writing samples before you hire any writer. Get a good gauge of what their work sounds like and if they can write the kind of material that will work for your business.
Take them for a test drive
Consider asking a writer to write a small sample piece for you. Offer to pay them for their work. Best case scenario? They do a great job and you can use the piece in your content marketing plan. Worst case? They're not a good fit and you continue your hunt to find a writer who can tailor the content to fit your voice.
Where to Find Freelance SaaS Writers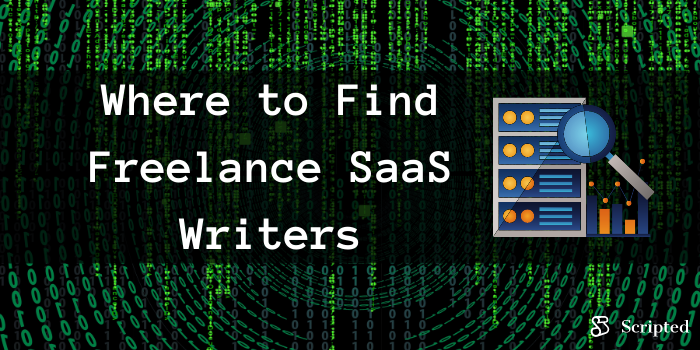 There are multiple venues to find writers for your content marketing program. LinkedIn can be a good source, especially because you can get a sense of who the writer is from their profile. Indeed and other job sites are another way to find writers.
The downside of LinkedIn and job boards for finding writers is that it can be a tedious process when wading through a large number of potential writers. It's also hard to know who is professional (i.e. do they meet deadlines? do they have a portfolio?), and who is just pretending to be a professional.
One way to cut through the gaggle of writers is to use a service like Scripted, which provides a pre-vetted list of writers of various levels of ability (and price). 
How Scripted Can Help Increase Organic Traffic to Your Site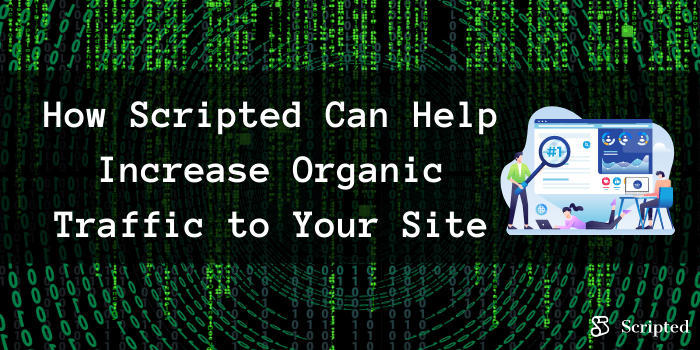 A service like Scripted removes the worry that you're going to get the content you want or that you're hiring a writer in name only. Scripted has pooled some of the best content writers on the web—and they all know how to increase organic traffic to your site. Browse our selection of SaaS writers, and choose one that has the right experience and voice for your job. You'll benefit from their expert ability to draw in traffic—and be able to devote the saved time and energy to the more nuanced aspects of your business that only you can manage.