What to Look for in a Transportation & Logistics Writer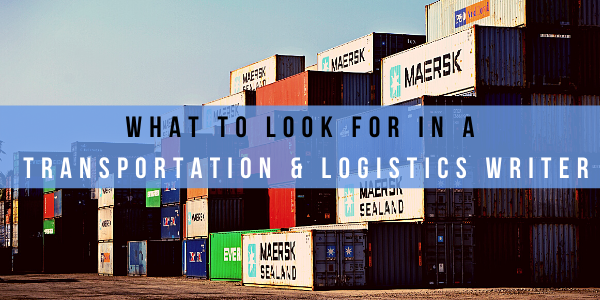 The transportation and logistics industry is complex. Thanks to the COVID-19 pandemic and the massive consumer shift to digital buying in 2020, ecommerce revenue experienced an incredible 45% increase between Q1 and Q2 in 2020.  
Plus, the challenges of distribution associated with 2020 shined a light on just how critical third-party logistics businesses and the supply chain are to the world, and how important it is for those companies to focus on flexibility and growth in 2021 and beyond.
If you're preparing your business for the future, one of the most effective ways to do that is to work with a skilled transportation and logistics writer to increase your digital presence. If you've never partnered with outsourced writers before, though, getting the ball rolling can feel like a significant challenge.
In this post, we'll discuss the top things you need to look for in a transportation and logistic writer, and how to find the perfect fit for your business. 
Let's dive in.
Why Hire a Transportation and Logistics Writer?
In a world where everything is becoming increasingly digital, talented writers have become essential for brands looking to increase organic traffic and boost online reputation. This is true for companies in all industries, and especially applicable for transportation and logistics brands.
Whether you're interested in improving your website or just boosting awareness around your product, goods, and services, a skilled transportation and logistics writer is exactly the piece of the puzzle you're missing. 
Here are a few things you'll get with a skilled transportation and logistics writer:
Persuasive content.

Did you know that

92% of companies

currently view their content as a business asset? Hiring a professional transportation and logistics writer allows you to harness the power of persuasive, bespoke content that's built uniquely for your brand.

A strategic approach

. In 2019,

23% of companies

didn't have a documented content marketing strategy. By 2020, that number had shrunk to 16%. In 2021, it's going to get even smaller. Taking a strategic approach to content marketing isn't just smart - it's good business no matter what industry you're in.

Informational material.

In 2020, 46% of brands rated their content's maturity and complexity as "promising." This just goes to show that your competition is investing in content and that you should be, too. With the help of a professional writer, you can create content and other material that's tailored to your audience and is genuinely educational for the people who follow you. This is a massive benefit for your brand and will help you grow both now and in the future.

A stronger brand.

Writers help create great marketing - plain and simple. When you invest in the skills of a writer who is knowledgeable about your industry, you elevate your brand accordingly.
How to Hire a Transportation and Logistics Writer: 6 Steps
Now that you've decided to hire a writer who has experience in your industry, where do you start? Here's our six-step guide:
Step One: Know Your Needs
Before you can onboard a writer, you need to know what you want that writer to do. After all, transportation and logistics writers are versatile people. Depending on your needs, they can create a press release, develop an ongoing blog strategy, or revamp your website, among other things.
With that in mind, take a moment to define the following before you hire someone: 
The voice and tone you want in the content

The actual type of content you need

Your budget, expectations, and desired timeline

Any concerns you have about hiring a transportation and logistics writer
Getting clear about these things right off the bat will help you hire the right writer and feel at peace about your decision in the future.
Step Two: Know Your Niche
The transportation and logistics industry is large and expansive. If you want to enjoy a successful relationship with your new copywriter, it helps to know the topics you want to cover. The more you can clarify the deliverables now, the easier it will be to work effectively with your writer down the road.
 For example, determine whether you'll supply the topics or if you want your writer to do it for you. Understand whether you want sales or educational content. These are simple considerations, but they can ensure a good relationship with your writer. 
Step Three: Find Your Platform
Next, it's time to find your writer. There are two ways to do this: you can use a content writing platform or you can go out into the wild.
Here's why we recommend using Scripted:
We offer a selection of highly specialized, vetted, pre-approved content writers with demonstrable experience in their industries. If you go out into the wild, you never know what you're going to get. There's no guarantee for the process or the writer's background. In fact, your writer could just disappear before they finish the work. 
On Scripted, you know the writer will provide well-researched, pre-vetted material. You can also read a writer's reviews and see what other Scripted customers have said about them in the past. This provides peace of mind that's hard to capture out in the wild.
Step Four: Look for a Great Writer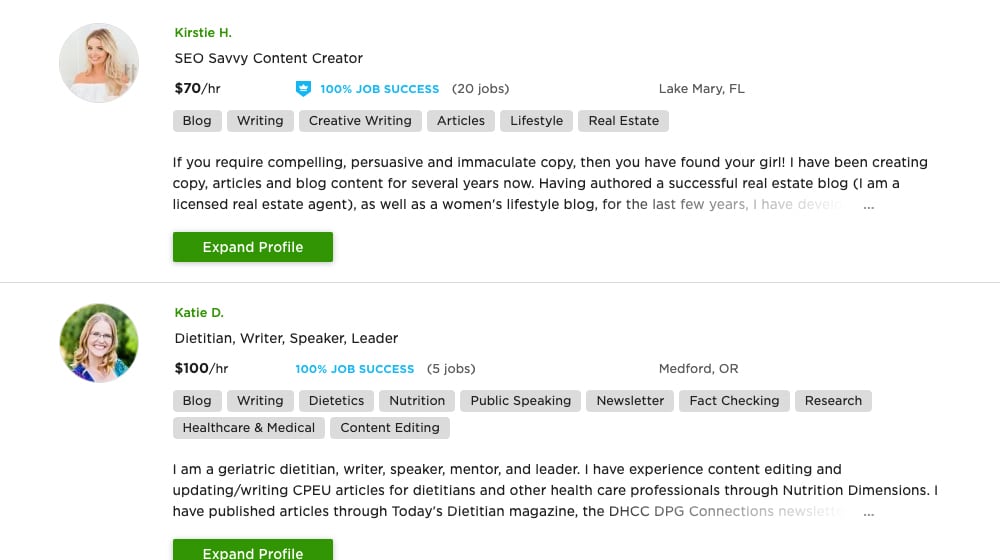 Now that you've settled on using a platform like Scripted, it's time to seek the right writer for you. Here are a few qualities to look for:
Experience

. You want someone who has experience in your industry and can write knowledgeably about topics that are important to your brand and industry. Review writer samples to guarantee this experience.

Premium status

. Scripted assigns writers a status based on their experience on the platform and in the industry they write for. Look for top-rated transportation and logistics writers if you want top-rated content. While you may pay a bit more off the top, you'll get a more comprehensive, in-depth finished product.

Compatibility

. It's important to remember that the writer you hire is a person, not just a portfolio. Ideally, you should get along with your new transportation and logistics writer and the relationship should be easy enough that you enjoy working together. This will reduce bumps in the road and help promote a pleasant experience.
Step Five: Start the Project
Once you've found the perfect writer for you, it's time to get started on your big project. Sometimes, brands decide to start with a small, trial project just to make sure the pairing is a good fit for everyone involved. In other cases, you might just decide to jump right in with your writer of choice.
Either way, it's critical to establish clear expectations regarding deadlines, turnaround time, payment, and standards upfront. 
Step Six: Enjoy Your New Content
Once the writer delivers your work, you'll review the draft and request any feedback you might need or want. If there are edits, don't worry - this is a common part of the writing process, especially at the beginning of your relationship with a new writer. Over time, the writer you choose will come to understand your desired tone, voice, and requirements, and writing will require little to no revisions.
Once you're happy with the draft, it's time to employ it wherever and however you see fit in your overall content marketing strategy.
Ready to learn more about our writers and find the perfect fit for your company? Browse through our transportation and logistics writers and check out their bios, published writing samples, customer ratings, and more.