4 Drawbacks of Fiverr for Customers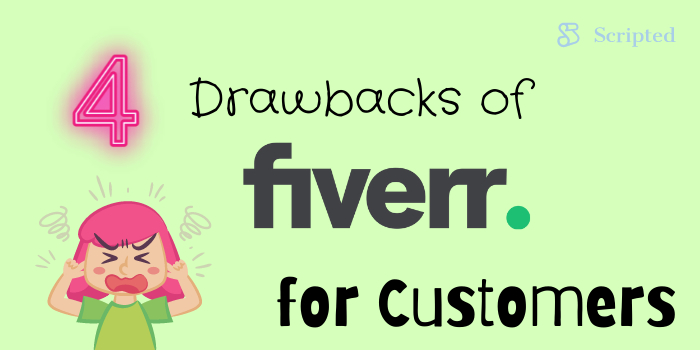 Whether you've seen an ad somewhere on the internet or heard about Fiverr long ago when it was known for cheap gags, Fiverr undoubtedly attracts countless small business owners and entrepreneurs thanks to its concept of countless talent in one easy place. The downside? Unfortunately, there are many to contend with, especially if you're using Fiverr to hire a writer.
Quality You Can't Count On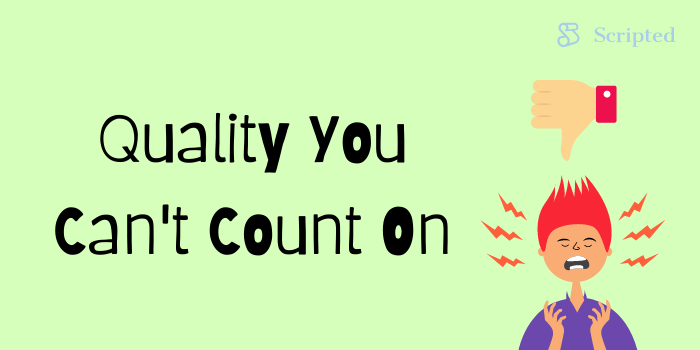 Fiverr is able to offer services starting at $5 for one very bad reason: They do not vet their sellers in any way, shape, or form. Anyone can join from anywhere in the world and declare themselves an expert in anything they desire.
While customer reviews and Fiverr's flawed, but useful "tiered" levels system can help you sort the good from the terrible, that vetting process takes an incredible amount of time -- and even then you'll likely learn the hard way that many bad apples are in every bunch.
Quality from seller to seller and even from one order to the next can vary greatly on Fiverr as there's very little support to be found. Instead, Fiverr likes it when a buyer and seller can "self-manage" any issues, which can lead to untimely delays on order disputes and, ultimately, coming to a less-than-ideal resolution.
Moreover, if you get a delivery but you don't agree with its quality, Fiverr may very well point you to this line in the Terms of Service: "Fiverr is not responsible for the content, quality or the level of service provided by the Sellers (even if they are Pro Sellers, Top Rated Sellers, offer Promoted Gigs or otherwise). We provide no warranty with respect to the Gigs, their delivery, any communications between Buyers and Sellers ... We encourage users to take advantage of our rating system, our community, and common sense in choosing appropriate services.
Lengthy Turnarounds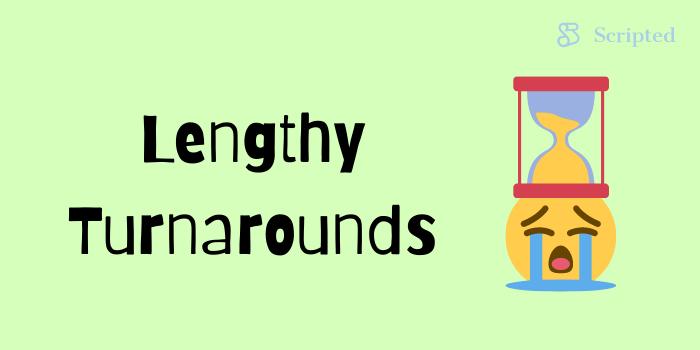 While many sellers advertise 24 to 72-hour turnarounds, since this is thought to be preferable by Fiverr's search algorithms and is obviously appealing to the average customer, the reality is that an order can be extended indefinitely. If a seller runs into any sort of delays or just falls behind schedule, they can send an extension request of anywhere 24 hours to 30 days.
While you can choose to refuse an extension request, that puts you back at square one looking for a new writer. Since a seller can ask for an extension up until 24 hours after they were supposed to deliver your order, many buyers accept it hoping that granting the extension will lead to a high-quality delivery.
Unfortunately, delivery time and quality of work aren't necessarily connected on Fiverr. With the low earnings of most Fiverr sellers, many of them de-prioritize any work they do get through Fiverr in favor of more pressing projects from higher-paying platforms or, often, their day job. In fact, very few Fiverr sellers work exclusively on Fiverr, at least in the long-term. This in itself creates other complications for customers.
Unreliable Availability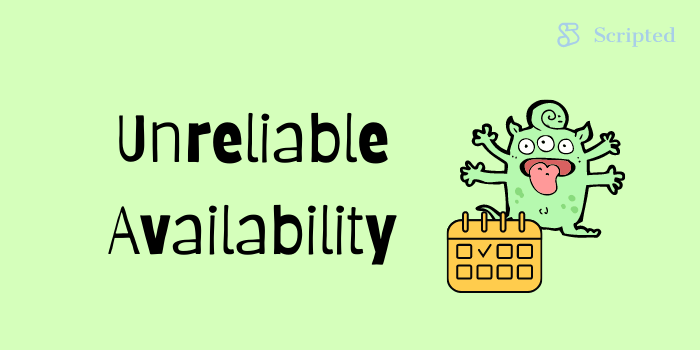 It's not uncommon for sellers on Fiverr to step away for a while in an attempt to escape the around-the-clock messages, due times, and obligations that come along with trying to maintain a profile that's actually profitable.
Fiverr has long been criticized for its unrealistic expectations, which range from responding to messages within 12 to 24 hours (even though they come from around the world all day and night, every day of the week, and never stop for holidays) to working practically every day of the week to hit certain metrics.
The model Fiverr has created is anything but balanced when it comes to a seller's schedule, and that means sellers often try to time breaks with the ebb-and-flow of the algorithm. So, when you need them the most, a Fiverr seller may be "On Vacation," meaning they aren't taking orders or responding to messages, and their account is essentially paused.
Another side effect of Fiverr's "always-on" style is that sellers often get burned out, stepping away from the platform for long periods or leaving it altogether to recover from the emotional and mental drain many sellers say it takes on them after a while.
Tough and Time-Consuming Revisions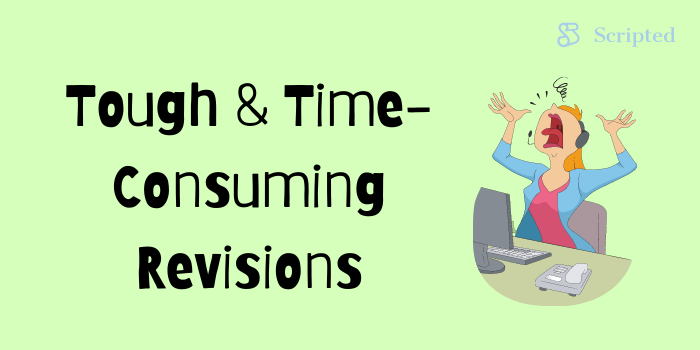 When you place an order on Fiverr, you'll see on the seller's gig page whether or not they offer a revision and, if so, how many are included. However, once you actually receive your delivery, the revision process can easily become a nightmare.
Buyers and sellers often have a very different idea of what a revision should entail and what is within the scope of the seller's services, and what isn't. Since Fiverr doesn't specialize in writing or content creation and covers just about every service under the sun, they don't have a clear definition either. On top of that, the hands-off support team behind Fiverr is unlikely to get involved but will instead encourage you to use the "Resolution Center" to either grant an extension or ask for a refund.
Ultimately, Fiverr creates an inspiring work environment for writers and often leads to them being majorly under-compensated and overworked. Meanwhile, customers will find it tough to find good, reliable talent for all of those reasons, and you're bound to run into other issues along the way. So, what is the ideal solution?
If you're looking for a great writer, try Scripted. With a focus on content creation, a hands-on and friendly support team, and a floor pricing model that ensures quality, happy, and fairly paid talent, we can help you build the perfect content team. Hire a Scripted writer today!