Mighty Meta Tags, How to Use Them, and How to Audit Your Content for SEO Success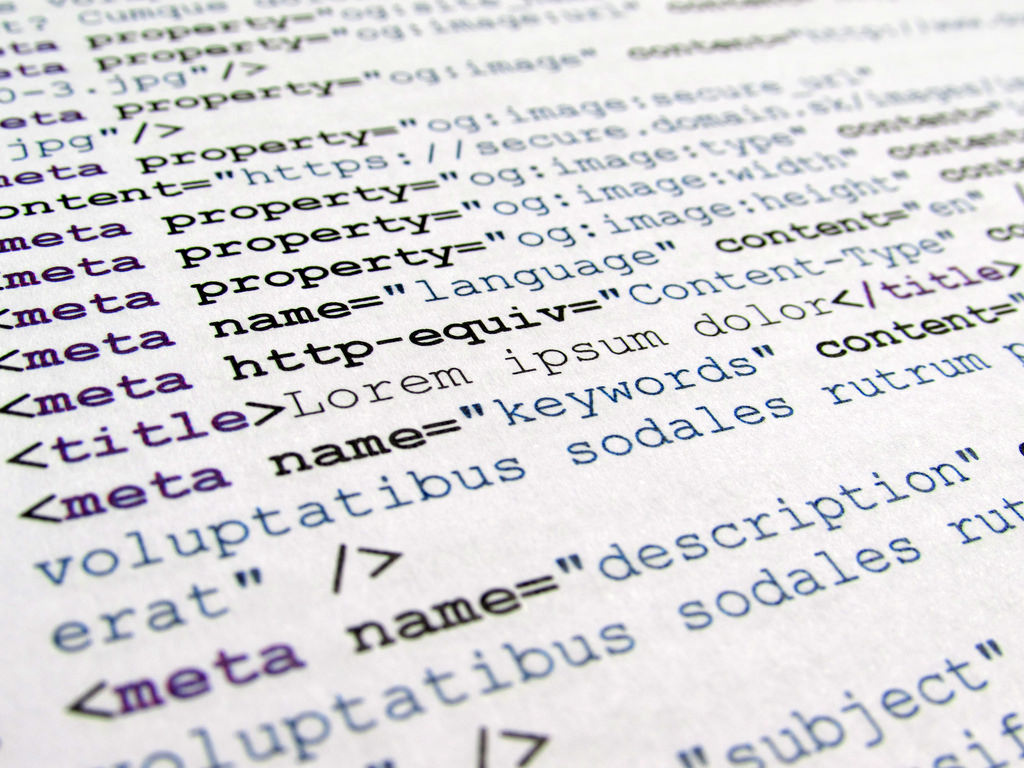 So you've ordered a blog post, or written your own, and now you have a final draft ready to publish. But what's all this about meta tags? Search engines can try to guess what each page is about, but it's better to tell them explicitly and that's essentially what meta tags do. There are two critical meta tags that must be present and unique in every piece of content you publish for optimum search engine friendliness.
Title Tag

The <title> tag is the most critical SEO element. It's presented in Google results as the blue link:





In HTML, it lives in the <head> and has its own, dedicated element type:
<title>Scripted: Hire Writers for Content Marketing</title>

In general, it should be less than 60 characters, and no two pages on one domain should share a <title> tag.

Pro Tip: Think of a <title> tag like ad copy. Google considers the clickthrough rate of your result in its sorting algorithm. So if your title is catchy, and gets a lot of people to click, you'll move up in the rankings. Study BuzzFeed articles to master the art of attention-grabbing headlines!
Meta Description

The meta description is your chance to explain a bit more about the intent of the page. Like the <title> tag, no two pages should share a meta description. It should be less than 160 characters and should include any keywords or topics that the page addresses.

In HTML, it lives in the <head> as a <meta> element:
<meta name="description" content="Hire writers to cover your blog and social media marketing. Manage your entire content marketing strategy with robust tools." />
Open Graph Meta Tags

There are a bunch of optional tags that are nice-to-haves. Given that you'll be sharing your content on social media, we strongly recommend using Open Graph meta tags to define the thumbnail image and caption that should show up next to your article title when you share it.
Canonical Meta Tags

This is a must-have for any duplicate content. If you have two pages that have very similar (or identical) content, or you want to syndicate someone else's content, simply use the canonical tag to tell crawlers which one is the authoritative, original version.

In HTML, it lives in the <head> as a <link> element:
<link rel="canonical" href="/wherever-the-original-piece-of-content-is" />

This simple but crucial step will prevent you from getting dinged for duplicate content!
Meta Tags on WordPress Exercise

WordPress ensures that you have a <title> tag and meta description for every post, but we recommend installing a plugin like Yoast SEO to cover Open Graph tags and the nuances of optimization.

Strap into your seat because this is a three-part exercise. First, we'll install Yoast SEO (if you're on WordPress and haven't installed it yet). We'll audit a few posts using Yoast, and then we'll run a SEMrush site audit and evaluate missing or redundant <title> tags and meta descriptions.
How to Install the Yoast SEO Plugin on WordPress
Log in to your WordPress admin.
Go to Plugins > Add New on the left navigation bar.
Search plugins for "Yoast SEO" and click Install Now.
Go to Plugins > Installed Plugins and activate Yoast SEO.
After activating the Yoast SEO plugin, a notice to start the Yoast SEO configuration wizard will appear. Complete the configuration wizard to set up the plugin for your site.
How to Audit a Blog Post Using Yoast SEO

When you're editing a page or post on WordPress with Yoast SEO installed and activated, you will see the Yoast SEO dialog below the edit text dialog.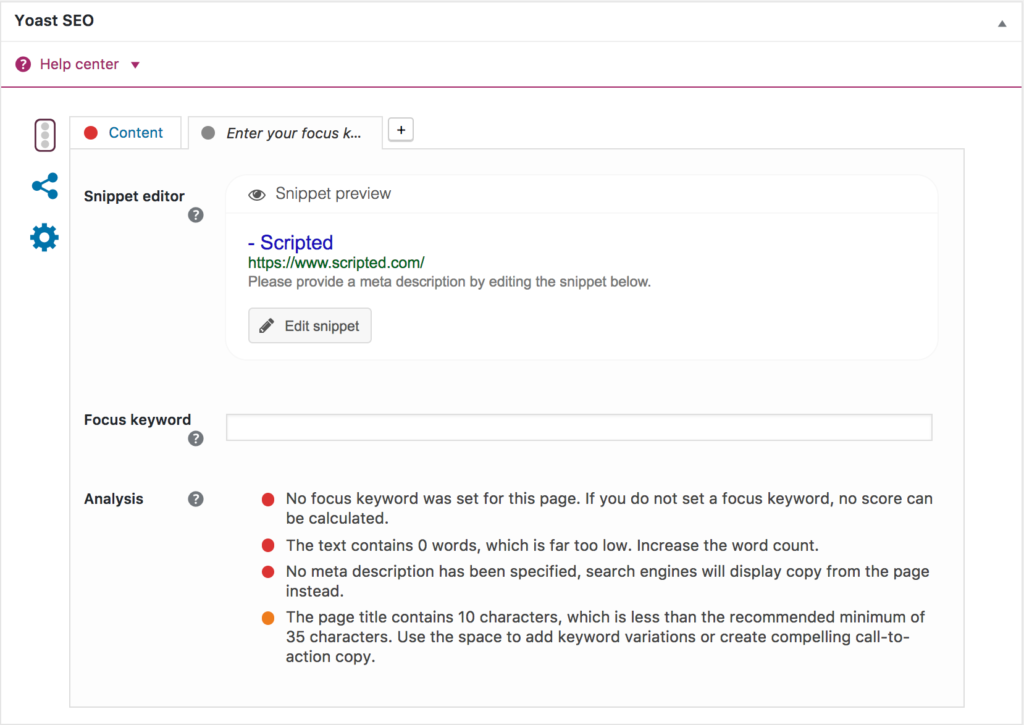 On the Keyword tab, view the snippet preview of what your page or post will look like in search results. Leverage this feature to determine if your title is too long or too short and if your meta description makes sense in the context of the search result. These steps will help improve search rankings as well as the clickthrough rate for your content.

Enter your main target keyword in the Focus keyword field to get an analysis of how optimized your content is for search engine results. It checks to make sure your content follows best practices for SEO, like including an image with an alt tag that contains the keyword, writing a meta description that contains the keyword, being an appropriate length, using subheadings, etc.

The analysis will list out these aspects and grade your content across each one. Address any issues denoted by red and orange dots by making the appropriate tweaks to your content.

Then, in the Content tab of the Yoast SEO Plugin, review the readability analysis and address the issues there denoted by red and orange dots.





You've just supercharged your content to make sure search engines will love it!
How to Audit Your Entire Site with SEMrush

In SEMrush, go to Projects in the left navigation bar and then click Add New Project. Enter your domain and project name (you can leave the project name blank and it will inherit the domain as the project name).

In the project dashboard, click Set up in the Site Audit box. Select the Limit of checked pages for your audit. Configure the settings in the other tabs if you want more granular control. In the Schedule tab, you can set when and how often you want the audit to occur; you just need to audit it once for our purposes, but feel free to make it recurring. Then, click Start Site Audit.

It will take some time for SEMrush to crawl your site's pages for the audit. If you checked the box to get an email when your audit is complete, you can step away and come back to it at that time.

In the Site Audit results, you'll see an overview of your site's crawlability.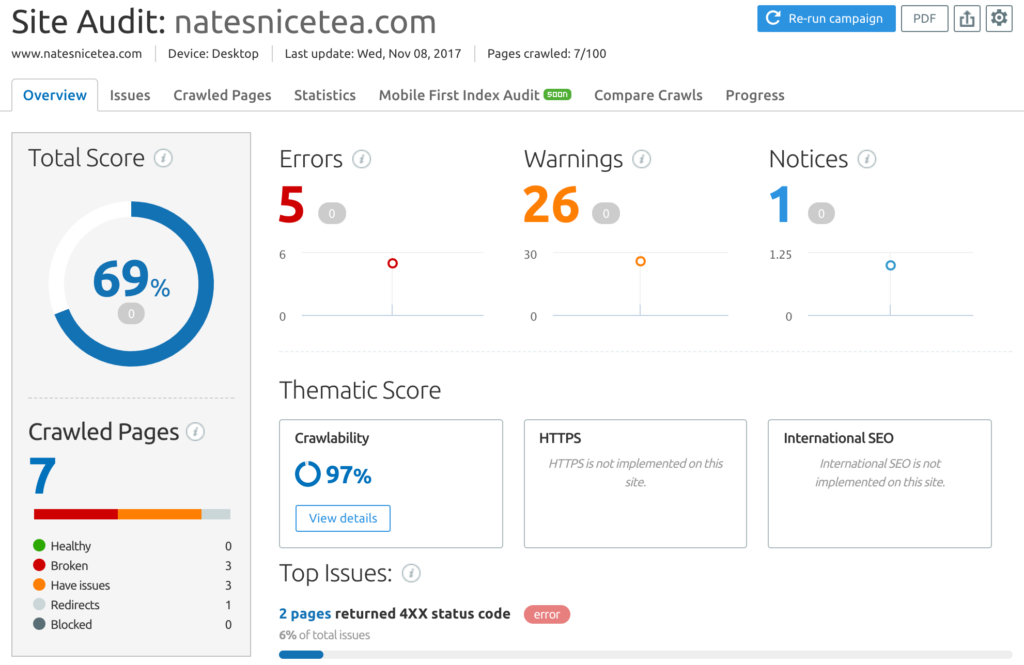 Errors are issues of the highest severity and Warnings are of medium severity, while Notices are not considered issues but recommendations. Click on Errors to view them in a list and address them one by one. You can click the Why and how to fix it link next to any issue to learn more about it and how to correct it.

Too many Errors and Warnings to address on your own? Have an expert from Scripted audit your site and correct any shortcomings.