Why Setting a Content Calendar is So Important
Frankly, your success will be defined by your content cadence. We love stories of wit, skill and strength beating odds, but the reality is that success in life is largely determined by perseverance, and the same applies to content marketing.
Why is Content Cadence Important?

If you blog every day, you will succeed at content marketing. If you blog once a month, you won't. It's really as simple as that.

The one caveat to that is higher quality content will be more forgiving of a less frequent content cadence. Scripted writers are all vetted for quality, with only the top 2% of writers making it through the extensive vetting process. Every writer is continually scored based on the latest feedback they receive from their most qualified peers, so you can choose from the strongest writers that fit your industry-specific needs.

Still, whether using Scripted or writing high quality content yourself, we tend to recommend a minimum content cadence of once per week.
How Should Content be Budgeted?

It's important to remember that the budget equation for Content is fundamentally different than the one for ads or traditional paid channels. Publishing content is a bit like building a home, whereas advertising is more like renting. Content is expensive upfront, but you reap the benefits forever at no additional cost. And similar to a home (in a healthy real estate market), the value builds on itself.

The reason a lot of people don't succeed at content marketing is because building a home takes more time and upfront resources than finding an apartment to rent on Craigslist. But you've made the long-term, business-savvy decision to invest in internet real estate. So, onto the blueprinting!

We'll use the Scripted Content Budget Tool to determine a cadence that makes sense. We recommend a rough monthly recipe of:




Simply multiply this recipe, and using the Scripted Content Budget Tool, back into your monthly budget. First, enter the number of each type of content you plan to order in a month.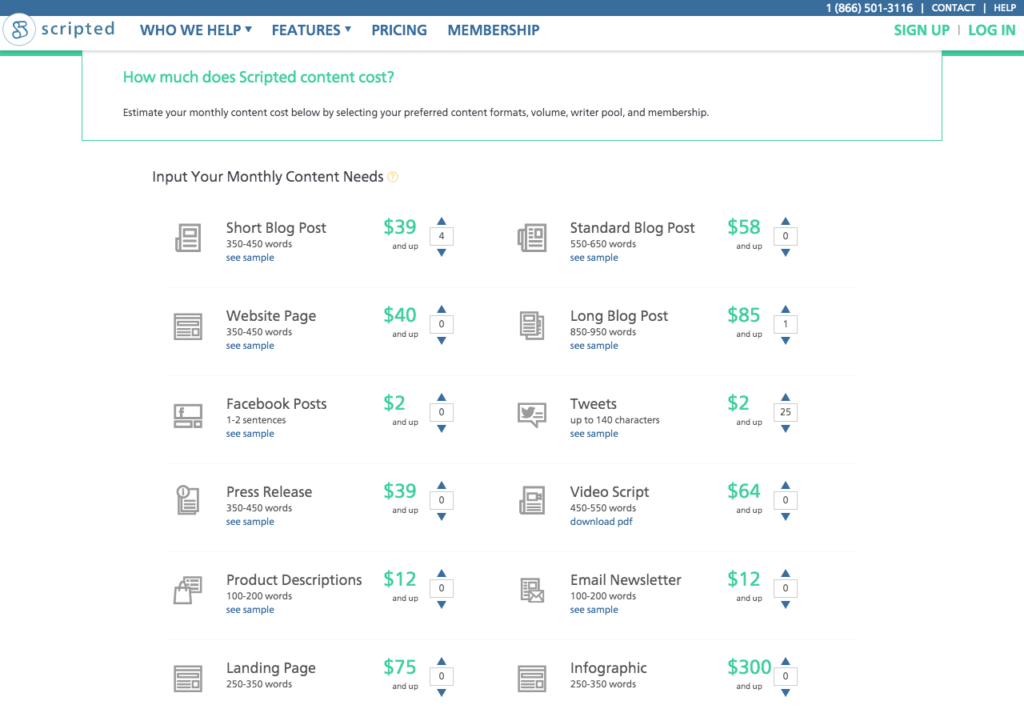 Then lower down on the budget tool page, select how narrowly you want to define your potential writer pool and which membership plan you're on.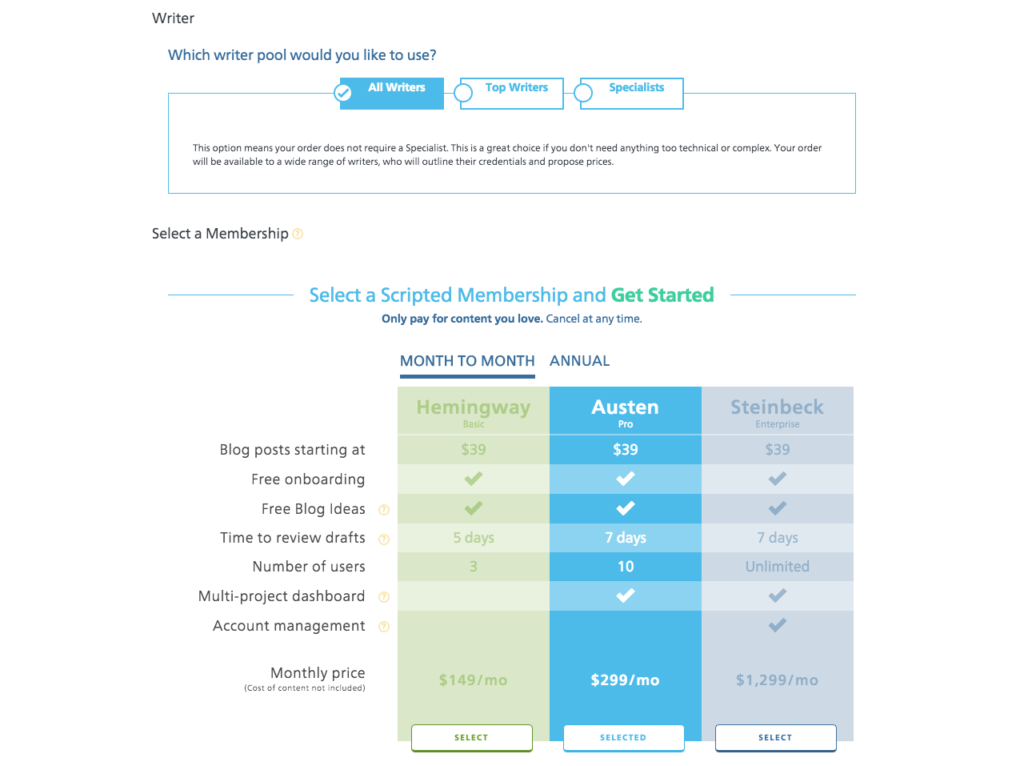 Finally, at the bottom of the page, review the monthly estimate. Go back as needed to multiply your numbers of each content type to back into your budget.

Build Your Content Calendar

Now that we've determined your cadence, we'll set up your content calendar. You don't need anything fancy for this, a spreadsheet will suffice - or you can simply add a column to your existing keyword list that you exported from Moz in Exercise 3. Let's plan out the next two months.

Sort your exported keyword list from Moz by Opportunity, and come up with a magnetic headline for each. Here are some insights on what makes a shareable headline to help you get in front of more readers, and don't forget to include the keyword you're targeting. If coming up with titles is too time consuming, use the Blog Ideas feature on Scripted to get ideas pitched to you by our community of talented writers.

Once you've converted your high-opportunity keywords to engaging, keyword-targeted, share-worthy titles, schedule a date for each. The soonest date should be at least one month out, to give yourself time to learn the process and buffer for any revisions you may want. Remember, you want to aim for at least one post per week, so you should produce eight or more titles to cover the next two months and space them out accordingly. Now you can place an order for each title, with its respective deadline:
Maximize Your Mileage

To maximize ROI on each post, we recommend using Clearscope to help create guidelines for each post and direct writers toward related terms and turns of phrase to incorporate into each article. Here's how...

Create a new report in Clearscope for each of your high-opportunity keywords. When viewing the report, click through each tab to get insights into the page grade and average word count for the top search results, related keywords and estimated search volumes, and important terms to include in your content.

If you already use Clearscope, perform the above on your own. If you're new to Clearscope or just want some additional help leveraging the tool, sign up for an upcoming webinar
Action Steps




Based on your budget, determine your content cadence. You can use the Scripted Content Budget Tool to help.




Create effective headlines for at least eight of your high-opportunity keywords and set a deadline for each beginning at least a month out.




OR: Request blog ideas on Scripted to have writers pitch you ideas.




Aim for at least one post per week.




Subscribe for the latest in Content Marketing & Freelance Writing!