WriterAccess vs. Constant Content
When you partner with the right content solution, you can expand your reach, improve customer loyalty, and generate more revenue for your business. On the other hand, the wrong choice can lead to lengthy content revisions, lower productivity, and missed opportunities.
The following review compares WriterAccess and Constant Content to help you decide between these content agencies.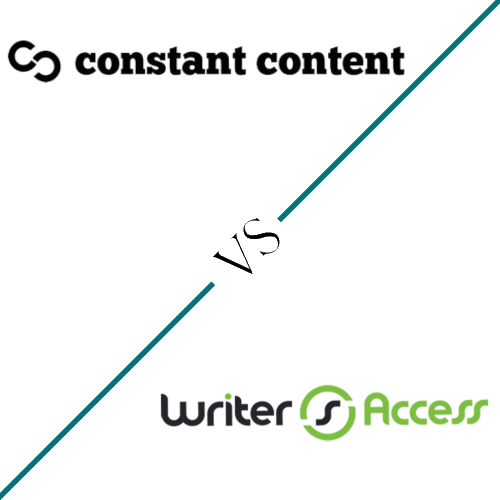 Finding Expert Writers on WriterAccess vs Constant Content
Highly skilled and experienced writers are key in effective content marketing. With the following comparison, you can better understand the types of writers available on each platform based on the platform's selection process.

How WriterAccess Chooses Writers
WriterAccess looks at applicants' portfolios, skill sets, and experience alongside an assessment that tests grammar, spelling, punctuation, clarity, and SEO skills. Writers that make it through the application process get a star rating from 2 to 6, which is an indicator of their experience and the quality of their writing. These ratings go up and down based on the writer's performance on WriterAccess.
The vetting process on this platform is relatively relaxed, which expands the pool of available writers to 16,000, but makes it harder to find quality freelancers on the marketplace.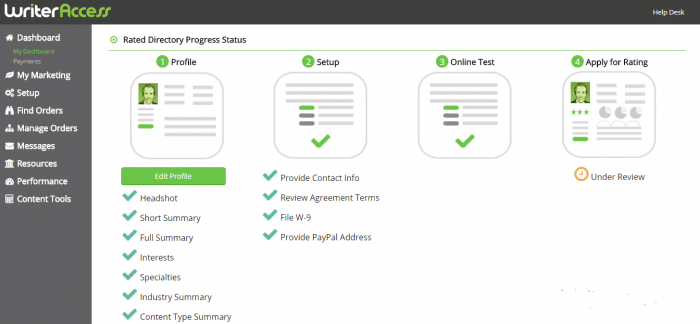 How Constant Content Chooses Writers
Constant Content has a minimal application process for writers, which includes a short grammar quiz and a 250-word writing prompt. The platform's writing pool has over 100,000 freelancers, but the quality is all over the place and requires a lot of searching to find someone qualified.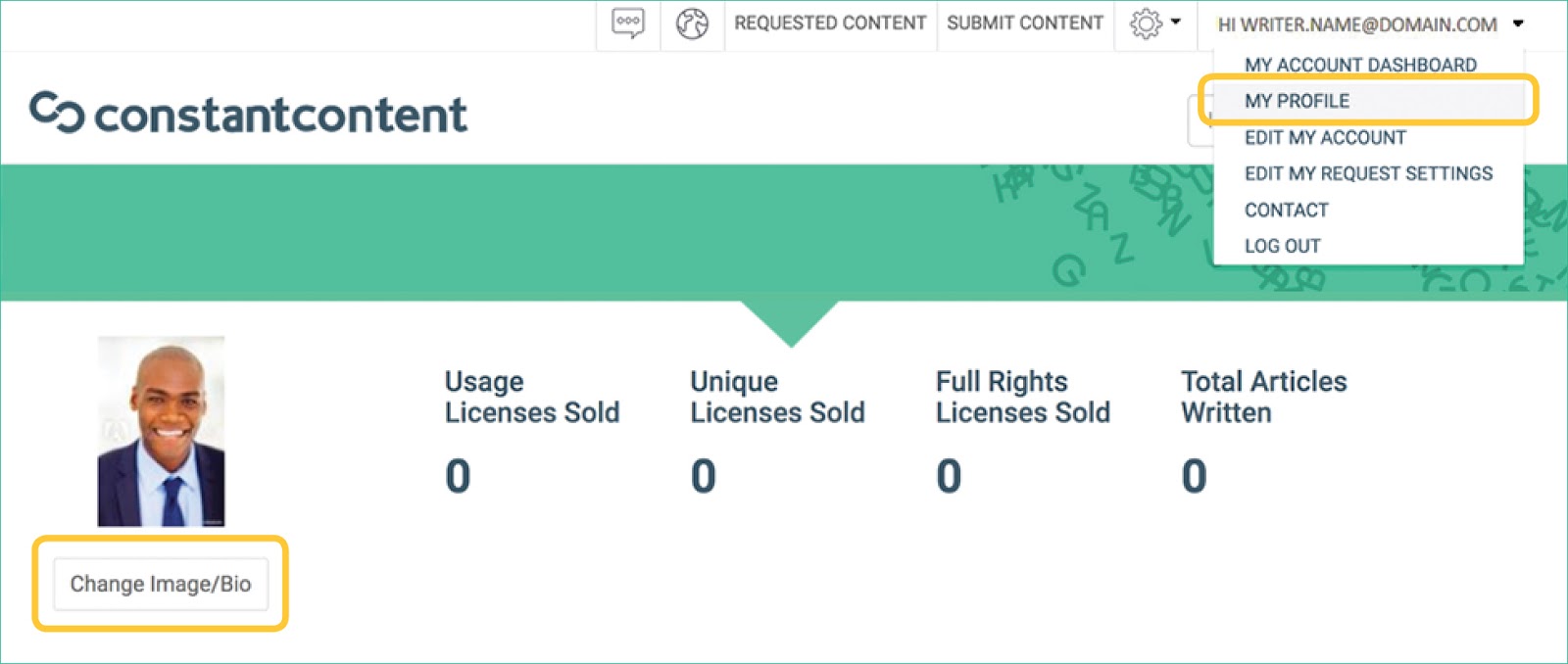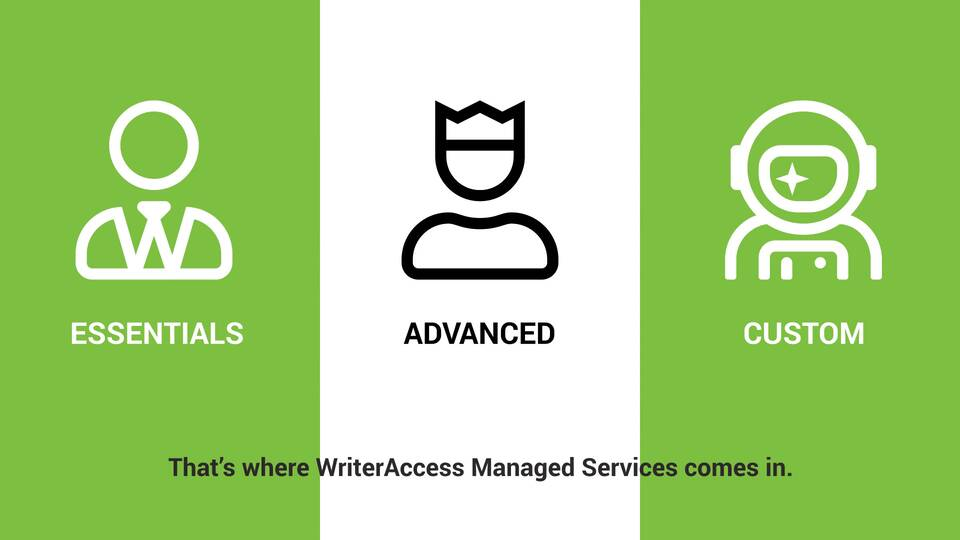 Learning About WriterAccess Writers for Hire
Every WriterAccess writer has an extensive portfolio that includes: Writing samples, industry specializations, pricing rice, experience, interests, skills, content types, special offers, awards/honors, education, and availability for additional services (i.e., conference calls, topic pitches, image research, phone interviews, keyword optimization, and author attribution).
WriterAccess writer profiles provide a lot more information than Constant Content, along with quality ratings and customer reviews. You can even use AI-based smart matching and advanced search functions to sort through the freelancers on WriterAccess. Some membership tiers also offer the option to bring your own writing team.
In addition to writers, you can also work with editors, proofreaders, and content strategists on this platform.
Learning About Constant Content Writers for Hire
Constant Content writer profiles are sparse compared to WriterAccess, but they do reveal the biggest difference between the two platforms. Constant Content's focus is on a large, pre-written content marketplace, rather than 100% custom content. You can place custom requests with this content agency, but it's not the main service.
Writer profiles display the writer's biography; country; list of articles they have written and sold; areas of study and expertise; educational achievements and certifications; featured articles; and a complete listing of the writer's articles for sale.
The only search options available to help you dig through the pool of 100,000 writers are keywords and categories. It can take a lot of time to find the right freelancers for your projects, although you do have a better chance of finding specialists in obscure topics given the larger database.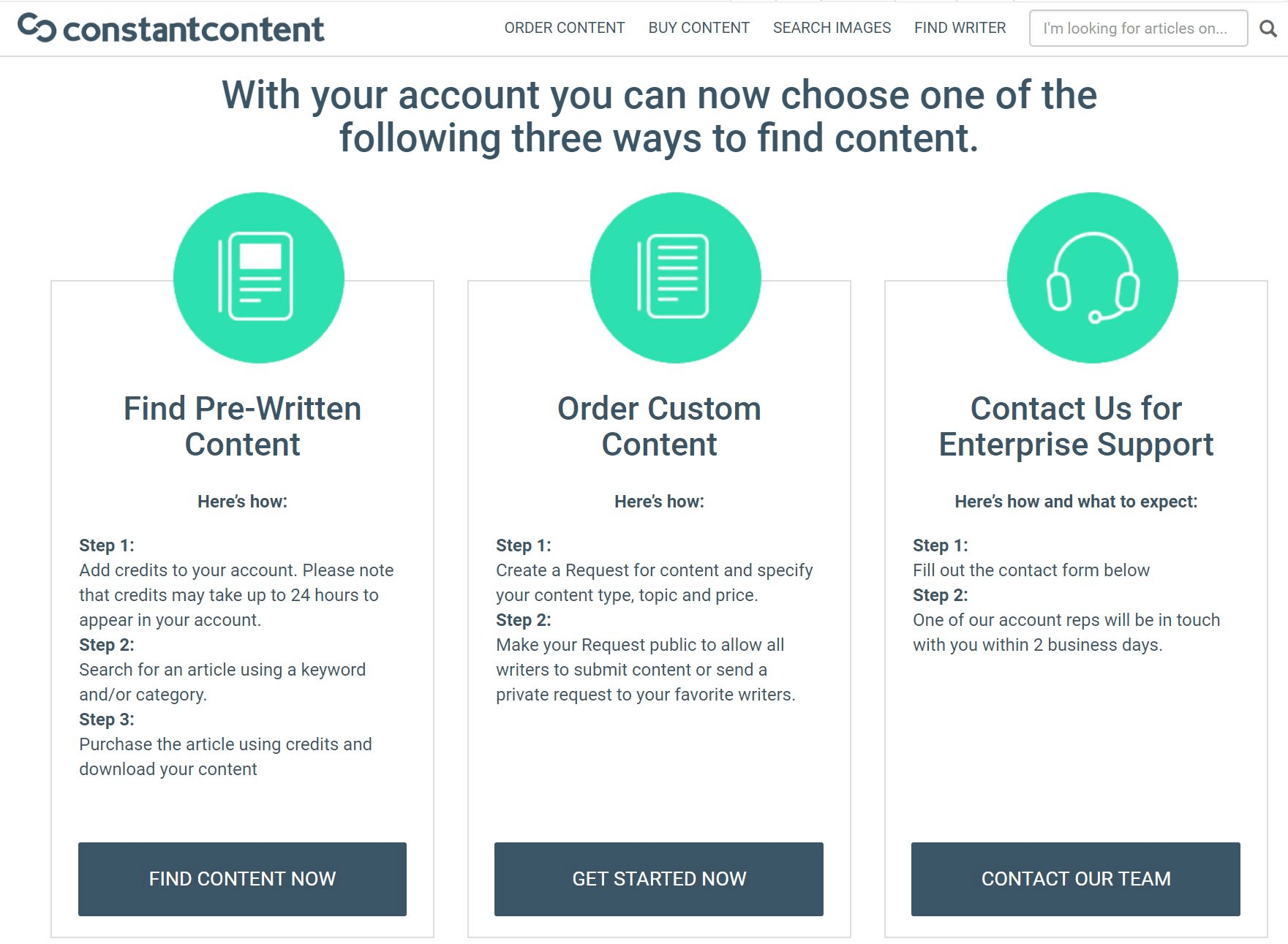 WriterAccess vs Constant Content Platforms
Content agencies can come with many features that make your content marketing tasks easier. Here's a look at the pros and cons of each of these services.
WriterAccess
Get writers, editors, and designers from a single marketplace.

Research trending content topics with BuzzSumo.

Add buyer personas and customer journey maps to your projects.

Check content analytics through a Google Analytics integration.

Publish completed content through the platform.
The interface is dated and can be hard to navigate.

Lower membership tiers don't get access to many helpful content marketing features.
Constant Content
Get pre-written content that you can publish instantly with usage or full rights licensing.

Create public and private requests for custom content.

Access budget-friendly content.

Free memberships.

Access to a wide range of content developers.
Limited platform features compared to WriterAccess

Pre-written content is not customized to your brand's voice or content marketing goals.
WriterAccess vs Constant Content: Pricing
Your total costs associated with WriterAccess or Constant Content will depend on how much content you order. However, looking at the membership options gives you a better understanding of the available features and what might work for your requirements.
WriterAccess Membership Options
This is the entry-level membership tier for WriterAccess, and it includes access to the freelance writer marketplace, free blog ideas, and support through phone, email, and chat.
You gain access to several advanced features for improving your content marketing projects with this tier. The features include access to the Pro freelance marketplace, which adds editors, proofreaders, content strategists, and translators to your talent pool. You'll also get content analytics and BuzzSumo integration capabilities.
Premium is the highest self-service membership option on WriterAccess. Some of the features it includes are premium freelancer marketplace (set to launch in 2021) that offers animators, designers, illustrators, and photographers along with a persona and journey maps builder. You can also utilize multi-client publishing.
Essentials
$349/month + a platform subscription

You can have WriterAccess manage part of your content marketing projects with this membership option. Some of the included features are talent management, platform integration, and order setup.
Advanced
$749/month + platform subscription

This managed services tier includes blog and social media publishing; image research; and agency solutions/
This custom membership tier is intended for clients who need scalable and/or specialized content solutions with multi-website support and client service.
Constant Content Membership Options
Constant Content has three membership options, listed as SMB, Agency, and Enterprise. All of these client accounts are free and have full access to the platform's features. The only real difference is that the Agency tier focuses on helping you build a writing team for custom content, and the Enterprise tier provides account support.
Should You Choose WriterAccess or Constant Content?
Quality, consistent content is one of the most important factors in succeeding in content marketing. Both WriterAccess and Constant Content have drawbacks that make it difficult to develop content that fits in with your plans and goals.
Meanwhile, Scripted is a content agency with stringent vetting requirements for its freelance writers, a feature-rich platform that keeps you on track with your campaigns, and dedicated account managers who help you get the most out of your projects.
When you sign up for a Scripted membership, you gain access to a highly experienced writer pool ready to fuel your content development pipeline with well-researched and engaging blog posts, social media updates, white papers, website copy, and more.
‍

Sign Up for a 30-day Free Trial