Textbroker vs Upwork
Quality content creates opportunities for building brand awareness and boosting engagement with clients and customers, but for many businesses, getting good content can strain the budget of any marketing campaign. Textbroker and Upwork are freelance marketplaces where companies can find the content they need at prices they can afford. Here's how these two platforms match up in terms of services, costs and talent.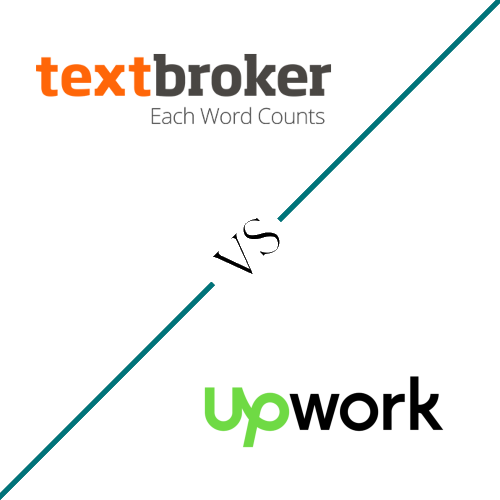 Textbroker: Content for Any Budget
Launched in 2007, Textbroker was the Internet's first content marketplace, offering a unique place for clients to post low-cost content writing jobs and freelancers to pick them up for a quick turnaround.
Now, this multinational content platform provides a "better, faster and less expensive" way for businesses to get SEO-friendly content such as articles, blog posts and news stories in many languages
Textbroker is a mix of open marketplace and managed service features. Writing jobs can be posted as "Open Orders" that are available to any writer on the platform, "Direct Orders" offered to individual writers, or "Team Orders," available to groups of writers invited to work on projects for a specific client.
Content jobs and writers are regularly rated for quality on a scale of two to five stars, and clients can select the quality and pricing level they prefer. Content jobs rated at the lowest, two star level, are priced for as low as 1.5 cents per word. Clients choosing this rating must be willing to accept errors in grammar, spelling and style in favor of a lower price.
On the other end of the scale, five star jobs of publishable quality pay out at 7.2 cents a word. All jobs include a processing fee of $0.40. Clients can post individual jobs using the tools on their account dashboards, or schedule recurring orders on the Open Order board or with selected writers.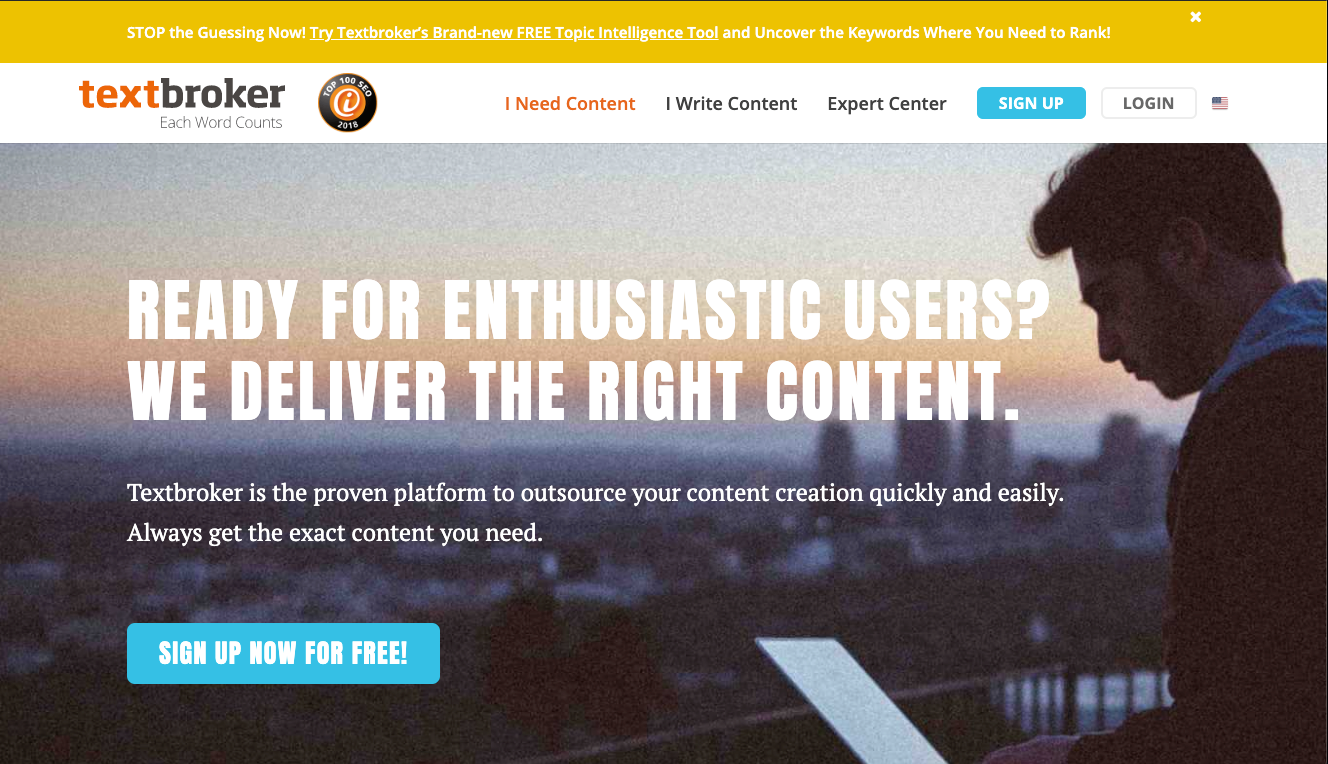 Textbroker for Freelancers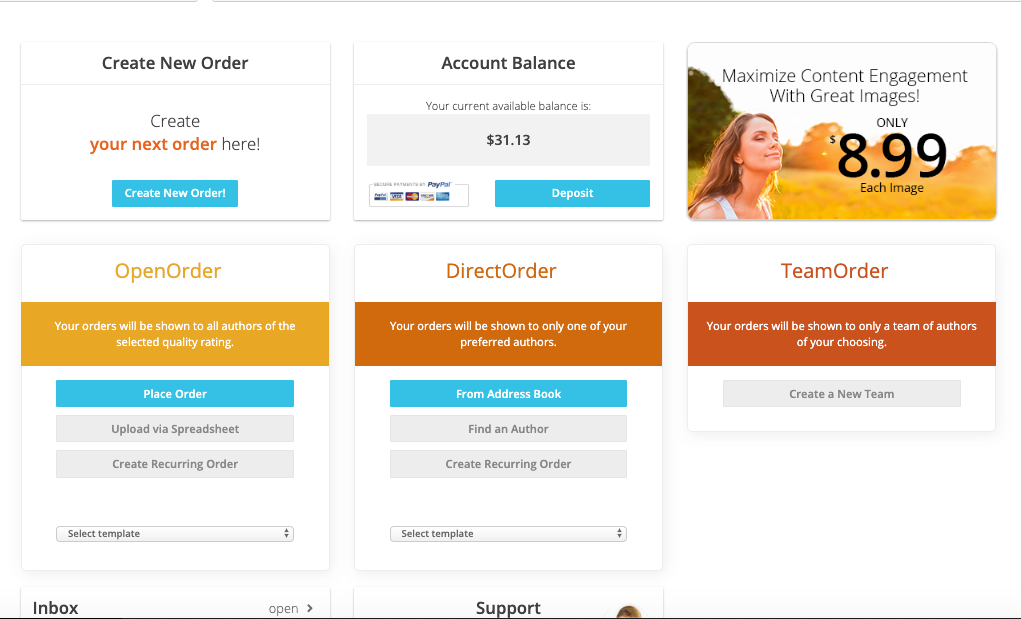 Because Textbroker aims to make content available to everyone at every budget, the bar to entry is low. Writers who qualify through a simple test and writing sample can take orders from the Open Order board.
Those with specialized skills or qualifications can also be invited to specific projects through Direct and Team Orders. Writers are rated on a system of two to five stars when they apply and re-rated as they produce content. Completed work is paid out twice weekly when a writer's Textbroker account contains at least $10.
The top price for content averages less than 10 cents per word, so it can take time and effort to make significant money on Textbroker. Those who can write in multiple languages have access to specialized jobs and translation work as well.
Textbroker Prices and Plans
Textbroker's clients can choose from self-service or managed service plan options. Self-service is free to use, and clients can set up and manage an unlimited number of content orders using Textbroker's tools for calculating the type of content they're looking for, the level of quality and the word count.
Once those factors are calculated, Textbroker also guides clients through the process of creating a detailed brief and determining whether the job will be posted as an Open Order or directed to a specific writer or team.
Textbroker's Managed Service plan provides account management and customized writing services. Along with recruiting Textbroker's highest quality writers and coordinating content production, the Managed Service plan offers other content related services such as search engine optimization, proofreading and translation into more than 10 languages.
Managed Service plans start at $2500, but because they're customized based on the project scope and the number of separate services required, each project receives its own quote. Managed Service clients are assigned a dedicated account manager who takes care of all aspects of the project, such as selecting writers and coordinating teams and delivery dates.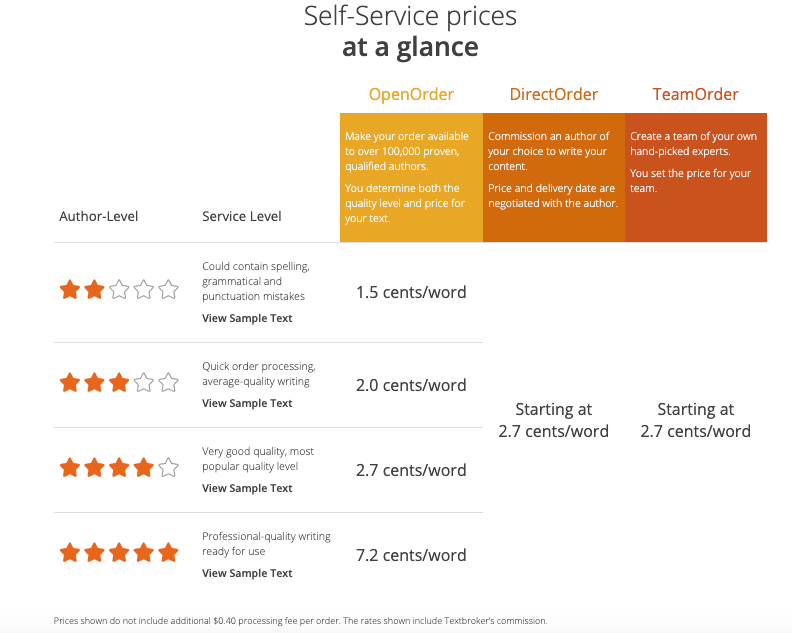 Upwork: A Freelance Marketplace for Every Need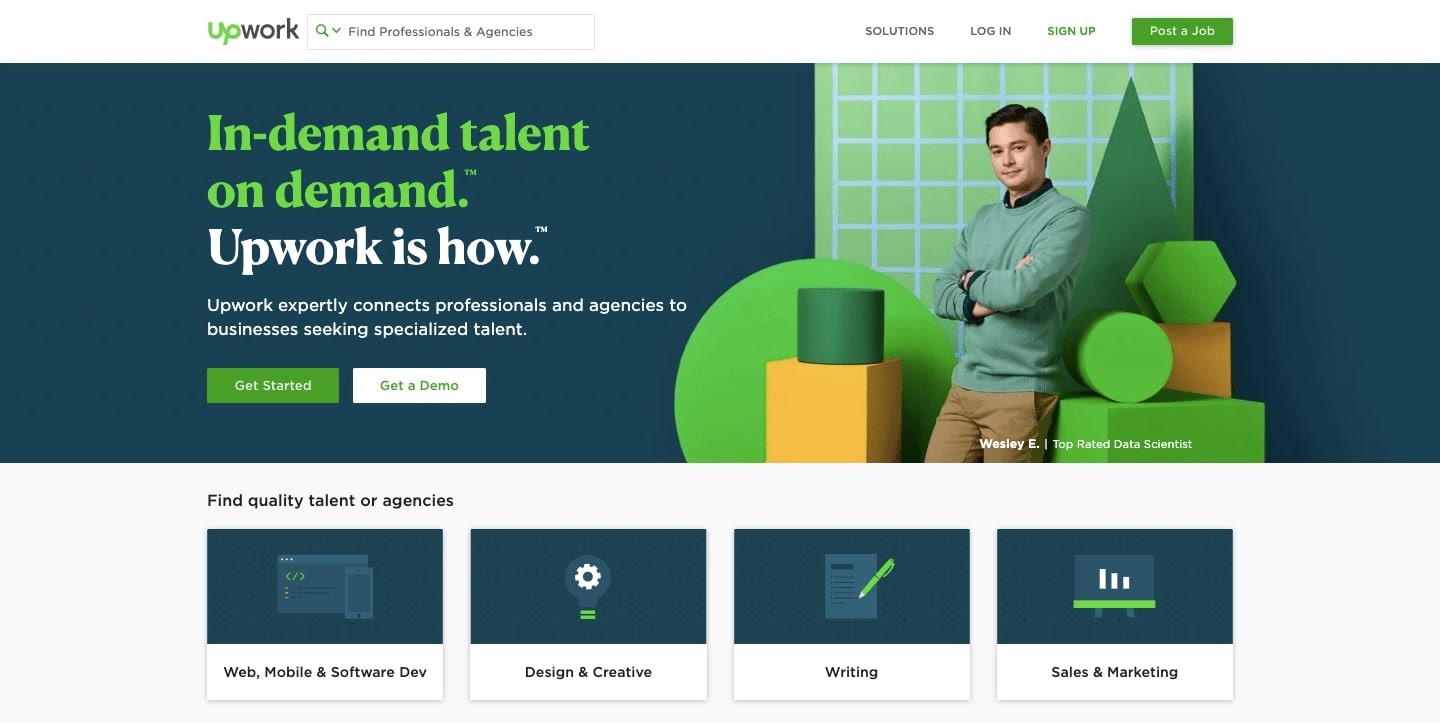 Upwork's global freelance marketplace boasts over 12 million registered freelancers in more than 70 specializations including web development, graphic design, business services and content creation. Formed from the merger of freelance platforms Elance and oDesk, Upwork combines features of both, along with new options for team projects and managed service plans that find freelancers and provide premium support.
Upwork's Freelance Marketplace is simply a place for clients and freelancers to connect and do business. Anyone can post a job for free, at any fixed price or hourly rate. Interested freelancers can place a bid, and the client can review their profiles and see work samples and ratings in order to make the best choice. Upwork also offers a chat feature so that clients can interview freelancers before hiring.
When a project is finished, the client approves it and funds are released to the freelancer. For hourly rate projects, freelancers also submit timesheets in order to get paid. Upwork provides the tools needed to submit work and manage finances right on the site. Clients can also extend direct invitations to freelancers and build teams of their preferred workers for future projects. Projects on Upwork can range from a low of around $10 to more than $100, and hourly rates typically start at $10 to $15.
Upwork for Freelancers
Freelancers can start working on Upwork by opening a free account and creating a profile that includes basic bio information and work samples. Freelancers can also list numerous specializations that are used as keywords in Upwork's search algorithm. That allows their profiles to appear in searches across the site.
Signing up for Upwork is entirely free, but in order to communicate directly with clients, freelancers need Upwork tokens, called "connects." Every new account comes with 60 connects, and freelancers can buy more at about $0.15 each. Upwork also takes a fee from each project a freelancer completes. Fees are calculated on a sliding scale, and they go down according to the amount of work a freelancer completes for an individual client. Upwork takes 20 percent of the first $500 of completed work, but that percentage goes as low as 5 percent for billing more than $10,000 to the same client over time.

Pricing and Plans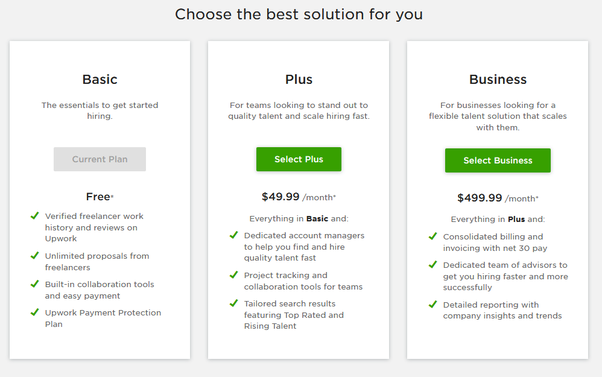 Clients can choose from a variety of service plans and prices. The Basic plan is entirely free, and allows anyone to post a job on the Marketplace and invite bids. Clients simply pay the project's agreed upon price or hourly rate, plus a processing fee of just 3 percent. Upwork Basic users can list as many jobs as they like and manage their own accounts and financials with standard customer support.
Upwork also offers subscription plans that include the features of Basic as well as a variety of customized account management services. At $49.99 per month, Upwork's Plus plan for businesses and brands adds the services of an account manager who selects qualified freelancers for short term and long term projects and assembles and manages teams for larger projects.
For larger companies with ongoing freelance needs, Upwork's Business plan offers a full set of account management and customer support features for $849 per month. The Business plan includes access to a curated list of qualified freelancers and tools for creating and managing a team of long-term "go-to" freelancers.
Textbroker vs Upwork: Which is Right for You?
For businesses on a budget, both Textbroker and Upwork offer options for buying reasonably high quality content at just about any price point. And with its two-star rated jobs, Textbroker even has options for clients who care more about cost than quality. Textbroker focuses exclusively on written content, and its budget-friendly translation services can create opportunities for reaching a wide audience.
Upwork's Marketplace allows clients to set their own rates for jobs, and that can start at very low prices too. And since clients can post jobs for any kind of content, it's possible to find a wider variety of content types than Textbroker offers. Both Textbroker and Upwork offer managed service options that include dedicated account managers and access to vetted freelancers in specific niches, but Upwork's $49.99 Plus plan makes these features accessible to smaller businesses and individual entrepreneurs who can't afford Upwork's pricier Business plan or Textbroker's starting price of $2500.
Although Textbroker and Upwork offer a range of content options for businesses of all kinds, neither platform provides both quality content and affordable content marketing solutions for industries of all kinds.
Scripted: Quality Content by Professional Writers
Scripted knows that quality content represents your brand to the world. With a deep pool of skilled content writers who have expertise in industries ranging from web development to healthcare, Scripted has solutions for content needs such as blog posts, whitepapers,video scripts and press releases.
Scripted has subscription plans for a range of budgets and content strategies. For companies seeking content for an existing campaign, Scripted Basic offers access to our Basic pool of writers for $199 per month. The Premium plan ($499 per month) and top tier Cruise Control plan ($1299 per month) include dedicated account management and access to selected writers, plus periodic content strategy reviews.
‍

Sign Up for a 30-day Free Trial