Scripted vs. Verblio
Based in Denver, Verblio claims to provide content to over 1,500 businesses, making it a small but well-known content writing platform. Scripted, based in San Francisco, serves over 80,000 businesses with a pool of over 7,000 writers. If you're comparing these two options, here's the side-by-side review you need to see.
Finding Expert Writers on Verblio vs. Scripted

Your content can only be as good as the writer behind it, so here's a closer look at how Scripted and Verblio find, approve, and manage their writers.
How Scripted Chooses Writers

Scripted operates a closed platform, meaning writers must apply to work through Scripted. The application process is rigorous and usually closed to new applicants. The limited acceptance of new writers ensures that existing writers can count on fair pay and steady work. Due to extensive quality standards, only a small percentage of writers who apply actually get in.
Scripted writers are:
Highly experienced as professional writers and ghostwriters.

Specialized in one or more niches.

Easy to communicate with.

Reliable and dependable.
In addition to the initial application, which involves writing samples and other analyses, Scripted also monitors writers on an ongoing basis to ensure continued quality. All writers are assigned to a tier (Silver, Gold, or Platinum) based on their most recent performance. Clients can view a writer's tier, among other metrics, before hiring.
How Verblio Chooses Writers

Verblio also has an application process and says that only 4% who apply actually get into the platform. A surprising 23% of writers supposedly have at least a Master's Degree. Over 200 writers have been with the Verblio platform for more than three years. These numbers help showcase a diverse range of talent, but does the quality stack up?
Despite good marketing, Verblio's application and acceptance process doesn't seem as rigorous as they make it out to be. Anyone can create a writer account at any time and go through the steps to become a writer for the platform. The application involves a basic grammar test and some writing samples.
Additionally, Verblio says in their Writer FAQ: "We do not require that you have previous experience as a professional writer." This means Verblio is open to entry-level writers who may or may not be able to meet the expectations of grammar, quality, and search engine optimization that you expect.
Learning About Scripted Writers for Hire

Finding the perfect writer on Scripted is easy because you can explore the entire writer database at your leisure. Scripted writer profiles also contain a variety of helpful, real-time information to ensure you're able to make an informed decision.
Get to know every writer on the platform through their biography.

Check a writer's tier status, which reflects their experience on Scripted.

See metrics and client reviews to see how they've been performing.

Read writing samples and find links to their sites and profiles.
When a writer has been on Scripted for any amount of time, they'll quickly rack up writing samples and links to their personal and professional sites. It'll only take a couple of minutes to review a writer's profile to determine whether or not they're the right fit for your project.
This ability to hand-select your writers only adds to the quality of content you can expect to receive, but it's also entirely optional. Your dedicated account representative can help find writers for you, or you can use SmartMatch jobs so that your project is automatically matched with the right person for the job.
Learning About Verblio Writers for Hire

Verblio takes a much different approach when it comes to hiring and working with a writer. Instead of taking a writer-first approach, where they focus on collaboration and building a relationship for consistent, reliable content, Verblio goes the other way around. On Verblio, the focus is on the content you need now. In other words, you'll post a project for your next content piece and then wait -- not for writers, but for content.
Multiple writers will create content for your project, trying to embody your goal. Verblio says you can expect the first submission within 72 hours and the total number of submissions you get depends on many things, like pay rate. You'll read through all of the submissions you get and choose your favorite.
Verblio's approach makes it tough to work with the same writer again, although they have a bookmarking feature that is supposed to encourage the writer to create content for your future projects. Of course, the capacity of Verblio writers varies, as a number of projects go live at once that writers scramble to claim.
Comparing the pros and cons of both platforms is the best way to sort out your options.
Scripted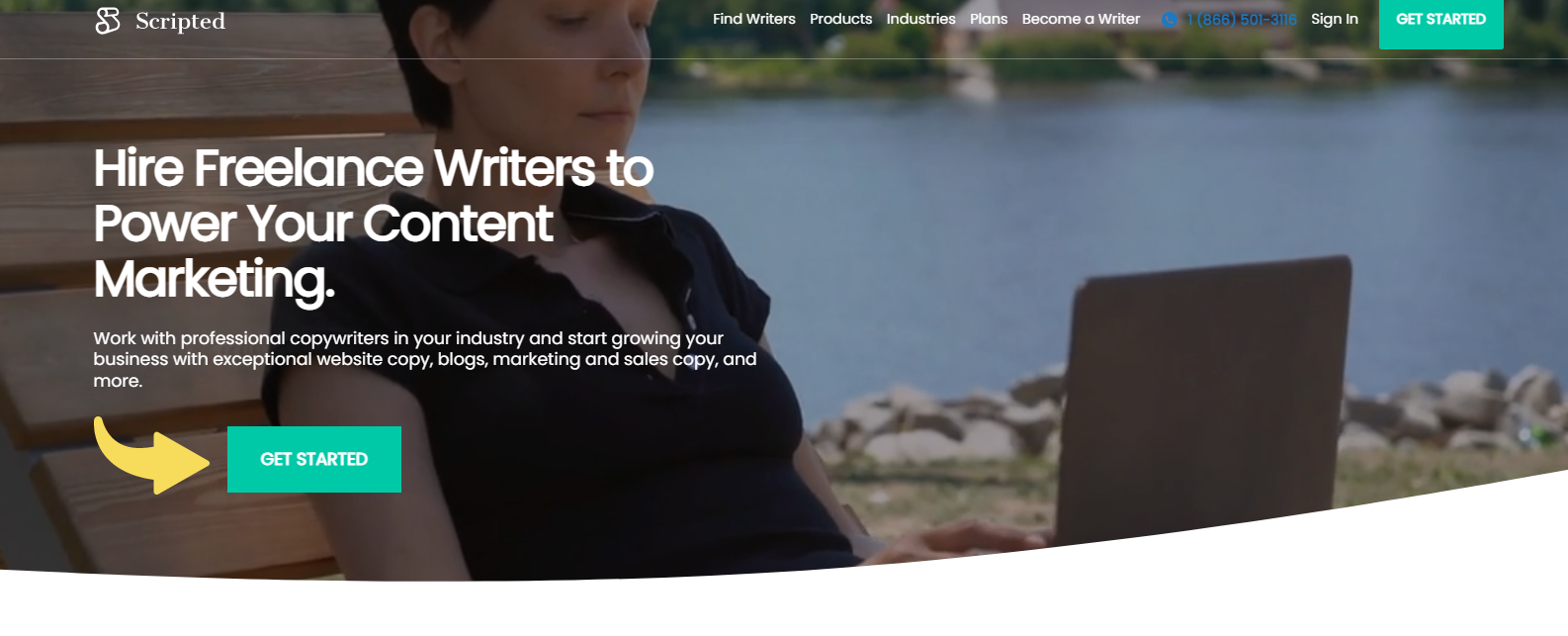 Pros
A clean dashboard keeps all of your projects in one place.

Access to the full writer database allows you to choose the perfect professional.

Choose from SmartMatch projects and proposals for fast, efficient content creation.

Experienced writers know how to adopt your tone of voice and optimize for keywords.

Choose from one of three tiers for a highly scalable content solution.
Cons
The large writer pool can be tough to sort through manually.

Messages are tied to certain projects, which may get confusing.
Verblio

Pros
Get started in mere minutes.

Post your first content request right away.

Review multiple submissions and choose your favorite.

Bookmark writers to try and work with them again.
Cons
Writers choose you, instead of the other way around.

It's possible no submission meets your needs.

It's tough to get consistent results because you may be working with a new writer every time.
Verblio vs. Scripted: Pricing
Lastly, let's see how Verblio and Scripted stack up with pricing.
Scripted Membership Options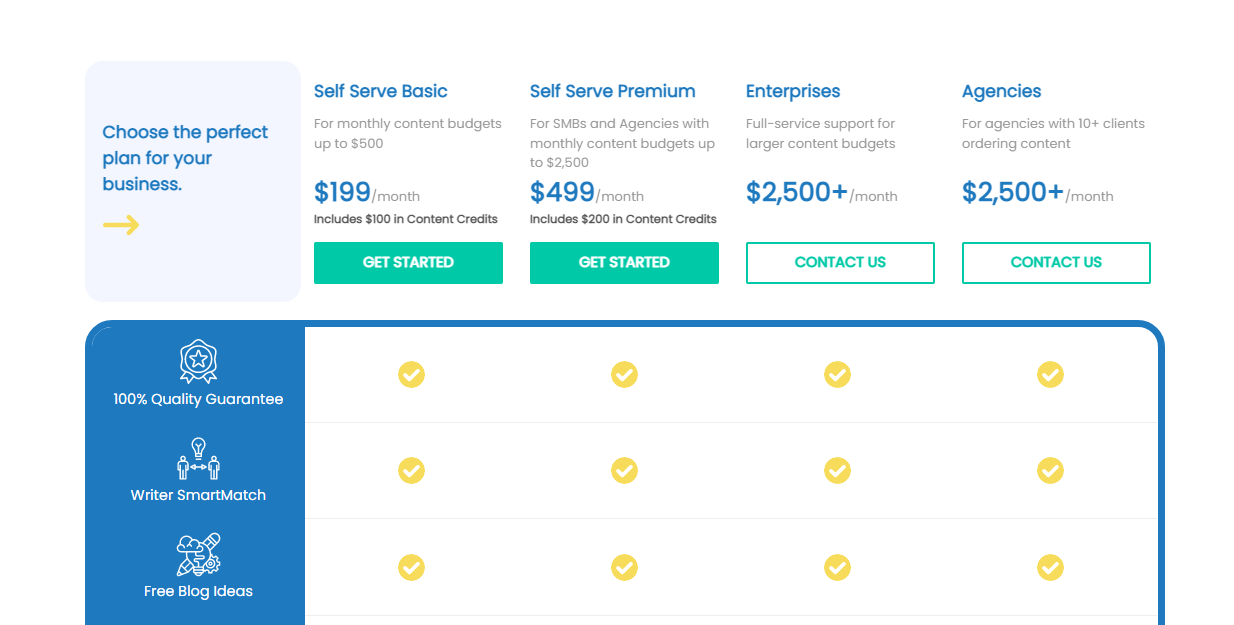 Self-Serve Basic
$199/mo with $100 in content credits

Unlimited content ordering

Unlimited access to Scripted's writers

Specify your tone, style, and keywords

Create and manage your own projects

Use SmartMatch ordering

Ideal for less than $1,000/mo content spend
Self-Serve Premium
$499/mo with $150 in content credits

Unlimited content ordering

Unlimited access to Scripted's writers

Specify your tone, style, and keywords

Dedicated account representative

Use SmartMatch ordering

Ideal for less than $2,500/mo content spend
Cruise Control
$1,299/mo when paid annually

Unlimited content ordering

Unlimited access to Scripted's writers

Specify your tone, style, and keywords

Dedicated account representative

Assistance in creating and managing projects

Use SmartMatch ordering

Ideal for less than $10,000/mo content spend
Verblio Membership Options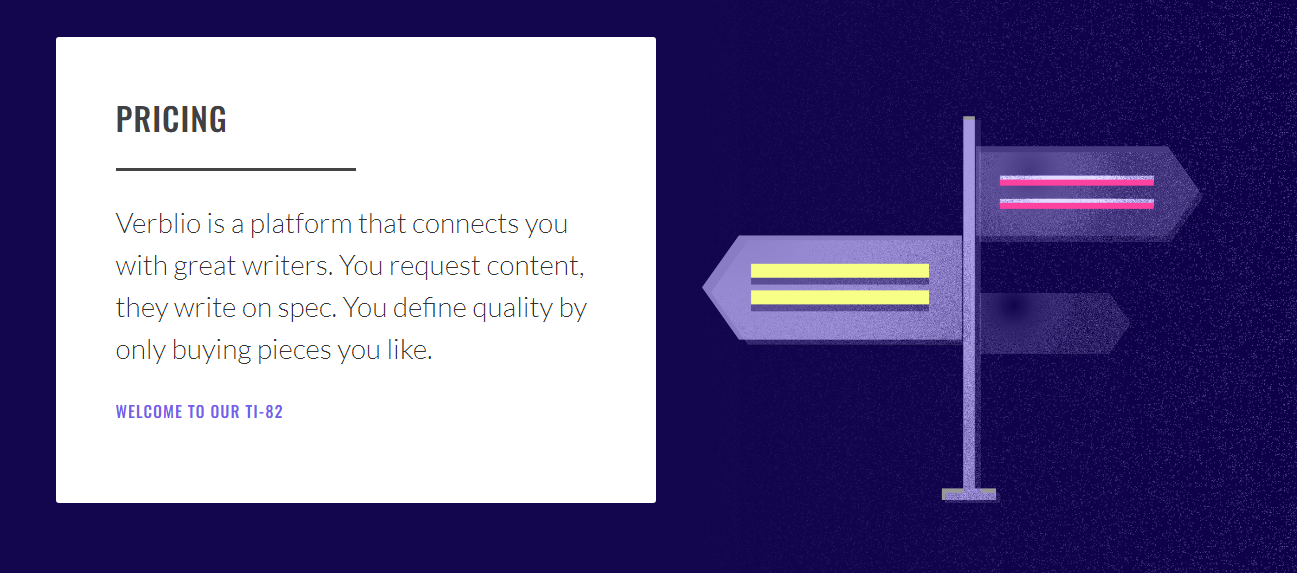 Unlike Scripted, which features a simple pricing structure of base plan plus content, Verblio makes things a little more complex. With Verblio, you build a subscription plan by starting with the volume of content you expect to order each month. You can add and remove content pieces from your monthly invoice, meaning you have to go one by one (for instance, you must specify the length and quantity of each piece of content when ordering, you can't just order 5,000 words).
From there, you'll need to choose from one of four plans and add-ons. The most basic plan doesn't even include simple editing for your content. Other plans include small additions, like a royalty-free stock photo, and cost you almost $40 more for every content piece you purchase. If you want an auto-generated, text-based video, it will cost you another $65 per piece.
Overall, Verblio's approach to membership is expensive and complicated. You'll spend a lot of time just managing your plan on a month-to-month basis to ensure you aren't overpaying for content or buying something you don't need. There's also a minimum order amount of nearly $105 every month.
Should You Choose Verblio or Scripted?

Comparing Verblio next to Scripted provides a lot of clarity when it comes to how these platforms stack up and which one is ideal for your business. If you like Verblio's unique approach to pricing and ordering, you can begin exploring those options. Otherwise, if you want the consistent quality and efficiency that Scripted assures you, start comparing the membership plans.
Scripted is sure to come out as your top choice with scalable pricing and countless features to win you over. Are you ready to get started?