How to Hire a Building Materials Writer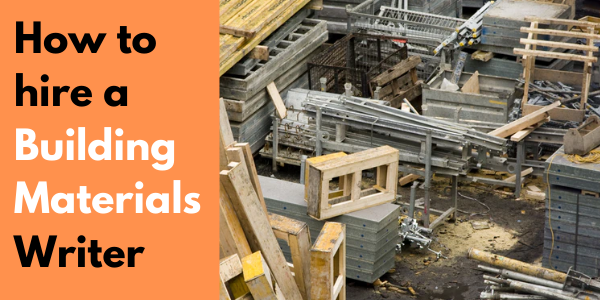 Content should be such an important part of any business's marketing strategy, even if the field you work in is not tech or writing-related. Creating content for your company should be a regular job—in fact, more than 60% of marketers create a unique piece of content for marketing purposes each day. This holds true for businesses in the building materials sector.
Build materials companies can rely on excellent content on their website and blog to brand themselves as an authority in the industry, and to boost their SEO score so they can increase organic traffic to their site. Content is powerful when it comes to boosting your building materials brand online—and the best content is content that is well-written, easy to read, informative, and formatted correctly with the right keywords so that it attracts readers.
One way to ensure that you craft content the right way so that it helps to increase organic traffic to your business' site is by hiring a professional content writer to write your content for the web. You won't be unique in looking for a freelance writer to help. Research shows that at least 60% of companies outsource their content creation. So, while you may have knowledge about your industry, hiring a pro writer can help ensure that the content you write is doing the most work it can for you, and that you can spend your time and energy working on the parts of your business that require your specialized knowledge and skill.
Not sure where to start when hiring a building materials writer? Check out the following basic guide to get the process started.
Determine what kind of writer will help increase organic traffic
The first step to hiring the right content writer for your business is honing in on your goals and needs. Getting clear about what you are looking to gain from hiring a writer is an important first step in the hiring process and can ensure that the process is as short, stress-free and efficient as possible. When you know what you need, it's more likely you'll choose the right writer to deliver that to you the first time you work with them.
Get specific about your needs and goals
Start by defining your needs and goals for your building materials site specifically. Do you want someone who can write great product descriptions, or do you want regular weekly blog posts offering guidance and advice? Get clear about what you want your writer to do for your site, so you can be sure that the writer you hire has the ability to do those things.
Set some goals for your writing: to increase organic traffic to your site, to up social media post engagement, to boost orders from an eCommerce site, and more. If you know what goals you think your writer can help you meet, you can give them a sense of what to focus on, and you can also better gauge whether you've hired the right person once they start working for you.
Determine where you can find building materials writers
Do some research to find out where the best freelance building materials writers are. One of the best resources on the web for writers is a place like Scripted, which gives you access to freelance writers who specialize in a variety of fields. Look for places that can connect you with writers who have tons of content writing experience and who know stuff about the building materials industry.
Once you've figured out where to look for writers, you can narrow down which specific writers are best for your job.
Start your official search for a building materials writer
Looking for the right building materials writer can be easy if you know how to hone in on which writer is right for you. Here's what to consider when picking a specific freelance building materials content creator.
Experience
The best content writers have experience with SEO, freelance writing, and crafting content that they know will increase organic traffic from search engines. Get a sense of whether a writer has experience doing something similar to what you need them to do. Also, look at the goals you outline above, and make sure they have specific experience helping other companies meet similar goals. For example, you'd want to hire a writer who has experience crafting an eCommerce catalog, if you need someone to write effective product descriptions for you.
Industry knowledge
Building materials is a fairly specialized industry. You may want to hire a writer who has knowledge of the field, so they'll know the language, facts, and jargon to use so they can ensure your company site content makes you sound like an authority and expert. On a site like Scripted, you can search writers by their industry, which will narrow down the pool to people with the right knowledge base right away. Make sure you reach out to writers before you hire them if you have more specific questions about their experience in the field, or what they know about certain topics.
Tone and personality
Every brand has a voice or personality. You want to find a writer that can mimic yours—or who naturally writes in a way that aligns with your brand. Start by browsing through writing samples. You will be able to see who writes in a similar style to your company voice.
Alternatively, if you think a writer might be the right fit but you want to make sure, you may have them do a small sample job in your desired tone. Picking a writer whose voice and personality aligns with your brand will ensure your content is consistent across all channels and customer touchpoints.
Rely on Scripted for professional build materials content writers
If you feel ready to hire a writer to produce content for your building materials website, consider working with the writers on Scripted. Scripted has a pool of some of the best freelance content writers on the web. Each writer who works on Scripted's platform has a ton of experience crafting SEO content, and they are trained in SEO, which means they'll use keywords and written content to your advantage, to boost SEO and naturally increase organic traffic to your site. Also, writers on Scripted have expertise in a wide variety of industries, and you can even find writers on the site who have specialized knowledge in building materials.
Choose a building materials writer if you want to be sure that you're hiring someone who knows their stuff about the industry, and who will keep content accurate, engaging, and informative regarding your business.
Start your experience working with Scripted by browsing our page of specialized building materials writers. These freelance content specialists have an insider's knowledge of how your industry works. You can rely on them to have the facts down about the industry, so you can rest assured that your site is being written by someone you and your readers can trust.
Browse through writing samples, see if anyone has a voice or personality that resonates with your brand, or look for experience that aligns with your goals. Once you've found a writer or two that will work for you, you can sign up for the service, reach out, and get started.
Web content is powerful in any industry—in fact, research shows that using content as an inbound marketing strategy generates 3 times more leads than any outbound marketing strategy—so try Scripted today to get the most you possibly can out of the words that are written on your site.