Top 5 Transportation and Logistics Blogs by Traffic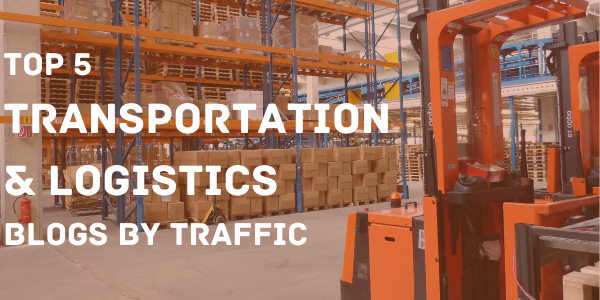 The world of transportation, logistics, and supply chain management is stressful and often overwhelming. New bloggers may find it difficult to compete with established sites.
Industry professionals want the latest news, insights, and information, and they want it fast.
However, with a team of professional writers, a transportation and logistics blog can be a successful business.
With over 3.5 million truck drivers, 566 railroads, and 1.2 million trucking companies in the U.S. alone, the logistics industry offers plenty of opportunities for any blogger ready to make a mark.
This guide will cover the top five transportation and logistics blogs, ranked by traffic according to Alexa analytics.
We'll also provide various tips to help you create your own content strategy, boost your conversion rates, and increase your organic traffic.
Let's get started.
What is a logistics and transportation blog?
Logistics and transportation involve many different aspects of supply chain management.
Logistics is a broad term that refers to the coordination and movement of resources from one location to another. Transportation is how these shipments are carried out (e.g., train, third-party carrier, etc.).
Most logistics and transportation blogs have an authoritative, helpful tone. They strive to provide the latest news and insights, and their audience is mostly composed of industry professionals who want to stay on top of the latest trends.
Logistics and transportation are constantly changing. Blogs help readers keep up with the vast amount of information to do their jobs as efficiently as possible.
1. Logistics Management
Alexa rank: 119,552
Top keyword: logistics
Logistics Management was established in the '60s as a monthly magazine. The company now features a website that posts regular content related to the logistics industry.
In addition to regular blog posts, Logistics Management posts special reports on an annual basis.
According to Logistics Management, their content "reaches the largest number of logistics professionals in the industry." They provide a wealth of information regarding industry trends, logistics services, technology, and equipment.
How to Copy the Logistics Management Content Strategy
Logistics Management offers a variety of content types to help its readers. The site's front page features posts that cover several topics, from opinion pieces about USPS updates to white papers about transportation and the supply chain.
Because you never know where your readers are in their journey, it's always a good idea to provide a large number of posts each day. The transportation and logistics industry is ever-changing, and readers want the latest information as soon as it's available.
To copy the Logistics Management strategy, aim to post several times per day, and use a variety of content formats to make the information more accessible to readers.
2. Logistics Viewpoints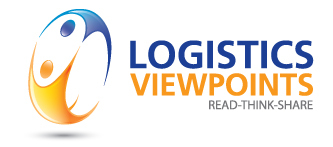 Alexa rank: 507,222
Top keyword: amazon supply chain
Logistics Viewpoints takes an opposite approach to Logistics Management when it comes to content. The site also covers the latest logistics news, technology, regulations, and business practices, but their aim is a little different.
Instead of providing a large amount of content and letting readers decide what they need, Logistics Viewpoints tries to cut through the wealth of information to find the information readers need most. They claim to "filter through all the noise to zero in on what is truly important and why."
How to Copy the Logistics Viewpoints Content Strategy
The Logistics Viewpoints content strategy is an interesting one, and it seems to work well for them.
Many readers are enticed by easy-to-read content. In particular, the transportation and logistics industry is full of busy, overwhelmed professionals who don't have time to sort through information to find what they need.
If you want to copy the Logistics Viewpoints strategy, aim to post thoughtful, concise content that helps readers keep up with current trends in a short time frame.
3. Supply Chain Management Review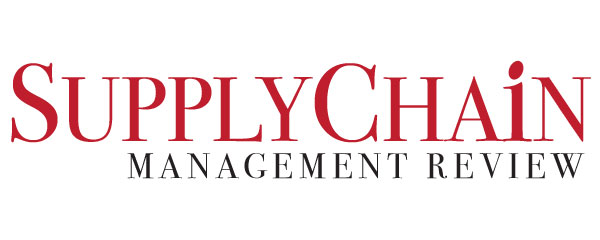 Alexa rank: 228,372
Top keyword: supply chain
The Supply Chain Management Review follows the Harvard Business Review model. Business school professors and industry experts write content.
Topics cover every aspect of supply chain management, including sourcing, technology, transportation and logistics, news, etc.
The site also publishes case studies featuring some of the largest companies in the world.
How to Copy the Logistics Business Magazine Content Strategy
The Supply Chain Management Review positions itself as an authoritative resource for everything related to supply chain management. Content varies from white papers and special reports to daily blog posts on the latest industry news.
To copy the Logistics Business Magazine content strategy, you can hire industry experts who specialize in supply chain management. Provide a variety of content types on a daily basis, and use strong sources to back up your claims and statistics.
4. Logistics Manager

Alexa rank: 1,053,948
Top keyword: air freight logistics
Logistics Manager is the "leading monthly magazine for managers in charge of the supply chain of the UK's largest industrial, retail and commercial organizations."
Their content is available in print, blog, and iPad formats, so readers have options when viewing information.
They aim to cover the latest trends, news, and insights that help shape the world of logistics and supply chain management. Their content tends to focus primarily on technologies and processes affecting the logistics industry.
How to Copy the Logistics Manager Content Strategy
Logistics Manager offers content in a variety of formats. Readers find this appealing because it's easy to find what you need when you need it. Most readers also have a preference when it comes to print vs. screen.
Some people enjoy flipping through a magazine, while others love an iPad's features.
If you want to copy the Logistics Manager strategy, try offering your content on various platforms. For example, repurpose a blog post into a podcast for an easily digestible method. Consider adding a newsletter to help readers find the information they need at a glance.
Most people appreciate options; make it easy for them to find your content, and they'll keep coming back for more.
5. Freightwaves
Alexa rank: 15,124
Top keyword: ups freight
Freightwaves knows that industry professionals feel a huge amount of pressure to keep costs down and keep freight moving. They aim to relieve some of this pressure by providing "near real-time information and forecasts on how these developments will impact the logistics market and participants."
They claim their site is the "fastest way to navigate the freight market." That's a strong statement, but their success backs it up.
How to Copy the Freightwaves Content Strategy
The Freightwaves site is designed to help readers access content fast. The front page features a large number of top stories, latest news, helpful white papers, industry analysis, and more.
Content includes blog posts, videos, white papers, and special reports.
To copy the Freightwaves content strategy, you'll need a team of writers to produce a large amount of content on a near-constant basis. It's a large job, but it's possible if you hire the right people for the job.
Once you have the content, consider organizing your site into categories to make it easier to navigate. Put the most important stories front-and-center, and make it easy for readers to find what they need.
How to Build Organic Traffic for Your Logistics and Transportation Blog
Logistics and transportation blogs have one unique feature that helps them stand above other types of blogs: Readers are always looking for more information about the industry.
However, it's also a highly competitive field. You need to stay on top of the latest news and research, then provide content to your readers so they can also stay on top of the trends.
It's fast-paced, and it can be exhausting.
If you want to create a content strategy that boosts your organic traffic, you need to focus on providing a large amount of information in a short time frame.
A team of writers may help more than any other strategy.
Ideally, you'll find writers who are well-versed in SEO and keyword strategies.
Studies show that most readers turn to Google to find information.
If you want to increase traffic, you need to increase your Google ranking with strong SEO.
It's a big job, but it's certainly attainable if you hire a great team to support your efforts.
Achieve Your Organic Traffic Goals With Scripted
Scripted can help you achieve your goals.
The Scripted platform offers a team of writers with professional experience in the transportation and logistics industries.
When you sign up for our service, you can connect with these writers and choose a few favorites to make a proposal or complete your assignment.
Need revisions? That's no problem. You'll have time to review the draft before accepting the work.
Best of all, our writers know SEO, and they write content that helps increase your traffic and conversion rates.
Ready to get started? Hire a transportation and logistics writer today!